There are so many options for your road trip from Adelaide to Dinner Plain! Your choice probably depends on where you've already been, and what you would like to see. Since you'll need to spend at least one night on the road make sure you ask if dogs are welcome at your accommodation. Every website I visited suggested a different route, so it's really up to you to decide whether you want to go via Ballarat, Bendigo, Melbourne or Swan Hill. You might want to choose completely different routes each way.
Friends who have made the trip tell me the easiest route is Adelaide – Tailem Bend – Lameroo – Pinaroo – Ouyen – Swan Hill – Echuca – Shepparton – Benalla – onto the Hume at Wodonga and turning off at the Alpine Highway (B500) just past Wangaratta. From there you're onto Bright, Harrietville and up the mountain to Mt Hotham and then Dinner Plain.
Travel Time: Approximately 11.5 – 14 hours once you are out of the city and depending on which route you take (you don't need to go via Melbourne)
General Directions:
Option #1
Take National Highway (M1) then Mallee Highway (B12) then Murray Valley Highway to Wodonga
Take Great Alpine Rd (B500)
Arrive at Dinner Plain Village
Option #2
Take National Highway (M1), National Highway (A8) Borung Highway (C234), Sunraysia Highway and Wimmera Highway (B240) to Bendigo-Murchison Rd (C345) in Myola
Get on Hume Freeway (M31) in Violet Town
Take Exit toward Great Alpine Rd (B500)
Arrive at Dinner Plain Village
Route Map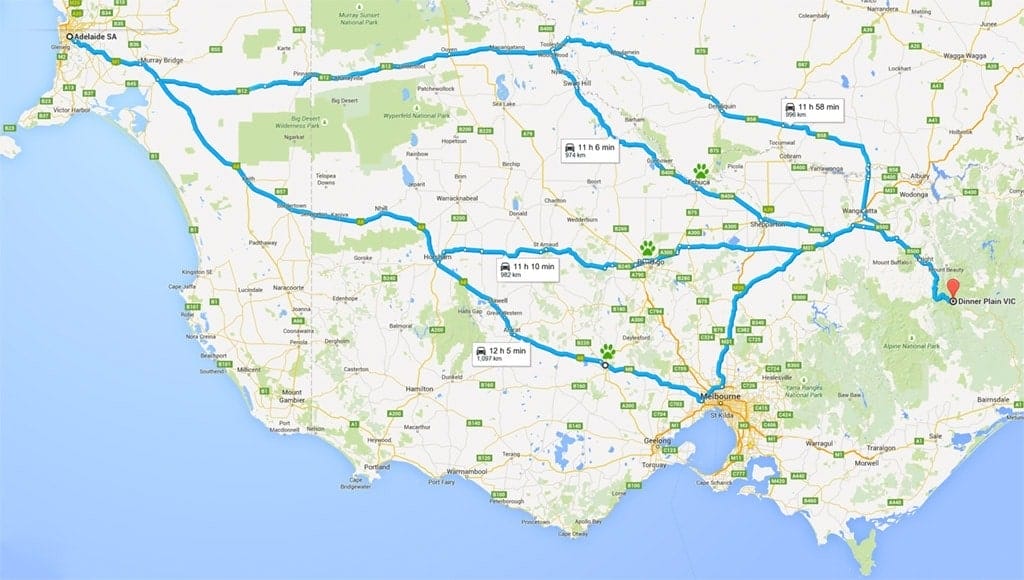 Destinations Between Adelaide and Dinner Plain
Some of the possible stops between Adelaide and Dinner Plain. These may also be overnight destinations if you wish to break up the drive over two days.
Echuca
Located on the banks of the Murray River visiting Echuca like stepping back in time. This historic town is proud of its past, and showcases it in the fleet of paddle steamers, horse drawn carriages, woodturning displays and historic port.
If you feel like it you can take your dog for a ride on a paddle steamer (enquire as to the steamers that permit dogs) or you can take your best friend for a stroll along the banks of the Murray and watching them pass by.
It's a lovely destination for an overnight stay. There are several excellent dog-friendly options including teepees at Wakiti Creek and gypsy wagons at Echuca Gardens!
For more on this area check out our Dog Friendly Destination Echuca Guide.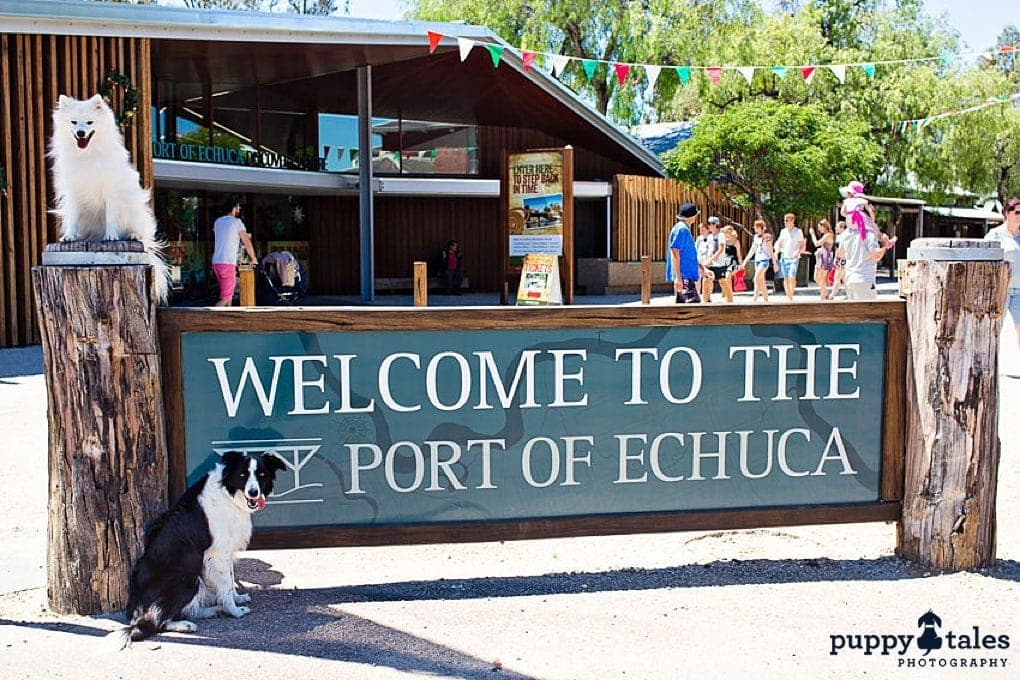 Ballarat
Gold country, and the site of Sovereign Hill and the Eureka Stockade! Ballarat has a long colourful history which includes the Gold rush of the 1850's and the Eureka Rebellion. There are bakeries, and cafes galore some of which welcome dogs. Whether you decide to take a walk down the main street and enjoy the historic buildings, or visit Lake Wendouree and stretch your legs in the park you'll find plenty to see.
You won't be able to take your dog to Sovereign Hill so you'll have to save that for another time unless you have several people in your party and choose to split up.
Bendigo
Another Victorian gold rush destination. It also has gourmet food and wine if you're looking for a scrumptious lunch stop destination. Bendigo has an impressive number of well set out places to let your dog have a run. Harcourt Park (Crook Street, Strathdale) is one of the best with 3.7 hectares laced with paths and a natural environment for them to run and play.