Echuca is a great little Dog Friendly Destination in Victoria. We visited as a stopover from Sydney to Melbourne with our two fluffy kids, Keiko and Rosie.
With Echuca being only 3 hours from Melbourne, it's an easy half day drive which gives you plenty of time to explore all that Echuca and the surrounding areas has to offer for a weekend stopover or longer.
At Echuca we even managed to tick off a few items that we didn't even know were on Keiko and Rosie's bucket list – like a cruise on a Paddlesteamer!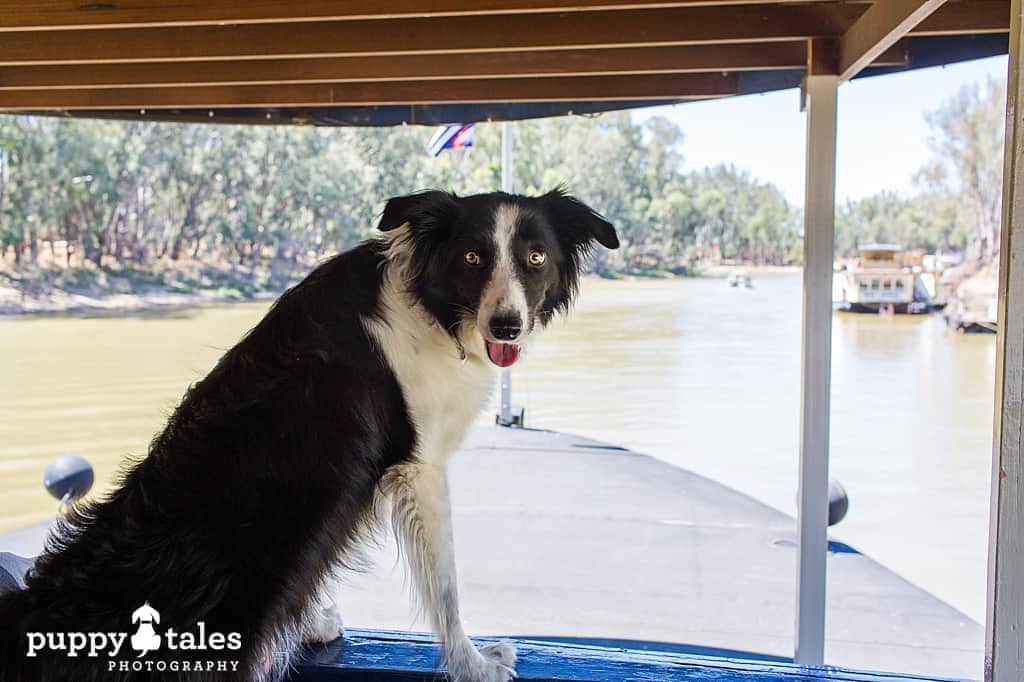 About Echuca
Echuca is a town on the border of Victoria and New South Wales, on the Murray River. The border town, Moama, is on the northern banks of the Murray River in New South Wales. It is a town that has preserved the bygone era of Paddlesteamers, Horse-drawn carts and Woodturners, but has also progressed to provide all the modern conveniences. The Historic Port Precinct has been recognised as one of Australia's finest heritage icons, and is also home to the world's largest riverboat fleet – Australia's Paddlesteamer Capital.
Echuca was founded in 1850 and was known as "Hopwood's Ferry". It was renamed Echuca in 1855, being an Aboriginal word meaning "Meeting of the Waters". It quickly grew to be Australia's largest inland Port in the 1870s, with Paddlesteamers pulling up to the 400-meter wharf to unload their cargo of wool, grains, livestock, and wood to then be transported to Melbourne by rail.
Today, with its iconic wharf recently restored, you can stroll the riverbank on the new Red Gum walkways and view the mighty Murray River and all of its activities. If you are after more information and wish to get more up close with Echuca Moama's unique history, the new Port of Echuca Discovery Centre can bring you up to speed.

Things to Do
Walks / Hikes
The Port of Echuca – just having a walk around the streets of the Port lined with ice cream shops, bakeries, cafes, and pubs from yester-year, can while away much of the day. Ensure you visit the historic Wisteria Tea Rooms for breakfast, lunch or a fantastic Devonshire Tea, where your fluffy family member is very welcome and greeted with a bowl of water. Your pooch is also welcomed into the St Anne's Cellar Door for a rest while you admire the recycled timber furniture and sip away at a few of the fantastic wines and fortified wines from the St Anne's collection.
Banyule State Forest – there are a myriad of tracks through this natural bushland. Just be sure to keep your dog on a leash as there is a large amount of native wildlife in this park, and we would all like to keep it that way. Take a wander down to the banks of the Murray and take a dip in the water to cool off from your walk. Just keep an eye and ear out for 4WDs as they use these tracks a lot.
You can also make your own way through the Echuca via the Heritage Walk Echuca brochure. This will take you through the town of Echuca, as well as a more comprehensive coverage of the Port of Echuca. There are various signposts along the route to assist you in your self-guided tour.
Paddlesteamers
With this being the capital of Paddlesteamers, how could you not go on one? The best thing is that they allow dogs on all of the Paddlesteamers except for the ones that have been turned into river cruising restaurants. Little did we know, that this was an item on Keiko and Rosie's bucket list. They both loved it once they got use to the steam whistle blowing. We sat down the back of the boat until they got use to the noise, but then moved around. The crew loved having them both on board, to the point where the captain asked if Rosie wanted to steer the boat…that she politely declined.
Winery Visits
We only visited the Cellar Door of St Anne's Winery, but there are many Vineyards and Cellar Doors within the area. With the assistance of the Echuca Moama Food and Wine Trail brochure you can taste the local wine as well as sample the local produce. Ensure you have a designated driver and also call ahead to the wineries to ensure that your dog is as welcomed as you are.
Accommodation
Echuca Gardens
We found Echuca Gardens to be affordable for what we wanted. Essentially we just needed a place to shower and sleep as we planned to spend the days walking around and exploring the area. Staying in a Gypsy Wagon was a way for us to experience something a little bit different from the normal accommodation. It was clean and our host Kym was more than happy to provide some recommendations for meals out and activities in the area. It is a small option with only just enough room for the two of us with Keiko and Rosie.
Wakiti Creek Resort
The Wakiti Creek Resort is located about 20 minutes from Echuca on 60 acres of natural bushland and is surrounded by 1.5kms of Wakiti Creek frontage. This makes it an ideal location to go swimming, canoeing, fishing, or just relaxing with the family without distractions. There is a 1.2 km walking track for you to enjoy with your pooch, as well as a spot for your dog to a run and a swim off the lead. There are pet friendly fully self-contained duplex cabins on site with a fenced courtyard, giving your fluffy family member a safe place to run around. Well trained pets are allowed inside but must have their own bedding and remain off the furniture and outside of the carpeted bedrooms. You may also choose to camp with your pet.
All The Rivers Red Gum Cottages
All The Rivers is a fully self contained three bedroom cottage located in Echuca. It has been decorated to remain within the historical atmosphere of Echuca. Well behaved dogs are very welcome to stay, and with a fully fenced back and front yard, it makes it safe for dogs and children to play. There is outdoor BBQ area and setting for six, just perfect for the warmer months. The company also has a second smaller cottage, "Rivers Run", which is a 2 bedroom cottage with bush views and a single spa bath.
Places to Eat
American Hotel
The American Hotel is Echuca-Moama's oldest pub, but it's recently undertaken a massive renovation and extensions. The best part is the large outside courtyard area that offers patrons to dine outside and enjoy a cold beverage or two with their pooch! We turned up and asked if they allow dogs in the courtyard area, and the response that we got was "Yeah, I guess. Never been asked that before mate!" They brought out a bowl of water for our dogs and the food that we got was great too!
Fishbite Seafood
Fishbite isn't just about Fish and Chips, they serve all types of seafood and salads to ensure a complete a meal. With the weather in Echuca being so great most of the year, you can sit outside at their tables or take a walk down the street to sit on the tables surrounding the amphitheatre that has been created for the Wildlife Reserve on the banks of the Murray River.
Wisteria Tea Rooms
Located in the historic Port of Echuca on the banks of the Murray River, the Wisteria Tea Rooms offers breakfast and lunch options as well as a beautiful Devonshire Tea. We were welcomed into the lovely garden setting with our two fur kids and a large bowl of water was brought out with the menus. We stopped in for lunch and thoroughly enjoyed the setting; listening to and watching the Paddlesteamers take people out for lunch cruises and relaxing afternoons on the river.
Further Information
Tourist Information can be found at Echuca Moama, The Murray's Living Legend and information specifically about the Port Of Echuca can be found at Port of Echuca Discovery Centre.
A Visitor Information Centre is located at 2 Heygarth Street, on the left just before you cross over the bridge from Echuca to Moama. You can call the heritage listed centre on (03) 5480 7555 or 1800 804 446. Or you check out the Echuca Visitor Centre website.
We visited Echuca in December 2014. Information and services available may have changed since then. Please call ahead and confirm availability, dog friendly-ness and other information prior to visiting yourself just to ensure that you too have a wonderful trip!
Kerry is 'Top Dog' here at Puppy Tales. With her own adored dogs, she completely gets that your four legged furry buddy is absolutely part of the family. That they sleep on the bed, that you want to take them everywhere, that you plan holidays so they're included & that their presence makes your life incredible.