At Puppy Tales Photography we want you to enjoy your pet portraits from the moment you receive them. No hassle or delay to organize framing. No worrying that they aren't properly mounted and won't last for years to come. This is why we specialise in fully finished pieces from the highest quality production labs. Another reason why Puppy Tales Photography products are exceptional… just like our photographs.
We're picky about who we entrust to work with our photos, which means carefully researching and selecting all the suppliers or labs we use. Those we work with are selected for their superior print handling techniques, archival photographic reproductions and excellence in reproducing true and vivid colours.
Below is a sample of our finishes and popular photography display ideas.
Designed to make you smile each time you look at them, each wall art piece is delivered fully finished and ready to hang.
We offer a range of finishes: Framed, Canvas, Wood & Metal.
Chose from landscape, portrait, panoramic, square, or custom crop, whichever best shows off your photos.
Classic, clean, and enduring. The beautiful matt finish of canvas is a classic presentation that is enduringly popular (with good reason). Canvas with its subtle finish and beautiful texture adds an organic hint to your photos. The anti-reflective surface enhances the clarity of the picture and mean it can be displayed anywhere. Each piece is created using archival grade canvas carefully stretched over a wooden frame. 
Your photograph is printed using high-quality archival inks, and a lustre laminate applied to protect the surface of the print. It also prevents cracking, damage from dust or pollution, stops fingerprints showing, and protects the canvas from humidity and the inks from light. The result is a long-lasting wall art piece of the highest quality.
Sizes – Small, Medium, Standard, Grand
Styling – Individual Pieces & Gallery Collections
Finishes – Traditional Metallic and Framed
Unframed from $588, Framed from $788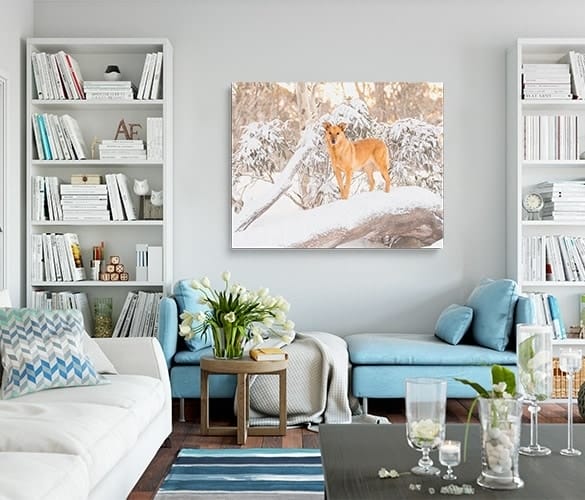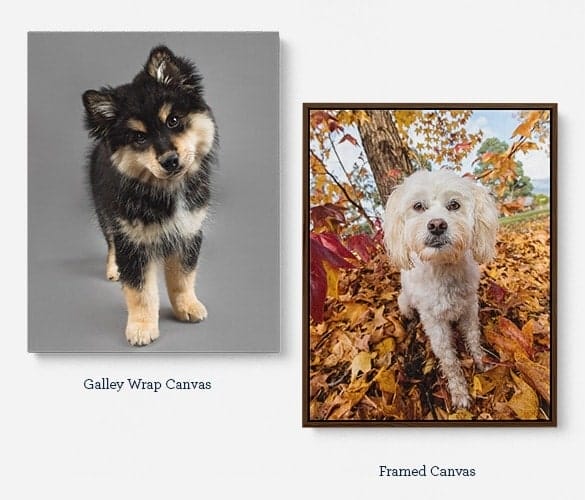 Perfect for those looking for something different or vintage, who want to bring back a natural feel and prefer raw, rustic products.
Made from a print on wood with a charming wood edge, these can be freestanding in a cabinet, bookshelf, side table or desk. Or they can be hung.
Sizes – Mini, Small, Medium, Standard, Grand
Styling – Individual Pieces & Gallery Collection
From $588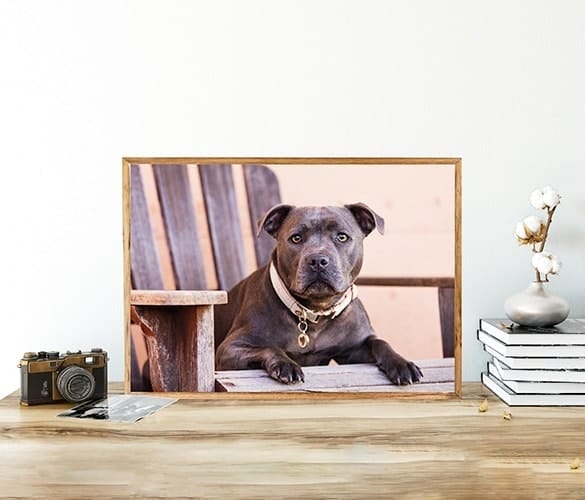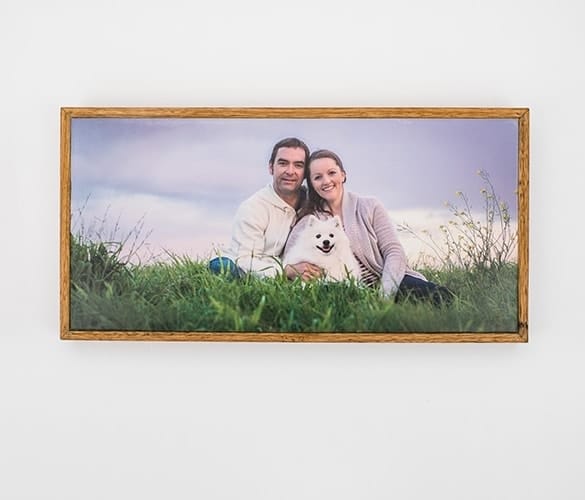 Bold and contemporary.
Metal wall art gives your wall art a bold, eye-catching, modern feel. These pieces enhance the colour and vibrancy of your photographs and are a good choice for a fresh, high gloss finish.
Size Options – Small, Medium, Standard, Grand
Styling- Individual pieces, Gallery, Storyboard & Composite Collections
Unframed from $588, Framed from $788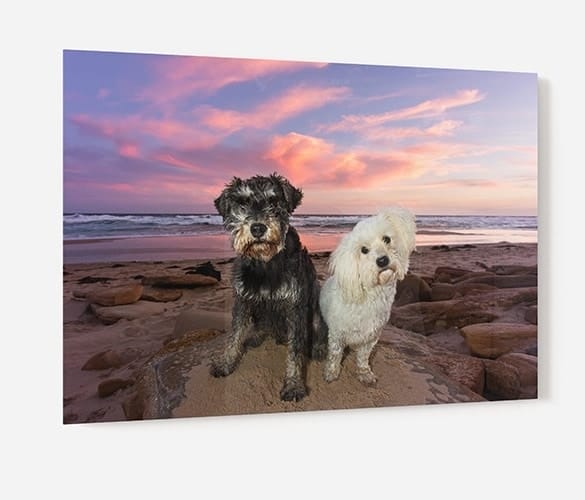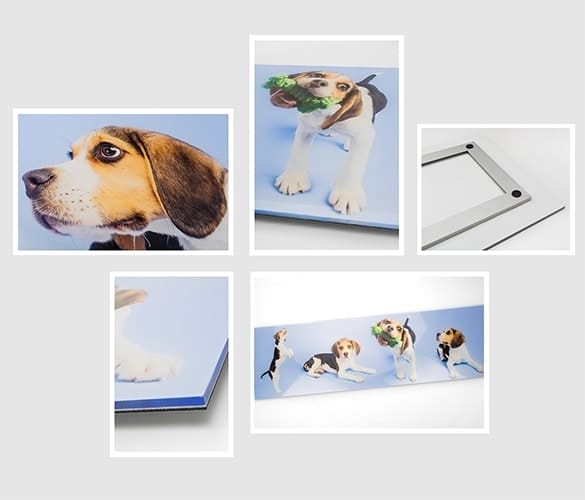 Traditional and elegant. Framing is a versatile way to match your artwork to the style, colour, and decor of the room where they're displayed. They'll truly look as if they were created with your home in mind, which of course they were.
Just two examples of the wide variety of options available are a classic black frame with white matting, which puts all the attention onto the photograph; or for a more organic look choose a distressed wood frame.
Whatever your choice rest assured of meticulous workmanship for each custom frame, using only archival grade products the for mounting.
Sizes – Small, Medium, Standard, Grand
Styling – Individual pieces, Gallery & Storyboard Collections
Deluxe framed finishes: Add on beautifully artisan finishes such as a fine art paper, torn edges, floating mounting or premium frame moldings.
Unframed from $588, Framed from $788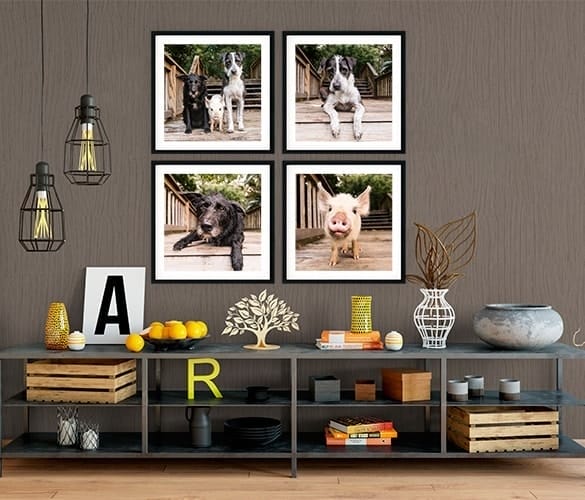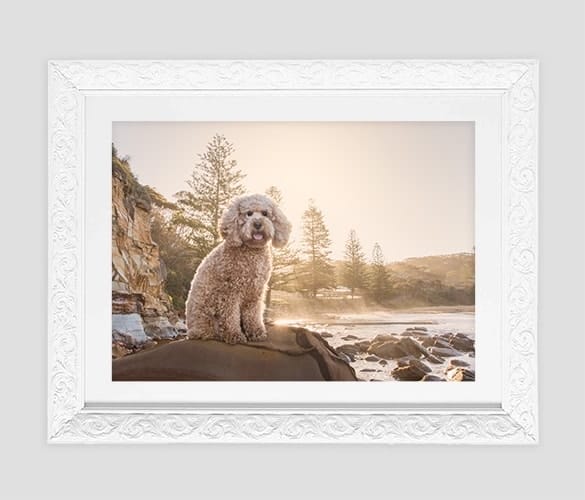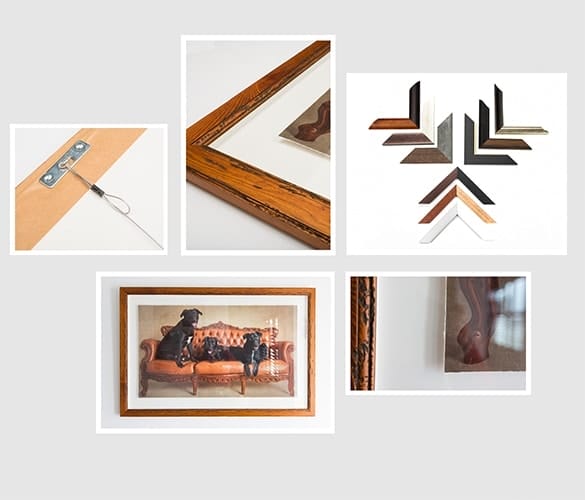 Impossible to choose just one photograph?
Most simply fall in love with their photos and find it impossible to choose just one. This being the case a series of photographs is a wonderful way to showcase your pet's story. Our collections are designed to suit your spaces and the options are literally endless.
This is a collection of separate photographs, which are designed to hang in a unified grouping.
The galleries can be designed for any space such as a big wall (a living room), long way (an entrance way or passage), narrow walls, and for up staircases.
Custom wall galleries are available in all our finishes:
from $1500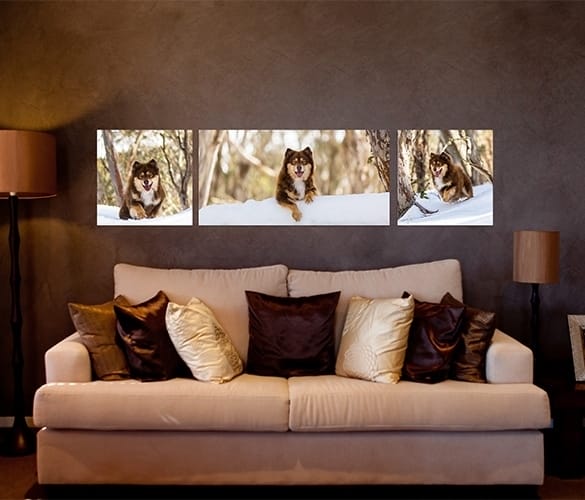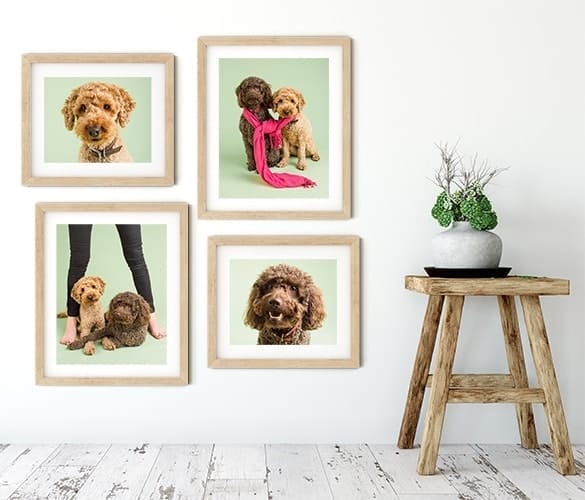 Can't get enough of your dog's adorable, crazy faces? Showcase them all together in a storyboard piece.
The storyboard option is a single display made up of multiple images, ideal for that characterful dog with a range of enchanting expressions.
This options is available in our framed, acrylic and metal wall art finishes.
from $1288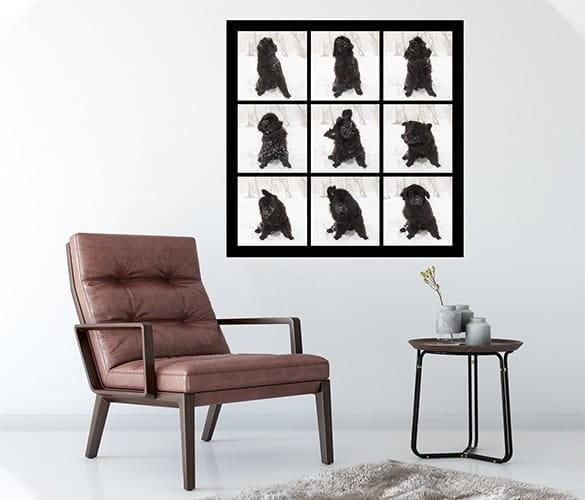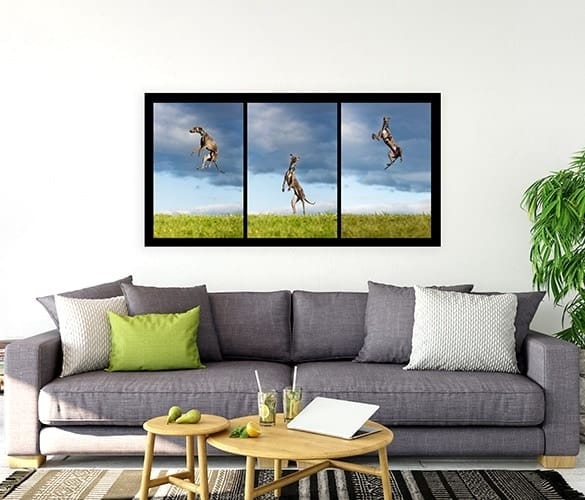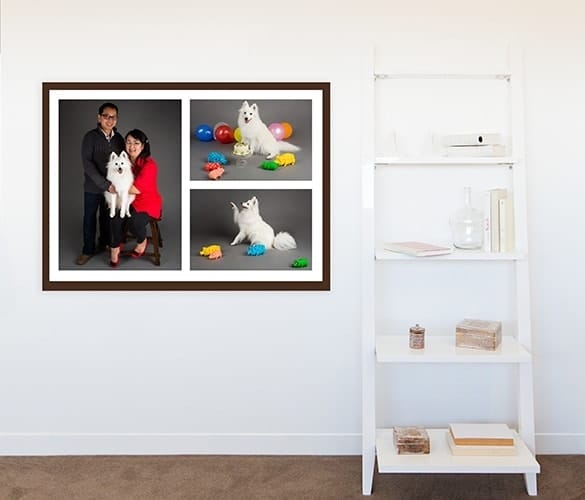 Our composite pieces comprises of 3, 4, or 5 photos seamlessly merged to give a stunning panoramic piece.
Specifically designed from our Studio sessions, the Wall Art Composite are available in all our finishes:
Framed
Canvas
Wood
Acrylic
Metal
These pieces are an enchanting way to celebrate our Growing Tales series, to see your dog grow from puppy to young adult.
from $1288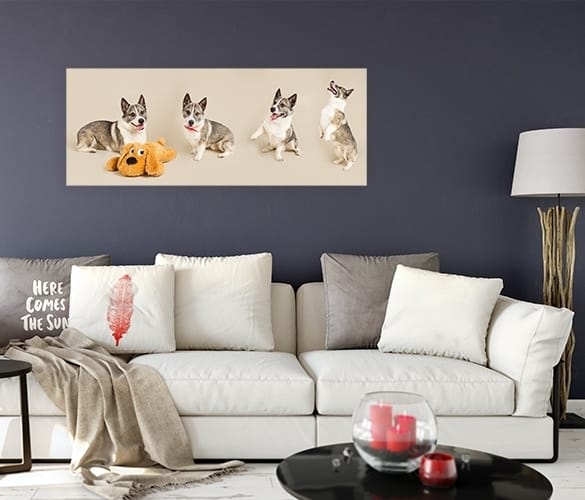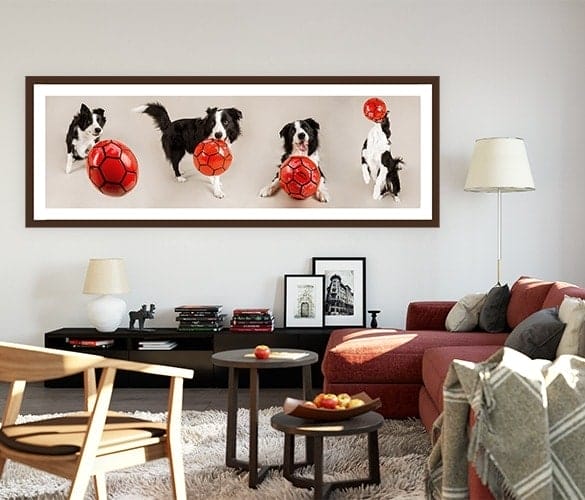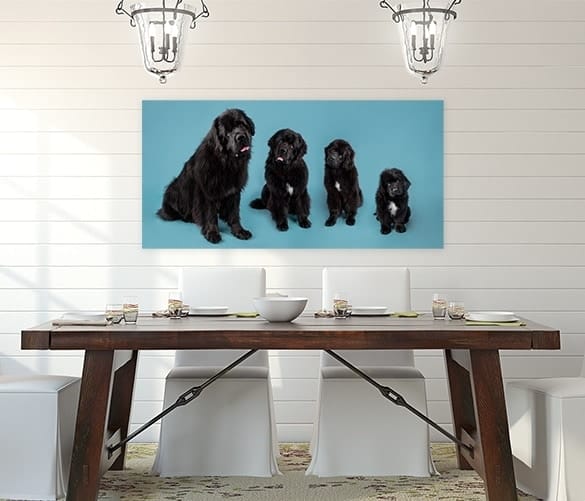 Fine Art Prints & Folio Box Collections
Perfect when you want to gift a beautiful photo to friends or family.
Our Fine Art prints are printed on beautiful photographic papers renowned for their finish and archival qualities. Every print is treated and produced individually, hand trimmed and checked a minimum of four times during production to ensure a flawless finish.
Folio prints are presented to you mounted on matt and backing board. This is for ease of framing and to ensure the quality of the materials next to your photo which helps to preserve it. Collections of 10 prints or more are presented in a beautiful heirloom-quality folio box.
Papers: Photo Silk, Photo Rag, Metallic Pearl.
Matting Colours: Black, white or off white
Sizes: 8×10 matted to 11×14
Individual Prints $288, Print Collections from $1250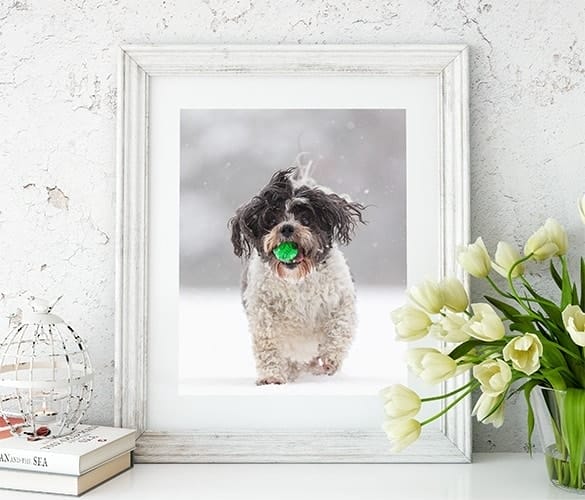 Ideal for displaying in your bookshelves or on your work desk.
The acrylic block is a small tabletop display with big impact. They feature your beautiful photos face-mounted to 1″ thick plexiglass with hand polished crystal clear edges. The block prints stand solidly on any flat surface.
The reflection of the print with the acrylic block gives a contemporary three dimensional effect.
from $548