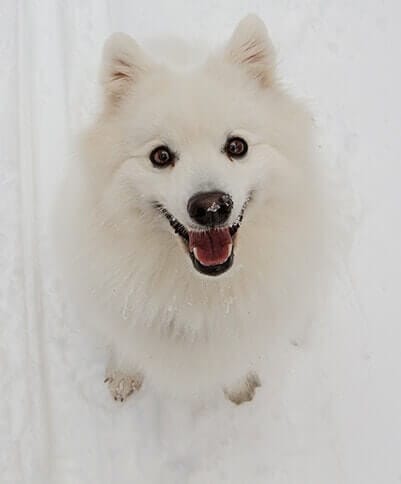 PUPPY TALES EXECUTIVE POSITIONS
Director of Smiles
Treat Connoisseur
Part-time Dog Supermodel
MOTTO
Look at me, look at me, no pleeeaaaassseee look at me!
NICKNAMES
Keek's, Fluff Monster, Keek Mo, Fluffy, Fluff Ball, Fluffy Butts, Fluff Nut, Fluff Hound, Little Man, Nugget, Nuggie.
BREED
Japanese Spitz
BIRTHDAY
18th December
MAKES HIS TAIL WAG
Walkies. Cuddles on the couch. The car air conditioner blowing his fur back. Food & dinner time. Sniffing. Rolling in the Grass. Smiling for the camera – it's his default expression. In fact, it was this smile in his puppy photo that made us sure he was the pup for us. Fetching all the toys out from of his doggie pool – one at a time – he's very deliberate and methodical about it.
WHIMS
Chasing his tail. The crazy hour at dinner time. Chasing birds he'll never ever catch along the beach. Climbing trees. Neighbourhood watch dog but only from the security of his front window. He sees, smells & hears everything in this self appointed role and let's us know about them.
DISLIKES
Quite a few things as a puppy but thankfully as he's getting older, he's becoming less shy and wary. Some things though haven't changed. Like his impatience at waiting for his dinner to be served, and dislike of strange visitors to the house (especially posties and parcel couriers). While he has adventurous heart, his gorgeous fluffy coat can be frustrating for Keeks – everything sticks to it – grass, twigs, burrs, pine needles, – even things that the other dogs have walked straight past will stick to him.
DID YOU KNOW…
Keiko means 'Adored One' in Japanese. We thought it so fitting…. we say it as Kee-Koh, some have told us that's not correct but we're sticking with it the way we like!
JOIN @KEIKO.TALES INSTAGRAM
PUPPY TALES EXECUTIVE POSITIONS
Chief Toy Officer
Full Time 'Leggy Blonde' Dog Supermodel
MOTTO
Flying through the air and across the ground, nothing can contain her pure joy.
NICKNAMES
Summie, Miss Moo, Sumchum, SumSum, SuperSummie
BREED
Border Collie x
BIRTHDAY
5th December
MAKES HER TAIL WAG
Balls & fetch. Frisbees. Mr Magoo. Being the centre of Attention. Defying gravity. Chasing snow (falling, as a snowball or flicked up as we walk). Sticks. Being in the company of her humans – she has to be in the same room and will always be touching on the bed or couch. I suspect it's just in case something exciting is about to happen.
WHIMS
You name it and Summer will only be too happy to chase it or play with it (or try to!). She's our (over) eager beaver, curious, fun, elegant, agile, cheeky pup who loves to run, catch, fetch, jump, pounce, and learn. Her enthusiasm is contagious. Always wanting to please, she's our one of kind, sweetheart. She loves to pounces on moving shadows. We think she's a bit of a clever duck – she's quick to learn tricks and knows all the usuals plus a few more (sit, drop, stay, shake, high five, roll over, cross paws, sit pretty, spin, tunnel, weave, find, give, touch, look and my favourite, she jumps through our arms). She's pretty good at balancing too – on things herself and on her head.
DISLIKES
Missing out, including being left at home when the human's head out without the dogs (on the odd occasion that this happens!)
DID YOU KNOW…
Summer was rescued along with her five siblings and six pup cousins from a farm in Queensland. We saw her adoption profile while on holiday in Thailand, just knew she was the dog we'd been looking for (without knowing it beforehand), immediately contacted them and….. then held of breath waiting to hear back. Through their mixed parentage all six siblings are very different in appearance. All adorable, but to look at them today you wouldn't guess that they're related.
JOIN @SUMMER.TALES INSTAGRAM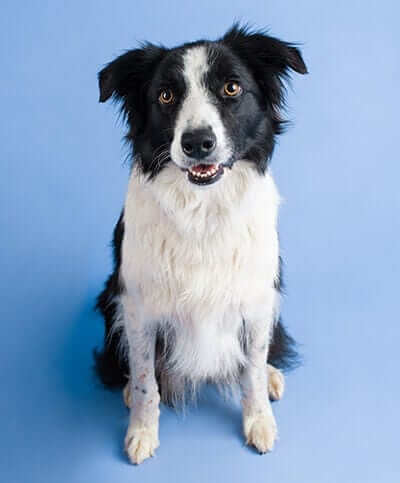 PUPPY TALES EXECUTIVE POSITIONS
Ambassador of Fun
Full time Goof Ball &
Just being Dog Gone Cute
MOTTO
I'm Ready…… Let's Go
NICKNAMES
Nosey, Posey, RoRo, RoseyRed, Cheeky Monkey, Miss R
BREED
Japanese Spitz
BIRTHDAY
18th February
MAKES HER TAIL WAG
Everyone! She enjoys running, chasing, being with her humans and meeting new people. Bones (especially ones Keiko or Summer have left for another time). Getting up to whatever everyone else is doing. Car rides, she's the first one into an open car door. Mud, dirt and anything stinky – somewhat ironic when her name is derived from a sweet scented flower.
WHIMS
Howling to get our attention, usually because her ball is stuck under furniture. Chasing ducks. Adorable head tilts – it's really like she's listening to us.
DISLIKES
When her ball is stuck under the furniture. But really, there's not much that Rosie dislikes – what would you expect from Miss Congeniality.
DID YOU KNOW…
While Rosie is part of the Puppy Tales pack – she often spends time with her other humans, my parents. I guess on paper she's technically their dog, but really she's been my girl from the first meeting. As a pup she wet herself with excitement to arrive here. And still today she's so often found racing around our backyard with Summer or on a hike with us that she's part of our family too.
JOIN @ROSIE.TALES INSTAGRAM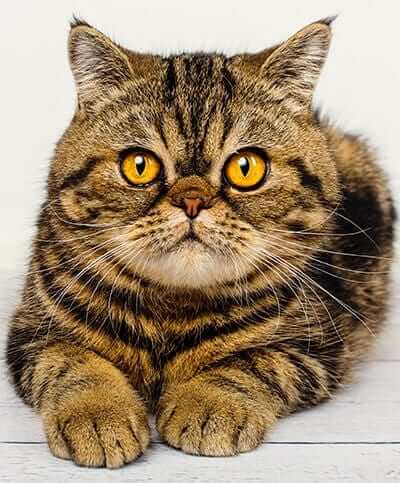 PUPPY TALES EXECUTIVE POSITIONS
Honorary Feline Pack Member
Rest & Relaxation Advisor
MOTTO
Meh! Absolutely nothing phases our Mr Magoo. Not cats that don't like him (yet!), not Summer's crazy antics, not dogs that don't know what to make of a cat rubbing up to them & not people that don't love his squishy face!
NICKNAMES
Gooey, GooBear, GooPod, Gooberry, GooPot, GooBug, GooBall (basically anything that can follow 'Goo')
BREED
Exotic Shorthair
BIRTHDAY
8th August
WOULD MAKE HIS TAIL WAG (IF HE WEREN'T A CAT!)
Mr Magoo wiggles his tail like a rattlesnake when he's excited.  He loves playing hide n seek (as in he hides, we have to find him & he's very good at it!). A rub on his squishy nose. Kangaroo mince for dinner. Snoozing in the sunshine.
WHIMS
Incredibly unsuccessfully bug & birds stalking in our yard. Grooming Summer in the mornings.  Greeting all dogs that come into our home – often much to their surprise or unease – by walking straight up to them as confident as you please and rubbing his face into their chest. Jumping up on the kitchen bench (as much as we don't like it, there's no stopping him!). An eternally emotionless face.
DISLIKES
Meh!  Nothing we know of.
DID YOU KNOW…
His full name is Kiwi Angel Mr Magoo. Mr Magoo perfectly suits him, but we aren't sure about the rest, especially the Angel part.  These were his breeder's prefix but somehow this gorgeous guy ended up in the pound and then with a rescue group at nine months of age.  I photographed him for this rescue, couldn't stop thinking about him and soon after welcomed him to the Pack.
JOIN @MRMAGOO.TALES INSTAGRAM