Do you want to capture amazing photos of your dog?
Do you want photos that show your companion's incredible personality?
Do you want photos you'll always treasure?
With our incredible Infographic & eBook you'll find the 7 overall ways that will help dog lovers to take better photos of their canine best friend. More excitingly though, you'll also find our best tips to improving in each of these areas, so that you'll be taking your best dog photos yet! And the best bit – this are our free gift to you! We want for everyone to have incredible photos of your dog/s, ones that they will be able to cherish now and well into the future as they remember their best friend.
To download the guide, simply enter your details below. You'll be joining the Puppy Tales Pack where you'll receive the latest news, exclusive offers & great information ~ all to help you live an incredible life with your dog!
Download the 'Naming Your Puppy' Guide For Free!
We don't like Spam either! We promise that your email details won't be given to any other organisation. Ever. (It's optional to provide your pet's name and breed. We only ask for them, in case there's some more specific news or offer that we think you'd love to know!)
The 'Phodography: How to Take Better Photos of Your Best Friend' eBook
Our eBook is an incredible 60 pages of guidance, tips and gorgeous inspiring photos! Check out a little sneak peek of some of the pages: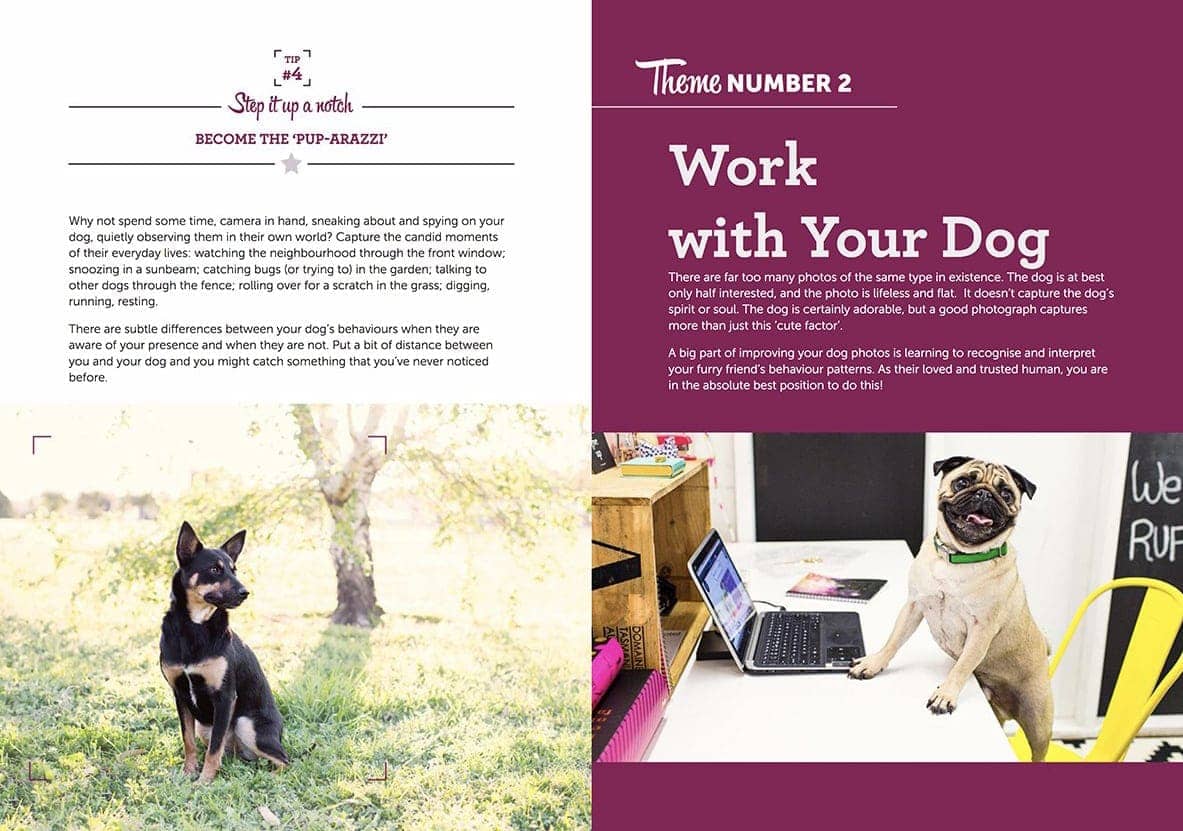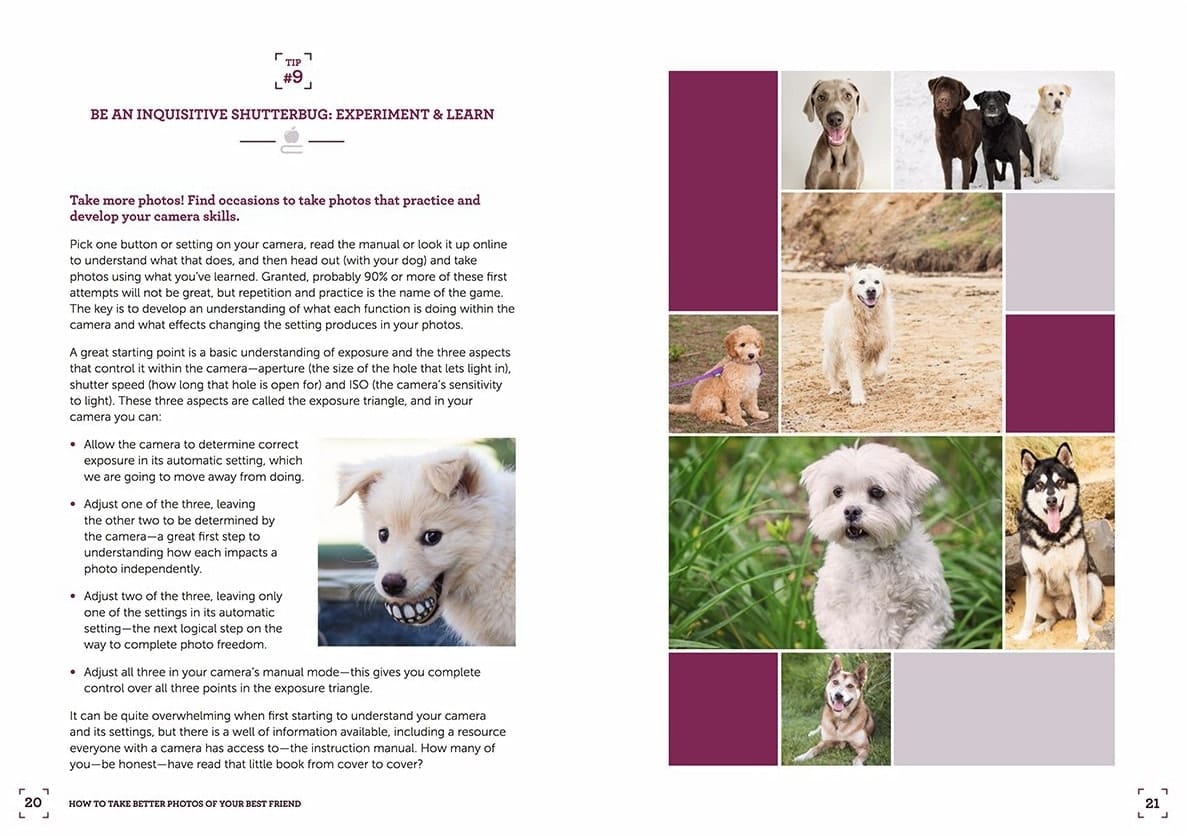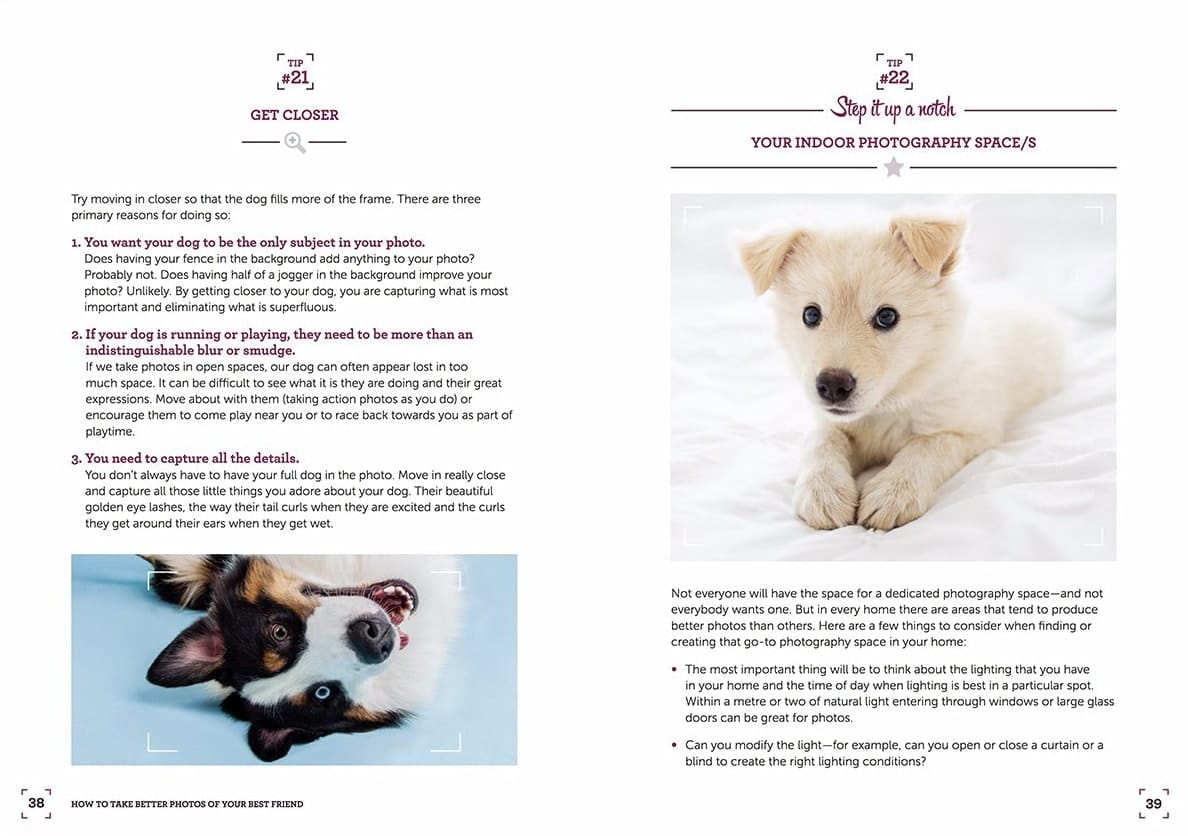 The 'Phodography: How to Take Better Photos of Your Best Friend' Infographic
Don't think you'll have the opportunity to read an information filled eBook? We've got you covered! We've summarised our 31 furbulous tips into one Better Dog Photos Infographic just for you!
Download the Phodography: How to Take Better Photos of Your Best Friend infographic for yourself! If you are after further explanations on these mistakes and tips – well they're all found in the eBook, so after you've looked over the Infographic, you might just find yourself downloading the eBook as well!

We'd love to see the photos you capture using the tips and guidance in our eBook and Infographic! Feel free to upload a photo of your beautifully photographed dog in the comments! And of course, feel free to leave us some comments or love!
Kerry is 'Top Dog' here at Puppy Tales. With her own adored dogs, she completely gets that your four legged furry buddy is absolutely part of the family. That they sleep on the bed, that you want to take them everywhere, that you plan holidays so they're included & that their presence makes your life incredible.