This session sees five beautiful (and boisterous!) Finnish Lapphunds at their snow dogs photography session in Dinner Plain. First, let's meet the dogs (and tell them apart if you can!). We have
🐾 Jaska – 10 years old. He's the black, white, and tan Lappie with a longer coat.
🐾 Dukino – 8 years old. She's the black, tan, and white Lappie with spectacles.
🐾 Astrid – 6 years old. She's mostly black, with brown legs, a white chest, silver booty and spectacles.
🐾 Arn – 6 years old. He's the black, tan, and white lad with spectacles and shorter fur.
🐾 Wunjo – 3 years old. She's black, tan, and white with spectacles and darker features.
And we also have their hu-mummy: Jessica
(^^^ That's all of them together…. how'd you go telling who's who? 😉)
Snow Photos of Finnish Lapphunds
Jessica, one of her human best friends – Kat, and her floofy brood of Finnish Lapphunds overnighted in Newlands Arms before their Snow Dogs Photography Session. It meant an early start to get up to Dinner Plain for sunrise, but the glorious conditions we had and the resulting photos were well worth it. Golden light shone through a light snowfall to produce a dreamy winter wonderland – a perfectly majestic backdrop for these pawfectly majestic fluffballs!
Jaska is everyone's favourite boy. This happy-go-lucky hound has a sunny disposition and a gentle caring instinct that's seemingly at odds with his loud temperament. He's long and lean – really just a slim hound on legs covered with a lot of fluff!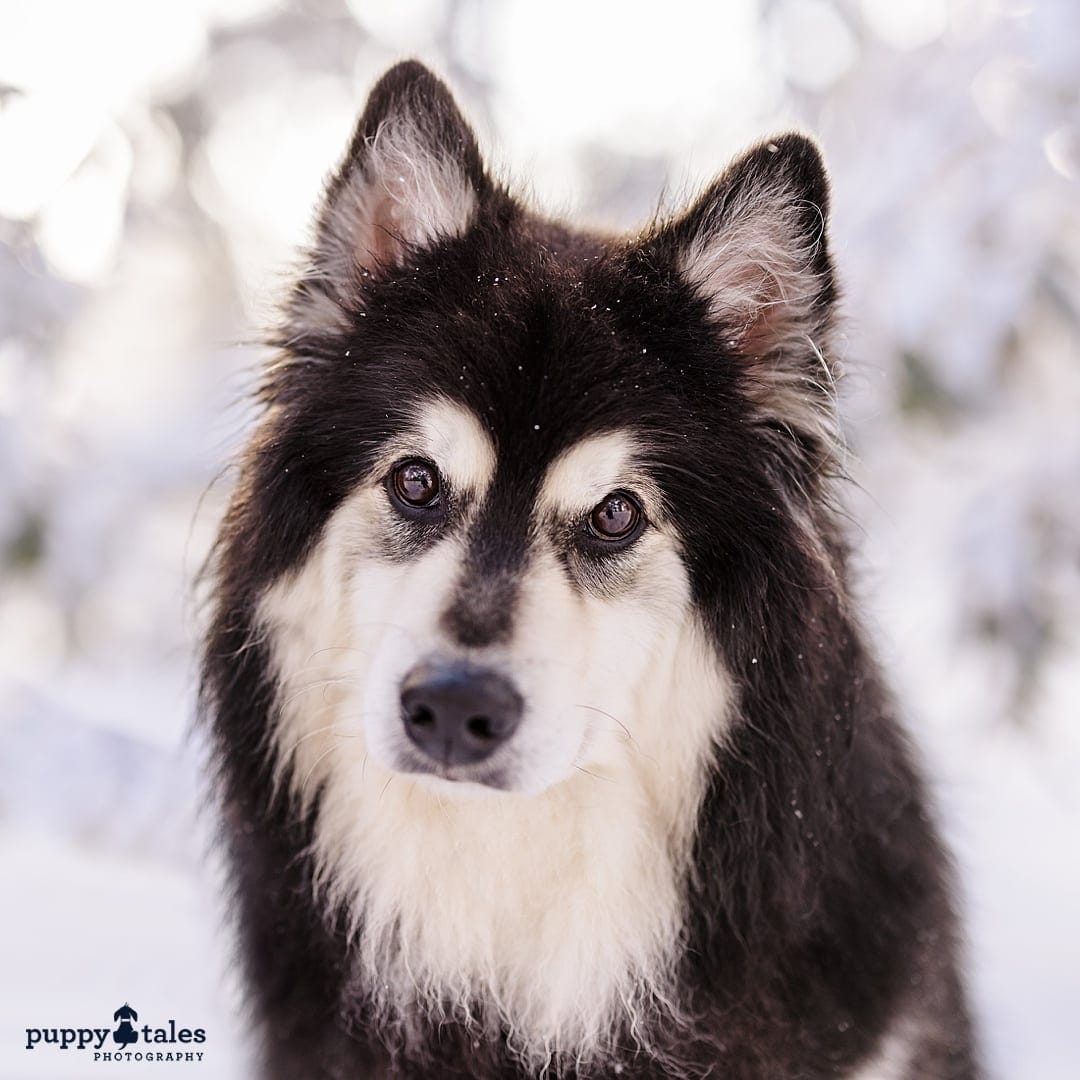 Jaska and Jessica have a long history, and with him having some health issues, it's incredibly special that he's still with her. Because of this Jessica, she was particularly eager to celebrate him and his snow trip by making wonderful memories and capturing them together in photographs. Memories that will spread joy – just like Jaska does!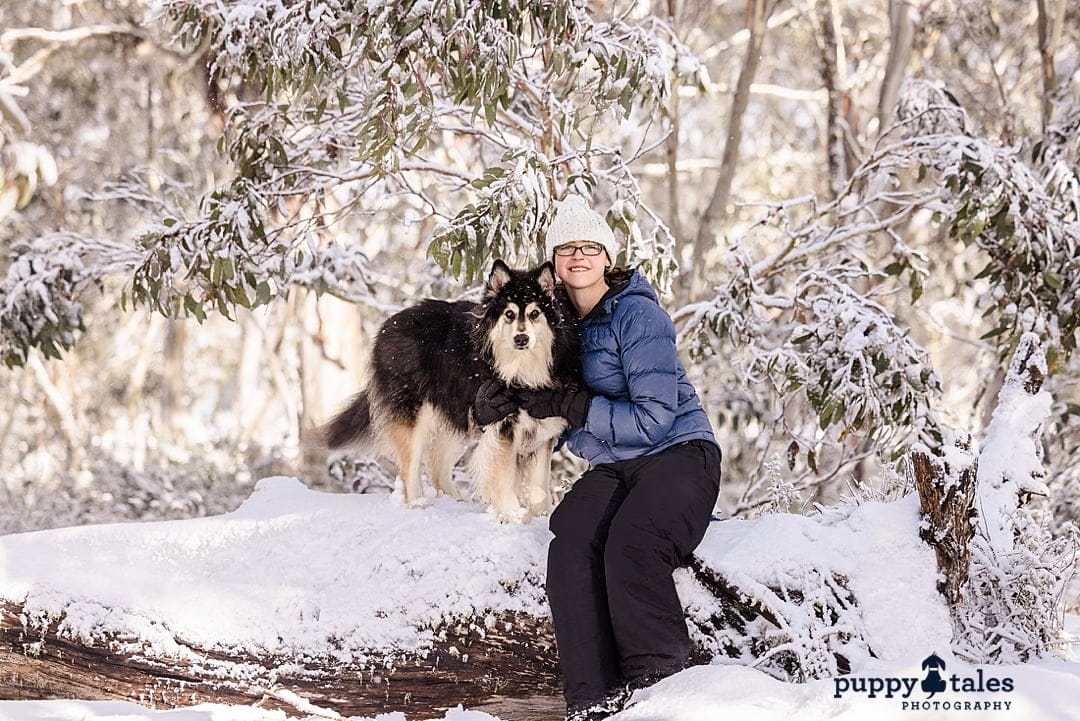 Dukino is the mum of the group – literally!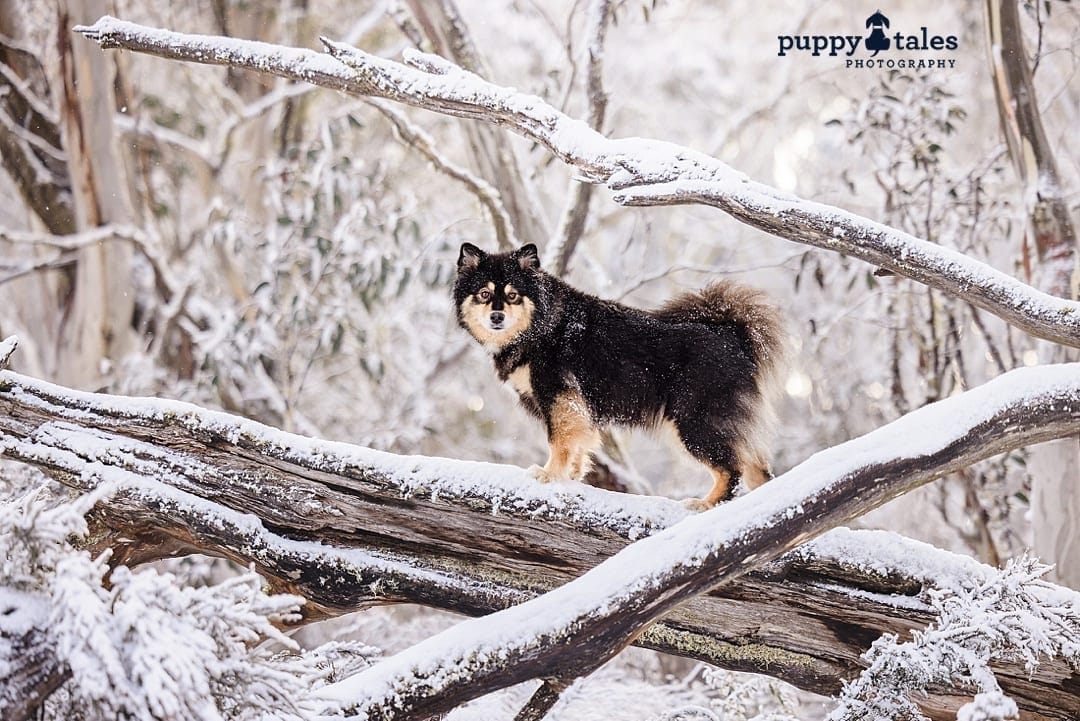 Astrid and Arn were born in her first litter of pups, and Wunjo in her second. The rest of Astrid and Arn's litter sadly fell ill, and these two have been with Jessica ever since.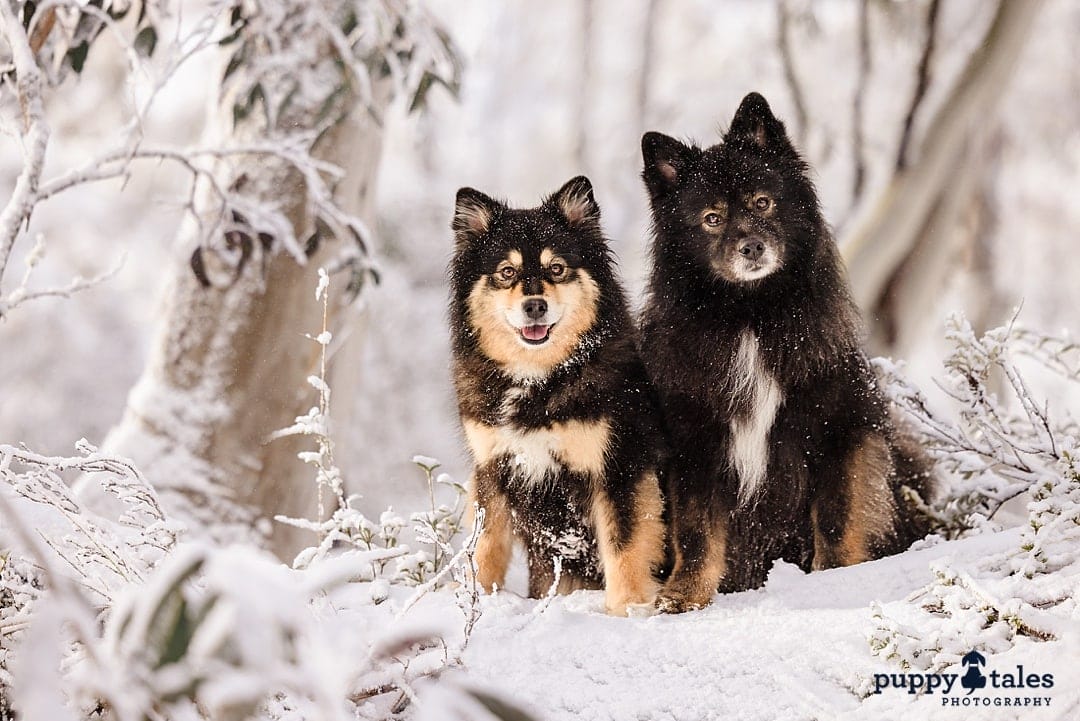 When Wunjo was born, Jessica wasn't planning to keep a puppy from the litter, but Wunjo's playfulness and happy disposition won her over – even if she did come out of the womb screaming at the top of her little lungs! And making noise is something she continues to this day!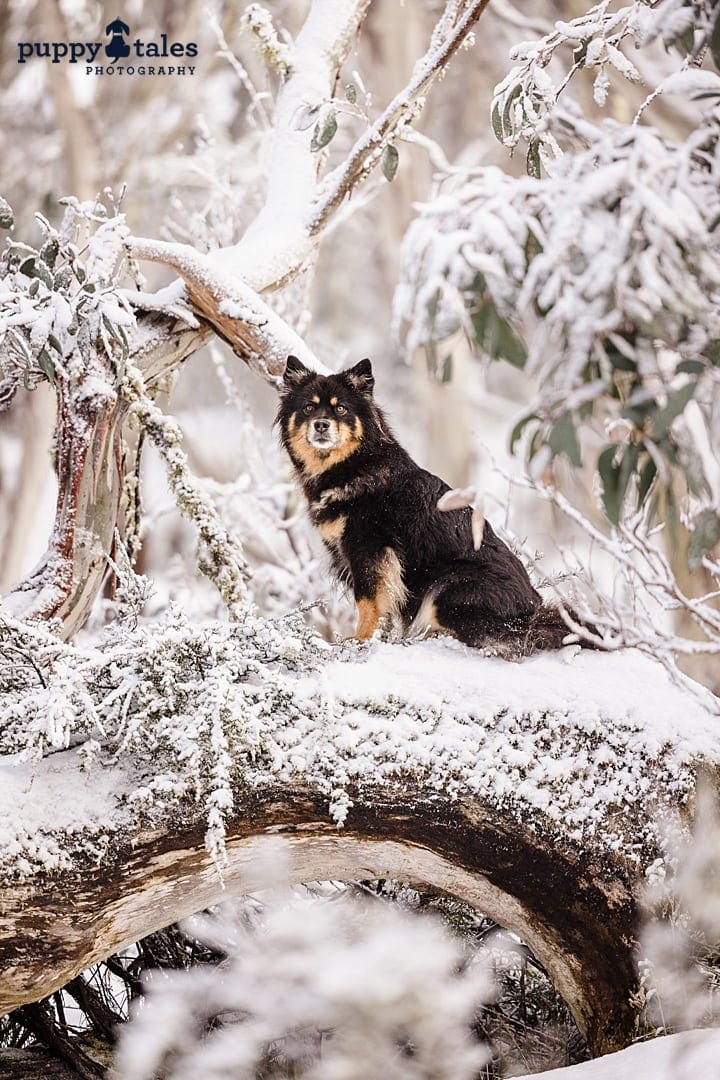 While photographing dogs and capturing special memories for their humans is both fun and rewarding, working with a group this size can be a bit of an extra challenge! Take five already buoyant dogs and add beautiful fluffy snow and you get extreme levels of energy and more than a little chaos.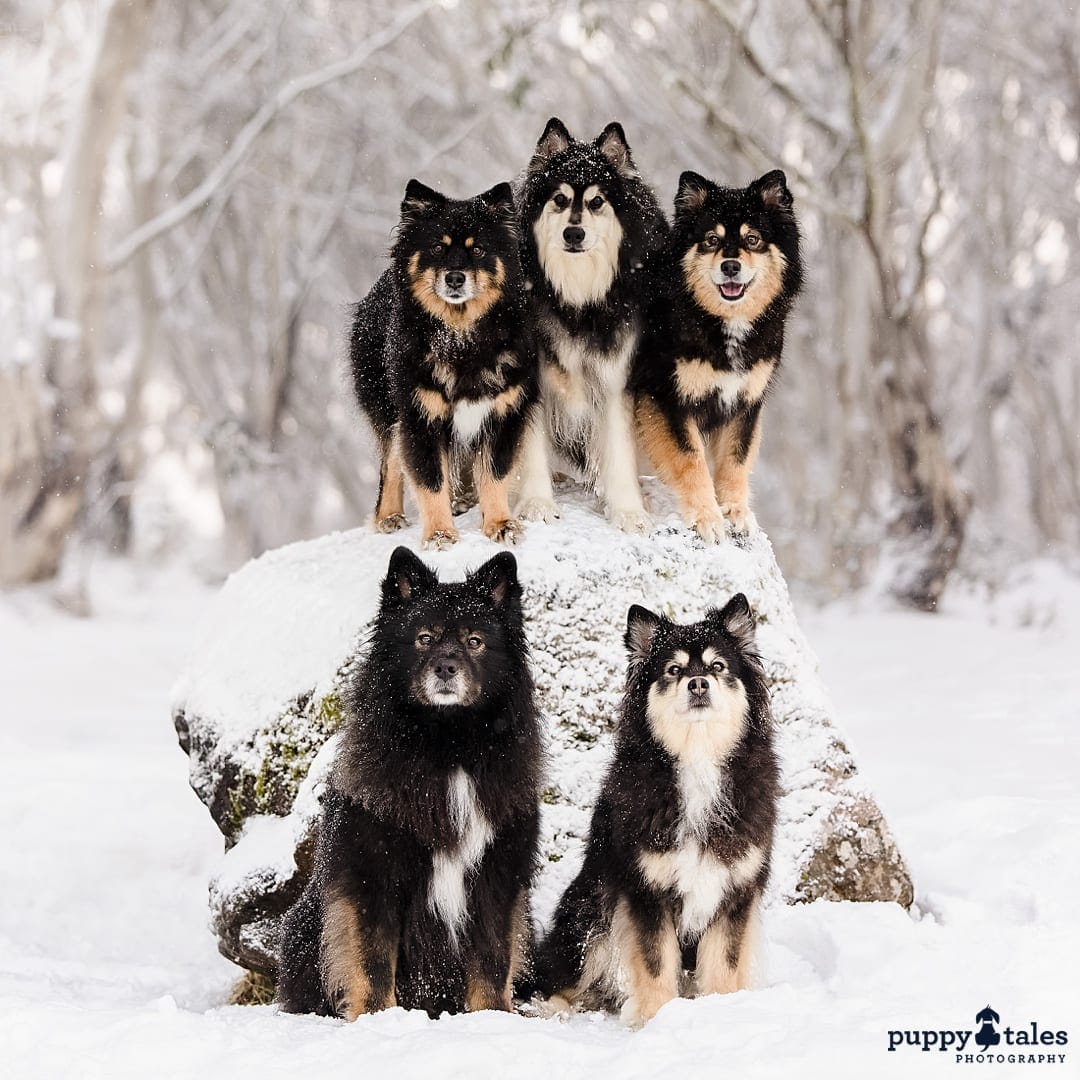 Having an extra set of hands around to help keep the excitable pups in check was certainly helpful. And while the session did take a little longer than normal, it was well worth it for the joyful memories captured!
Don't miss out on the breathtaking beauty of the snow photos of Finnish Lapphunds! Click now on the YouTube video to witness their stunning photography shots and be amazed by the grace and elegance of these majestic creatures in the winter wonderland.
For Jessica, these photos will forever serve as a celebration of the light and joy her dogs bring into her life. Together they have faced injuries, illness, and a few simply bizarre incidents – like the time Jaska got leeches on his eyeballs – and these special memories with her fur family and best friend are something to cherish furever.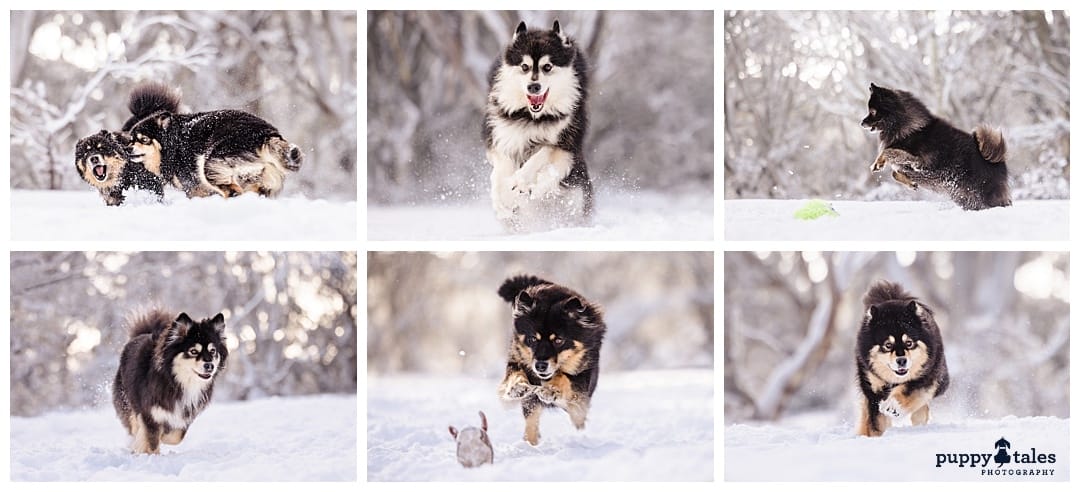 Our Snow Dogs Photography and Retreat sessions are one of our most popular, so register your interest for 2023 now to be notified when bookings open!
Kerry is 'Top Dog' here at Puppy Tales. With her own adored dogs, she completely gets that your four legged furry buddy is absolutely part of the family. That they sleep on the bed, that you want to take them everywhere, that you plan holidays so they're included & that their presence makes your life incredible.