Seaford Foreshore Reserve has a great dog friendly coastal bushland walk parallel to Seaford beach awaiting those heading out to stroll this path. There is 7kms of coastal walkway, set amongst 50 hectares of Coast Banksia Woodland with remnant indigenous coastal vegetation, running from Keast Park to Mile Bridge. Easy and flat with light sandy areas make this a leisurely walk for you and your dog.
When doing this walk, we started at Seaford Life Saving Club at the end of Station Street and walked a 6km return trip south to Gould Street.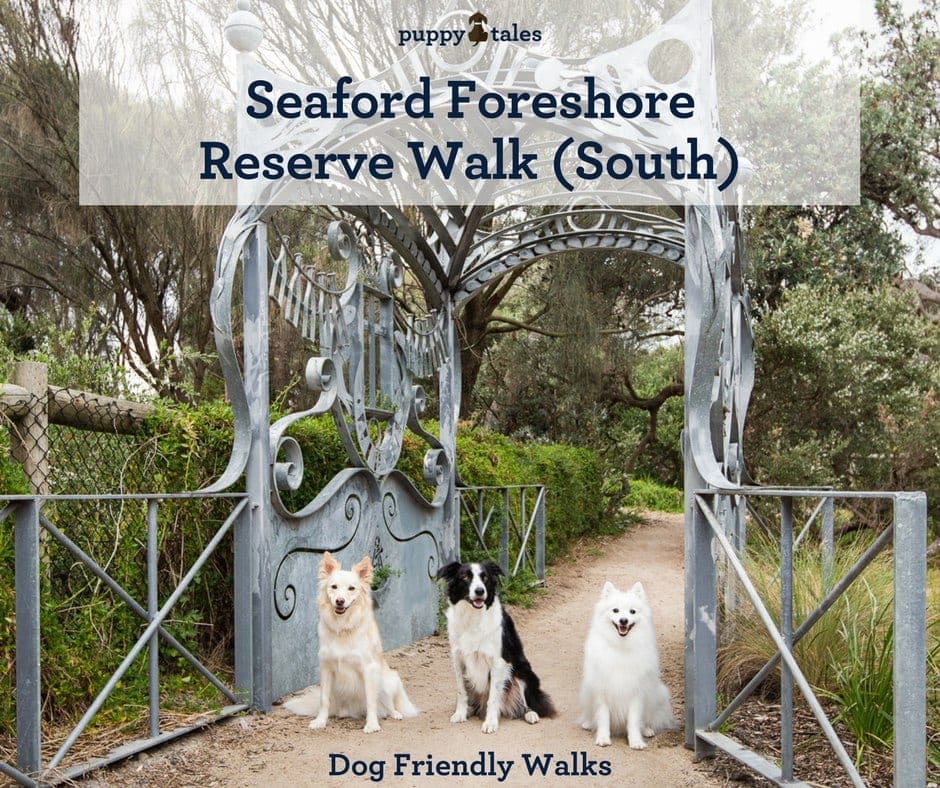 Overview of Seaford Foreshore Reserve
Where: Seaford, Victoria
Route Style: Return path (or circuit via Kananook Creek Walking trail)
Distance: There is over 7kms of walking track along the Seaford Foreshore Reserve. It can be broken up into a few different segments or lengths; Keast Park to Seaford Life Saving Club is 2kms, Seaford Life Saving Club to Mile Bridge is 5kms.
Access & Parking: There is paid parking at Keast Park, Seaford Life Saving Club, and Frankston Foreshore near Mile Bridge. You can also find on street parking along numerous side streets on the route but they are usually taken by residents of the area.
Terrain: Mainly sand/dirt pathway, with some boardwalks.
Difficulty: Easy – the path has a 'natural' look to it and has been left in that condition. Some sections may be a little more difficult for a stroller, but these are only short sections.
Best time of year: Any (see below for dog prohibited times). The path is sheltered from the wind when it comes in from Port Philip Bay, and being that it is a sand/dirt path, would still be navigable after rain.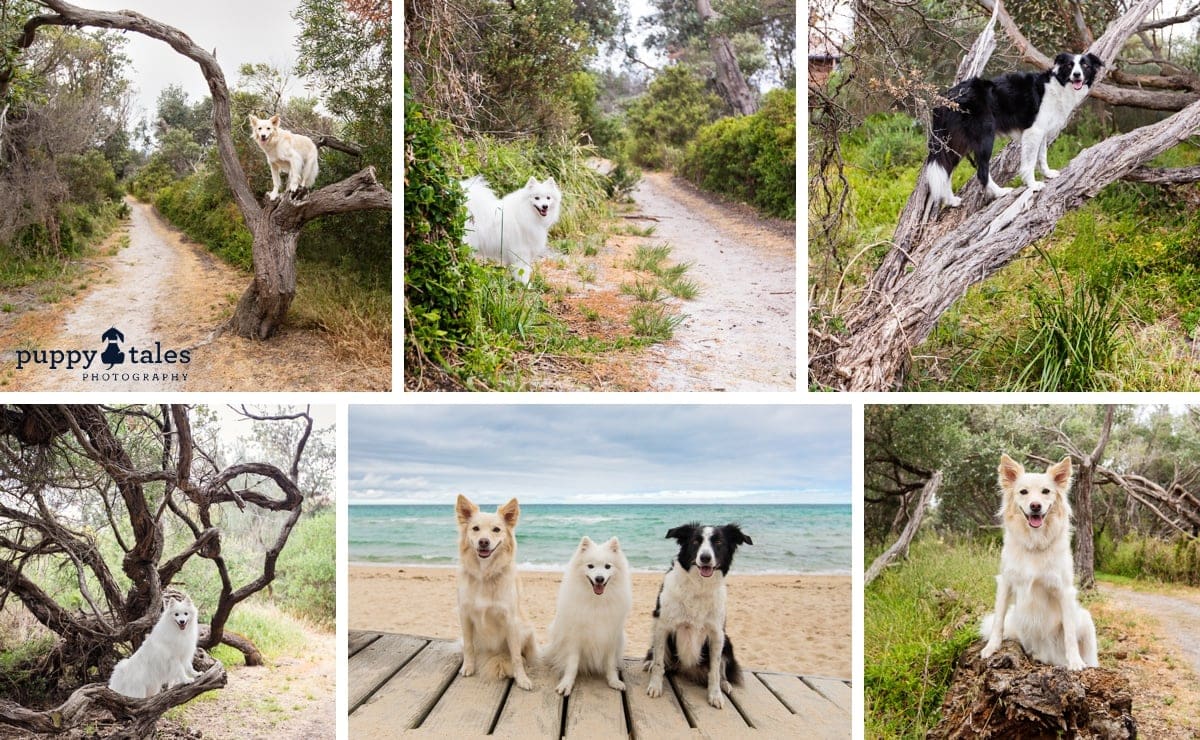 Facilities:
Off Leash Areas: Nil. It's clearly signed as an on leash area.
Prohibited times: Dogs are prohibited in the Foreshore Reserve from 1st Dec to 31st Mar between 9:30am and 7:30pm.
Rubbish Bins: Yes, at various beach access points along the walk.
Waste Bags: Yes, well stocked with doggie bags at the rubbish bins.
Water: A few taps are dotted along the walk where toilets are located. You'll need your own bowl.
Public Toilets: There are a good number of public toilets available along the walk. They are located at the Life Saving club and other major beach access points.
Other Facilities/Features:

There is an electric BBQ area on the south side of the Seaford Life Saving Club car park.
There are a number of picnic tables located along the walk to stop for a rest, bite to eat, or just take in the nature that surrounds you.
The beach access at Seaford Life Saving Club has a boardwalk which is stroller and wheelchair friendly to access Seaford Pier.
Map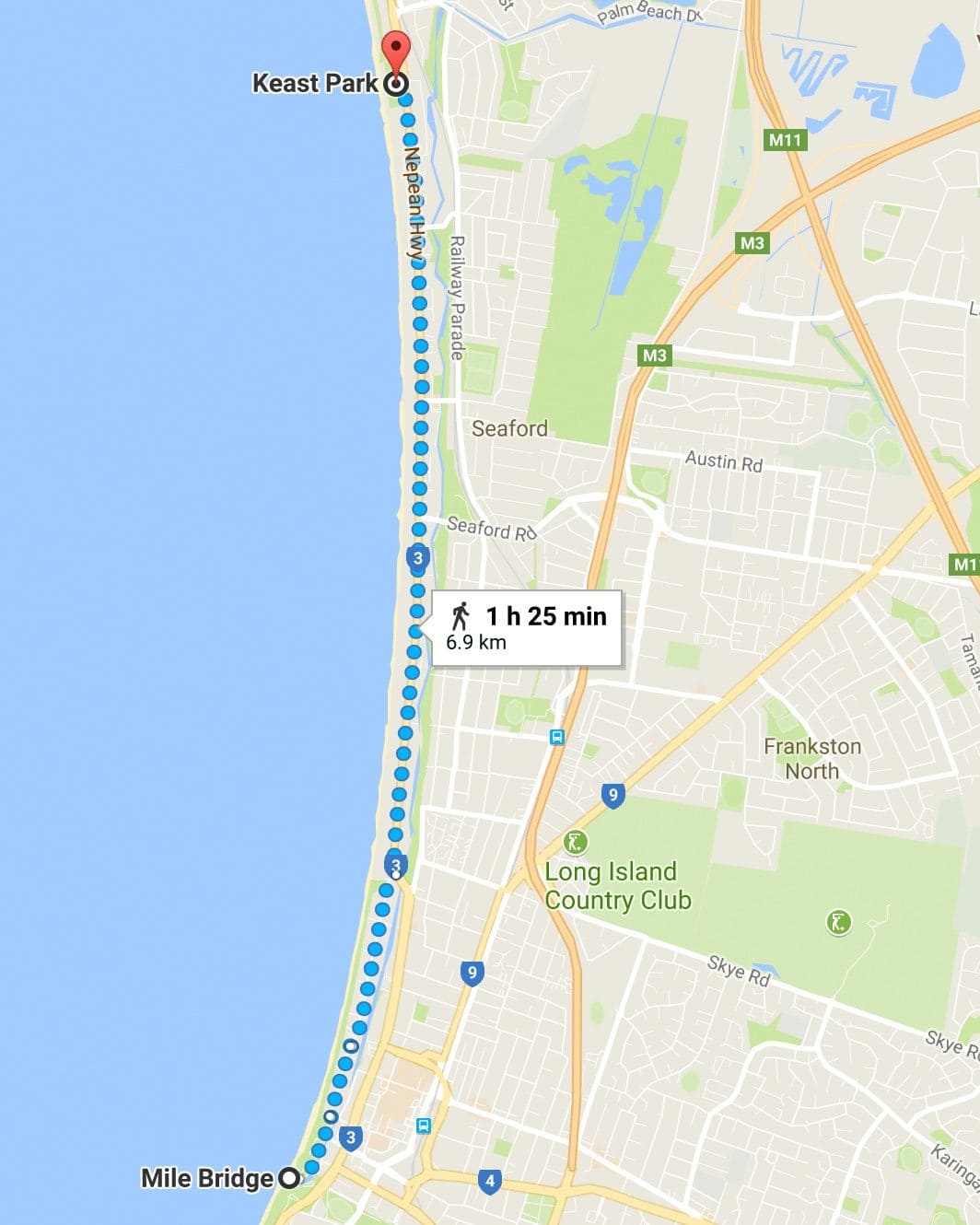 Getting There
Seaford Foreshore Reserve is nestled in between Port Philip Bay and the Nepean Highway, stretching from Seaford to Frankston.
The reserve is located about 50km South East of Melbourne CBD at the gateway to the Mornington Peninsula – about an hours drive.
Seaford Station is located 300m from the Surf Life Saving Club.
Walk Directions
There is only one track but it can be broken into a few separate walks if you wish in different directions. They are all pleasant and stay true to the natural landscape and vegetation along a coastal route. The Coast Banksia dominates the woodlands, but there are various other indigenous species to admire that create natures art gallery shaped by the coastal winds.
You could extend your walk or stay in the area by heading out to the beach itself (still on lead and with the same restrictions for dogs).
Points of Interest along Trail
The Seaford Pier
Built in the late 1920s to help support a pipeline that carried seawater from Port Philip Bay to Kananook Creek to help the silt clear from the mouth of the creek. Unfortunately, this pipe and pumping system was neglected during World War II and was dismantled in 1953. The pier is considered one of the best fishing spots in Port Philip Bay. The view from the end on a clear day offers 270 degree views from the Dandenong Ranges, Melbourne City, You Yang Ranges, to the Bellarine Peninsula.
Wrought Iron 'Folly'
The iron sculptor entitled "The Hermitage" is just south of the Seaford Life Saving Club carpark and is a dedication to one of the characters of Seaford. John Maddox was known as "The Hermit" and lived in the area for about 20 years in a small shack with a tree bark roof that he had built in the reserve. Surrounded by tea trees and lots of little paths covered in seashells, people were warned at the entrance that "Blasphemers not allowed in here!" It was only after he was admitted to hospital after a serious attack of Edema that the local community knew his name. He sadly passed away in 1917 at the age of 60, and soon after his shack and treasures were vandalised and destroyed.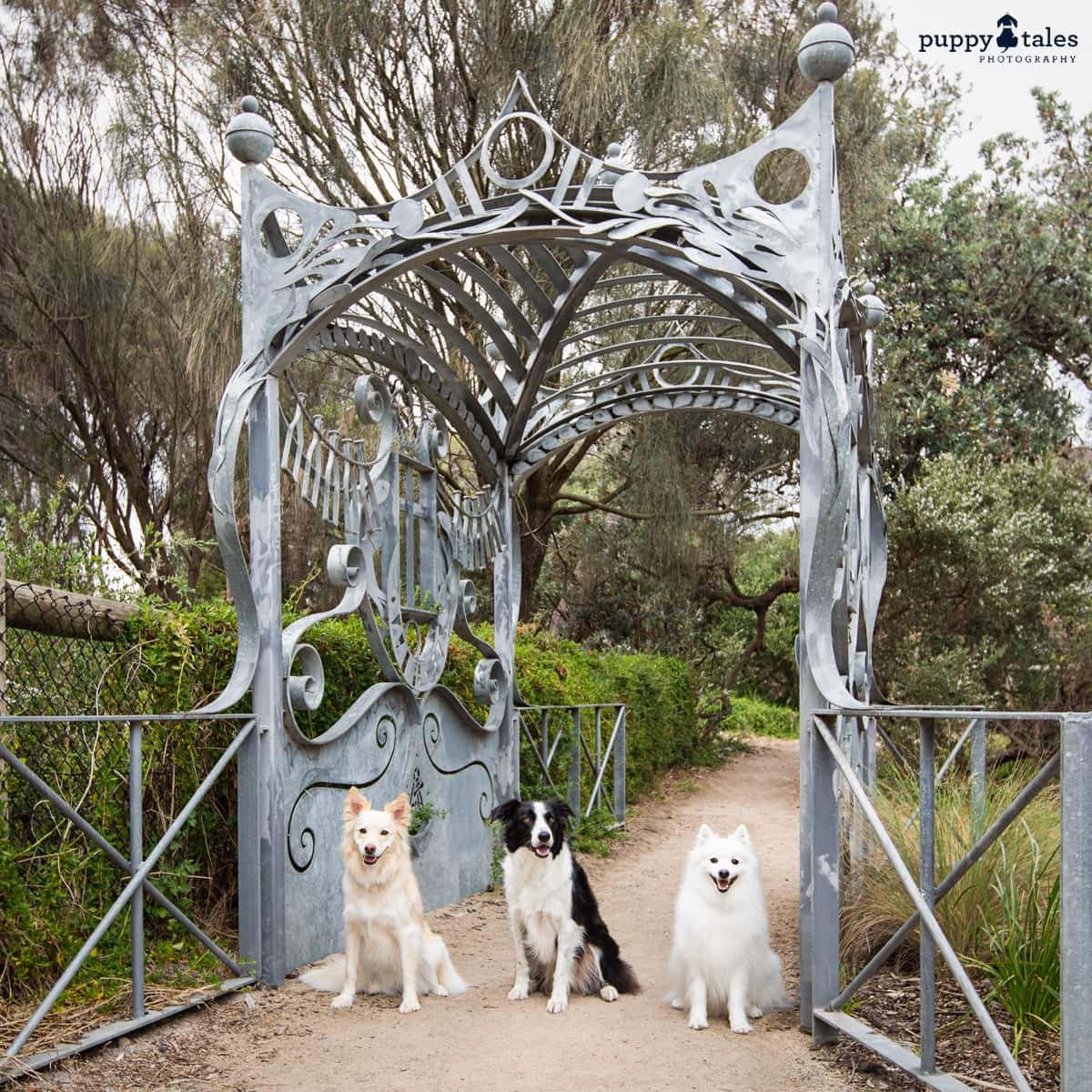 Beach Access points
There are a number of beach access points along the walk. They are clearly marked and are signposted along the route. There are also markers at the halfway points between each access. Most of them are beach sand, with a small number being boardwalk to the beach. At the major access points, there are bins and doggy bags.
Things to Know / Tips
We began our walk at Seaford Life Saving Club and made our way South to the clay tennis courts at Gould Street. The track is fairly flat and is mainly a mixture of sand and dirt, which makes it easy to walk on.
It is bordered by the Nepean Highway and Port Philip Bay. While it is convenient to be located along the highway, this brings a fairly constant sound of traffic. It is not a deafening sound, but is a reminder that you haven't left suburbia.
With the beach so close, you might be tempted to wonder down and have a dip with your dog. Dogs are not permitted on the beach from 9:30am until 7:30pm between 1st December and 31st March. At all other times, dogs must be on a leash and owners must have a plastic bag with them to pick up after their dog. Failure to do so may result in an infringement being issued.
Of note, there are native animals which also use this area. There is a rich birdlife population, with over 100 species of migratory birds passing through on their way to Kananook Creek or Seaford Wetlands. More lizards can be found here than in many other regions in Victoria. Of particular interest is White's Skink which is no longer found in the inner urban areas of Melbourne, having once been common. With such a healthy amount of wildlife in the area, snakes are also a common sight along the track with warning signs at every post.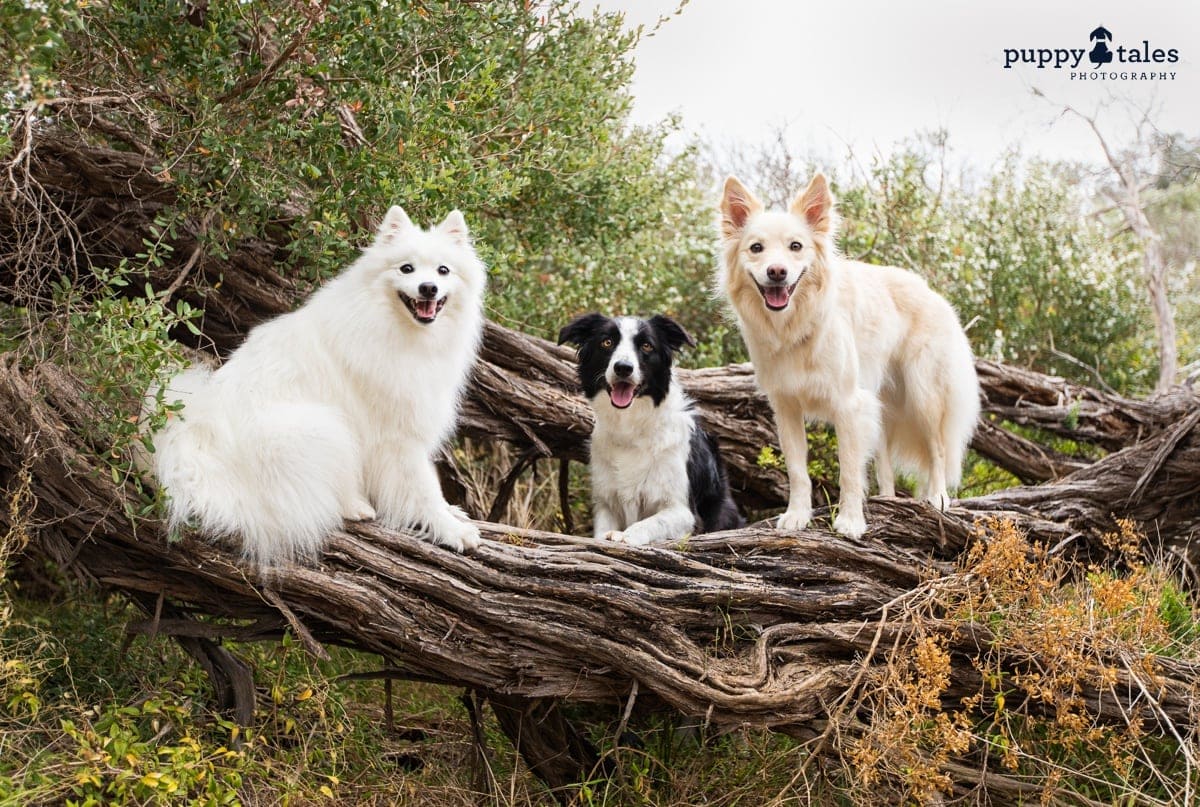 Suitability for Dog Photography Session
With nature providing the perfect artwork along the walk, you can't take a bad photo with your dog posing in amongst the twisted and contorted Coastal Banksias. You can also find various vines and creepers making interesting shapes and providing 'cave like' photo opportunities. And of course, you can head onto the beach for beautiful Port Philip Bay photos.
Nearby
Frankston Beach (prohibited on the beach between 9:30am and 7:30pm, 1st December through 31st March, permitted on lead all other times)
Sweetwater Creek Nature Reserve (on lead)
Kananook Creek Reserve (on lead)
Pines Flora and Fauna Reserve (on lead)
Ballam Park – Dog Friendly (off lead areas)
McClelland Sculpture Park & Gallery (on lead) Dog Friendly Scrub / Bush Walking Tracks between the Sculptures
Seaford Wetlands Reserve (on lead)
Other Resources
The Reserve is maintained by the Frankston City Council. The Foreshore Walk forms part of the Three Waters Walk, which also takes in the Seaford Wetlands and Kananook Creek walks. The Three Water Walk was originally designed by students from the Patterson River Secondary College at Seaford as a self guided walk using existing walking tracks and take in three very different waterways in close proximity.
We visited Seaford Foreshore Reserve in October 2017. Occasionally things change from when we visited. If we have something wrong or if something has changed – please either leave us a comment or send us an email to let us know.