Sweetwater Creek Nature Reserve is a hidden gem of a walk right in the middle of the 'burbs. We suspect it's mostly used by locals and they'd like it to remain their little secret! The 90 hectare reserve corridor is a unique ribbon of native bush, forest, creek, swamp, grasslands and the walking trails through it provide an easy and pleasant nature spot for walking with your dog.
Narringalling, meaning 'sweet water' was the name given to the creek by the local Aboriginal Boonerwrung tribe who used it as a source of fresh water.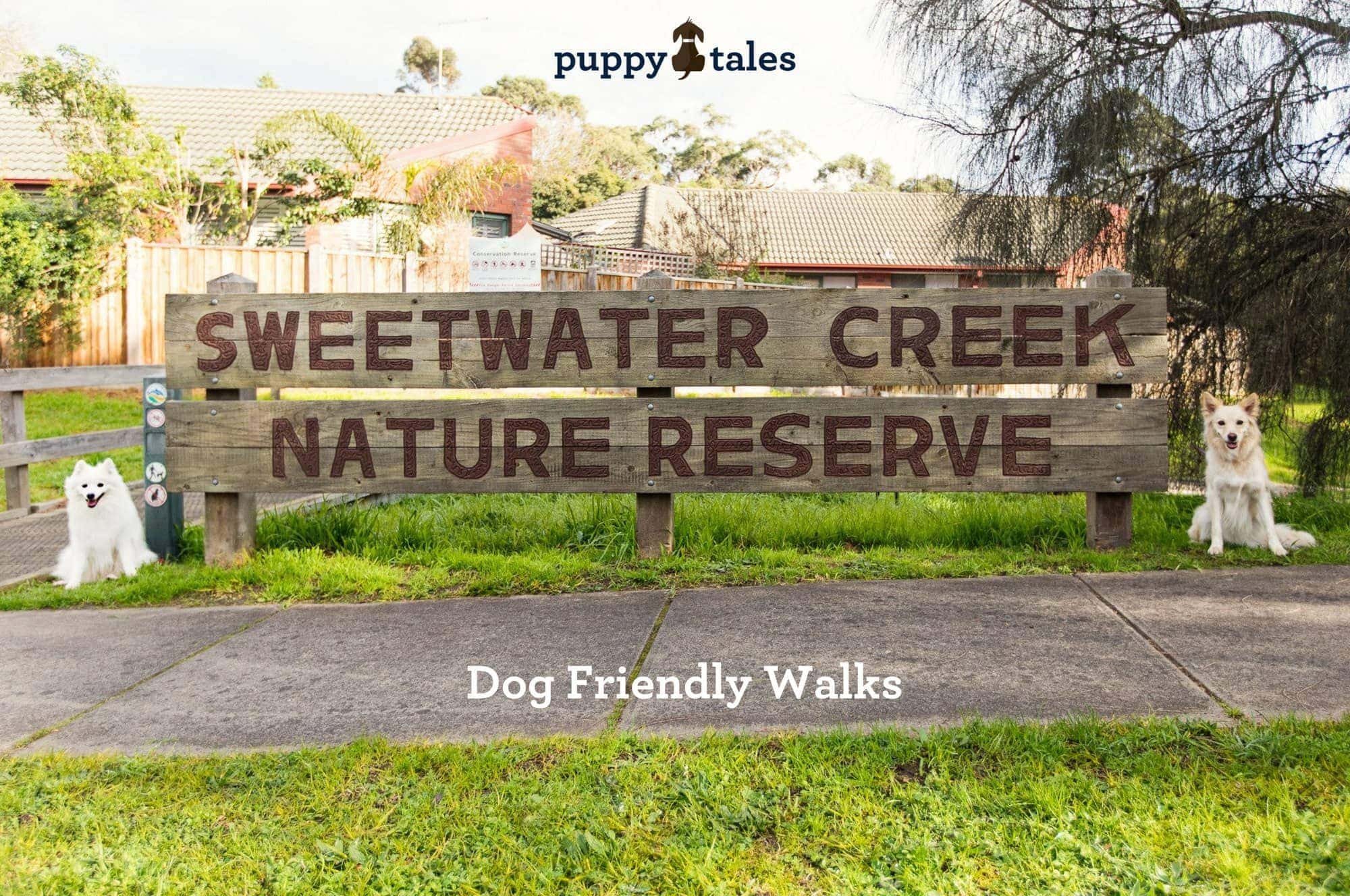 Overview of Sweetwater Creek Nature Reserve
Where: Frankston South / Olivers Hill, Victoria
Route Style: Loop walk (along with little side track options)
Distance: Approx 3.5 km if you walk the Main Track from Liddesdale Avenue to Baden Powell Drive) and back; approximately 4 km if you walk both tracks in a loop. Can add further distance through exploring some the side tracks.
Access & Parking: The reserve is open and accessible continuously. There's numerous entrances to the reserve – Liddesdale Avenue, Hoadley Avenue, Parkside Grove, Baden Powell Drive, Grange Road, Bembridge Avenue, Fleetwood Crescent. These entrances have free, on street parking in the vicinity.
Terrain: Undulating dirt and gravel path, also with steps, boardwalks and bridges.
Difficulty: Easy – trail contains some boardwalk areas and wooden steps which helps preserve the trails and stop your feet getting muddy & wet in the swamp areas.
Best time of year: Any. Spring, however is especially pretty with many wildflowers appearing. After rain many of the paths would become muddy.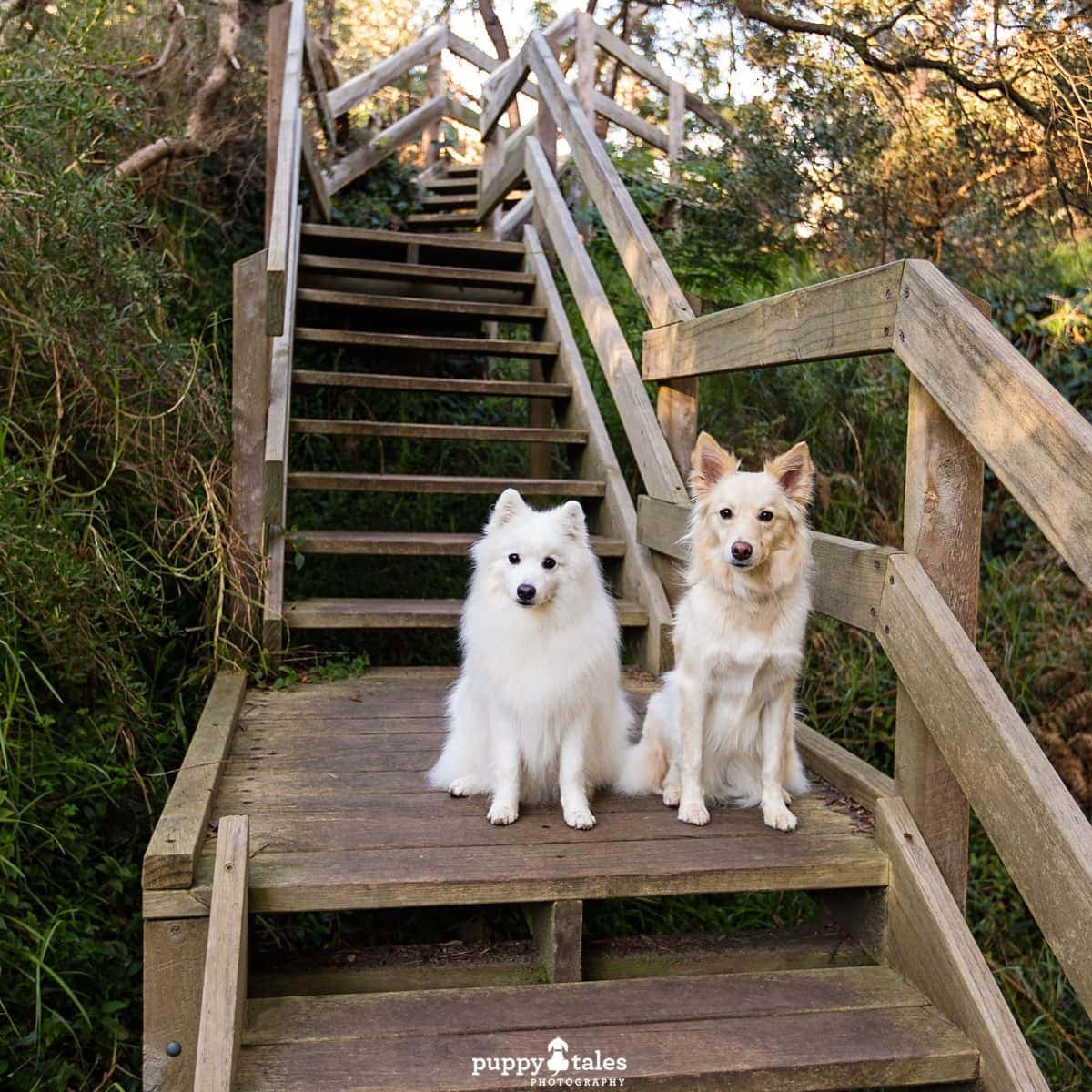 Facilities:
Off Leash Areas: Nil. It's clearly signed as an on leash area, however we met quite a few dogs whose humans had let them off lead in the reserve.
Rubbish Bins: Yes, at the entrance points
Waste Bags: Yes, well stocked with doggie bags at the rubbish bins we saw.
Water: No taps or water bowls for dogs inside the reserve, although Keiko and Summer both enjoyed a drink from the creek
Public Toilets: Not inside the reserve. There are toilets located along the beach across the Nepean Highway (closest reserve entry/exit point is Liddesdale Avenue). Take care crossing the highway as it's a busy stretch of road.
Other Facilities/Features:

There are several seats to stop, rest or soak in nature throughout the reserve.
There's a small children's playground at the Fleetwood Crescent entrance.
The trail can also be used by bikes (although we didn't see any).
Boardwalk parts from Baden Powell Road would be pram / wheelchair accessible but outside this area, the trail would be difficult terrain for either
Map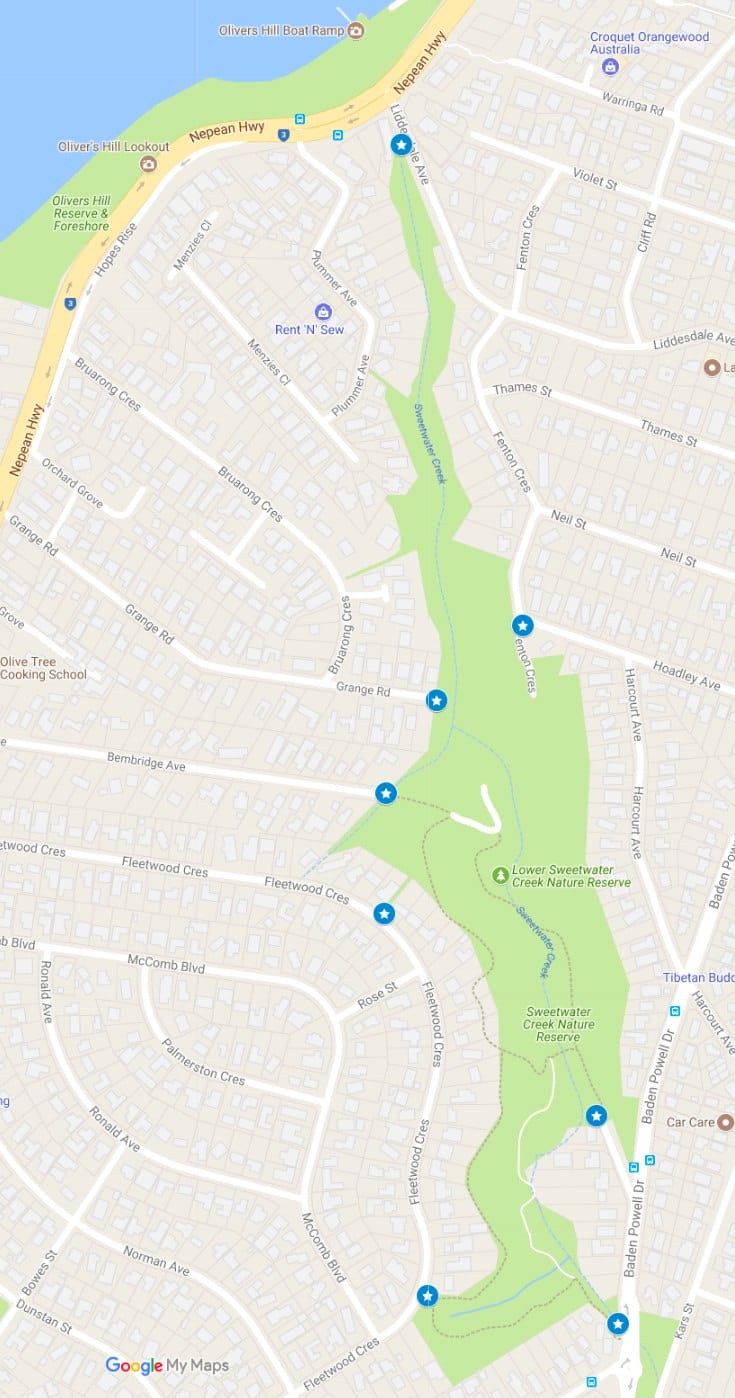 Getting There
The Sweetwater Reserve is tucked in behind the Nepean Highway at the bottom of Oliver's Hill and just south of Frankston.
It's located about 50 km South East of Melbourne at the gateway to the Mornington Peninsula – about an hours drive.
The Frankston Station is the nearest train station but is about 4 km away so public transport access to the reserve isn't all that conveniently located.
Walk Directions
There are two main tracks in Sweetwater Reserve as well as a number of little side tracks and tracks weaving between the two main ones that can be explored. Along these tracks you will be taken besides rock pools of the Creek, across bridges, through Native shrubbery, amidst woodlands and onto a boardwalk over swamp.

Exton Track (also called the Creek Track)
The Exton track is the main track in the reserve. It runs between Liddesdale Avenue and Baden Powell Drive and mostly follows along the creek. It can easily be done in either direction or, as we did, by heading along the Fleetwood track we created a loop walk for ourselves.
Fleetwood Track (also called the Grange Bridge Track)
The Fleetwood track takes in the heathy woodlands and at it's high points gives you views of the area and back along the reserve. This tracks branches off the the Exton track about a third of the way in (from the Liddesdale Avenue entrance) and takes you to higher parts of the reserve and out to Fleetwood Crescent entrance.
Points of Interest along Trail
The Granites
One of the main features in the reserve are the Granites – which according to the signs are upthrusts of granodiorite which forced their way through a fissure of local Baxter sandstone about 350-400 million years ago. The dogs just loved that they could grab a drink in the water here, bounce up on the rocks and splash in the water between them.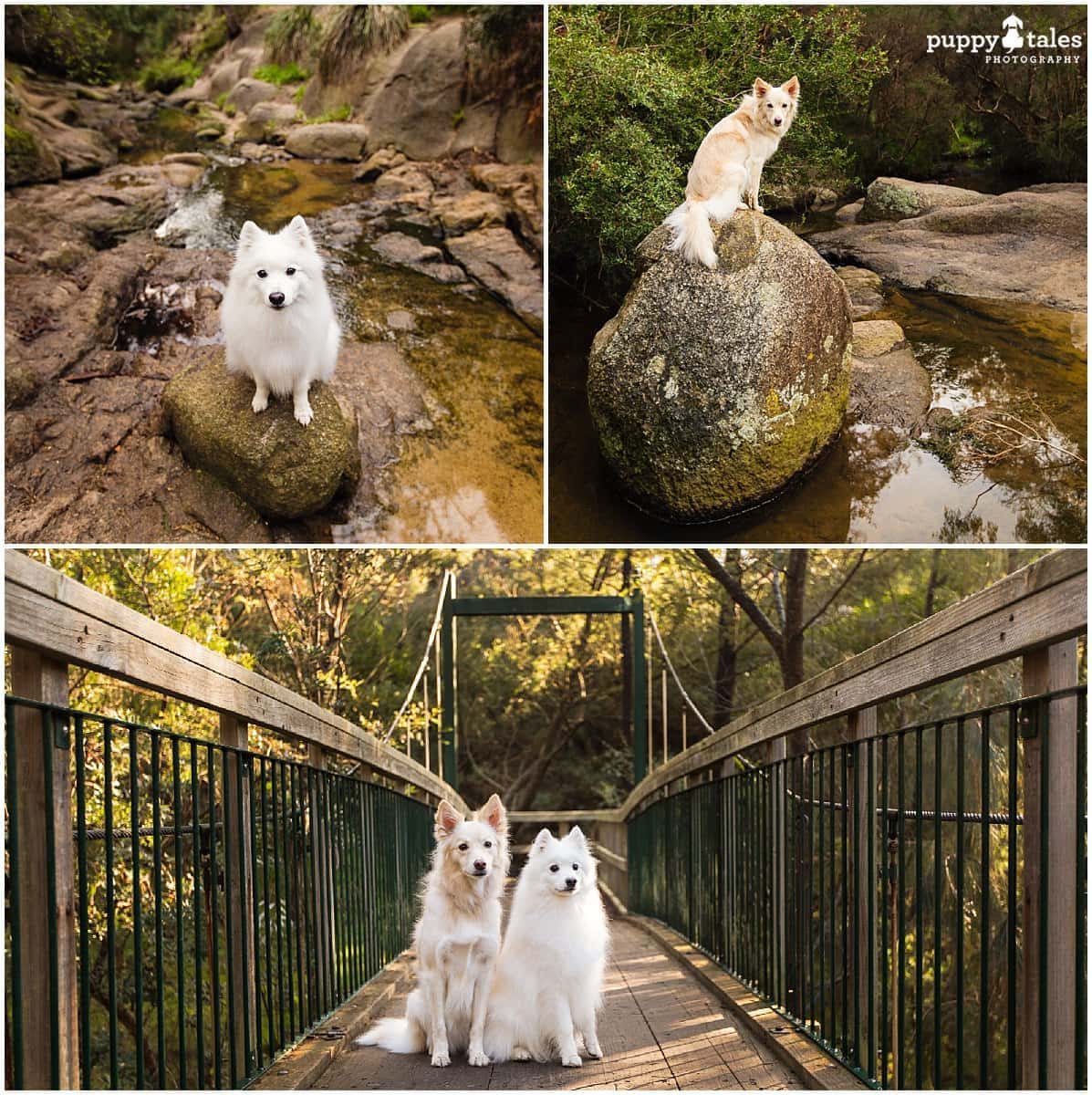 Bridges
There are five bridges in the reserve that allow the trails to cross over the creek. The main of these is a swing bridge that crosses over the top of the Granites. The closest entry to this bridge is at Fleetwood Crescent.
Things to Know / Tips
We started at the Liddesdale Avenue entry. While it's undulating throughout, starting here generally meant we headed uphill for the first part of the walk and then more downhill on our return to the car. Who doesn't love a relaxing home leg!
The backyard of houses run along both sides of the reserve. They don't make the walk unpleasant at all but it does mean along the Fleetwood Track you won't have that feeling of totally escaping to nature and occasionally you'll go past the back fence of properties with dogs.
You can easily continue or extend your walk along the beachside boadwalk towards Frankston or up to the Oliver's Hill Lookout.
Few native animals remain in the reserve – having been driven out by foxes and domestic pets (cats are prohibited and it's an onlead reserve for dogs). You might however see the occasional possum, echidna or blue tongue lizard. There are numerous bird species from Wrens to Kookaburras and in the evening you may even be treated to seeing a Tawny Frogmouth. And of course in warmer months you want to be mindful that snakes may also be present in bushlands.
Suitability for Dog Photography Session
If you're looking for a convenient and easy to get to spot that has a tranquil, wilderness feel – complete with small creek for splashing in – then Sweetwater Creek Nature Reserve would be a great location for a photography session with your dog/s.
Nearby
Frankston Beach (permitted on lead from 7:30pm to 9:30am in December, January, February and March, permitted on lead all other times).
Kananook Creek Reserve (on lead)
Pines Flora and Fauna Reserve (on lead)
Ballam Park – Dog Friendly (off lead areas)
McClelland Sculpture Park & Gallery (on lead) Dog Friendly Scrub / Bush Walking Tracks between the Sculptures
Mt Eliza Beaches – Daveys Bay, Mount Eliza Beach & Half Moon Bay (Off lead from 7pm to 9am during daylight savings and at all other times of the year. Prohibited from 9am to 7pm during daylight savings).
Seaford Foreshore Reserve (on lead)
Seaford Wetlands Reserve (on lead)

Other Resources
The Reserve is maintained by the Frankston City Council. The Sweetwater Creek Nature Reserve and the natural beauty that can be found there today is result of a residents group who've spent three decades now restoring the creek and the natural environment to it's original state and now protecting it.
We visited Sweetwater Reserve in July 2017. Occasionally things change from when we visited. If we have something wrong or if something has changed – please either leave us a comment or send us an email to let us know.