It's hot, too hot. The dog is panting, you're wilting, and both of you are going stir crazy indoors. The idea of clear blue sea and a cool coastal breeze suddenly pops into your mind. Well, water you waiting for? (Excuse the pun!)
A trip to the beach and a splash in the surf is just the thing for you and your pet pal. But for a truly relaxed visit and a day to remember – for all the right reasons – it helps to be prepared. Here are 5 steps to the ultimate beach experience for you and your canine companion.
1. Surfing
Before leaving home, try a spot of surfing – on the web, that is. Not all beaches welcome dogs so search out those that do. Sites such as Doggo are a great resource for finding pet friendly places, including those by the coast or on other water inlets. Also, check the rules of beach use such as whether dogs must be kept on the leash or can be let off and the hours that they are permitted.
Having found a pet-friendly beach and whilst online, search out the nearest vet clinic. The unexpected can happen in the form of cut pads or fish hook injuries, and by having an emergency number in your mobile, you are prepared for potential problems.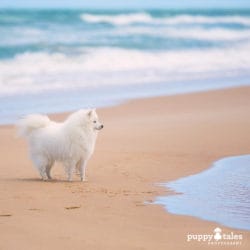 2. Beach Bag
Bikini. Sunscreen. Flip flops. Hat. Sunglasses. Water. Towel. Yep, these are all in your beach bag. So what about your dog's sun essentials?
Your canine companion isn't so very different and has similar needs to you. Remember the essentials for them on their beach visit and you won't go far wrong. Pack plenty of water, not just for drinking but to wash the salt off his coat. Don't forget doggy bootees – after all, if the sun is too hot for your feet it's too hot for paws. To keep your four-legger safe in the sun, take along an umbrella or a sun shade for when the sun gets too strong, and don't forget doggy sunscreen for pink or thin-furred ears and nose.
As for fun, well a floating toy is the ideal inducement for your dog to get their paws wet. But if he's not a great swimmer, take along a dog life-vest to assist or encourage them. Neither does it do any harm to pack a canine first aid kit containing items such as saline for flushing wounds, antiseptic cream and bandages. Oh yes, and to touch on an un-poop-ular subject, but don't forget the pooper scoop bags! Remember, leave no trace for to do otherwise is not only antisocial but it gives dog owners a bad name.
Your Doggie Beach Bag: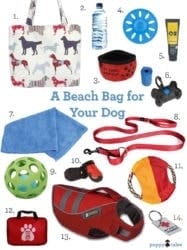 Canine Companion Check List
Bag – how cute is this dog themed tote by Hugo & Hennie?
Fresh Water
Drinking Bowl – we always have one of these in our car. You can buy from several places, including the RSPCA.
Whirl Wheel Toy
Sunscreen – like Sun Buddy by Rufus & Coco
Poop Bags & Holder
Micro fibre towel
Leash – this one's by Ezydog.
Holee Bowler Toy
Booties – these are all terrain paw wear by Ruff Wear.
Floating Rope Frisbee Dog Toy
First Aid Kit
Life Jacket – this one's the K9 Float also from Ruff Wear.
Vet's Phone Number
3. Beach Etiquette
Incredible as it may sound, not everyone likes dogs. Indeed, that's why some beaches don't allow dogs, because the human users don't like badly behaved dogs, sand kicked over their sunscreen, or dog mess on the beach.
Always respect other beach users and keep your dog under control at all times. Whilst your Labrador may be as soft as butter left out in the sun, if in his enthusiasm he bowls a small child over then he'll spoil their day and that's not fair. Likewise, you may know he only jumps up is to give kisses, but a stranger on the sand doesn't know that. If his recall is dodgy, then keep him on the leash. This is also for his safety as well, in case he gets distracted and runs for miles.
4. Beach Safety
Be vigilant for hazard warning signs about strong currents or rip tides. Just as you would never go swimming yourself when the warning flags are up, make sure your dog stays out of the water.
Currents aside, another hazard is the salt water. If your dog swims and then grooms himself there is a risk of him ingesting large amounts of salt water. This can lead to salt toxicity, of which the signs are vomiting, diarrhoea, excessive trembling, and can possibly develop into seizures. This can be avoided by rinsing him with fresh water after the swim, and ensuring he has plenty of clean drinking water available.
From time to time natural hazards arise such as beached jelly fish or washed up puffer-fish. Do not allow your dog to investigate and keep him well away just in case he snacks first and is unwell second. There may be a very real risk of toxicity leading to an inability to breath, and if you suspect your dog has eaten puffer fish, contact a veterinarian immediately.
To fully enjoy your day, don't let your dog overheat. He can't sweat and that fur coat is great in the cold weather but how would you fancy wearing winter thermals on a hot day? Signs of heatstroke include heavy panting, distressed breathing, a bright red tongue, staggering as if drunk, and collapse. If you notice any of these signs, get him into the shade, offer him water to drink, wet his coat, and soak his paws in cool water. If these measures don't prove effective, then take your dog to the nearest vet.
5. Beach Buddy
If you introduced you dog to sea and surf as a pup, the chances are he's already a well-adapted beach buddy. If however, this is your older dog's first trip, don't be surprised if he's a little befuddled. Depending on your individual pet's personality, they may be anything from euphoric (and dig on the beach kicking sand everywhere) to completely confused.
Take it steady. Don't force your four-legged friend to do anything but let him investigate and try things out for himself. Of course, have those treats ready to reward those bold moves such as stepping tentatively onto the sand.
If he's overwhelmed, keep him on the leash and close to heel. It may help to do a spot of impromptu training, to give him something to concentrate on other than the strange sights and sounds. Then, put a beach towel down on the sand and have him sit with you, then praise the bold behaviour when they soon start to investigate what's around them.
If you have the opposite problem and your dog is over bold, remember other beach users and keep him on the leash. Back home, work on those training disciplines, so that you're better prepared for next time.
And finally…
A day spent at the beach with your dog is a special time, and a chance for them to dig, swim, and run free with the wind in his fur. The beach is for everyone to enjoy so be a responsible pet parent: plan ahead, ensure your pet is under control and monitor them at all times.
Kerry is 'Top Dog' here at Puppy Tales. With her own adored dogs, she completely gets that your four legged furry buddy is absolutely part of the family. That they sleep on the bed, that you want to take them everywhere, that you plan holidays so they're included & that their presence makes your life incredible.