Travel Time: Approximately 4.5 – 5.3 hours
General Directions:
Take the Hume Freeway (M31) to East Wangaratta
Take Exit toward Great Alpine Rd (B500)
Arrive at Dinner Plain Village
Route Map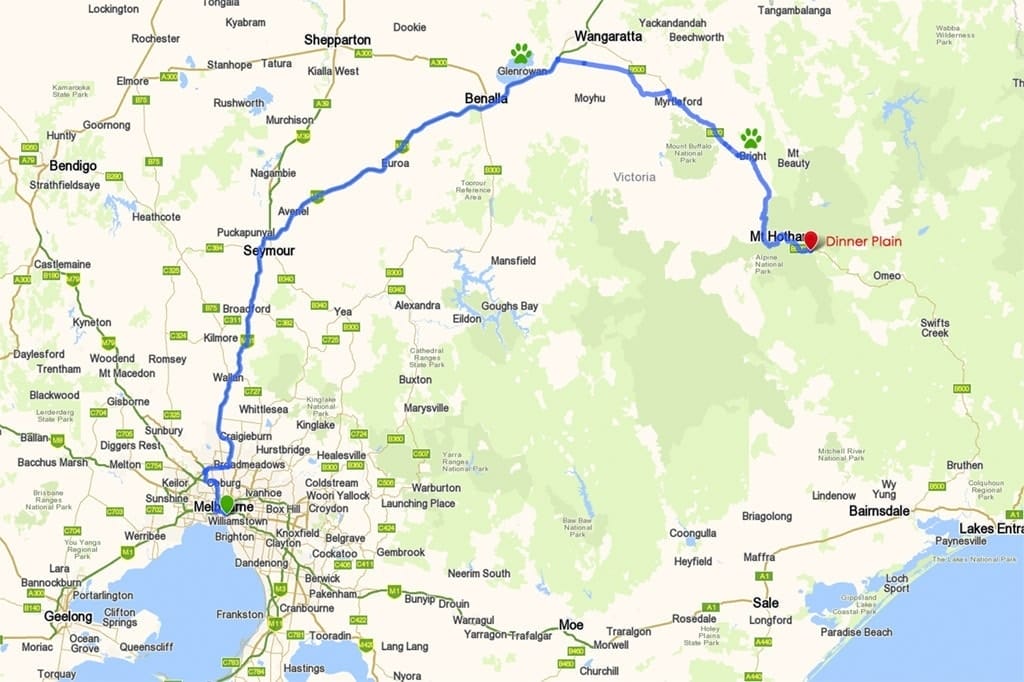 General Directions
Take the Hume Freeway (M31) and exit near Wangaratta onto The Great Alpine Road (B500) where you will drive through the picturesque Ovens Valley passing through Myrtleford, Bright and Harrietville and up over the top of Mount Hotham. Dinner Plain is 10kms further down the road. Once you've departed the Hume Freeway the drive is spectacular, particularly the stretch between Bright and Mount Hotham, but it can be challenging drive depending on the weather.
Once you get on the Hume Freeway this trip will take about between 4 and 5 hours (depending on traffic). The short stretch of road between Harrietville and Hotham Village is the most difficult part of the drive. This section of the road is often windy, and occasionally closed in extreme weather conditions. It can also be very busy with traffic headed to the ski resort during weekends during the ski season. Harrietville is the last place to buy petrol and do any major grocery shopping before you reach Dinner Plain.
Destinations Between Melbourne and Dinner Plain (via Hume Freeway)
Between Melbourne and Wangaratta (where you'll turn off for the Alpine Highway) there aren't many stops of particular interest so your best bet is to stop at the some of the many rest stops and service areas for fuel, food, and a stretch.
Glenrowan
This delightful country town was made famous by Ned Kelly and his gang and is the site of their final siege in 1880. Not surprisingly, it has become something of a landmark heritage town and is a great place to get a feel for Victorian country life during the Gold Rush.
Take the Glenrowan exit off the Hume Freeway and a short detour (2 km) takes you into the town of Glenrowan. In addition to the museums (not suitable for dogs) there is a self-guided siege site walk, which gives you and your dog a comfortable break.
Glenrowan has an excellent bakery as well as cafes, burgers, and Billy Tea rooms.
Bright
Incredibly dog friendly and picturesque Bright is not only the perfect spot for a break before heading up the winding road to Mount Hotham, it is also well-worth a visit, so if you have time to spend an extra night or two on the way to Dinner Plain, I highly recommend Bright as a stopping point.
Even if you are just stopping for a break you can walk along the banks of the river and eat at one of the many cafes or bakeries for lunch or a snack before you head on.
While we haven't tried them all, we can recommend The Ginger Baker (127 Alpine Road) and the Blackbird Cafe (95 Gavan St) for lovely food and wonderful friendliness towards dogs. The Apex Park also makes for a lovely little walk and toilet stop.
Keiko exploring along the Oven's River in Bright