Travel Time: Approximately 6 hours.
General Directions:
Head out of Canberra on the Monaro Highway (B23)
Take the Hume Freeway (M31) to Wodonga
Take Exit toward (B400) Tallangatta
Follow C527 to Great Alpine Rd (B500)
Arrive at Dinner Plain Village
Route Map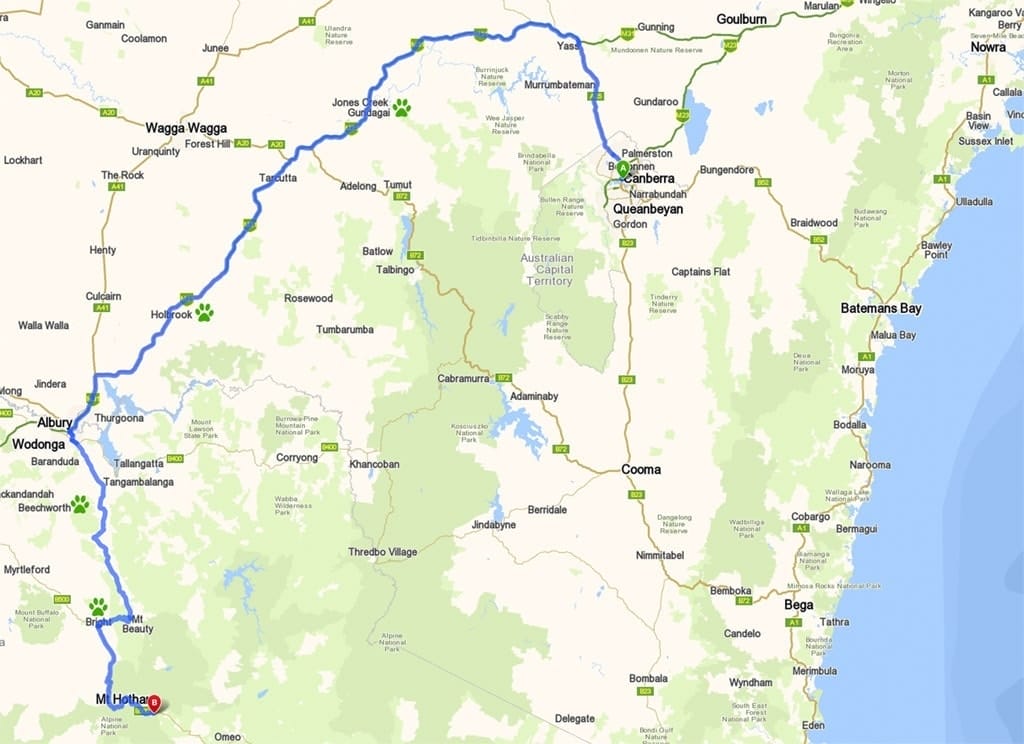 General Directions
From Canberra head out to also join the Hume Freeway. Once you reach the Hume Freeway continue south through Albury and Wodonga and take the (C377) exit towards Chiltern and Beechworth. Continue on through Beechworth and onto The Great Alpine Road (B500) which takes you through Myrtleford, Bright and Harrietville. Then you head up and over the top of Mount Hotham.
Destinations Between Canberra and Dinner Plain (via Hume Freeway)
Gundagai
So you're travelling to the snow with your dog … How can you possibly pass by the statue of the Dog on the Tuckerbox? … And how can you not take a photograph? It's an important historical attraction and located close to the highway 8km south of Gundagai at Snake Gully. You don't actually turn off the highway at Gundagai, just continue until you see the signs for the Dog on the Tuckerbox!
The cast bronze statue of the Dog on a Tuckerbox was commissioned as a tribute to pioneers, inspired by a bullock driver's poem called Bullocky Bill which tell about the loyalty and intelligence of his faithful dog. Petrol, bathrooms, and several food options are available near the monument.
Holbrook
Formerly Germanton, Holbrook was renamed in 1915 after a Lt Holbrook, a decorated submarine commander. When the HMAS Otway submarine was decommissioned it was transported to Holbrook and is now located in a park where there is plenty of space for you and your dog to stretch your legs. If you have time (and a second adult to take care of the dogs, the Submarine museum situated next to the HMAS Otway is well worth a visit.
If you are at Holbrook around meal or snack time, then the Holbrook bakery is a must! We've been known to time our trip so that we arrive at Holbrook Bakery at lunchtime.
Beechworth
Beechworth is a small and easy detour that takes you through some stunning scenery between Albury and Bright. And the town of Beechworth is well worth a stop – it's is a gorgeous dog friendly town. It's a well preserved historical town, so a stroll along the main street with your dog is going to give you a great sense of this town. There's a number of dining options – we've enjoyed the bakery for breakfast and lunch and the Bridge Road Brewers for dinner (great little pizzeria and dogs are welcomed in the outdoor seating area).
Bright
Incredibly dog friendly and picturesque Bright is not only the perfect spot for a break before heading up the winding road to Mount Hotham, it is also well-worth a visit, so if you have time to spend an extra night or two on the way to Dinner Plain, I highly recommend Bright as a stopping point.
Even if you are just stopping for a break you can walk along the banks of the river and eat at one of the many cafes or bakeries for lunch or a snack before you head on.
While we haven't tried them all, we can recommend The Ginger Baker (127 Alpine Road) and the Blackbird Cafe (95 Gavan St) for lovely food and wonderful friendliness towards dogs. The Apex Park also makes for a lovely little walk and toilet stop.
The Alpine Highway over Mount Hotham