People food bad for Pooches? No way! Contrary to what many people think when it comes to feeding your furkid there are 10 readily available, relatively cheap human foods that are especially good for their health that can be used in conjunction with any commercial or homemade food.
We've all seen the specially formulated pet diet 'boosters', supplements and vitamins, but these 10 natural foods will absolutely supercharge your dog's diet and improve not only their skin and coat but their overall health – 100% Guaranteed! If you're already doing it, keep up the good work! If not, try adding some of these readily available items from the Health Food Shop, Greengrocer or Supermarket to their diet on a regular basis.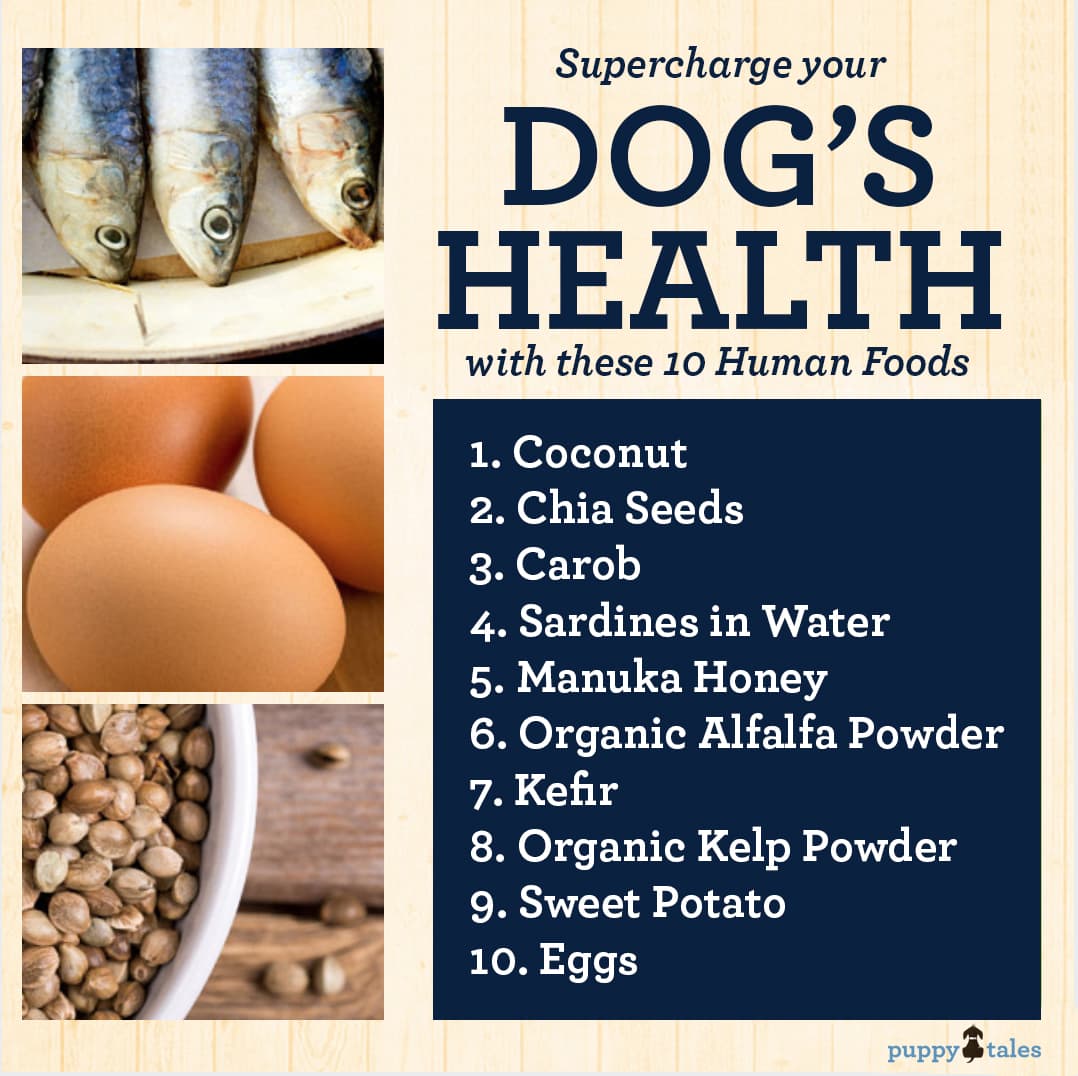 1. Coconut
If you haven't jumped on the Coconut Oil bandwagon yet, it's high time. Coconut contains medium-chain saturated fats which have anti-inflammatory properties and can reduce bacterial growth. You can simply add coconut oil to your dog's food or sprinkle organic and unsweetened coconut on the food. For more info on the benefits of Coconut Oil and how much to feed you dog, check out this post. Coconut Oil can also be used topically to heal skin abrasions, dry spots and sores.
2. Chia Seeds
Chia seeds are a rich source of antioxidants, B vitamins, and numerous minerals (e.g. calcium, copper, iron, phosphorus, potassium, zinc, and magnesium). They also contain loads of alpha-linolenic acid (ALA), which is an essential Omega-3 fatty acid for dogs. Omega-3 fatty acids are anti-inflammatory and are effective in combating chronic skin problems such as inflammation and infection. To add chia seeds to your dog's diet, simply sprinkle the seeds on top of your dog's food every day. For more on chia for dogs read this.
Coconut Oil, Chia Seeds and Carob.
3. Carob
We know dogs shouldn't have sugar or chocolate, but they do ruv the taste of carob because it is sweet. Carob is also nutritious – it is jam-packed with vitamins (A, B1, B2, B3, E) and minerals (e.g. calcium, iron, potassium, magnesium, phosphorus). The vitamin E in carob supports the skin since vitamin E has anti-viral and anti-bacterial properties. Use carob or carob chips when baking dog biscuits for your dog or try Foodie Pooch's recipe for Choc-Coconut Cake!
4. Sardines in Water
Sardines provide a rich source of Omega-3 fatty acids, which have anti-inflammatory properties and support the skin and coat. Once or twice a week, add some sardines in spring water to your dog's meals. They absolutely love the taste!
5. Manuka Honey
Raw, unfiltered honey is packed with nutrition that can benefit you and your pooch. High in antioxidants, anti-microbials and natural enzymes, medical studies have identified raw honey's ability to help heal gut problems, manage diarrhoea and soothe sore throats. Known as "The King of honey", Manuka is celebrated for its super health benefits and has been shown in clinical trials to kill more than 250 strains of bacteria. It can also be used topically to heal wounds and burns. Please note: If your pet is diabetic, consult with a vet before feeding honey, since its high sugar content can increase insulin levels. Also avoid feeding honey to overweight pets; at 64 calories per tablespoon, it can contribute to weight gain! (We don't recommend giving honey to very young or immune compromised pets due to botulism risks).
6. Organic Alfalfa Powder
Alfalfa contains a broad spectrum of nutrients, including protein trace minerals, dietary fibre, and vitamins A, B1, B12, C, D, E, and K. It is also very high in chlorophyll, which is to serve as an antioxidant in the bloodstream. But in addition to being highly nutritive, alfalfa can bring long term relief from arthritis to dogs and cats who receive it as a daily food supplement. Alfalfa also possesses cancer preventative qualities. It is believed that alfalfa induces complex cellular activities that serve to inactivate chemical carcinogens in the liver and small intestine before they can cause damage; thus helping to reduce the risk of cancerous growth.
Sardines in Springwater, Manuka Honey and Organic Alfalfa Powder.
7. Kefir
Kefir is a creamy, dairy based food made from the milk of cows or goats and is one of the oldest forms of cultured milk. Often labelled a "Probiotic Drink", it is similar in taste and consistency to yoghurt, but kefir provides even more health benefits to your dog (and to you). One tablespoon of kefir typically contains about 10 strains and 5 billion beneficial bacteria. Wow! Only the best of Probiotic Supplements for dogs even comes close, and it comes to you at a fraction of the price of prepared supplement. Learn more about what probiotics do.
8. Organic Kelp Powder
Kelp is a great source of minerals, such as iodine, iron, and Vitamins B1, B2, C, and E. These vitamins are important for maintaining proper health and are responsible for bone growth, heart health, and maintaining muscle strength. Kelp also acts to increase metabolism and balance blood lipid concentrations.
9. Sweet Potato
Unlike their boring white cousins, sweet potatoes contain high levels of vitamins A, C, and E and beta-carotene, as well as a host of minerals such as calcium, iron, copper and potassium. Vitamin E supports the skin, and so does vitamin C – it helps speed up healing and supports collagen production. Try making sweet potato chips for your dog – sprinkle olive oil on thinly sliced sweet potatoes and bake them in the oven until they turn crispy. Delicious and healthy for both humans and dogs.
Kefir, Organic Kelp Powder, Sweet Potato and Eggs.
10. Eggs
Cheap and safe, raw OR cooked, the humble goog is one of the most complete and nutritious foods you can feed your Pooch. Containing Vitamin A, Riboflavin, Folate, B12, Iron, Selenium and Fatty Acids; a fresh, free range egg a few times a week is an awesome addition to your dog's diet.