Am I living in a dream world, just because I have dogs and want a clean home?
Much as I adore dogs, I don't want my home looking or smelling like one…which is just one reason why a powerful, effective vacuum cleaner is essential. Knowing my love for pets and tidiness, I was recently asked to test out the Miele Blizzard CX1 bagless Vacuum Cat and Dog. (Don't you just love the name …makes it sound like a Formula One team car!)
There's nothing I like quite so much as a challenge, so my mind went into overdrive at the thought of how to best put a vacuum cleaner through its paces. Suddenly, regular household dirt didn't seem enough and after accepting the the review, I decided to up the ante.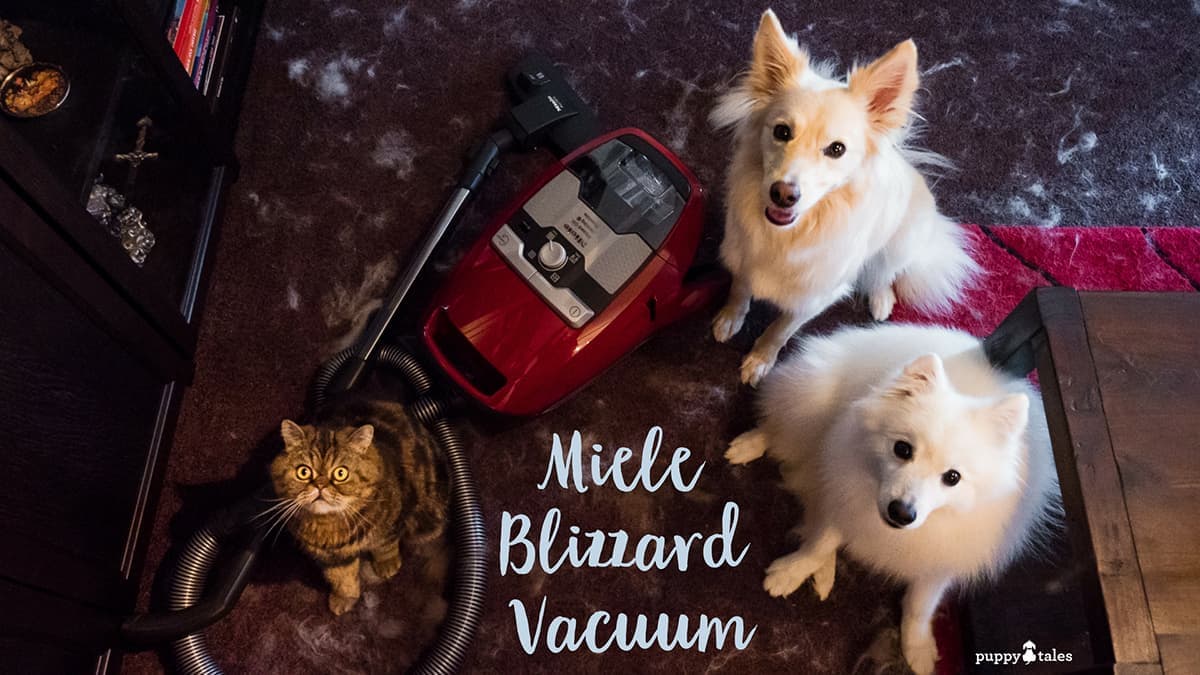 A Month-long Hair Harvest
Oh yeah! When I want to test something out thoroughly there's no messing.
I dreamed up the best (ahem…meaning 'worst') scenario and off we went – all so we could let you know the true down and dirty.
Stirring up a (fur) storm
I decided to put the Miele Blizzard CX1 through its' paces with two tests.
The first, was to use the vacuum in normal usage for one month.
But this didn't seem a huge challenge, as I keep the place pretty clean as a rule.
So the second test was a man-made fur storm.
Enter Keiko, my very own double-coated fluffy fur meister, who just happened (conveniently) to be undergoing a particularly heavy moult. We gave him a thorough grooming, including a blowout in our living room. Then in stepped Summer, for similar treatment. (I was secretly rather satisfied both dogs have light coats, since this makes shed hair really noticeable.) Not finished there though, I also brushed out our fluff ball kitty Mr Magoo and added his contribution to a real mixed bag of hair texture, colour, and qualities.
Ekk! I must admit when I stood back and surveyed the fur storm we had created, I had a momentary touch of panic and was very much hoping the truly Blizzard was up to the job!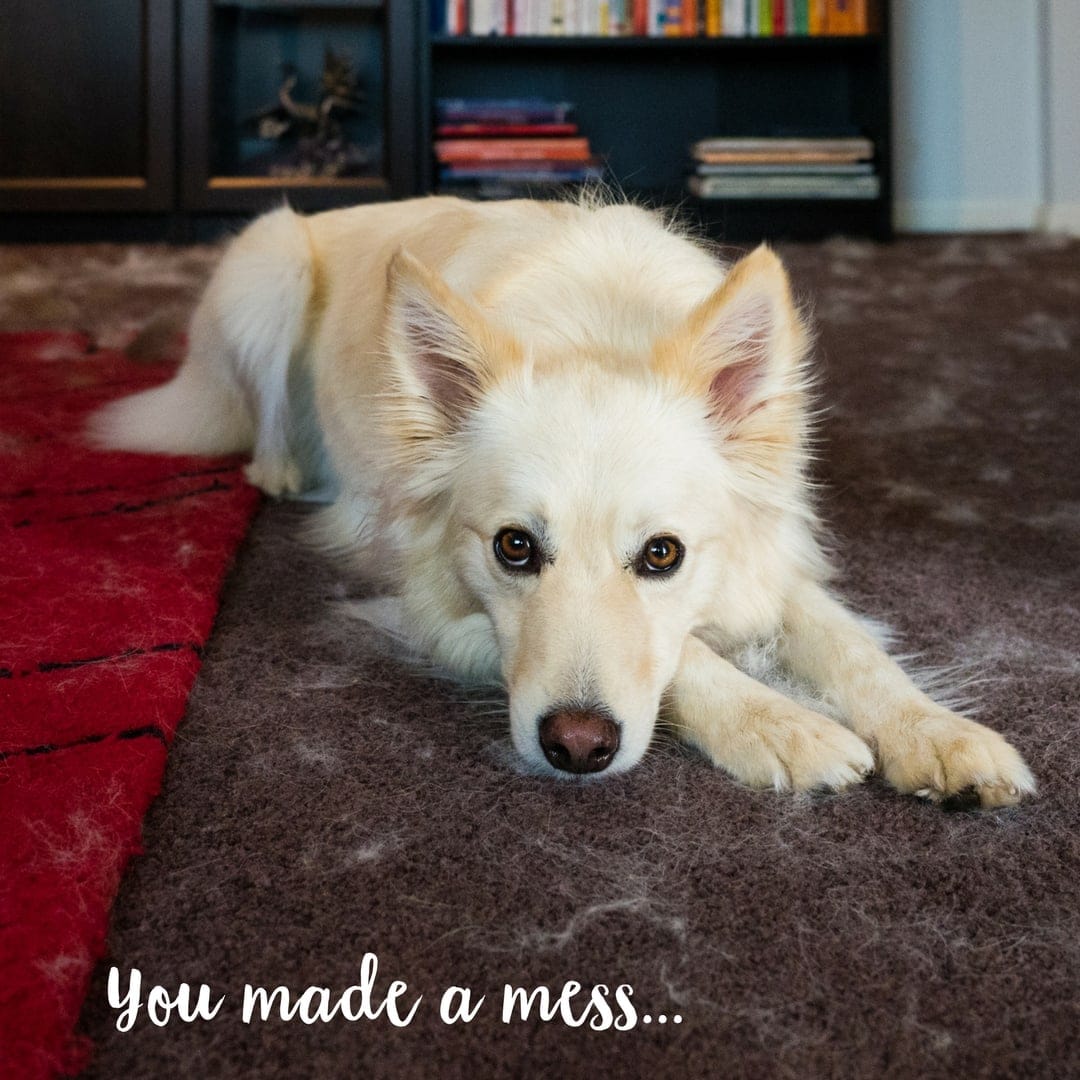 So, success or failure? Fur-frustration or a clean sweep? Let's see what happened.
Miele Blizzard CX1 Cat & Dog Features
What was it about the Miele Blizzard CX1 that meant I had the confidence to cover my home with dog and cat hair?
Vortex Technology: This model is a barrel vacuum boasting vortex technology. In practical terms this means it generates an impressive airflow of 100 km/ hour. Think of it this way; if this was wind (instead of suck) it's equivalent to a Level 3 Storm warning, with danger to roofs and blowing trees over. That's a lot of suck to shift pet hair.
Accessory Set:

Upholstery nozzle
Crevice tool
Floorhead
Turbobrush
This means there's no hiding place for dust and dirt. Particularly notable for the job we'd created was the Turbobrush, which agitates the carpet to loosen up deeply embedded grot and make it accessible to suck up.
HEPA Filter: Many people vacuum regularly to get rid of pet dander that triggers allergies. Reassuringly the Miele Blizzard CX1 has HEPA filters capable of trapping 99.97% of microscopic particles (0.3 microns diameter or above) .
Bagless: If I did take to the Miele, is it going to be expensive to maintain? Nope, not with bagless technology and no ongoing parts to replace
Bits and Bobs: The vacuum is generally well-thought through with self-cleaning dust filters and various safety features.
Warranty: Lastly, Miele have the confidence to guarantee their product for two years (Australian warranty), which gives me confidence in their product's reliability.

Suction Success
Here's what I love about the Miele Blizzard CX1
Quite Quiet
If you find vacuuming a chore and like to enliven the task by listening to music or a podcast, then the Miele helps you do this. It's one of the quietest vacuums I've used. This is also a bonus for fearful pets.
Easy to Use, Ease to Empty
The thoughtful design makes it easy to use.The telescopic handle design means it can be adjusted for any height.
From the ergonomic handle for a comfortable grip to the attachments provided for different cleaning surfaces, this machine is a no fuss, no bother workhorse. I found it equally effective on blinds, coffee tables and bookshelves as on upholstery, carpets, and soft furnishings.
Another feature was that it's easy to empty. With a two litre dust storage capacity, this also means plenty of vacuuming before it needs emptying. That means your chores are finished faster.
And when the job was done, all the tools stored away neatly with a place for each of them in the hoover housing. Indeed, the Miele stores away either upright or vertically, thanks to different options for storing the hose attachment.
Does a Good Job
The Miele Blizzard CX1 succeeded admirably in both the regular household clean and our super test. After the 'big clean' we were officially a hair-free zone, quite some feat!
Overall this vacuum did a quiet, quick and efficient clean and matched up to toughest task I could think to throw at it. This meant more time to play with the pups. "Fetch", anyone?

Nearly Fur-fect
After all these positive vibes, would it surprise you if I said the Miele wasn't perfect?
Here are the couple of small things to note with this vacuum.
A Heavy Weight Cleaner
At around 10 kg, equivalent to a small beagle or an heavy Westie, this is quite a chunk of equipment to lift and move. This made it a little cumbersome for the quick cleanups for which I currently use a stick cleaner.
Hard Surfaces Attachment
I found the size of the attachment supplied for hard surface cleaning was a little restrictive. Not a major problem, but it does mean it takes more work to clean a surface. There is an option for a larger brush attachment, but this is an additional purchase.
Turbo Trouble
After the super-test, whilst the vacuum shifted the hair, the turbo head became clogged. I estimate you'd need to clean the head after each general house clean in order to preserve it's awesome suckability power.
Cleaning the head wasn't hard, but again, if the turbo head had a better pull-apart mechanism, this would have made it quicker and easier to get on the with job.
Oh, and I'd better mention the price. Retailing at $850 this is a considered purchase and definitely an investment. If the initial outlay is within budget, all the signs are that the Miele will serve you well for many years to come.

Is the Miele Blizzard CX1 for You?
There are cheaper vacuums available for sure, but do they have the functionality you need to get the job done properly? Only you can decide.
When considering a purchase, my suggestions are to think about:
Pet Demands: Does the model meet the challenge of pet hair? Those machines with less suction or a loss of suction over time or due to clogging, are not going to cut it.
Quick and Efficient: Living with pets means you need to clean more regularly. How easy is the machine to get out and put away, to store down the tools, and manoeuvre around the home?
All-Surface Challenge: Pet hair and dander gets everywhere. How well equipped is the cleaner to cope with both hard and soft surfaces, large areas as well as cracks and crevices? This is often down to the tool attachments, so consider what's needed, if they come as standard or you need to purchase separately.
Filter Care: Consider if you need a vacuum that's compatible with removing allergens from the air, and how easy those filters are to clean.
Carpet Conditioning: And finally, a nice-to-have is a vacuum that reinvigorates the carpet pile and leaves it soft and fluffy.
For me, the Miele Blizzard CX1 ticks all these boxes. Find out more at www.mieleblizzard.com.au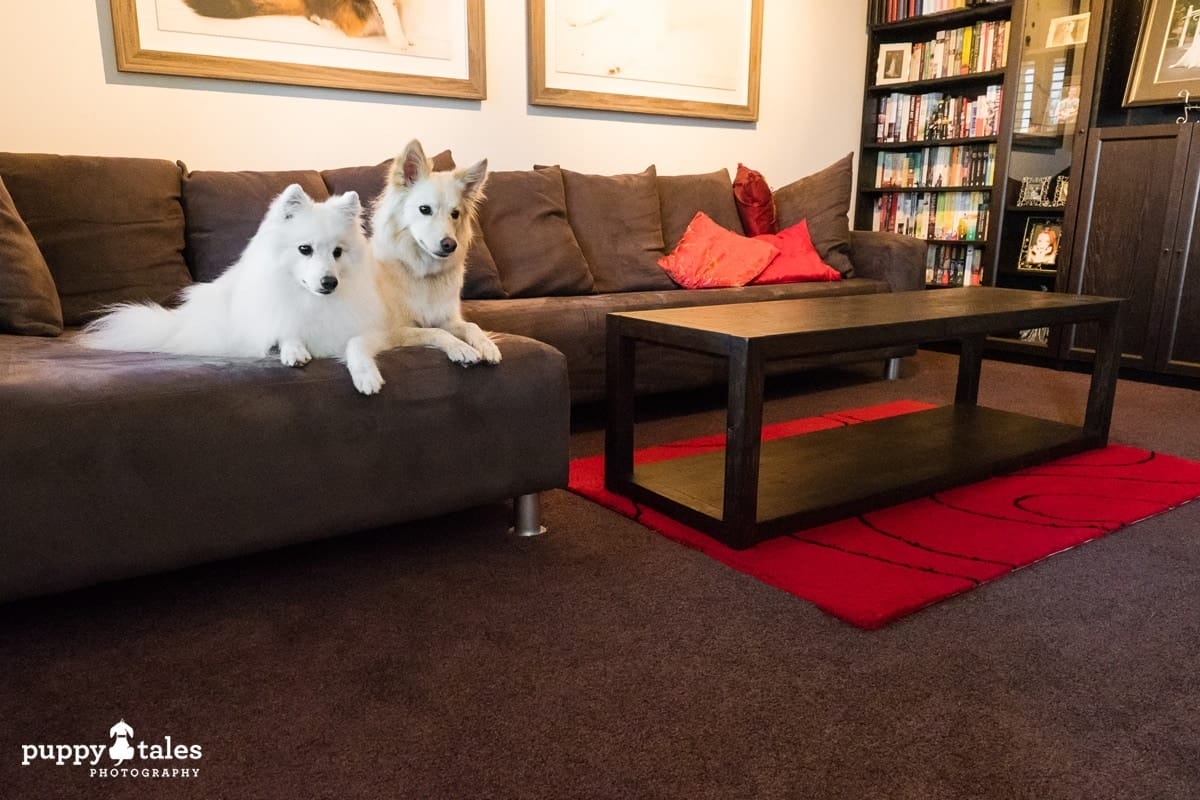 The Final Sweep Up
The Miele Blizzard CX1 Cat and Dog provided an impressive clean and we'd highly recommend it. For me, it feels like value for money, given Miele's reputation for the longevity and reliability of their equipment.
And you might also be interested to know, that it's not just me that thinks this way:
REDDOT DESIGN AWARD 2017- "This vacuum cleaner, which is equipped with technical refinements, is characterized by a high degree of effectiveness and ease of use."
Miele rates very highly on Canstar – achieving five stars overall (and in 4 of the 5 categories). Overall it has the most satisfied customers.
The Blizzard CX1 Cat and Dog is also the highest rated on appliances online scoring 4.9/5 from reviews there.
Happy vacuuming, pet people!
Kerry is 'Top Dog' here at Puppy Tales. With her own adored dogs, she completely gets that your four legged furry buddy is absolutely part of the family. That they sleep on the bed, that you want to take them everywhere, that you plan holidays so they're included & that their presence makes your life incredible.