Jen (of Dog Adventures) and I and our doggies were invited by Medibank to head out for a day of fun at their Dog Day Out and to interview their Pet Insurance Ambassador, Dr Chris Brown.
The opportunity to chat with The Bondi Vet, for Keiko to have his photo taken with a celebrity and to have some fun together – well we certainly couldn't say no to that! As Jen was going to be sans-dog, we offered to take Rosie along as a gorgeous stand in for her.
Dr Chris Brown, The Bondi Vet
Dr Chris is pet parent to a rescue Kelpie named Rusty. Rusty was a failed farm dog – he wasn't doing well with the stock on the property next door, so he was brought home to the city. Dr Chris started off by telling us how Rusty often doesn't love the scents that Dr Chris will return home with on his boots. And with scents ranging from other dogs to tigers – we can easily see why Rusty is not keen on those boots! With charm and stories like this, it's easy to see why he's so popular.
We were keen to know how he balances his television commitments and busy lifestyle with the responsibilities of pet ownership. It seems Rusty is one lucky dog in that respect. When Dr Chris is away he gets to spend his days at Dr Chris' parents farm! Sounds perfect for a working dog.
"Mum and Dad have a farm, he spends quite a bit of time up there while I'm travelling. I'm almost offended when he sees them and is like 'ohhhhh am I am going to the farm!!' He could at least be sad about it. It is tricky being away and I'm not sure if that's the best way to manage it, but he does seem happy about it".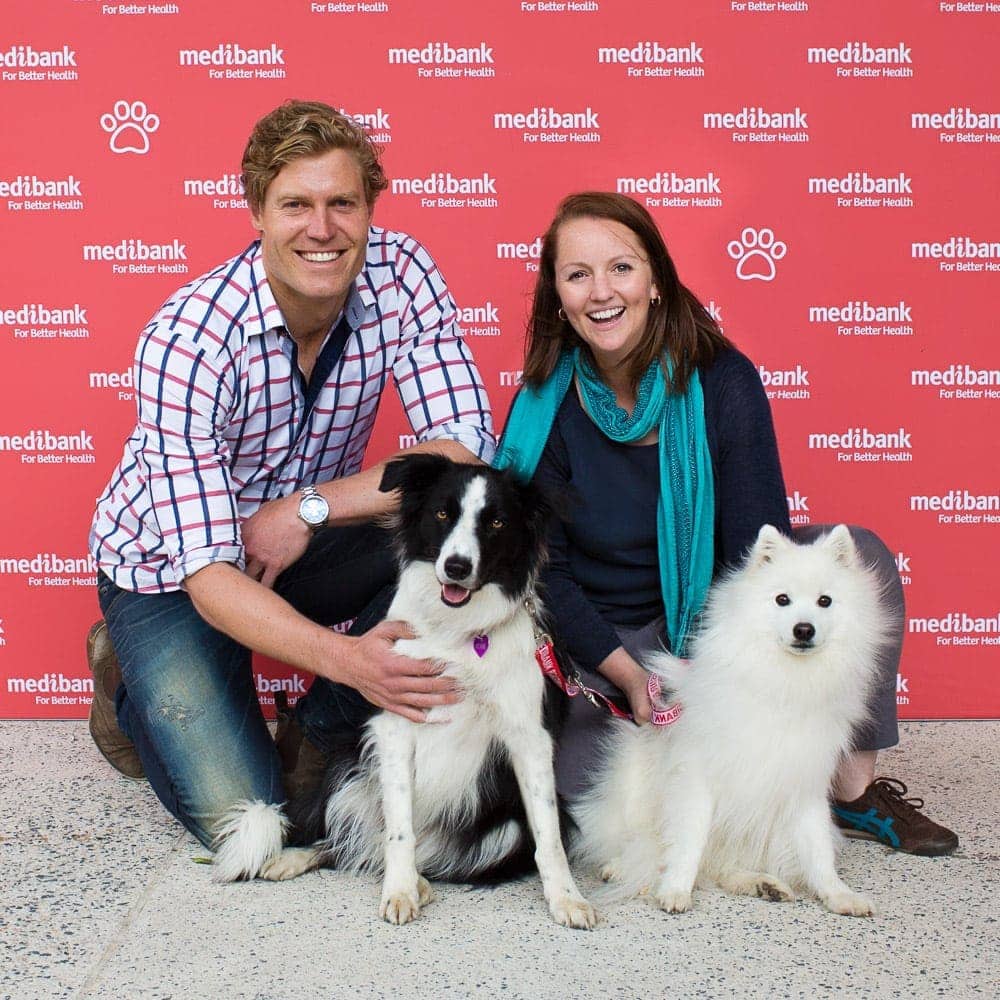 Being that Dr Chris is known as the Bondi Vet, and naturally associated with the sun, sand and surf of the iconic Bondi beach, we had to ask whether Rusty had learnt to surf.
"He can't surf. We tried but he's worse than I was when I first started. He can ride a motorbike so the balance bit must be okay but on a surf board I think just the fact that there's water all around and he hasn't grown up around it. He has that fear there that he can't override which makes it tricky. Stand up paddling will be my best chance to get him on the water. It's a lot more stable and calm and they can feel like there's enough fibreglass around them and not feel like the water is right there."
So with surfing out, what things do Dr Chris and Rusty enjoy doing together?
"Trips to the park. Fortunately he likes the ball and he likes to socialise. For dogs, in my experience anyway, it's as much about being around you and being a part of that pack unit. They're so much happier when they are out doing something together so that's a really big part of it."
There's a nice dog beach that I go to that's on the harbour. So he gets a good chance there to burn off the energy, run and dig. And I'll try to build up his confidence with the swimming. With the ball, it just goes out a little bit further each time. He's getting to the stage now where he'll swim out for it.
The last question I just had to ask, as someone who has spent much time at the snow with my dog, was whether Dr Chris and Rusty had ever been to the snow together. And no they haven't….. well not yet anyway! Rusty – Keiko and Rosie would love to invite you to visit the snow with them next year!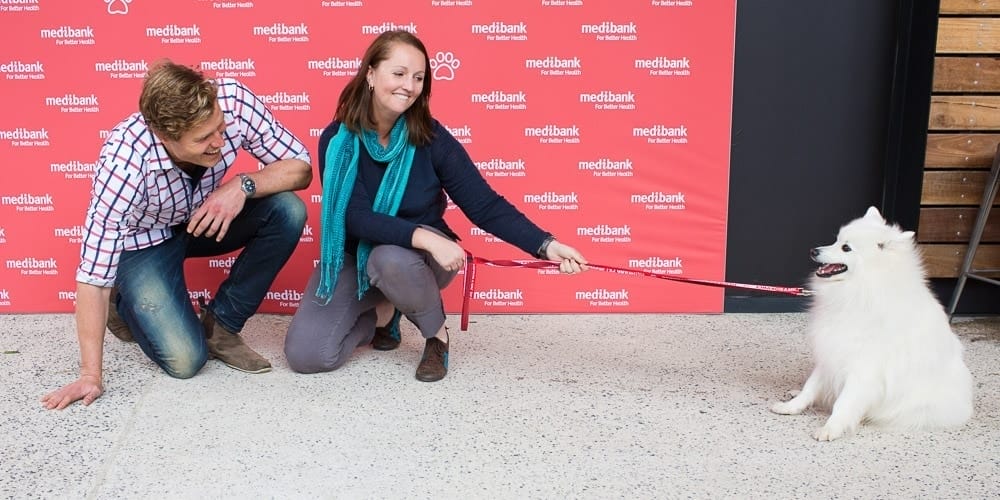 Keiko embarrassed his mum by refusing to share the spotlight with the Bondi Vet!
Dogs Day Out
Alongside meeting everyone's favourite TV Vet, there were other activities to keep our canine best buddies entertained at the Dog Day Out.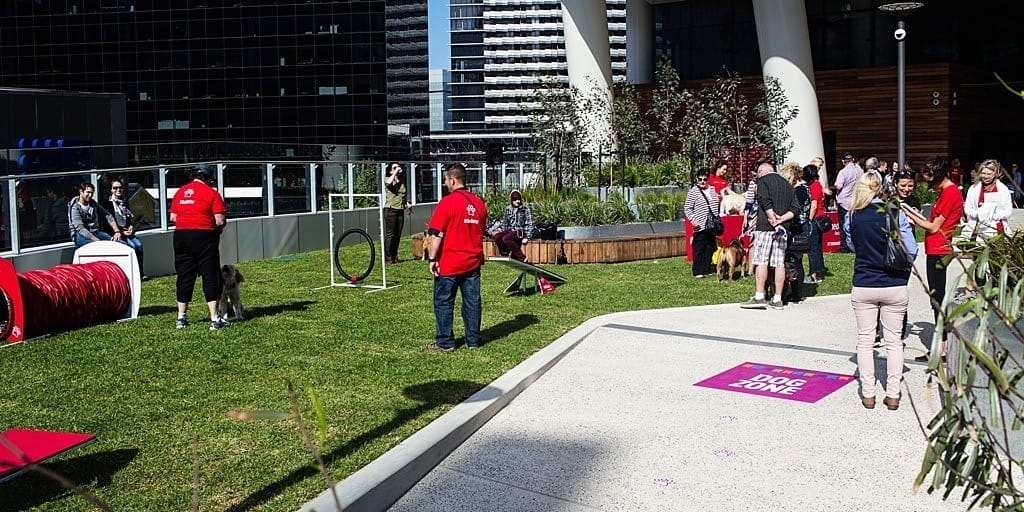 Rosie immediately took to the agility course – although as she does this at end of her dog training each week that was to be expected. Keiko took a little more encouragement to give it a go. He's timid around crowds and new people so it's a case of going slowly when trying these things out. And lots of treats which he certainly finds rewarding for his effort to give it a try.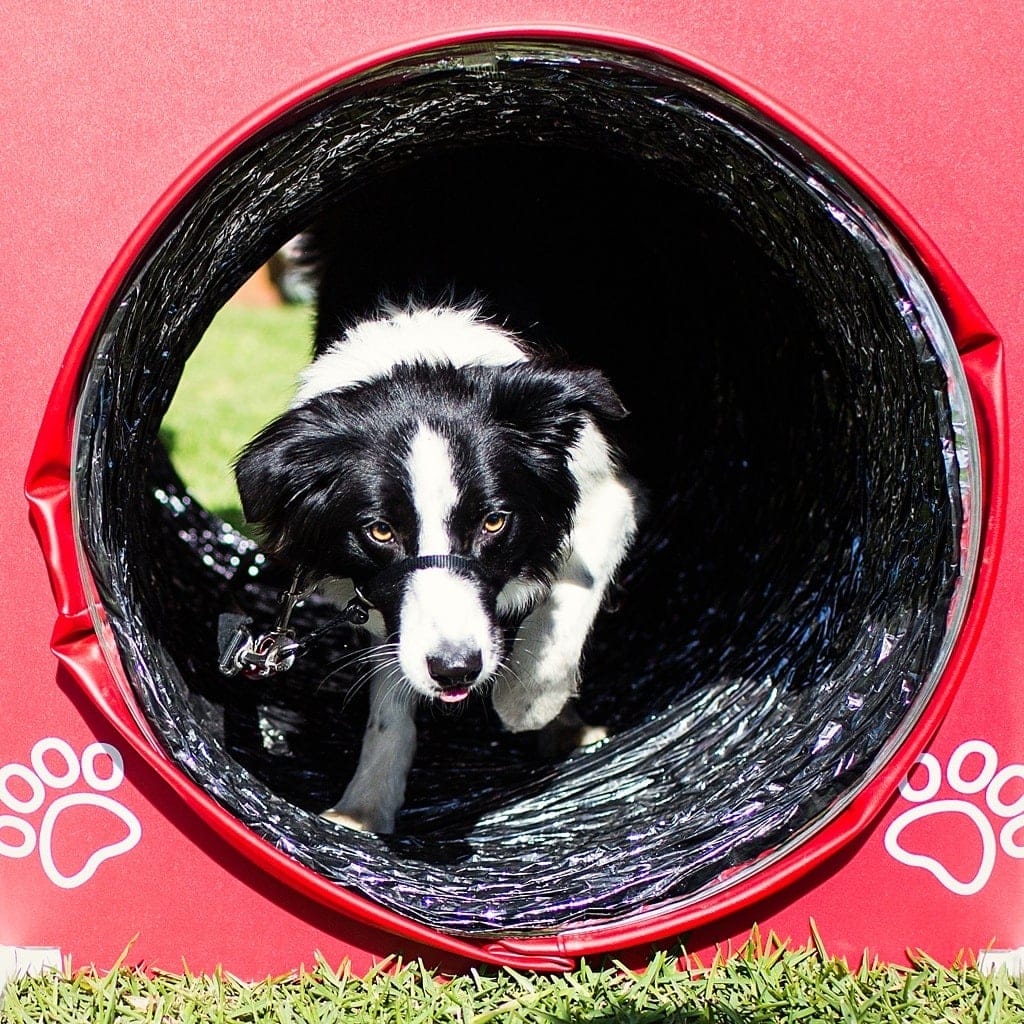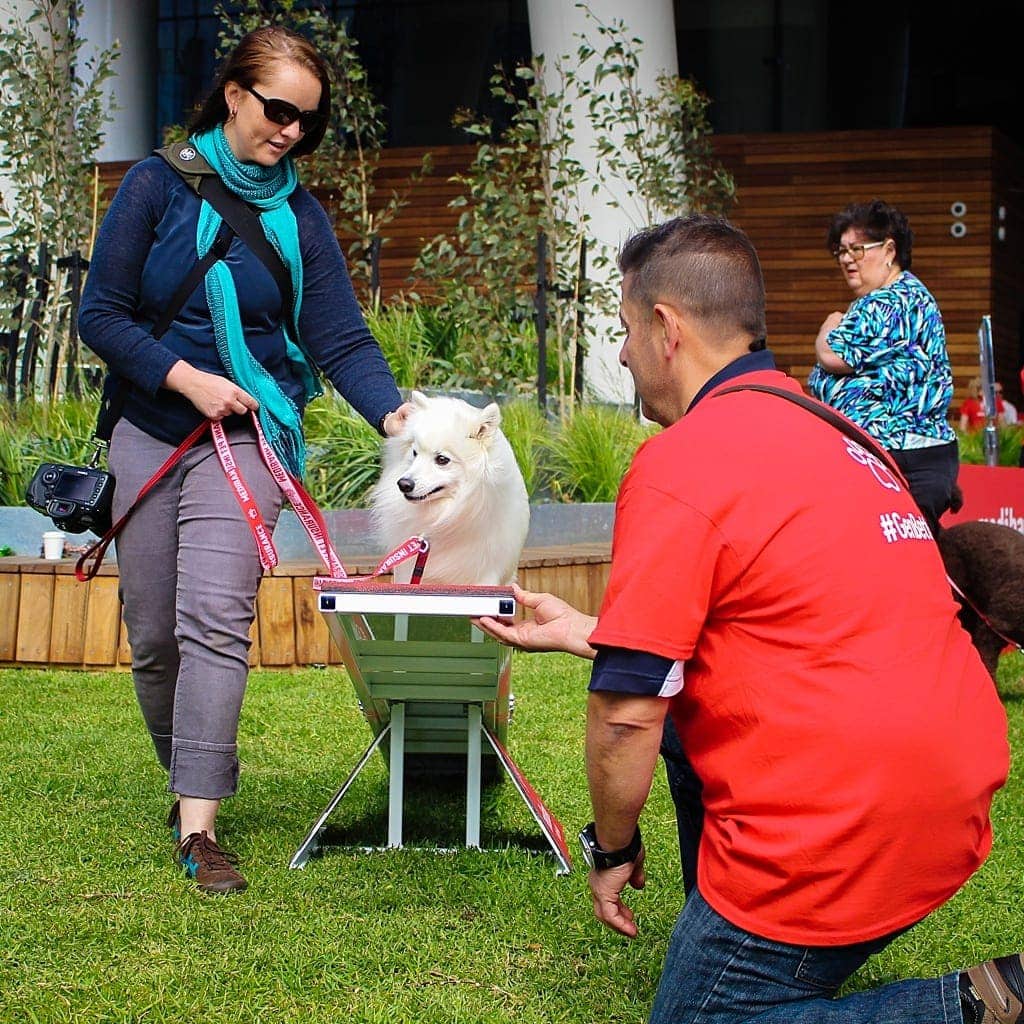 Both dogs, loved the chance to taste a Puppachino for the first time. For those that don't know – a puppachino is just frothy milk but its fun for our dogs to enjoy a treat like this! Keiko and Rosie were certainly licking their lips for more when that was finished.
Rosie, as the every gregarious Border Collie, also loved the attention she received at the grooming bar. A toenail trim, an ear clear and the application of some coat shiner had her sparkling for the rest of the day. Keiko opted out of this!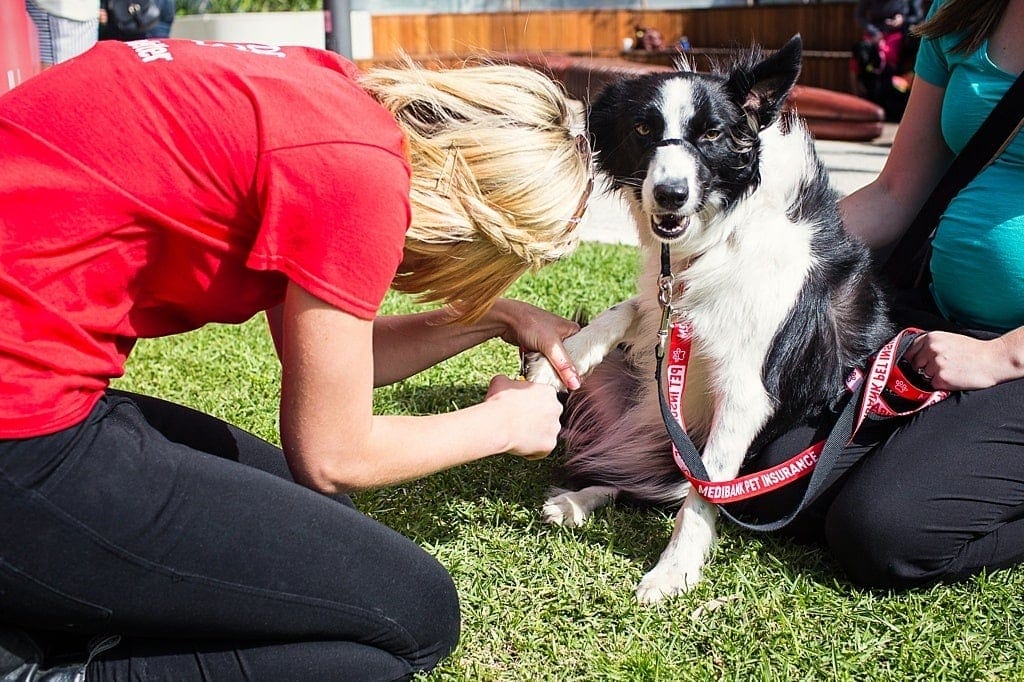 Pet Insurance
The Medibank Dog Day Out with Dr Chris was held to promote better health for out pets. With unexpected vet expenses sometimes costing thousands of dollars, pet insurance provides a means of covering these costs. When something unexpected happens to your pet, insurance may mean that a pet parent is not faced with a difficult situation of putting yourself in deep financial trouble in order to help your pet or having to make a dreadful decision. To learn more about Medibank Insurance and their partnership with Dr Chris, head here.
To see some of the adorable characters that Dr Chris meets, head on over to his Instagram and join him on Facebook (here you'll also find some great tips and news).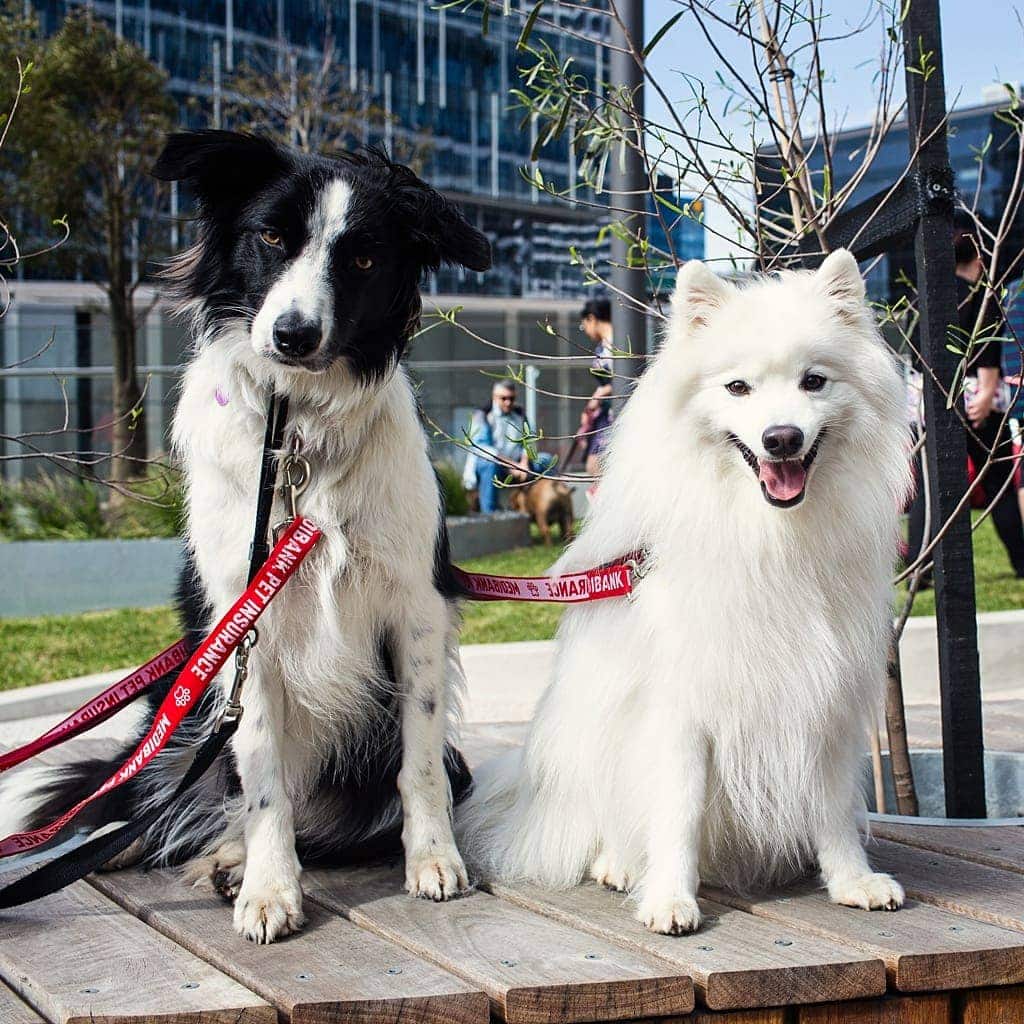 <——— Pin for Later
Share:
Kerry is 'Top Dog' here at Puppy Tales. With her own adored dogs, she completely gets that your four legged furry buddy is absolutely part of the family. That they sleep on the bed, that you want to take them everywhere, that you plan holidays so they're included & that their presence makes your life incredible.