Join us as we celebrate the beauty and value of cross-generational friendships with Gabbie the Galah Studio Session in Melbourne. Come and meet her:
Name: Gabbie
Age: 23 years old
Breed: Pink & Grey Galah
Pet Parents: Chloe and her daughter, Sophia
Session Location: Puppy Tales Botanic Ridge Studio
Gabbie fell into human Chloe's life (literally) when she was just a chick. Chloe was only 9 when Gabbie fell out of a tree where they were living, and she began hand-raising her while she recuperated.
While Galahs are typically wild birds, native to Australia, you can apply for a permit to keep one – which is exactly what Chloe's family did when they realised how tame Gabbie was and that her temperament following recuperation was better suited to staying in a loving home than being released into the wild.
I travelled around Australia for three years as a kid, and Gabbie was with us for much of that. She was my 'first' child ~ Chloe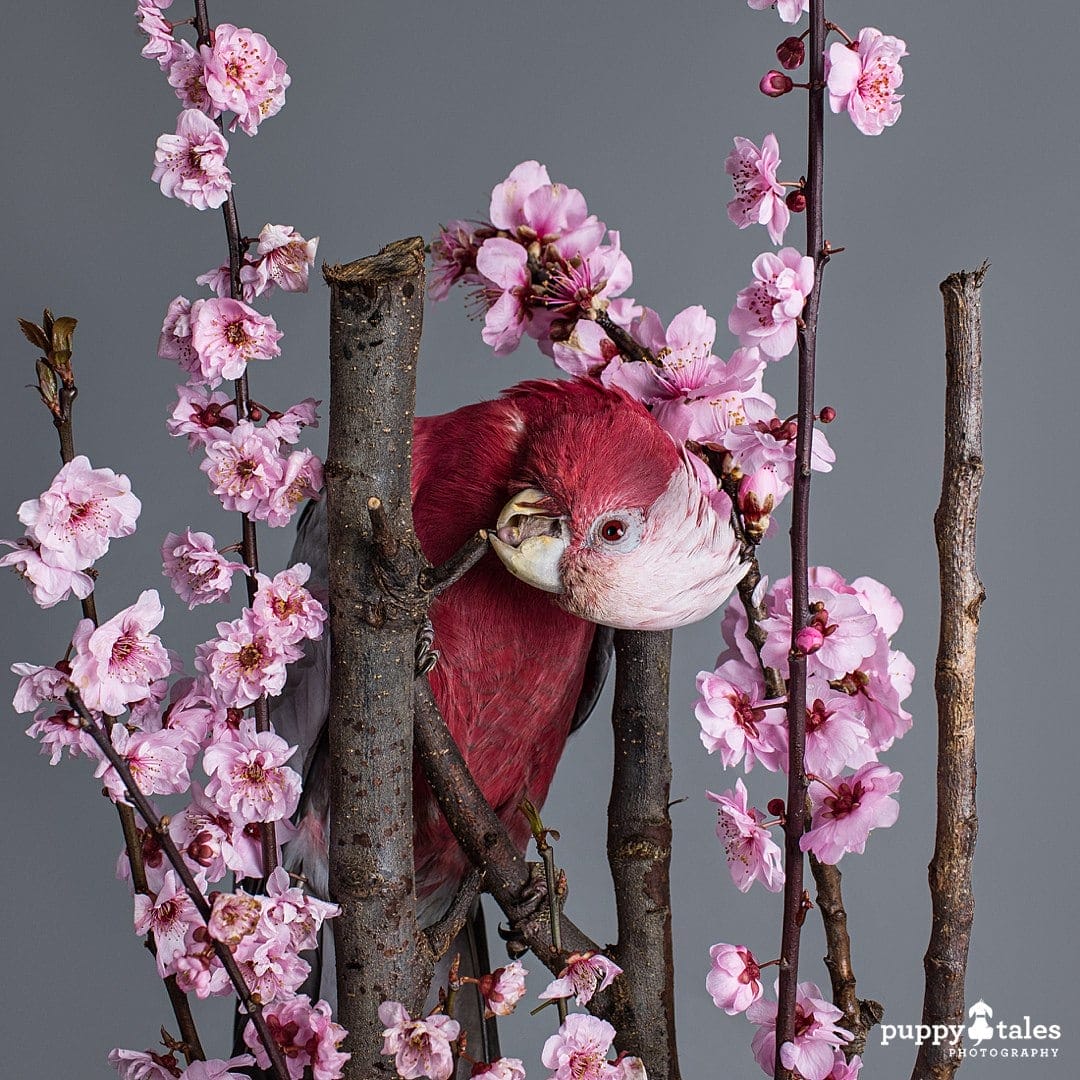 Having a bird companion is a truly wonderful thing, especially if you consider their long lifespans. You get to share so many years with them! Galahs can live to around 40 in the wild but are likely to live as long as 80 years when well looked after in captivity! This gives Chloe a lifetime of beautiful memories with her feathered companion and many more, even from today, to look forward to. Gabbie was her best friend through her childhood, and she now gets to experience all those same growing-up milestones alongside Chloe's daughter, Sophia!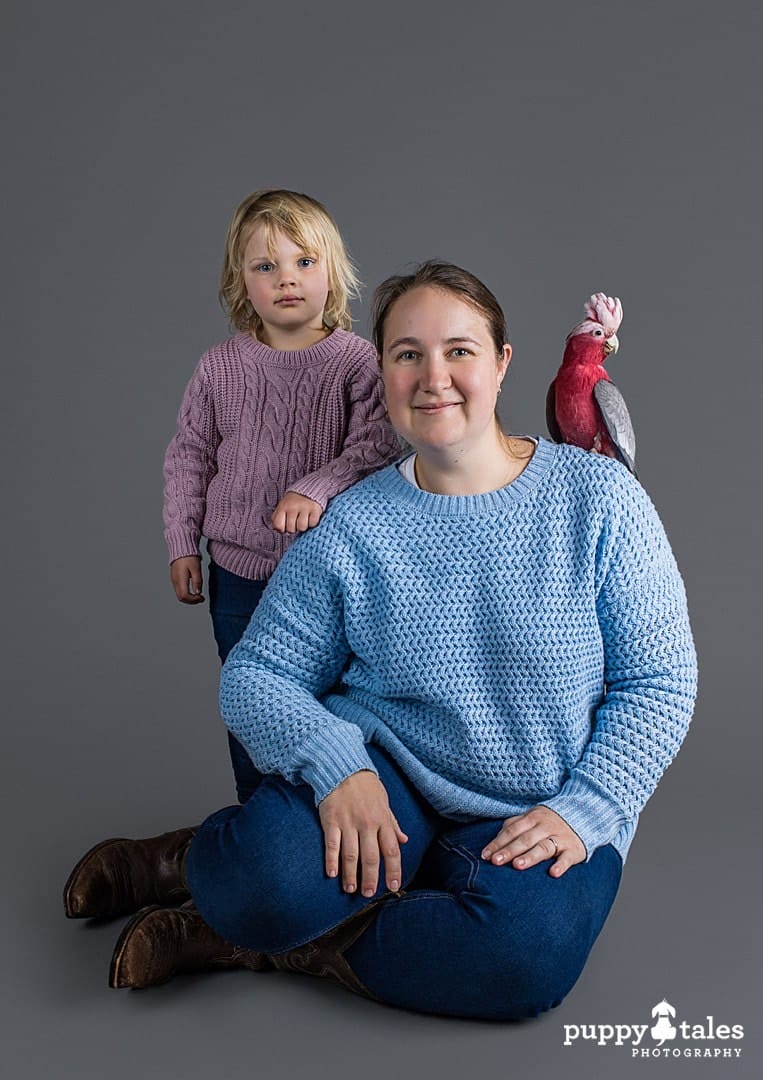 Having travelled all over Australia with her, having a beautiful photography keepsake will just mean the world to me ~ Chloe
One of our focuses for this Galah studio session in Melbourne was to capture the connection between all three ladies. One of these photos – which was also Chloe's selection for a large wall art piece – features the boots she wore for her wedding, adding another layer of continuity to the milestones represented in the photos.
Keeping Gabbie prominent as the star of the show presented a fun, creative challenge as she is much smaller than my usual studio guests! Being a springtime session gave us plenty of opportunity to include gum leaves and other native plants, which was part of Chloe's vision for the photos.
You might not see many birds on the Puppy Tales website, but they are most welcome here! I've photographed chickens, budgies, and cockatiels before, but Gabbie was the first Galah. You can meet some of them in the "Other Pets & Animals" Gallery!
For even more of the 'tweet' moments of Gabbie, Chloe and Sophia watch their session slideshow:
Animal companions of all shapes and sizes are welcome in the Puppy Tales studio, so if you would also like to immortalise your furry OR feathered friend through an unforgettable pet photography experience, book your session today!

I also offer a creative visioning call ahead of booking to go over the options that we have, chat about your ideas and answer your questions to discover the best session style for you.
Kerry is 'Top Dog' here at Puppy Tales. With her own adored dogs, she completely gets that your four legged furry buddy is absolutely part of the family. That they sleep on the bed, that you want to take them everywhere, that you plan holidays so they're included & that their presence makes your life incredible.