8 top tips from a dog owner
There are a lot of parenting tips out there to deal with fussy eaters, non-sleepers, and teething kids. But what if you are a fur-parent and are seeking tips on how to keep your pooch occupied or wash them without chasing them around the house. Well, today I am sharing some of my top tips for dog parents that I have developed while watching Toby grow up around our house.
1. Use your washing basket to keep your pooch still
If your pooch turns into a wriggly little worm when it comes to brushing their hair, try placing them in a laundry basket. This keeps them contained while you brush them.
2. Use human meat instead of wet dog meat
I'm really anti wet canned dog food, I think it's basically like fast food for your pooch. Most wet dog food is full of processed nastiness, so what we are doing to our own health with processed foods we're also doing to our dogs. Did you know that dogs and humans share over 70% of the same genetic makeup and dogs need many of the same nutrients as humans. This is why human meat is a much better, cheaper and healthier option to feed your dog.
Another reason to feed your dog human meat and not wet dog food is because the cheap brands contain a lot of corn, which is a filler. Corn is cheap, that's why manufacturers like using it, plus it makes your dog feel full. However, dogs can't digest corn and this can cause your dog to have bad breath that stems from their stomach. Usually dog's breath shouldn't smell, their breath should smell sweet and if this isn't the case, there could be something not quiet right with their diet, teeth or general health.
Since Toby was a puppy he has had the same dinner: kibble mixed with a tablespoon of mincemeat. I buy a packet of human-grade, premium quality beef meat, divide the mince up into smaller portions, wrap them up in tin foil and throw them all into the freezer.
Each evening, I grab a small parcel out the freezer, defrost it in the microwave (foil removed) and then mix it through his kibble.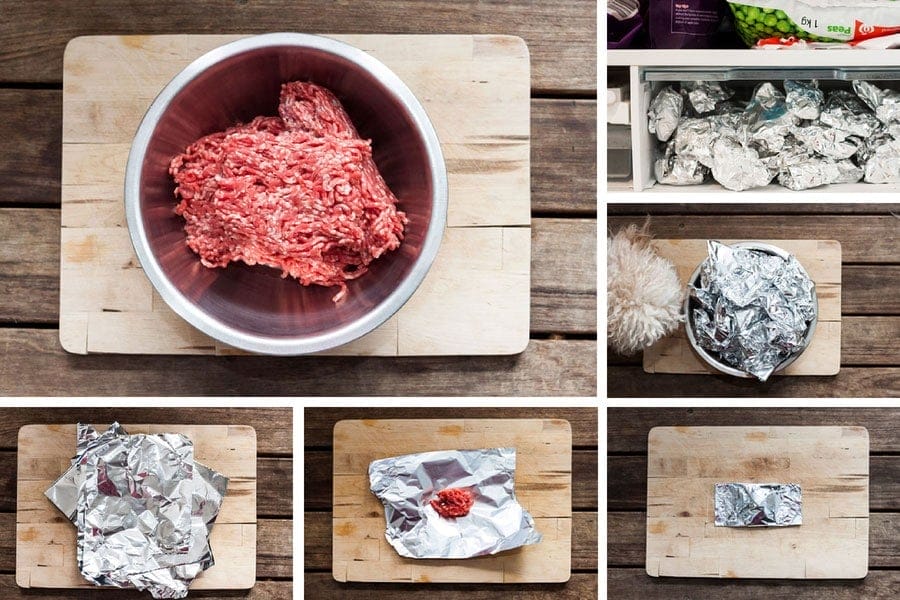 By doing this I get about 30 – 35 meat meals for Toby. All for around $10! The benefits are: the meat is natural, not processed and you don't have to have those horrible open canned tins sitting in your fridge. Win, win.
3. Use your ironing board to assist you when clipping
Here is a little tip for keeping your pooch still when you want to give them a haircut. Put them on the ironing board! This tip isn't for big dogs, but for dogs that fit on an ironing board without breaking it, test it out first very carefully.
I figured out a while ago that Toby doesn't move on the ironing board. It is also the perfect height for not straining your back or being in awkward positions on the ground when giving your pooch a cut. The best part is, it's easy to clean by just zipping the vacuum over the board a few times afterwards.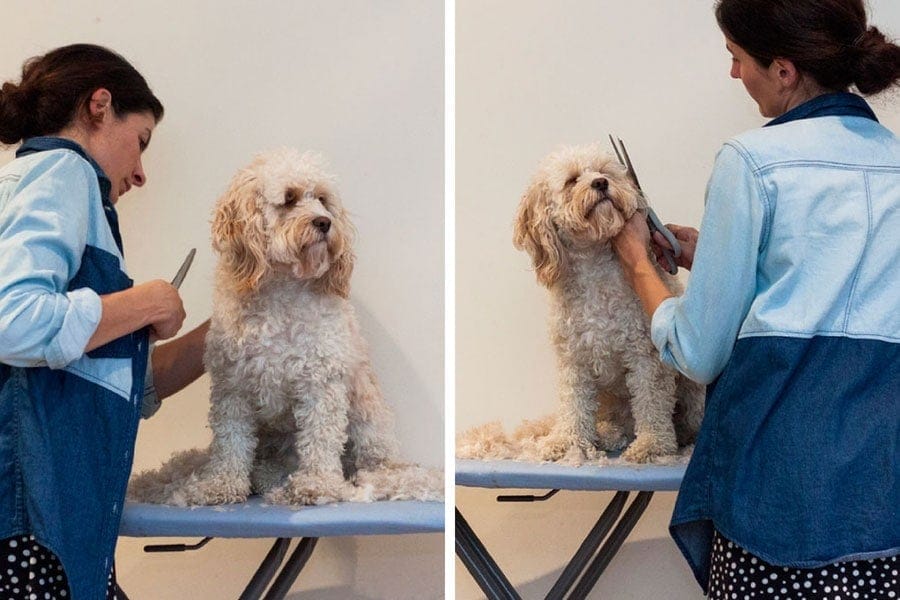 4. Get your pooch tired before giving them a wash
If you have a dog that won't stay still and fights to get out of the tub or shower, giving them a good scrub can be difficult for both of you. If you know it's time to give your pooch a wash make a day out of it and tire them out before the big cleaning event. Start with an early morning walk to a dog park or beach, let them run around with other dogs, let them chase balls and enjoy life. After that, go out for breakfast and let your dog exhaust itself mentally by observing their surroundings through sight and smell while you enjoy a yummy meal and great coffee. Hopefully by the time you come home your dog will be ready for a long nap. Before letting your dog nap, pop them in the tub or shower and their depleted energy levels will hopefully result in a calmer, more relaxed pooch.
5. Make your own dog treats in minutes
This is by far the most straight forward and time friendly concoction I have made for Toby, not to mention it's his favourite home made treat. All you need to think about is what your pooch likes to eat, put it in a mould and freeze it.
Toby loves yoghurt and muesli, carrot juice and cheese, so that's what I use to make these treats for him.
Yoghurt and muesli: Mix yoghurt and muesli (sultana free, grapes in any form are poisonous to dogs) together in a bowl and then pour the mixture into the mould, pop into the freezer.
Carrot juice: Pour the carrot juice into the mould, pop into the freezer to set.
Water and cheese: Pour tap water into the mould and sprinkle some grated cheese into it and pop into the freezer.
Easy! Let your imagination run wild with what ingredients you want to use. Peanut butter and bacon, frozen berries and water, mashed sweet potato…
6. Buy children's toys instead of dog toys
Toby loves his toys but over the years I have realised dog toys just don't last. Toby loves to suck on them, nibble them and pull at the stitching until he has access to the stuffing and then he likes to make it snow. I have discovered dog toys last a week or two but if I purchase large stuffed toys for children, they last years. Kmart, Big W or $2 type stores all stock stuffed toys for very little.
Kid's toys are much more durable because toys intended for children under the age of 14 years of age must comply with Federal toy safety standards. That means the toys go through rigorous tests to ensure they are solid, harmless toys. Dog toys do not need to comply with these types of safety standards and companies are able to sell toy products that can easily be ripped up, contain toxic chemicals and can cause injury or death.
Obviously, almost all of the time, dog toys are safe but unfortunately, most of the time, they don't last very long. Stuffed toys for kids can be more effective money and durability wise.
7. Hide treats in stockings
Before throwing out stockings that have holes or ladders in them, place a treat in one of the legs and tie the other leg to a door handle. Your pooch will spend hours trying to suck the treat out of it.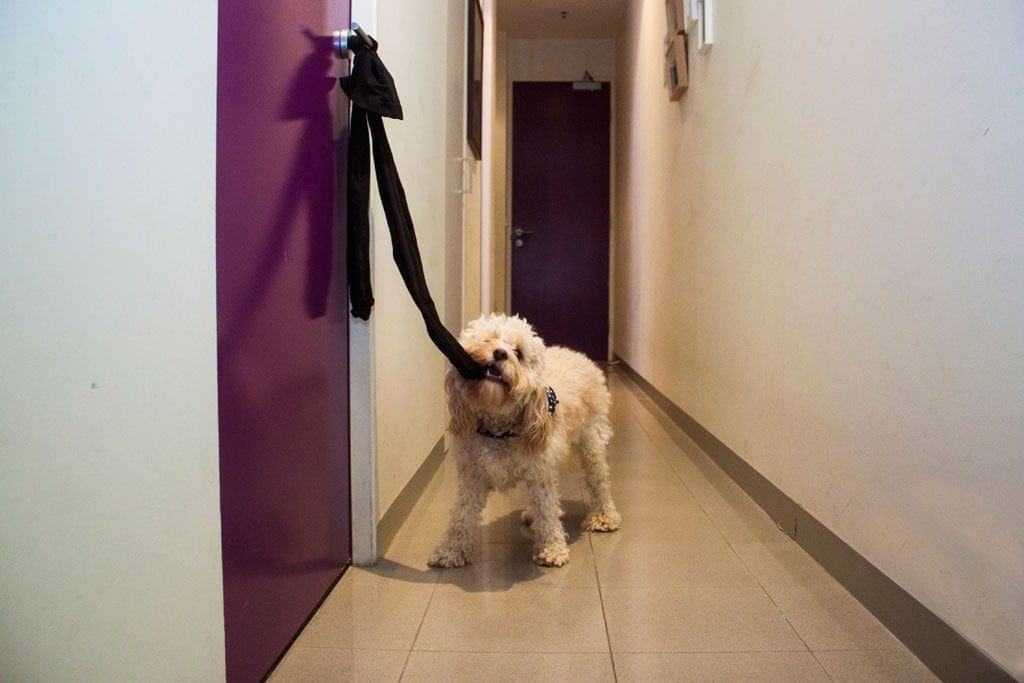 8. Organise doggie play dates
If you are someone who feels guilty leaving your pooch at home all day or if you want to break the week up for your pooch, organise to have play dates with someone else you know who has a dog. If the dogs have met and get along well in each other's territory, you and your friend don't have to be home for these play dates to occur. The dogs can hang out together in the backyard and keep each other company. By alternating houses it keeps things fresh and interesting for both dogs.
If you have any of your own doggie tips that you've discovered and might help other dog owners, I would love it if you shared them below.
Please note: These tips are not appropriate for all dogs depending on their size, if they have any allergies (e.g. lactose intolerance) or are likely to swallow a pair of stockings or dog toy parts if left unattended.