I stood on the verandah, inhaled the crisp morning air and grinned.
In the paddock below me 2 carefree dogs, one black and one golden, ran and wrestled.
It was a long weekend, and hubby and I had come away for a hiking trip with a group of friends. We were staying at a beautiful dog friendly homestead.
Our border collie cross Tux was eight months old. Our friends' dog, Andy the Golden Retriever, was 1 and a bit. It was the last morning of a fabulous weekend, filled with hikes, board games and wine. The dogs had been in their element, with oodles of room to run around and snuggling by the fire with us at night.
Best Mates Tux & Andy
We decided to go out for brunch together before the long trip home. We left the dogs in the yard at the homestead, playing and chasing birds, while we hit the café in town.
When we got back to the homestead, the dogs wandered slowly out to greet us. We immediately noticed darks stains on Andy's golden coat. Was it blood? While we laid him down to check him out, Tux walked over to us and we could see he was limping.
We found a little nick on Tux's rump that was oozing a bit of blood. We were baffled – had these 2 close buddies had a fight? Had they been pecked by birds?
We packed the cars and headed our separate ways home. Tux was very quiet in the car and reluctant to move. When he started to breathe strangely, we detoured straight to the emergency vets. It was a public holiday, so we were relieved they were open.
Waiting for the vet in the emergency clinic
The vet saw Tux promptly and we explained the curious situation. She decided to take an xray, and took Tux out the back. When the vet came back to see us, she was still in her lead gown from xray, and her face was white.
The bullet in Tux's pelvis
"He's been shot" she said, "There is a bullet from a high powered air rifle lodged deep in his pelvis".
The world paused on its axis for a second, and then we made a hasty (teary) phone call to Andy's parents. "The boys have been shot… you must take Andy to the vet immediately" we told them.
Tux's bullet was in a location deemed too dangerous to reach with surgery. Put simply, he would either live through the night and survive, or he would crash and likely die. Leaving our boy at the clinic and driving home was one of the hardest things we have done.
We reported back to the clinic the next morning, our hearts bursting to see our boy. He was limping and in pain, but very much alive. We were on cloud nine. On the way out, however, my husband and I experienced a different kind of pain – wallet pain – as we parted with over $3000 for Tux's care.
(NB. This incident was reported to local Police, but we never found out who did this to our dogs).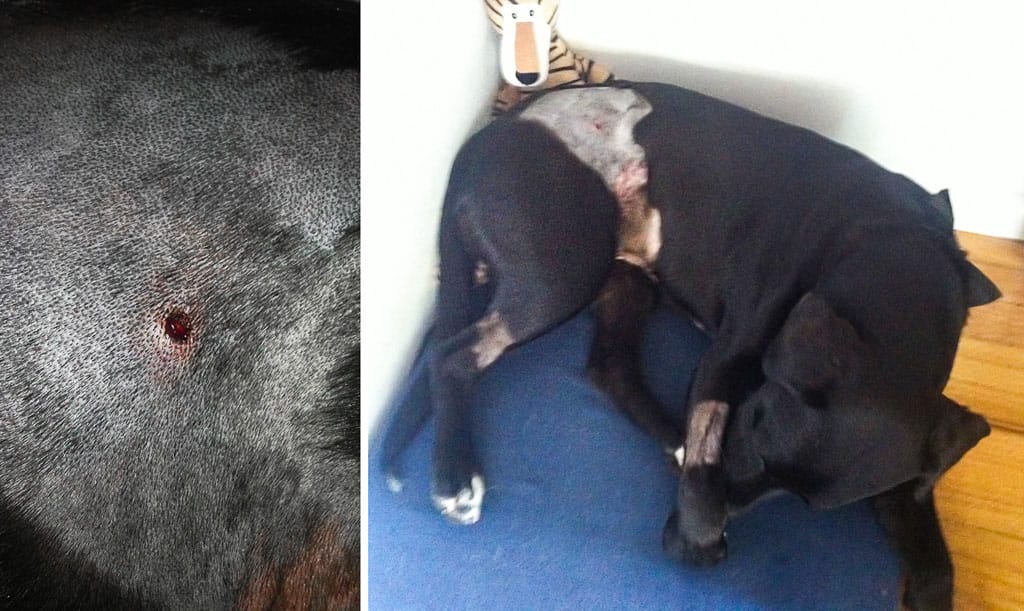 Tux's bullet hole & Tux Recovering at Home
On the other side of town, Andy was facing his own battle, with surgery to remove the bullet from his leg. Andy's bills came to over $6000, but Andy's parents escaped the wallet pain and the stress of finances being a part of the decision in caring for him – they had insurance for their boy.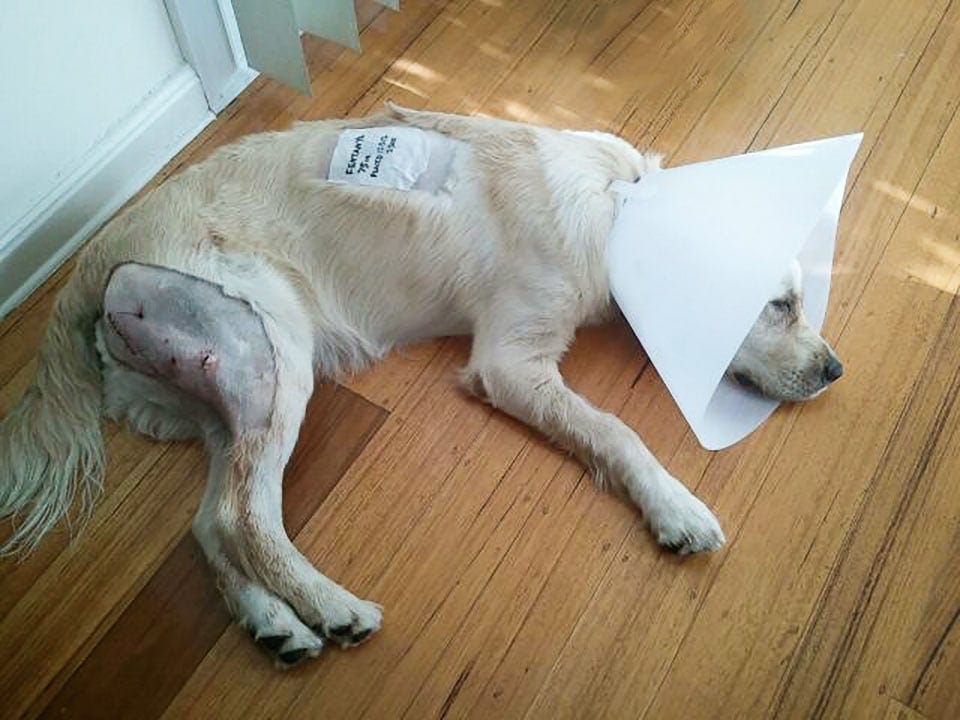 Andy recovering from leg surgery
With the immediate disaster averted, my husband and I had to have a really uncomfortable conversation about Tux – how much would be too much cost for his care in the future? Where would we draw the line? The conversation hurt, it really hurt. I knew my love for my dog went beyond dollars, but I also knew there had to be a line.
Unless I removed that line.
A lady I chatted to at the park shortly afterwards nailed it. She looked right into my soul and said "You love your dog. If he got sick, you would want to make sure you could get him the best care possible. Why would you complicate that, when you can choose not to?" Of course what she was saying, was that pet insurance was a total no brainer.
Almost as an afterthought, the lady added a question: "Do you have insurance for your car?". "Yes" I answered. "Do you love your car more than your dog?" she said, before wandering away – she already knew what my answer was.
In the heat of the moment, when your dog's life hangs in the balance, you feel completely out of control. You can't control what has happened, you can't control whether your dog lives or dies, and you can't control how much it all costs.
But what if right in that moment your current self could go back to your past self and say "Take out insurance now, so that you can at least take control of one big part of this horrible situation". Would you do it?
I bet you would.
Often we think of insurance as protecting our assets, but in fact sometimes insurance is actually about removing barriers.
My car has a set value and my car insurance covers replacement cost.
My dog doesn't have a value. He may have cost us $300 at the rescue centre, but in fact he is priceless. So I can now see that pet insurance is different. It is there to allow me to look into Tux's big brown eyes, if things were to go wrong, and say with an honest heart "Buddy, we are going to do everything we can to help you"