The most common worries I hear from people who would like to get a rescue dog are: will that dog be traumatised from its previous life? Will they be able to integrate into my family if they are not a young puppy? How will I know their personality if I don't know their breed?
I can honestly tell you that these used to be some of my main worries back when Cress and Eddie joined our family. But after being more involved in the dog community through this blog and seeing so many great rescue stories, I know that our next dog will be a rescue.
Today I wanted to share one of these amazing rescue stories with you from a family who had previously always owned dogs from breeders. Archie was adopted by Emma and Bart last year from Sydney Dogs and Cats Home (SDCH). We were lucky enough to be able to do an interview with them about their new furry family member!
1. What factors helped you decide that you wanted to get a rescue dog?
We have wanted a dog of our own for a long time. Both Bart and I grew up in families that bought dogs from breeders. Both our parents still have these types of dogs. They, like many people, like to 'know what they are getting' by having a puppy from a young age, seeing the parents and meeting the breeder. However, realising how many dogs were at the pound, and how many were being put down, we both knew we would always save a life and get one from the pound. What we didn't realise is just how special this little rescue dog would be.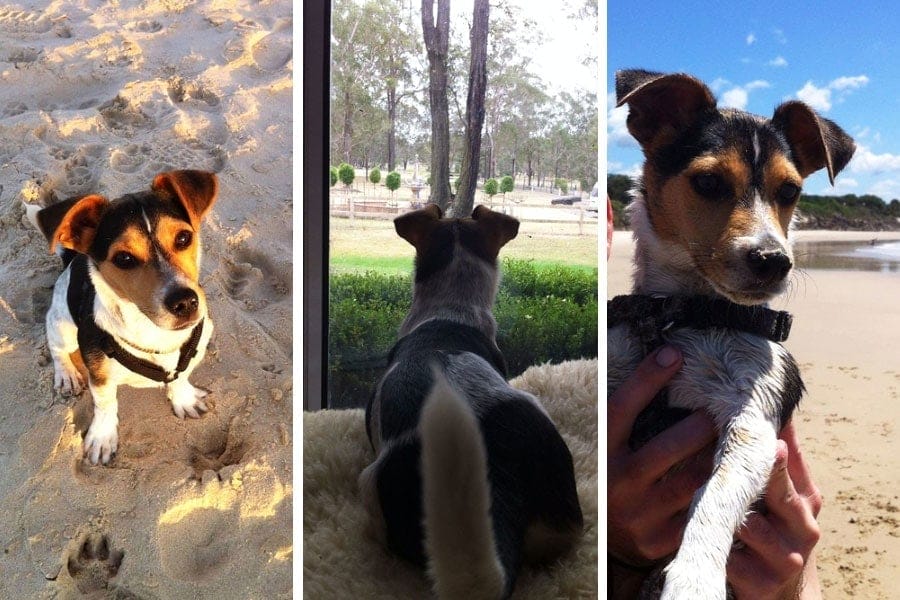 2. Tell us a little about your rescue dog Archie.
Archie was apparently found wandering the streets in Randwick (Sydney) at a very young age. Before we met Archie, he was overlooked by a few people because he was a bit hyperactive. We got Archie when he was four months old. We quickly realised that he did become a bit hyperactive, but after a good run at the dog park he'd be docile again. It's actually quite good as it makes us get out of the house and take a break.
Archie is the happiest dog we have ever met; in fact he actually looks like he is always smiling. Archie LOVES people and people love him. Whenever we walk him, people's faces light up – his happiness actually rubs off onto others. He also LOVES dogs, any dogs, even ones who at first act like they want to bite him, he turns them around and next thing they are playing. He pretty much makes everyone happy. As I'm writing this, he has jumped up on my lap and after a few loving licks he has fallen asleep.
3. How did you find the process of adopting a rescue dog?
Adopting Archie was very different to what we had experienced buying dogs from breeders with our parents. With a breeder there are so many puppies to choose from and you pick exactly what you like, for example my parents chose the smallest Maltese and the largest Russian Ovcharka. It is very much based on the look of the dog. But with adopting it is unlikely you will find exactly the 'look' you have in mind. So instead you focus on the temperament, which when you get down to it, is more important than anything else. If you want a quiet dog to suit your relaxed lifestyle, you don't know if the puppy you choose from a litter (based on how it looks) is going to grow up to have this temperament. One only has to look at brother and sister dogs to see how different their personalities can be, and when you buy a puppy from a young age, you are not going to know this.
There were many rescue sites out there but only some gave the dogs a name and temperament profile. We found it incredibly helpful to have a detailed profile from the Sydney Dogs and Cats Home. They even had a video of him! We knew his personality was going to suit us and also fit in with the dogs my parents have out on their property, where we spend most of our weekends. The SDCH offer a trial period, however after spending a few hours with Archie we knew he would never be going back.
4. How well did Archie integrate into your household?
Archie settled in very quickly. It was pleasantly surprising not to have to go through that 'puppy phase' where they cry at night and take a long time to be toilet trained. Archie learnt toilet training very quickly. He slept at the end of our bed and has slept there every night since. He fit into our busy and adventure-driven lifestyle very quickly. He comes everywhere with us, including four-wheel driving, camping or out to restaurants (where waiters usually love him so much they bring him food). Within about a week of having him he came with us on a trip to Byron Bay. He loved the doggie beach up there and quickly considered himself a local.
We were quite unsure how he was going to fit in with the family dogs. It was quite important as we spend a bit of time with them. One is a tiny lap dog, the other a large property patrolling dog. Upon introduction, Archie ran straight in to make friends. Both were very standoffish but quickly came around. The three are now the best of friends. Archie has even encouraged both of them to be more playful and happy.
5. Compared to your other dogs at home, who you got as puppies from a breeder, how would you say the experience of owning Archie differs?
The experience of owning Archie has been very different compared to our family dogs. Primarily it's because of his personality. It's like Archie appreciates everything we do for him, which makes us want to do more and more for him. I have also been told by other people who have rescue dogs that they notice the same trait. He is also incredibly inquisitive and extremely brave. We always say that to be wandering the streets of Randwick, it is no wonder he is so brave. As earlier discussed, it is only through buying a dog at a slightly older age that we were able to realise that he had the perfect personality for us, which to us is more important than anything. Secondly, his health. Not sure if it is because he has some mixed breeding but his health is fantastic, particularly in comparison to the dogs from the breeder. Finally, having a rescue dog where the exact breed is a mystery is certainly a conversation starter. People always ask us what Archie's breed is, after they are blown away by his affection. Telling people we think he is a Jack Russell x Fox Terrier, but we can't be sure, always invites intrigue and of course suggestions. People have suggested everything from Corgi to Dachshund to Blue Cattle Dog!
6. If someone was considering getting a new dog but they hadn't considered a rescue what would you tell them?
Go for it! Get online and check them out or take a visit down to your local shelter. The staff are usually lovely and so helpful. With a rescue dog you know what you are getting, you can have a trial period and you can even take your current dog to the home to see how it will react with your new adopted friend. Most importantly you are saving a life! We are so happy with our little man, in fact we are currently looking for another rescue doggie to keep Archie company (on the rare occasion that he stays home alone).
We wanted to say thank you to Emma, Bart and Archie for sharing their lovely story and urge everyone to really think about what is right for your family when you are getting a dog. Everyone's needs, lives and experiences are different but I would urge you to consider all your options when you are thinking of getting a dog to join your family.
Sydney Dogs and Cats Home are based in Sydney and do a wonderful job of finding a home to all the dogs and cats who come into their care. But there are now fantastic shelters and rescue organisations all over the world. So do some research and check out your local shelter. Even if you can't adopt, these organisations are always looking for foster carers, dog walkers, donations and people to help with fund raising activities.