Welcome to my new regular section – 'What to Wear' – a series of posts aimed at helping you to decide what to wear for your family photography session. "What should we wear?" is one of the most frequently asked questions so I hope to provide a starting point when deciding for your upcoming session. Ultimately what you wear needs to be a reflection of who your family is at the time of the session, the individual characters of the family members and of the style and location of shoot. Just because something looks awesome doesn't always mean that it's right for you and your family. I will however feature a variety of 'what to wear' ideas so hopefully you will just find the right inspiration for you!
After the weather these last two weeks, it is definitely starting to feel more and more like winter. So I'm going to kick off with 'Winter Warm'. Layers are perfect when changing locations between indoors and out, as well as for mixing it up without having to change outfits. Warm colours, like red in this case, to help brighten a cool winter day and add a pop to your images! Of course, if red is not your colour or you dread to think of images with lots of red in them on your walls, then substitute that colour for one that is more your family!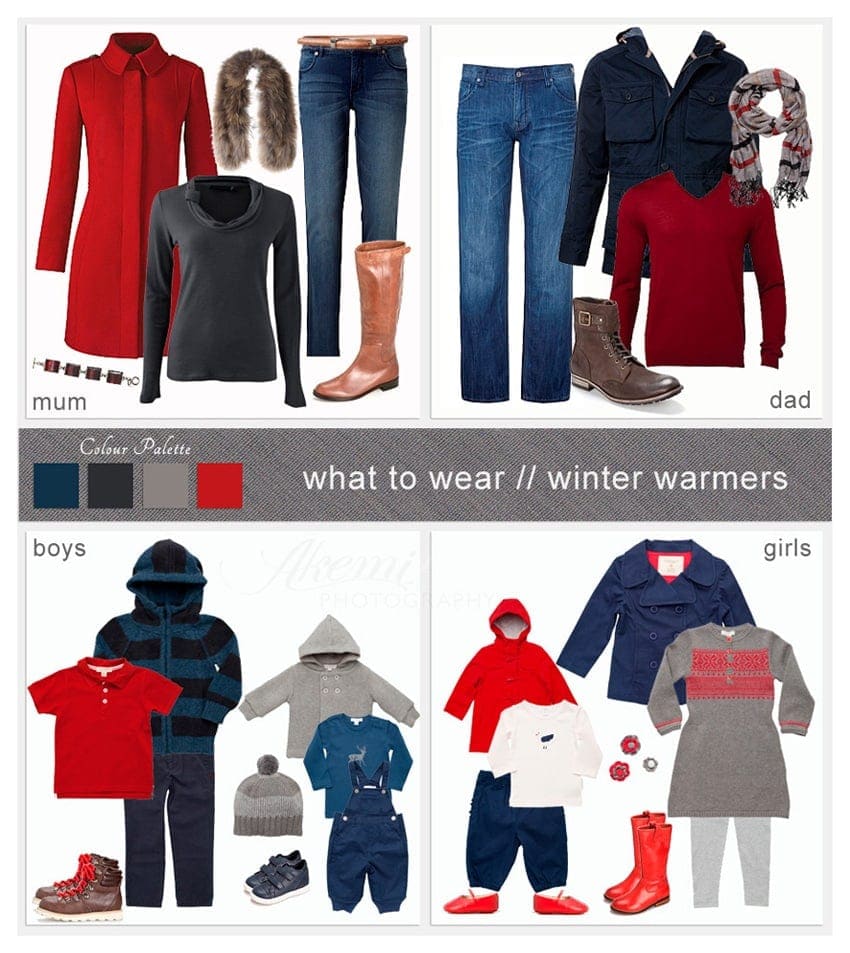 I'll list the stores where these items can be bought below (in case you see something you 'have to have'). This really is just a source of ideas – similar colours or items from your own favourite stores will naturally work just as well!
Mum & Dad's Jeans – Country Road
Mum's Outfit – David Lawerence
Dad's Outfit – Witchery
Girls & Boys – Pure Baby
All Shoes – Country Road
Kerry is 'Top Dog' here at Puppy Tales. With her own adored dogs, she completely gets that your four legged furry buddy is absolutely part of the family. That they sleep on the bed, that you want to take them everywhere, that you plan holidays so they're included & that their presence makes your life incredible.