What is dog agility?
Have you ever seen a dog agility competition and wondered what it is all about? Or maybe you really want to get more active with your dog but are unsure if agility is right for you? Today we are lucky enough to have Mel and Bodhi from 1st World Dog giving us the low-down on dog agility, so you can find out more.
From Mel:
My name is Mel and my dog Bodhi and I love agility. Yep, it might sound a bit like the start of an AA meeting and it's intended to, because any introduction to agility should come with a warning label. It can be highly addictive. But it is also great exercise for handler and dog, fantastic bonding and so much fun.
What is dog agility?
Essentially dogs get to run through an obstacle course consisting of jumps of different shapes, tunnels and over what is called contact equipment (the long dog walk, the steep A-frame and the table). They have to do the obstacles in a specific order and within a certain time. The handlers don't get off easily either. Dogs aren't great at reading numbers so the handler needs to show them which way to go. We work as a team.
Image by: Pawfect Touch Canine Massage
Who can do agility?
The awesome thing about agility is that it is for any dog and anyone. The bars on the jumps are set at different heights from 200mm, which our little Papillon mates jump over, to 600mm which our big German Shorthaired Pointer friends sail across. As long as there are no medical issues most dogs can have fun doing agility (if you're not sure get your friendly vet to check your dog over). It is also the same for handlers. There are handlers who are 12 years old (the minimum age you can compete as a junior handler) through to people in their 80s who are staying fit, active and having a great time with their dogs.
Image by: Pawfect Touch Canine Massage
When I got Bodhi he was never intended to be an agility dog. Instead, agility was something we stumbled upon by chatting to people at our local dog training club. We were doing a bit of obedience there. What we soon discovered is that there were a bunch of places where we could give agility a try in our hometown of Sydney. In Sydney's north Goodog run casual games and agility classes. Canine Fun Sports also have casual agility classes in Sydney's north and west. In addition to these private businesses there are not-for-profit dog training clubs all around Australia. Most of these are affiliated with the Australian National Kennel Club (ANKC) who run the competitions and you can find a directory on their website. Not all clubs do agility and some do expect you to show a certain level of obedience before doing agility (things like coming back when you are called) but give them a call, send an email or pop along at a training time and ask the question. This applies for wherever you live, as there is sure to be an agility club nearby!
Overall agility is great physical exercise, mental stimulation and socialisation for dogs, and handlers get all the same benefits too.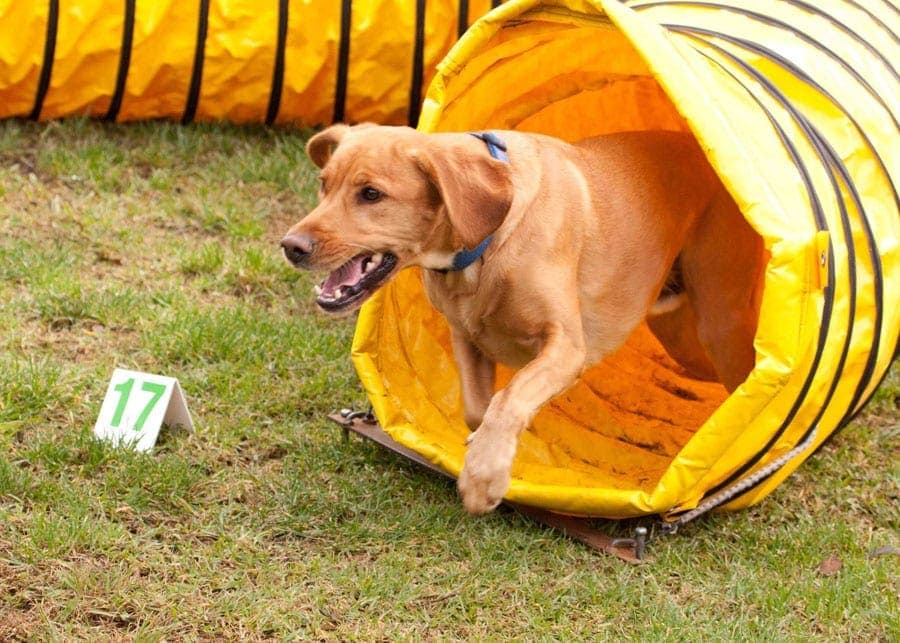 Image by: Canine Fun Sports
If you are in Sydney this weekend and want to see some agility then you are in luck! On Saturday the 12th and Sunday the 13th at the Royal Easter Show there is a whole lot of agility happening at Sydney Olympic Park. So take a look at the schedule (PDF) and check out a session. Even better: Mel and Bodhi will be there competing!
UPDATE: If you want to hear how Mel and Bodhi went the full details (including a little pooping incident) are here! Good on you Bodhi 🙂