April 25th is ANZAC Day, when we remember Australian and New Zealand troops and the noble sacrifices made in armed conflicts. Previous posts looked at the contribution of courageous canines in World War I (Dogs in War, Dogs of Hope) and World War II (The Dogged Face of Humanity) but this post is devoted to allied dogs that served in the Vietnam War.
How old were you 1966?
Were you even born?
If you weren't, then your parents almost certainly were.
The point is 1966 may be history, but it isn't so very far away. The Vietnam War is history, but so recent that you can almost reach out and smell the boot polish and the musty uniforms, feel the pain of parting and a mother's fear of a telegram bringing bad news.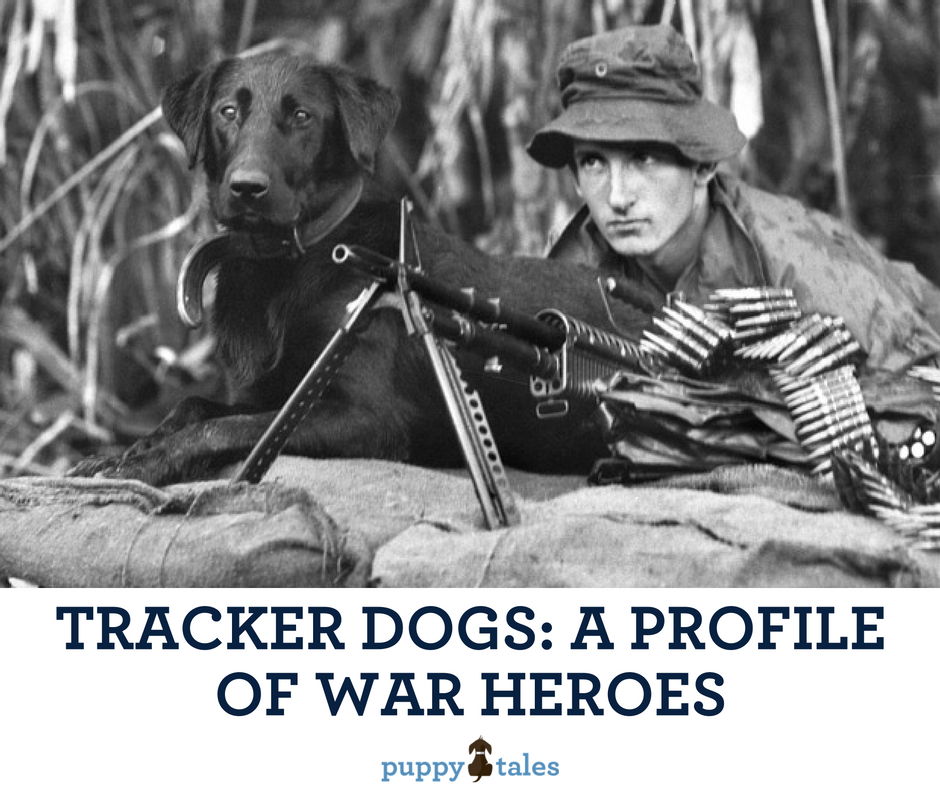 War heroes are often modest people. When questioned about their experiences many are reluctant to speak or say only that they were in the right (or wrong!) place at the right time, and anyone would have done the same.
Of course our canine heroes cannot speak but were courageous none the less. They were silent witnesses to war, who gave their all and were much loved by the troops they served with. As they cannot speak for themselves, then we must tell their stories for them. But what makes their tales even more remarkable is that these Aussie tracker dogs came from humble beginnings: the Sydney dog shelter no less.
Shelter Dogs Enlisted
In 1966 the Australian Armed Services were looking for dogs to train for active service. They had specific requirements: the dogs had to be black, preferably Labradors or Lab crosses, and be good at following a scent.
In total 11 shelter dogs, at a cost of $2 each, were obtained from the Sydney dog shelter and trained up to become tracker dogs. All of the dogs were named after Roman Emperors – Cassius, Tiber, Justin, Marcus, Janus, Julian, Caesar, Milo, Trajan, Juno, Marcian
Tracker Training
Each dog received nine to ten months of training in Australia, before being shipped out to Vietnam. Each canine recruit was expected to serve a three year tour of duty, which according to the dog handlers who served with them, was a year too long. Indeed, of these canine recruits, ten of the eleven survived to retirement, but although physically intact some bore the mental scars of war.
Lance Corporal Ferguson & Marcus
From Melbourne, Australia, Lance Corporal Dennis 'Fergie' Ferguson, handled a dog called Marcus. Ferguson recounted how his dog experienced a particularly vicious night-time attack. Trapped by a barrage of mortar fire and machine gun flack, Marcus suffered the canine equivalent of shell-shock. Under fearsome fire the dog bolted and harmed himself on barbed wire. Thereafter the dog was mentally scarred by the assault and was never the same afterwards, and eventually retired ahead of schedule.

As with all the tracker dogs, Marcus' story has a bittersweet ending. The dog bravely completed two tours of duty before retirement. His handler, Ferguson, applied to the authorities adopt Marcus and take him back to Australia, and he even volunteered to pay the quarantine fees himself.
But Ferguson's application was denied. Despite further pleas and appeals, and with no adequate explanation given, the Army ordered that Marcus (and all other tracker dogs) remain in Vietnam. This traumatized Ferguson almost as deeply as the war he had endured with Marcus at his side.
Marcus was adopted by Australian nationals in Saigon.
The Tracker Dog Team
So why were dogs taken to Vietnam?
The dogs belonging to US and Allied forces are credited with saving 10,000 lives. They did this by leading teams to track down enemy insurgents in the jungle, and prevent them mounting ambushes.
Each dog unit was made up of a dog and his handler, a coverman (a personal bodyguard for the dog and handler), two visuals trackers, a machine gunner, and a signalman. The team were airlifted into the jungle by helicopter. By all accounts the dogs loved these helicopter trips as the air was much cooler at altitude, in contrast to the sweltering heat at ground level.
Once in position, the dog tracked the enemy and when located, pointed with either his nose or a paw to alert the rest of the team. What then ensued was often an exchange of gunfire, as the allies attempted to 'neutralize' the enemy. With a dog's sensitive hearing one can only imagine how painful this fire must have been to them.
However, when talking generally it's easy to feel removed from the reality of war. To bring things back into focus let's look at some of these dogs as individuals.
Private Haran & Caesar
At the Sydney shelter Private Haran chose Caesar, a black lab cross. They trained together in Australia for nine months, but as the date for their deployment to Vietnam drew closer, Haran held private doubts about whether his dog was ready.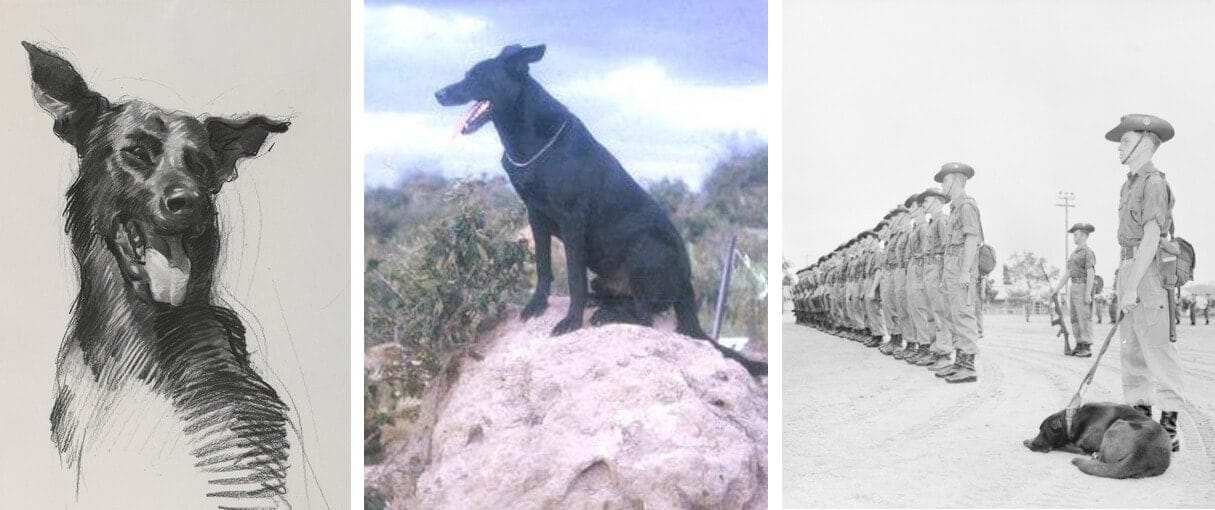 Then came a call from the NSW Police. A young girl had gone missing from a playground and as a last resort the police asked Haran if Caesar could follow her trail. Much to Haran's delight, without hesitation Caesar picked up her scent and led the police through the city to find the missing girl.
This early bond between Haran and Caesar saw them perform many successful missions in the field of war. The pair became a firmly bonded team, so much so that Caesar saved Haran's life.
The team stumbled onto a clearing in the jungle, which Caesar immediately backed out of, and seeing his master about to step forward, the dog promptly sat on his feet to stop him. A short time later the team realized the clearing was booby trapped with mines, and to progressed would have been devastating.
Lance Corporal Brett Charlton & Justin
These two sound like a pair of characters. Charlton (from Northampton, Western Australia) seems rather impressed his dog's rations. Justin's food came in 20 L drums and was the consistency of hamburger patties. As well as working together, Charlton admitted to sharing rations as the dog food tasted better than combat rations.
Charlton recognized that his dog, Justin, hated the noise of war but put up with it. Perhaps this accounts for why Justin was not always perfectly disciplined. Indeed, he was formally charged with military offences such as disorderly conduct (for attacking a fellow dog), and conduct prejudicial to good order and military discipline (when he destroyed government property).
Harsh at it sounds the Commanding Officer found Justin guilty and the dog was confined to kennels for two weeks, on half rations. But on the plus side perhaps Justin appreciated the break and one can only hope that Charlton smuggled in extra food.
A Last Goodbye
The bond between man and dog is a strong one at the best of times. Imagine trusting a dog with your life, living together, depending on each other – only to be told by the authorities that you couldn't keep that dog in happier times.
This is what happened to those Aussie tracker dogs.
At the end of their tour of duty Private Haran recounts saying goodbye from Caesar for the last time. The dog was in his cage when Haran took his final farewell. Stealing himself, Haran stood up and walked away for the last time.
He stole a glance behind to see Caesar had picked up his bowl, expecting to be fed. As Haran continued walking the bowl drop to the ground with a crash. As Haran put it, "I felt this ton of lead just fall straight through me from the top to the bottom."
Years, later, in the 1980s Haran hadn't forgotten Caesar and tracked down his dog tag. Haran bought it, to honour the memory of his beloved companion.
Indeed, because the dogs were denied passage back to Australia, Haran talked of them being 'abandoned'.
In one case, the bereaved parents of a fatally injured servicemen, Garry Polglase, appealed to adopt his dog, Julian. Despite questions raised in Parliament and a public campaign to raise the money to cover quarantine costs for all tracker dogs, their request was steadfastly refused. The Army remained resolute.
However, in a slight softening of stance, they did ensure all dogs were adopted as pets by diplomatic or embassy staff in Saigon, so they ended their days by the hearth, albeit on a foreign shore.
Tracker dogs of Australia, we salute your memory.

Photos courtesy of the Australian War Memorial
Kerry is 'Top Dog' here at Puppy Tales. With her own adored dogs, she completely gets that your four legged furry buddy is absolutely part of the family. That they sleep on the bed, that you want to take them everywhere, that you plan holidays so they're included & that their presence makes your life incredible.