Is your dog more Scooby Doo than Hound of the Baskervilles?
Halloween for dogs may not be a fun time for them.
Ghosts and ghouls and spooky things that go 'bump' in the night aren't for everyone, and this includes our dogs. We all love fancy dress, and heck it's a great excuse to dress up the dog, but remember your pet may not see the funny side. In fact, a stagger of zombies [Did you know: The collective term for zombies is stagger or stench] thudding on the door is enough to give most people palpitations, let alone an anxious dog.
This Halloween remove the fear factor for your canine companion by being aware of the dark side for dogs.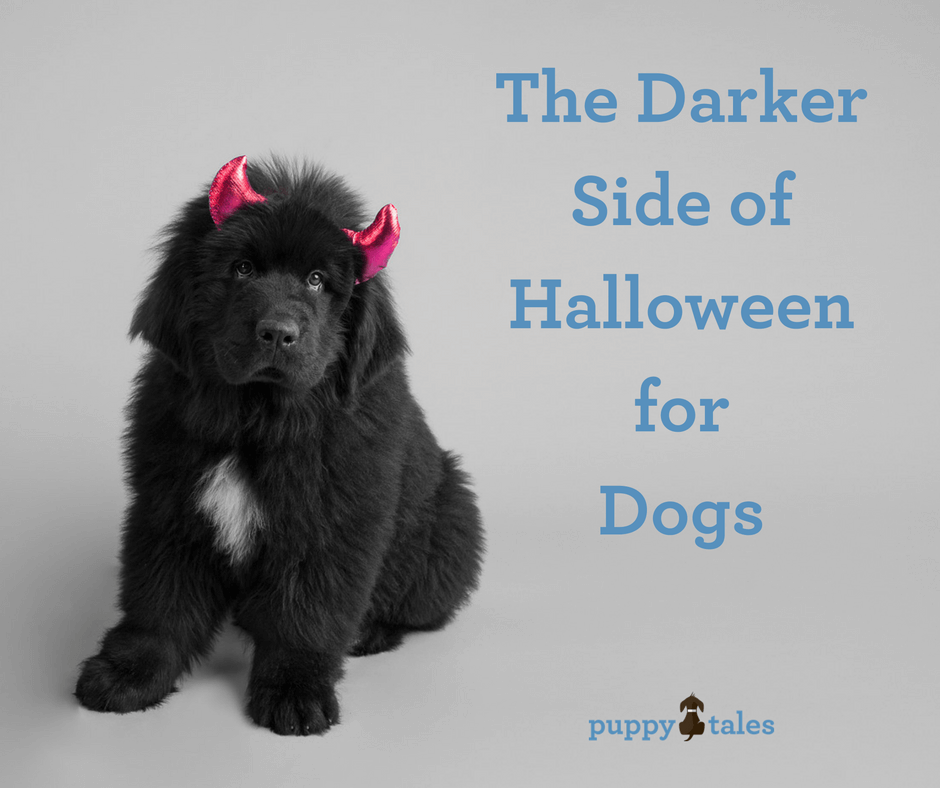 Protect your Dog from the Dark Side
As dusk falls so the ghosts quit their graves…and little Johnny from down the road puts in his vampire teeth. Unfortunately, some of the 'little Johnny's may get carried away in character and act the devil. It's best not to leave your dog unattended in the yard, for fear of taunts or teasing. After all, when someone's gone out of their way to look scary, they will want to get a reaction.
Even if your dog has more heart than Lassie, the sight of a zombie apocalypse staggering down the street may make them turn tail. To avoid this get your walks in early, preferably while the sun is still up, well in advance of the witching hour.
A Portal to Another World (OK, your front door)
I don't know about you, but it's an exceptionally well-socialised dog who is used to ghosts and ghouls pitching up on the doorstep. Even the most robust canine can be phased by a witches coven, complete with screaming (literally!) kids, lanterns, and decorations. Be prepared and keep your dog on a leash when answering the door. Even a usually bomb-proof dog may do a double-take and behave unpredictably, either by bolting and running off, or showing their fear as aggression.
Another factor is strangers repeatedly knocking on the door. If your dog is territorial and becomes stressed by such invasions, take pre-emptive action. Consider putting an "Anxious dog- Do NOT disturb" sign on the door or opt-in to the opt-out scheme (if you see what I mean), or else keep the dog well out of earshot in a room at the back of the house. The latter is also a good idea if your dog is a 'door dasher'. You really don't want them escaping on a dark night, with all those malign spirits abroad.
Paw-tentially Deadly
"Trick or treat." At the risk of sounding like a pooch party-pooper remember these other Halloween hazards. Halloween is all about candy, but this isn't great news for our hounds. Low sugar candies contain xylitol, an ingredient that is potentially deadly to dogs. Just a small amount can send their blood sugar level crashing into their paws, with resultant collapse, coma, and death. Keep all candies well out of your dog's reach, and if they do snack on low-sugar candy or cookies, contact your vet immediately.
If your dog loves to dress up, be careful about small accessories or anything that could be chewed and swallowed on their costume. Seemingly harmless items such as buttons or tinsel can get stuck in the gut and result in a real Halloween howler of a trip to the doggy ER for life-saving surgery.
Of course, no Halloween is complete without a pumpkin lantern or two. But you guessed it, watch out for lighted candles, especially when there's a waggy tail about. And if you are having a party, politely ask guests to keep glasses of alcohol up out of your pooches reach. The smaller size of dogs relative to people means it doesn't take much to get alcohol poisoning and one hangdog hangover you can really do without. Or consider giving your dog a little doggie vacation by booking them into their favourite pet minding service or pet resort.
Have a Wicked Time
Enough scary halloween, let's turn this on its tail and help your dog to have a good time.
Give your dog plenty of exercise during the day so your pooped pouch sleeps through the evening's festivities. If your dog is anxious or nervous, then put them in a room well out of the way. Close the curtains, put the TV on low volume, and provide a distraction such as a Kong stuffed with their favourite filling.
If you're considering heading out, first think about your dog's comfort. Having an epic dog costume is no justification for joining the revellers if your dog shakes harder than a ghost's arms. Also, make sure the costume is comfy, not too tight and not rubbing or restricting their movements. Indeed, the dog should be able to move, breathe, see, and hear just as he does without the costume. Try the costume out the day before, to check that they are up for the whole thing.
Cook up a storm and make your dog some special treats. Use a ghost-shaped cookie cutter or include some devilish ingredients…pumpkin anyone?
Cast a Successful Spell
Of course, Halloween isn't all doom and gloom. Proper preparation means your dog doesn't have to be a party pooper. Knowing how to act if your pet is anxious, goes a long way to helping them. For example, if your dog shows signs of stress, such as shaking, yawning, or excessive lip licking, don't reassure them.
Yes, you read that right! Do not fuss over a fearful dog or they will take it as a reward for their anxious behaviour which then reinforces those fears. Instead, be sure to act unconcerned, and perhaps throw in a spot of impromptu training so you can reward their non-anxiety related behaviour.
If you're hosting a party, make sure your pet is comfortable around crowds and take care not to overwhelm them. Perhaps make it a small gathering so the dog can get used to zombies invading their space. If your dog is a scaredly Scooby-Doo then never force them to confront their fears, this can backfire badly and compound their fears. Indeed, for more tips on successfully socialising your dog at group events visit Tips for Attending Events with Your Dog.
And finally, why not go the whole dog and consider organizing a dog-friendly Halloween event in the local area. Often the neighbourhood will pre-arrange notices to pop in a window to let revellers know if children are welcome to call. How about doing the same but for dogs? This way the dog-lovers in the area can prepare dog-friendly treats and put up a notice to show that pet pals get a warm welcome. A great way to throw some light on the darkness for all the Scooby Doo's out there this Halloween.
Kerry is 'Top Dog' here at Puppy Tales. With her own adored dogs, she completely gets that your four legged furry buddy is absolutely part of the family. That they sleep on the bed, that you want to take them everywhere, that you plan holidays so they're included & that their presence makes your life incredible.