Got questions about taking your dog to the snow at Dinner Plain for one of our Snow Dog photography sessions or retreats?
We've got you covered!
Will my dog be permitted in Dinner Plain? Does he or she need to be registered?
Yes and yes! Dinner Plain is the only place above the winter snow line where dogs are permitted.
In the past all dogs needed to have a Dinner Plain Permit. As of July 1st 2019 these are no longer required.
Dogs will need to be registered with their home Council, and Alpine Shire advises that Rangers will be patrolling Dinner Plain over winter to ensure that dogs are appropriately registered.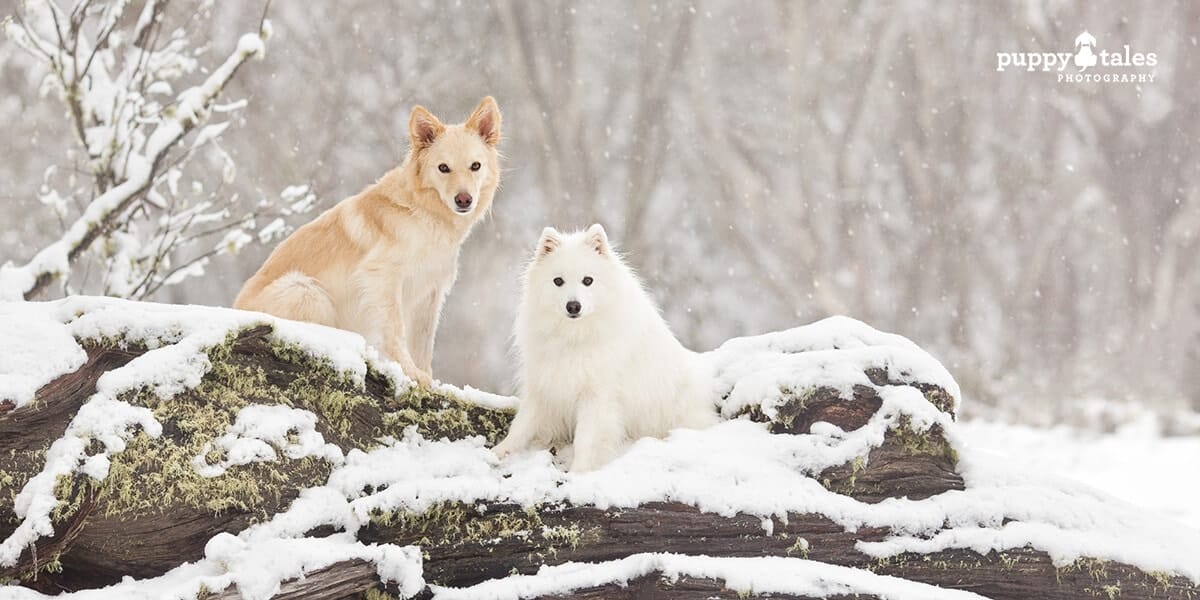 What car is needed to get to Dinner Plain? Is it only 4wd access?
There are no special car requirements for traveling to Dinner Plain – other than you must carry chains & fit them when required to do so. The road to and from Dinner Plain is the Alpine Highway and a surfaced road. The easiest travelling route to Dinner Plain is via Omeo (click to see this route from Melbourne). The Bright / Mount Hotham (from Melbourne, Canberra, Sydney & Adelaide) is a little windier and, if you need to fit chains, it will be for a longer distance. It is also the route that can experience closures due to the conditions. This route, however, does has incredible views.
Do I need snow chains for the car?
All vehicles travelling The Great Alpine Road must carry Diamond Pattern Chains at all times during the declared snow season and must be fitted where directed. Chains can be hired in Bright, Harrietville and Omeo enroute to Dinner Plain.
More information on the snow chains requirement can be found on the Mount Hotham website. Hoys offers Chain Fitting Services in winter when chains are required. Information and costs for this can be found on the Chain Fitting Service page.
What do I need to do to make my dog comfortable in the snow?
When you book one of our snow photography sessions or retreats we will give you a comprehensive guide, which includes a packing list so that you don't forget anything essential! Some of the things you may need for your dog's comfort in the snow include:
A water resistant sweater/coat.
Maintaining long yet clean coat – dirty fur will not hold heat.
Trimming their nails and, if they have a longer coat, the fur between paws.
A towel for drying, a brush and even a hair dryer if they have a thick coat.
You may wish to bring boots and paw wax to protect your dogs pads.
If they will be dining outside, plastic bowls for food as your dog's tongue can stick to metal in the cold.
Bring a portable water bottle for fresh water supply
Ample food supply for the duration of the visit.
Do any dogs get to the snow at Dinner Plain and not like it?
On a Snow Dogs Photography Session or Retreat – not yet! The possibility that some dogs might not like their snow experience was a something we worried about when we started offering the Snow Dog Photography sessions & retreats. We've found though that if your dog loves the sand at the beach, then they will love the snow as it's a similar sensation and response that dogs have to both. It also comes down to you! If you're excited and make the experience fun for your dog (and really that's not hard at all – a trip to the snow with your best buddy is incredibly fun & exciting!) then they are going think it's exciting and fun!
There are also creative ways of incorporating props and the snow scenery in a photography where the dog is not on the snow. As an additional measure, we've also imported a adorable vintage sled from the United States which can be beautifully incorporated into their snow session. This would allow a dog that's not so keen on sitting in the snow, to still be photography as very much part of the snow theme and environment. If this is a worry for you with your dog, please get in touch and we can chat about the options and suitability of a snow photography session for your dog.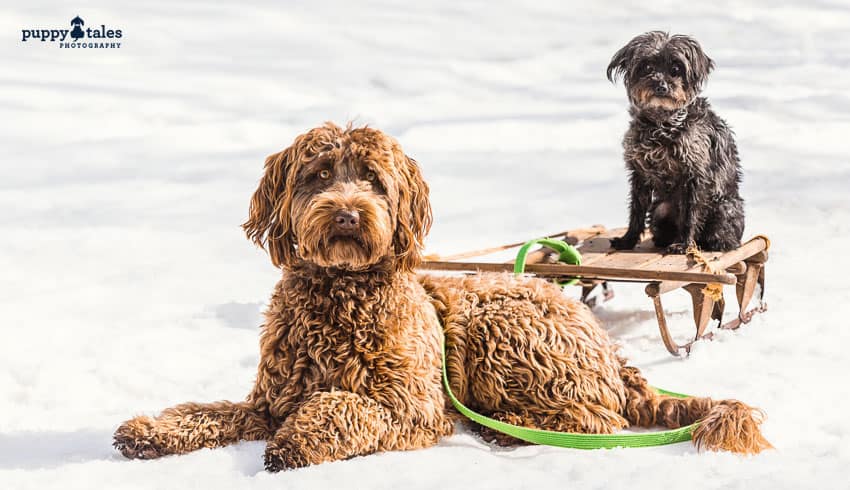 What do I pack for myself?
Some of the things you'll need for a comfortable stay at Dinner Plain include:
Goggles/sunglasses
Thermals
Ski pants and jackets
Boots
Skiing equipment
Sunscreen
Lip balm
How much snowfall does Dinner Plain get?
The average winter temperature at Dinner Plain ranges from -2° to 6° Celsius. Historically the peak snow period is usually at the end of July/early August. That's why we schedule our Snow Dogs Photography & Retreats for this time!
Check & follow the weather & snow forecasts for Dinner Plain.
What if the weather conditions are too harsh or unsuitable for outdoor photography?
We definitely head out for photography if it's a nice powdery snowfall or if it's all foggy – in fact, you're lucky, if that's the weather nature gives you for your photography session!
Due to the high altitude, the weather conditions in Dinner Plain can change within a short period of time. This can mean that the time we've scheduled your session, might not be suitable for heading outdoors. The good thing though with quickly changing weather, is that it also means it can go from unsuitable in the morning, to beautifully suitable in the afternoon. We're always monitoring the weather and will be in touch to work out the best options and timing for your photography session on the date you've booked for. We also have plenty of flexibility in our calendar around the Snow Dog photography sessions and highly recommend that you plan around a stay of minimum 2 nights so that we have plenty of opportunity for rescheduling, if needed.
In the event of insufficient or no snow on the mountain, we'll be as disappointed as you, but will still go ahead with your photography session in the beautiful Alpine landscape (albeit minus snow – it's still a gorgeous area with lakes and wide spaces).
We recommend consider travel insurance to cover other aspects of your trip that may be impacted by weather and/or snowfall.
What dates are the Snow Dog Photography & Retreats available in 2021?
Friday 16th July – Sunday 8th August 2021
What dates are the Snow Dog Photography & Retreats available in 2022?
We haven't set the dates for 2022. If you'd like to know when we've set dates, please email us ~ [email protected] ~ and we'll add your details to our Snow Dogs list where you'll be one of the first to find out all the news and offers, including when future dates are released!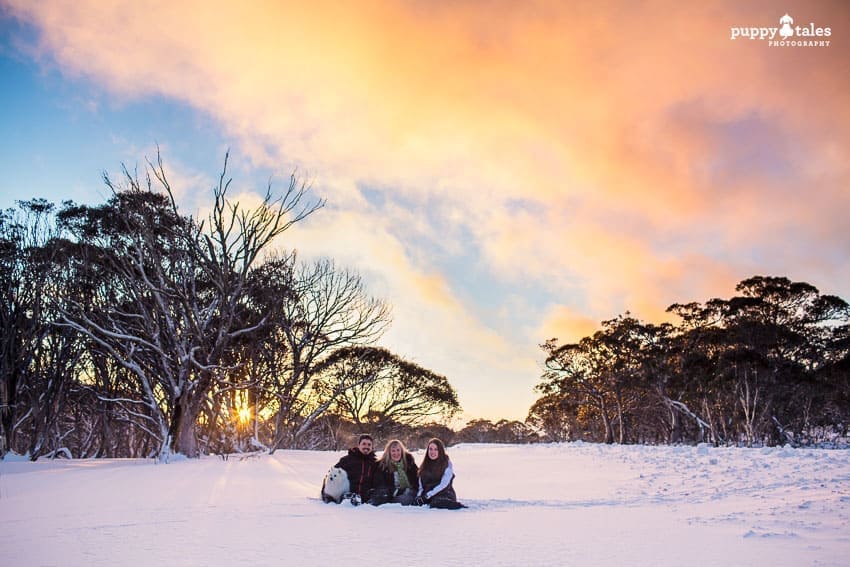 Is every accommodation and dining place in Dinner Plain dog friendly?
Not all but most hotels and accommodation service providers have dog friendly options. We've put together a great list of dog friendly accommodation options for your Snow Dog experience, both within Dinner Plain and in the surrounding areas.
We always recommend asking for dog friendly when making your enquiry and confirming at the time of booking that a premise is dog friendly. This can include awareness of any restrictions or special arrangements included in the booking terms & conditions. Bringing a sheet to go over furniture can be easily accommodated. It would be horrible, though, once you're checking in to your accommodation to find out that your dog is permitted only within the garage of the property and not actually inside with you.
What activities for kids does Dinner Plain have?
Beginners skiing
Sled dog tours
Tobogganing
Snowshoe Shuffle
Cross country Skiing
And much more…
Do you offer snow photography sessions in other locations?
The Snow Dog photography and retreats are conducted at Dinner Plain because dogs are permitted to visit and stay within the town. This is a unique spot within the Australian Alpine regions, as permits for dogs to visit any other snow destinations within Victoria and Australia are very difficult, if not impossible to obtain.
We have photographed dogs at Baw Baw previously but there are no guarantees of permission being granted in the future and the restrictions we had to do this, meant it wasn't the same wonderful experience that we have at Dinner Plain.
Have we not answered a question you have about the Snow Dog Photography & Retreats? If so, please leave us a comment with your question or send us an email ~ [email protected] ~ we'll answer and update this page for your questions.