Shopping for Summer at The Reject Shop
The opportunity to take a shopping experience for the dogs at The Reject Shop couldn't have been more perfectly timed! With our brand new puppy Summer, there were definitely some essentials we needed to purchase. It's also particularly great to shop 'savvy' when buying items that will soon be outgrown or which might be destroyed (as puppies have a tendency to do!).
We were sent a $100 gift certificate with which to shop at The Reject Shop. I'll be share what we got, our impressions on individual purchases and our overall thoughts on shopping for your dog at The Reject Shop.
Also, be sure to check out the contest we have for one of our readers to also win a $100 shopping trip of their own! All the details are at the end of the post.
What we got with $100
Truth be told, we spent $100.50! I wanted to get spot on $100 but finding that last item that would be useful or fun, that we didn't already have in our basket, for exactly $2.00, proved difficult! And while most items were round values, the last one we decided on was, of course $2.50, taking our shopping total to $100.50.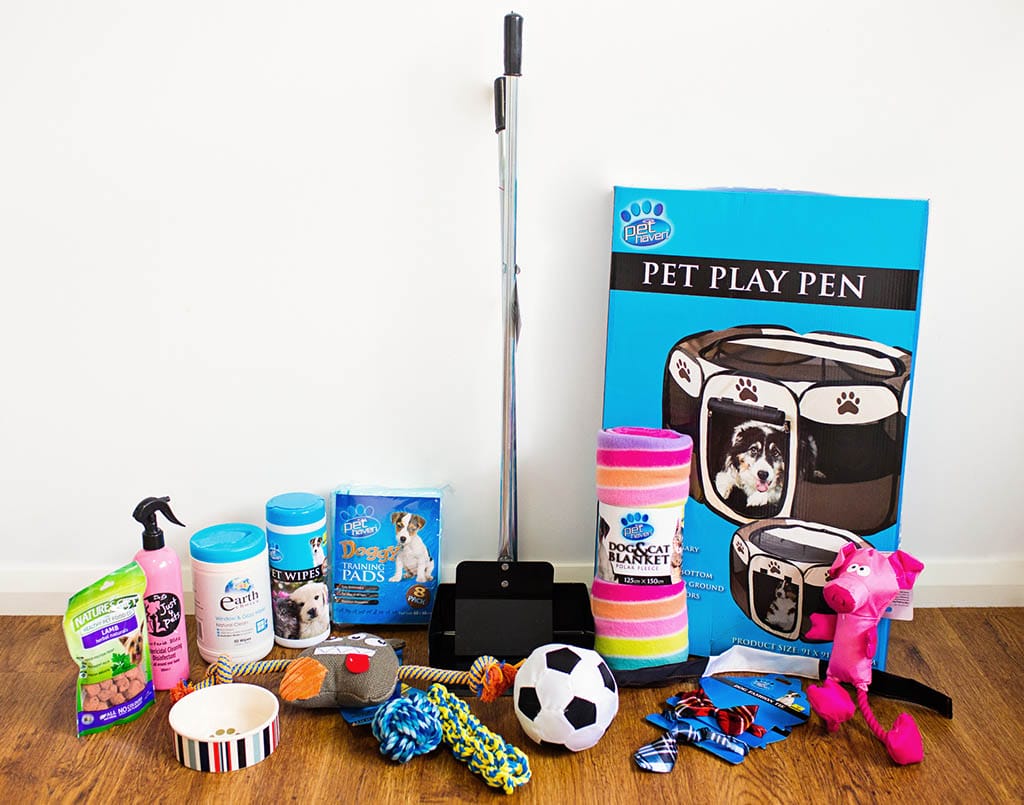 Summer & Keiko testing them out
Summer and Keiko definitely enjoyed playtime with their new toys!
From Essential to Cute – We were pleasantly surprised!
I'll go through the individual items and I'll share our thoughts on them now that Summer (and Keiko!) have been testing them out for a week.
Pooper Scooper – $12.00. Since installing a pet poo composter, we've been using one of the big garden shovels for pickup. It was the first thing we grabbed for our basket. Yep, I am a bit embarrassed to admit excitement over a Pooper Scooper, but its allowed for us to put the shovel back in the garden shed and use a much lighter and easier alternative for tidying up.
Puppy Training Pads – $4.00. Perfect with a new puppy. While Summer is being trained to toilet in the yard, having puppy pads is great for those 'oops' moments indoors and also during some rainy periods when we didn't want to be standing in the rain – you know, just waiting and encouraging for something to happen. Puppy Pads weren't successful when Keiko was a puppy, but with Summer, we're so pleased that with these now in the house, we haven't had wees indoors except on the puppy pad (Summer really is such a clever girl!).
Portable Play Pen – $40.00. At this price for a play pen, the enduring quality of the playpen is a compromise. The materials aren't as sturdy and tough as others we've used. That said, I think it will likely last long enough for Summer to outgrow it and it could be a worthwhile purchase for those with a short term requirement or those with toy or small dogs.
Pet Blanket – $7.00. We love to make our crates and playpens feel homely. A blanket is perfect for that and the colours of this one are so pretty.
Dog Monster Face Toy – $6.00. This is cute and tough for a fabric toy. Summer loves to carry this about the house by its arms.
Plush Soccer Ball – $5.00. They both love this toy for playing fetch and to share in tug of war.
Plush Piggy Toy – $5.00. While very colourful and cute, the stitching and material on this didn't last two days with Summer and her tiny, sharp puppy teeth. After the seems were burst open, we removed the stuffing and squeaker and the toy can still be played with because of the rope legs. It's probably not the preferred toy though this way.
Dog Rope Chew Toy (Ball) – $2.00. An exceptional value toy for the dogs. While its a little bit big for Summer presently, it certainly feels like it will be tough and enduring for her when she grows into it.
Dog Rope Chew Toy (Long) – $3.00. This one we specifically bought for Keiko. While they have been sharing some of the purchases we made, at the time we couldn't leave the shop with only goods for Summer. This one looks likely to last Keiko a while! In the times he has stopped to gnaw on this, he hasn't made a dent in the rope fibres.
Fashion Plaid Tie & Bow Tie – $2.00 each. These were a cute purchase for the photographer (me!) in the house. Puppies in cute accessories are just so adorable. And, yep, I am completely biased when I say that Summer is the most lovely of them all! There was only one size in these making them suitable only for smaller dogs or puppies.
Pet Wipes – $3.00. These are perfect for cleaning up puppies and dogs when they get a little dirty. With indoor dogs, being able to keep them nice and clean is important for our furnishings and carpet.
Ceramic Pet Bowl – $2.00. A cute bowl that's perfect for serving the smaller frequent meals a puppy is feed.
Herbal Naturals Lamb Treats – $2.00. A visiting Rosie said a big 'woof' at these – we think that's enough said!
Just 4 Pets Disinfectant Spray – $3.00. This spray is for use on bedding, feeding bowls, utensils, as well as floors. We've been using it after meal times to keep everything clean.
Earth's Choice Window Wipes – $2.50. You might have guessed but this was the purchase that tipped us over the $100! It was also not one we found in the pet range area. We saw it as we entered and collected it at the end, when we had the items we wanted from the pet range! Of course, everyone knows how dogs love to leave their nose art on glass doors! Often the result of being inside and wanting to go out, then being on the outside and wanting back inside! The window wipes are perfect for cleaning these marks off our glass doors.
Would we shop at The Reject Shop next time?
Prior to this shopping trip, I couldn't tell you the last time I'd been to The Reject Shop. But with what we found there for our pets, we'll be popping in again in the near future. There was a larger range of pet items than we had realised and many of the items we purchased on this occasion we would purchase again. The prices were affordable and much of what we purchased and saw (but didn't need for ourselves) was great value. It's definitely a place for savvy pet shoppers to check out.
The pet range at The Reject Shop is particularly great for those dispensable or fun items. Puppy pads, toys, a pooper scooper and the blankets being the things we will have the most use from. A jumbo packet of Puppy Pads will be a certain purchase on our return.
Win a $100 The Reject Shop Treat for Yourself
We have a $100 gift certificate for one of our lucky Australian readers! Simply leave us a comment letting us know:
What would you buy with a $100 at the Reject Shop?
And for some extra good prize winning karma, please feel free to share on Facebook, Twitter, Pinterest or Google+ with the buttons below! Good Luck!
CONTEST IS NOW CLOSED…… Congratulations to the lucky winner KRISTIE-ANN NEATE.
<——— Pin for Later
Share: