Previous posts looked at true tales of canine courage in the armed conflicts of World War 1 , World War II, and Vietnam.
Sadly, even in recent years there is no shortage of stories of four-legged sacrifice.
With Remembrance Day in mind, it seems fitting to recall the bravery of dogs serving in the Afghan war.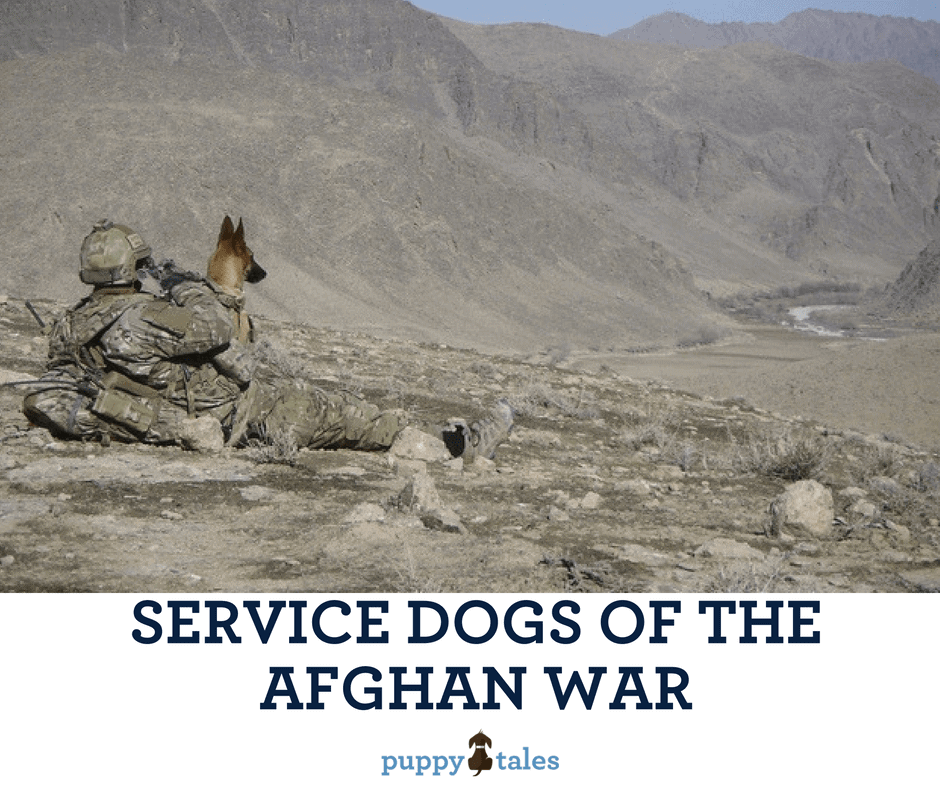 Which Path does a Dog Walk Down?
In happier times a dog might use their nose to sniff out game or track a missing person. In wartime, those same skills are employed to find booby-traps, mines, and insurgents intent on ambushing troops. It is sobering to learn that Australian Defence Force's Explosive Detection Dogs (EDD) mostly come from shelters, and if fate had taken a different path they might have been our pet.
These canine heroes are selected not for their size or intimidating physical presence, but because they're never happier than with a nose to the ground, and have an obsessive love of balls (which makes training possible!). Recruitment officers also sniff out extrovert canines characters who aren't phased by when the world goes a little crazy around them.
Those special dogs whose destiny leads them to become part of the defence forces, are taken to Holsworthy Barracks, Sydney for training. There they are partnered by dog handlers, who are also military engineers, and turned into working dogs capable of finding Improvised Explosive Devices (IEDs). This is a skill that in the theatre of war will save the lives of military personnel and civilians alike.
This is all very interesting, but it's easy to pay these amazing dogs lip service and then move on with our lives. So let's make this personal. Let's look at some of the actual, real dogs who put their own lives in danger in order to protect the safety of others.
Razz: An Army Explosives Detection Dog (EDD)
Razz was a dog who in 2007 made the ultimate sacrifice and lay down his life in the course of his duty.
As an Explosives Detection Dog (EDD) Razz was trained to sniff out explosives, in return for a game of ball. Whilst this might not seem much of an exchange to us, Razz was sufficiently ball-crazy to think it was wonderful and happily accept it as a way of life.
When Razz went to work, earning a game of ball, his job was crucial to the safety of others, as he was trained to detect roadside booby traps or IEDs, much favoured by the Afghan Taliban. These despicable weapons are designed to kill and maim the unwary, and their indiscriminate use makes them a threat not only to soldiers but to local civilians.
Razz's story takes a fateful turn when one day a Special Forces patrol vehicle accidentally detonated an IED, injuring two of the soldiers inside. Whilst the injured servicemen were transported to a military hospital, Razz and his handler were called in to clear the area of further hazards. Razz did indeed find a roadside bomb. The device exploded, killing Razz and injuring his handler. Razz's heroic actions, both prior to this and on that awful September day, saved many lives that would otherwise have been lost.
Razz's sacrifice, and that made by other Australian Explosive Detection Dogs, is honoured on the Memorial for War Dogs, located at the School of Military Engineering, George Heights, Sydney.
Sapper Smith and Herbie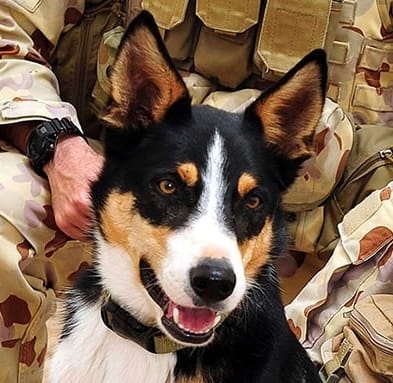 Sadly, Razz's story is far from unique.
In 2010, Herbie, a Border collie-cross EDD, was on patrol in the Mirabad Valley, Afghanistan with his handler, Sapper Darren Smith and another soldier, Jacob Moerland.
Herbie scented an explosive device and led Sapper Smith closer. In a desperately tragic twist, an insurgent was watching and detonated the device remotely. Tragically Sapper Smith and Herbie were killed outright, whilst Moerland was to die of his injuries in hospital. It is sad to note that Sapper Smith became the first Australian dog handler to be killed in action in Afghanistan.
A moving memorial to Sapper Smith and Herbie now stands at the RSPCA campus, Wacol, Queensland.
Xena: Army Explosives Detection Dog (EDD)
EDD Xena's story is one of a 'failed' dog made good. A Belgian shepherd, she was originally part of a RAAF breeding scheme to provide attack dogs. However, she was runty and character assessments decided she was too timid and a bit of a tearaway, to make a good attack dog. She was assigned to a handler, but Xena's high energy levels soon landed her in the doghouse…or rather the pound.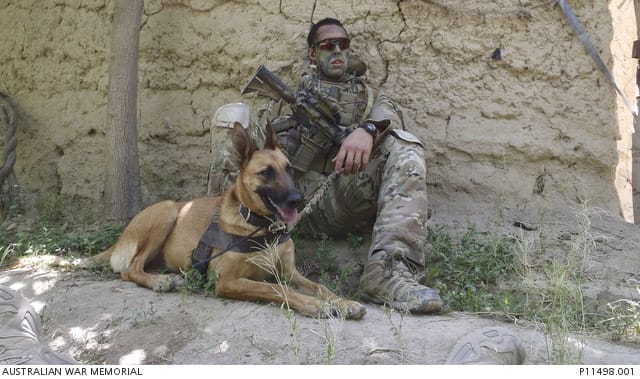 In a bizarre twist of fate, whilst at the pound, recruitment officers visited and selected Xena for basic training as an EDD. Those high energy levels which had previously got her into trouble, were a positive when it came to detection dog training. Xena had found her niche and in Afghanistan she went on to find not only IEDs, but caches of ammunition, explosives, and other weapons.
And for those holding their breath…breathe out and smile. Xena returned safely from Afghanistan in 2012, and continued to serve with a new handler. She retired from active duty in 2014.
Sarbi's : Australia's most decorated war dog
Our final story is that of Sarbi, and happily her tale has a happy ending in that she lived to a ripe old age and died of natural causes.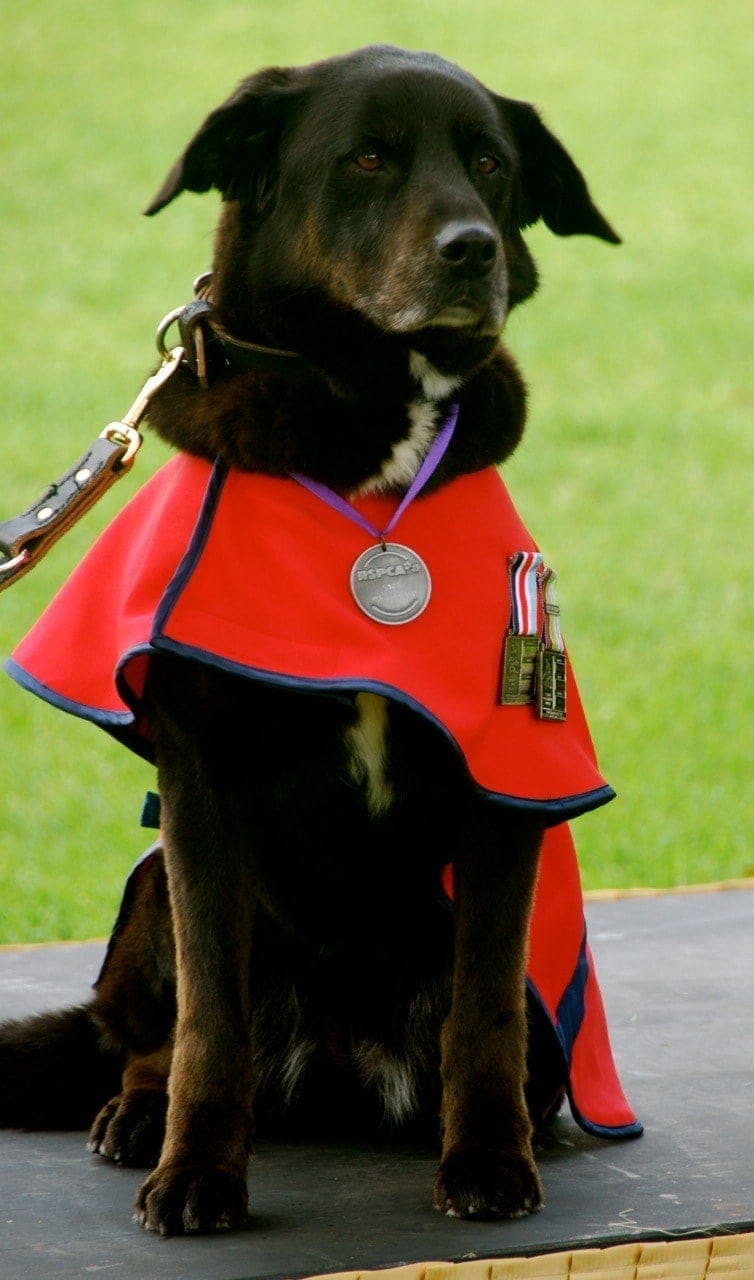 Sarbi was a Labrador-Newfoundland cross who during the course of her duties won the highest award for animal bravery, the RSPCA's Purple Cross.
Sarbi is exceptional because in 2008 she was listed as missing in action after a Taliban attacked the convoy she was traveling in…. But in a happy turn of events, over a year later she was found safe and well.
The story goes that Sarbi was traveling with Australian and Afghan troops in a convoy, when they were ambushed. Nine Australian soldiers were injured and in the chaos it was some time later that Sarbi's absence was noticed.
Things looked grim for the dog. Even if by some miracle she had escaped unscathed, alone, and without water in the desert her chances of survival were slim.
Which made it even more remarkable that 13 months later an American Special Forces came across a dog matching Sarbi's description in a remote Afghan village. A quick scan of her microchip confirmed that this was indeed the missing dog. She was returned to her joyful handler, Warrant Officer Simpson. Her exploits meant that she was honoured and became Australia's most decorated war dog.
And finally, this Remembrance Day look into your dog's face. Explosive Detection Dogs are exactly like yours: the same trusting eyes, the same waggy tail, it's just that their life lay along a different path. That dog you picked out at the pound, on a different day might not be treading suburban streets, but padding through Afghan sand sniffing out explosives.
Explosive Detection Dogs don't choose their destiny and yet they embrace it with enthusiasm all the same. This is all the more reason to honour their memory and show our appreciation of the sacrifices they make. Dogs are a blessing and when their work places them in danger, it's only right we should remember and celebrate the gift of their lives.
Photos courtesy of the Australian War Memorial and Aussie War Dogs.
Kerry is 'Top Dog' here at Puppy Tales. With her own adored dogs, she completely gets that your four legged furry buddy is absolutely part of the family. That they sleep on the bed, that you want to take them everywhere, that you plan holidays so they're included & that their presence makes your life incredible.