Running with your dog
The memory of new year's eve hasn't quite faded yet, so of couse everyone's trying to get fit at the moment. With Biggest Loser on TV, dogs in Super Bowl ads and a pile of fun run sign-ups in my inbox, I thought I might join in and get back into running post-having-a-baby. I thought it best to start slow and enjoy it rather than destroy myself, so it is an ideal time to train Cress and Eddie to run with me. We can all start at the beginning and build our fitness together. Hence, today's Friday Five is a few tips on running with your dog!
1. Health check
Just like yourself, it is best to take your dog for a health check before you start them on a new exercise training regime. Things to consider are their breed, age, size and any previous medical conditions your dog might have had. Here is a great article on what sorts of runs suit different breeds.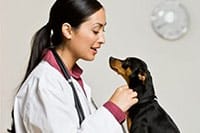 Also chat to your vet about signs of fatigue and heat stress in your dog so you know what to look for such as excessive panting and drooling, stumbling or falling behind. To avoid overheating it is best to run in the morning or the early evening.
2. Running with your dog on a leash
Hopefully your dog already knows how to walk on a leash reasonably well. Ideally for running your dog needs to be able to run by your side on a lose leash (ie no pulling). We will definitely have to work with Cress on this as he does have a tendency to take off into a gallop when I move from a walk into a run. If you really get into running with your dog you can look into purchasing a hands-free leash.
3. Think about your dog's paws
We have a tendency to run on hard surfaces, as we wear thick soft-soled running shoes. But spare a thought for your dog! Harder surfaces such as asphalt and concrete are not only rough but can retain the heat and burn their pads. If you can, try running on a soft surface for at least some of your route and after your run check their paws for damage and little foreign bodies like burrs or tiny pieces of gravel. If you do often run on grass or dirt trails, keep your dog's claws well trimmed to avoid them getting caught on roots, branches and vines. If you and your dog become serious runners you might want to look into getting special dog boots.
4. Food and hydration
Make sure your dog gets a balanced diet to give them the energy they need to run. However, it is best if your dog runs on an empty stomach to avoid vomiting. Also make sure your dog is calm and relaxed after the run before feeding.
Carrying enough water for you and your dog is vital, make sure you offer your pup frequent sips throughout the run. You can bring a small portable bowl, or teach your dog to drink from a bottle. (Hopefully not yours!)
5. Start slow
Create a training program for you and your dog with a proper warm up and cool down after each run. Just like us, dogs need to start slowly and with short distances to build their endurance. Recognise your dog's limits and make sure you give them days off to recover. Interval training is often the best and Cress and I have decided to use one of the Run 5k applications on iTunes, but if you look around you will find their are even various programs for your dog like Pooch to 5k (PDF).
So, if you've decided to get fit this year, get out there and enjoy it with your dog! The best part is: they won't accept any of your excuses on why you can't run today and they will always be a ready and willing running partner!