Rufus Junior Toy by Rufus & Coco
About the product
Described as the 'ultimate' chew toy, the Rufus Junior Toy is designed as a fun toy for dogs, complete with a squeaker and treat storage.
Features
The Rufus Junior is made from a durable rubber blend.
It's safety tested against the European Standard on Safety of Toys.
Floats in water
In Use
We have Rosie who's motivated to play with every toy she's ever seen and Keiko who's motivated only by certain toys, so it's always great to be able to see the different responses to the same toy. As expected Rosie started playing with it from the moment she saw it lying on the ground – without an introduction and without treats in the belly. She played with it as a chew toy and squeaker. When we then added some treats to the Junior and she was hooked on the toy and even when she had retrieved all the treats didn't let it out of her sight for the rest of that first afternoon. Since then its one of the toys that she will pick up throughout the day to have a chew on or to see if there might just be hidden treats inside.
Provided we were there playing with Keiko and the Rufus Junior, he enjoyed the toy. He did love that it dispensed treats. When the treats were all gone though the novelty wore off (and filling it repeatedly with treats so that he would play is not a healthy strategy for entertaining a dog). He didn't go back to the toy unless we were encouraging it or saw that we were putting some new treats in there.
As a side note – our cat Mr Magoo was quite interested in the toy. On several occasions he has been seen rolling it across the floor – most likely emulated what he has seen the dogs doing!
Prices
Rufus Junior is available in pink and blue. It retails at $19.95
Pro's
Our highly toy motivated Rosie loved it. It is one of her favourites when it's out with all her toys.
It has multiple purposes – chew toy, toss toy, squeaker and treat dispenser. The treat dispenser aspect is engaging and stimulates mental activity in the dogs as they work out how to retrieve the treats. It also floats which means it could be taken to the beach as a fetch toy (something we haven't tried as yet but will as the weather warms up).
The plastic of the toy seems one of the more durable toys available – so far its been robust and withstood all Rosie chewing.
It's comforting to know that its been tested against safety standards. We like the reassurance that we're not introducing something possibly harmful to our dogs.
Its washable which we think is a great thing when you're putting food into it.
It's nice to know that Rufus & Coco give back with purchases of this toy. 5% of Rufus Junior wholesale sales are donated to World Animal Protection, so in buying this toy and while your pup plays, you're also supporting the protection of animals around the world.
Con's
Only one size is available and you shouldn't let the name 'Junior' fool you – this isn't a toy for young puppies or small dogs. Smaller dogs would have trouble getting their mouth around the toy to use it as a chew toy. It's reasonable in size for both a Japanese Spitz and a Border Collie, so would be more suitable for breeds in this size range than puppies and smaller dogs.
Beyond grabbing the treats when the tummy is in supply, it wasn't a highly engaging toy for Keiko. We will only have periodic use with him so as to not be over feeding him when encouraging this type of play or mental activity.
Overall
If your dog is highly motivated by toys and loves chew toys, then the Rufus junior is a toy option worth considering.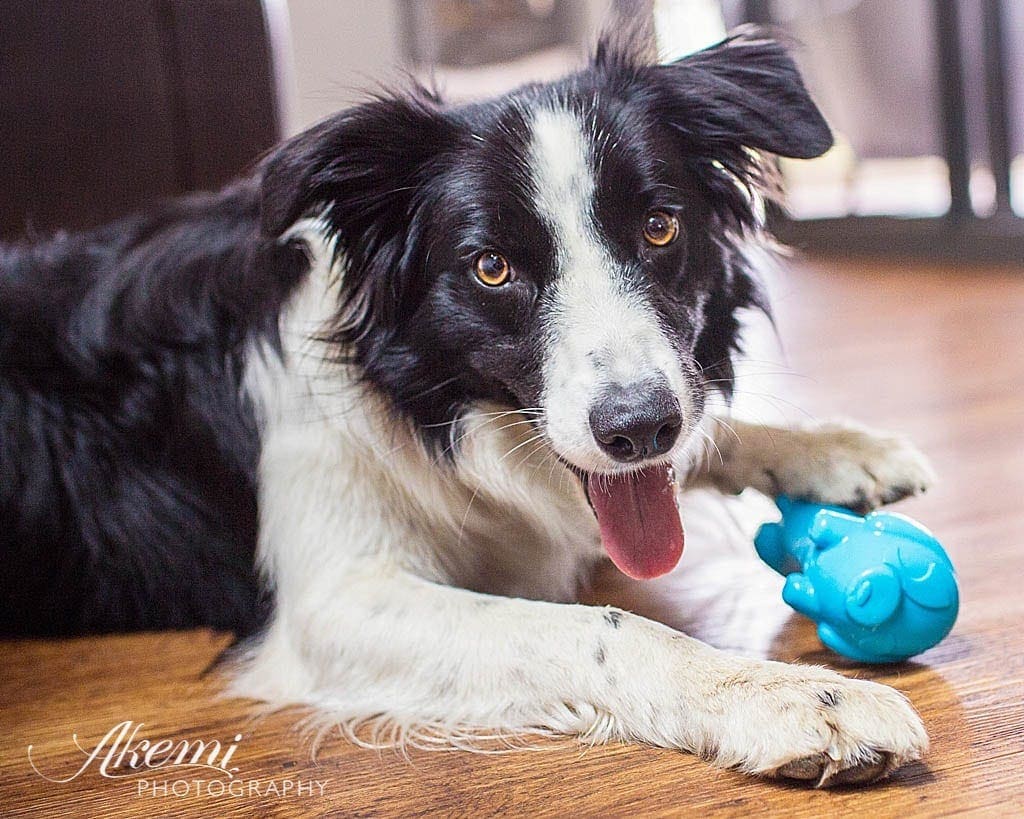 Update – January 2015
Shortly after we published this review, the squeaker component in the toy stopped working and we thought it worth updating. Rosie had had the toy just over a month at this stage but hadn't played with it everyday (we get quite a few toys to test so rotate them and had been away on a road trip). Although its sans squeaker, Rosie is still quite happy to play with the Rufus Junior Toy – chewing on it, tossing it about and carrying it throughout the house for a treat refill.
Where to buy
The Rufus Junior is available in Australia – from some local pet shops, vet clinics and at Woolworths, Coles, Big W and IGA stores. It's also available online from the Rufus & Coco Store. They are also available internationally presently in New Zealand, UK, China, Korea and Hong Kong – check the website for distributors.
Disclosure: We were sent a Rufus Junior to road test.
<——— Pin for Later
Share: