Rufus & Coco Chew Stopper
Puppies love to chew…. And often it's everything they can get into their mouths! Summer is no exception to this! At home, she has lots of chew toys (to prevent destructive chewing) and several interactive toys designed to keep her mind active (to prevent distraction chewing and misbehaviour). These work well but…. as soon as it comes time to for a road trip, her doggie seatbelt becomes her preferred 'toy chew' and it's somewhat difficult from the front seat to correct this behaviour.
Within a few short local trips, Summer had nearly chewed through the first seatbelt we'd purchased her with her sharp puppy-pincer teeth and certainly made it not able to perform it's function of keeping her safe while travelling. We were heading away on a longer trip and knew we needed to come up with a different approach, or Summer's seatbelt fondness was going to be costly and put her at increased risk during car travel.
That Rufus & Coco sent us the Chew Stopper to review was great timing. We incorporated this product with providing a number of chew toys in Summer's vicinity whilst travelling and behavioural correction whilst we were in the car. And … after a 20+ hours in the car during our trip away, happily Summer did not cause damage to her new seatbelt through chewing.
(For us, behavioural correction included practicing not chewing the seatbelt in the car while stationary so one of us could lean over to tell her 'no', to hold the seatbelt out of reach of her mouth and to distract with other toys. We also having one of us sit in the back seat with her whilst heading on a short trip to do the same).
About the product
Unwanted chewing can be quite the bad & frustrating habit! Chew Stopper is a non-toxic, extra bitter tasting behavioural training spray that discourages your puppy or dog from chewing items that they should not.
Features
Chew Stopper contains Bitrex (Denatonium Benzoate), the world's most bitter ingredient! This is a non-toxic ingredient – in fact the same one that is frequently used in products to discourage children from biting their finger nails.
In Use
Chew stopper needs to be sprayed on the item your puppy or dog is not to chew.
Chew Stopper can be used on most furniture. It's also good for use on shoes or other household objects, but test a small inconspicuous area first to check that it doesn't stain or mark. It is not suitable for veneer finishes.
Don't use Chew Stopper 'everywhere' as that would be confusing to your dog – they won't be able to distinguish which things they should and should not be chewing if everything has the same bitter taste.
Chew Stopper can also be used to help stop dog's chewing their own fur and skin. Simply spray it onto them until wet to their skin and allow to dry (although we haven't tested it for this as it's not something our dogs do).
In addition to testing the product on the seatbelt, we also tested the chew stopper on the side of a wooden dog feeding station that Summer had chewed the corner of. We didn't observe her chewing on this again for roughly two weeks after the initial spray during which time it's highly feasible that the spray wore off.
Pro's
The biggest pro is that Chew Stopper helps to prevent your puppy or dog chewing where they should not be. This will prevent chew damage to your items you value and may prevent your puppy/dog from ingesting something that might harm them.
It's in a spray bottle which makes it easy to apply to
Chew Stopper is made in Australia, to very high standards, and is registered safe for use with animals.
The only other ingredient is water and the product Material Safety Data Sheet (yep, I checked that out as part of reviewing the product) has this product as non-hazardous and non-harmful from the data available.
There is no oily residue when used on products.
Con's
With using it on dog seatbelt we found that we had to soak the seatbelt for it to have the greatest effect as a deterrent. We also had to reapply each day to ensure the bitterness was as strong as possible. We almost used the bottle in a four day trip.
Depending on what you're using the product on – you might end up with it on your own fingers. When spraying on a object that needed to be held, like a seatbelt, both my husband and I ended up with it on own fingers and later experienced the product's bitterness ourselves. Wearing rubber glovers would probably prevent this if you have them handy.
Overall
Chew Stopper is a great training aid.
Chew Stopper probably won't solve problem chewing on it's own but with correction/training and the availability of more appropriate items for your dog to chew, it would form an effective part of stopping them chewing where they should not be.
Where to buy
Chew Stopper is available in Australia – from some local pet shops, vet clinics and at larger Woolworths, Coles, Big W and IGA stores. It's also available online from the Rufus & Coco Online. They are also available internationally presently in New Zealand, UK, China, Korea and Hong Kong – check the website for distributors.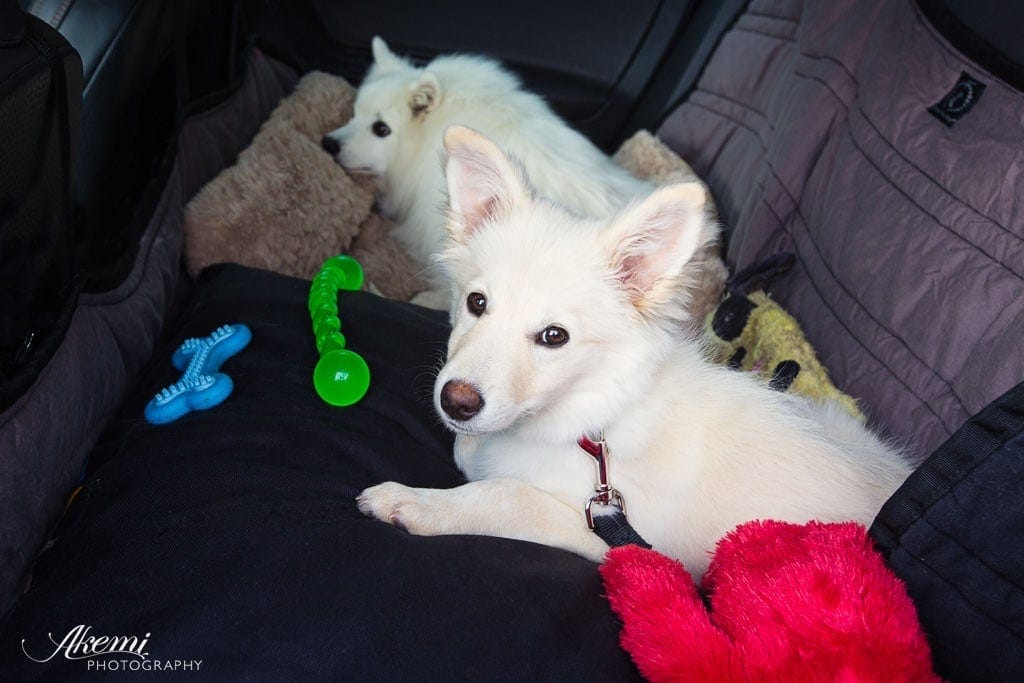 No more chewing my seatbelt ~ Summer
<——— Pin for Later
Share: