Dogs: Roxy & Freddie
Breed: West Highland White Terriers
Ages: 8 and 7 years
Human: Heidi
Their Motto in Life: Where's the food?
Describe Roxy and Freddie's breed paw-sonality? What makes them so special?
West Highland White Terriers, or Westies as they are known, are strong-willed, full of attitude and crazy. They're also loving, loyal, protective, playful and funny. Roxy and Freddie have the very special ability to keep me going every day. I suffer from anxiety and PTSD so their ability to do this makes them incredibly special in my life.
Was Roxy your first experience with West Highland White Terriers or do you have a longer history with the breed?
I had always wanted a Westie, since the first time I saw the My Dog advert with Emelda, the shoe eater 😂.
Finally, after 2 years of waiting, I got the call 😍😍! I had had a car accident 2 years prior, when I had first put my name down for a westie puppy. I got an email in 2012 from a breeder asking if I was still looking. I said yes. They said they had one pup, they were going to keep her for showing, but she didn't meet requirements. I went to meet her and fell in love.. she was crazy! When I walked in to meet her she was cutting laps of the living room with a toy in her mouth. They said she had been hand raised as her mum didn't want her… I knew she was for me. We needed each other!
So, first to arrive was Roxy and then Freddie. Roxy took it upon herself to keep her new Westie bro in line from the first day!

What's life like with West Highland White Terriers?
Never a dull moment. They are very different… Roxy is wired!! She's like an energizer bunny! Always busy, always looking for something to do.. loves people, dogs… loves life! Freddie is more laid back, more focused, lazy and just loves to be with you. There is never a dull moment.
What was different from your expectations of West Highland White Terriers, once you had Roxy and Freddie?
I thought after maybe 3 years Roxy would "grow up" 😂 . But she has remained an eternal puppy! I also found they don't need as much exercise as a hunting dog normally does. Roxy can be a bit naughty….. she broke my iPad the day I got it. She pulled it off the bed, down the stairs and out the garden!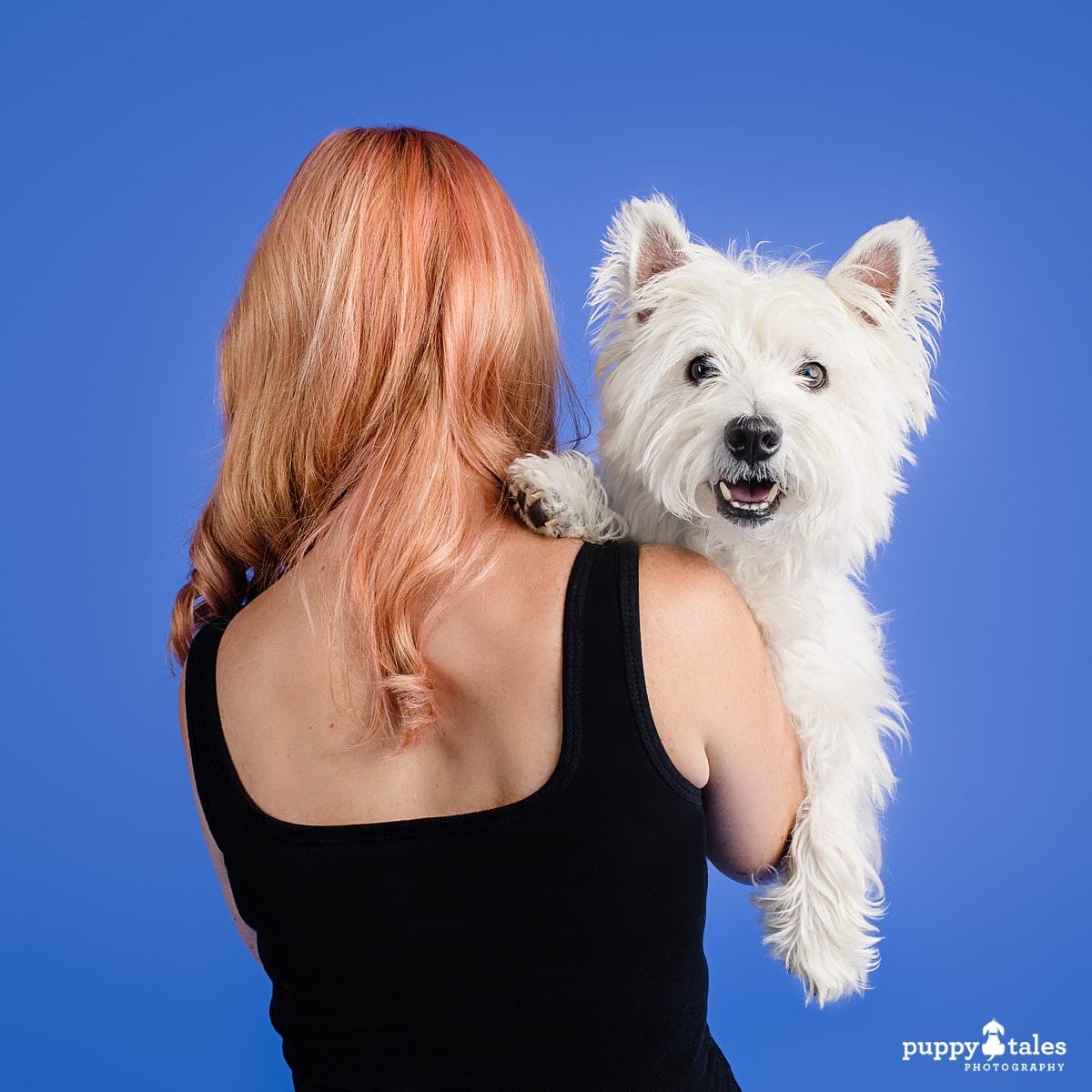 Are Roxy and Freddie like most other West Highland White Terriers, or do they have some unique traits?
Roxy definitely has the westitude they are known for.. wired and a short attention span. Freddie exceeded my expectations when I used him for my dog training course. I trained him in scent detection and the complex skill of putting rings onto a quoit pole.
What do you love most about being a pet parent to West Highland White Terriers?
I love their love. I have been through a lot. And Roxy had always been there for me (I had her 3 years before Freddie). Roxy was my reason for getting out of bed at one stage. Her love, her little face. I knew I had to do it for her. She has been an amazing support when nothing else could.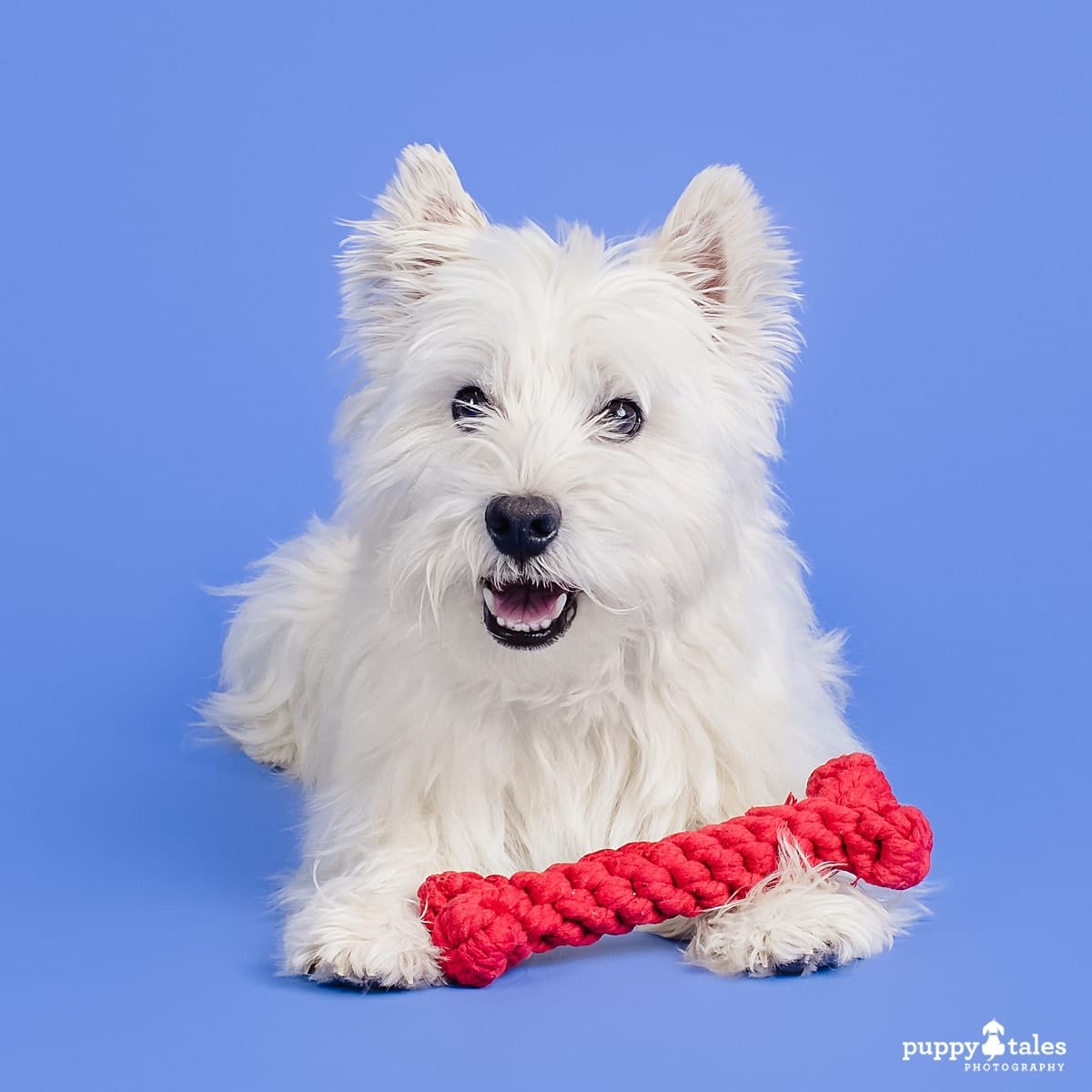 What's not so paw-fect about West Highland White Terriers?
Their selective listening. But let's be honest, they are hunters. Hence I don't let them off-lead. If they spot something they want to chase, there is nothing that will stop them.
What things should others be aware of before getting your dog's breed?
West Highland White Terriers need training. They need to keep their mind busy. They need things to do when you're not around. They need regular grooming, and they need to be well socialised.
Are there any events, communities or groups that are especially wonderful for West Highland White Terriers?
Agility is great for Westies, as is scent detection. It helps them to burn mental and physical energy and helps focus that in the right places.
Pawsitively thrilled about Roxy & Freddie's Project Dogalogue Photoshoot? Then don't hesitate, click the video below and see them in all their furry glory!
Kerry is 'Top Dog' here at Puppy Tales. With her own adored dogs, she completely gets that your four legged furry buddy is absolutely part of the family. That they sleep on the bed, that you want to take them everywhere, that you plan holidays so they're included & that their presence makes your life incredible.