Puppy Tales 'in the Park' with Pooches at Play
Have you caught the buzz about Pooches at Play?
It's the new dog-centric lifestyle program on TEN. And doing a happy dance as I type…. I'm so excited to share with you that I'm the official photographer and was even involved in filming a segment for broadcast.
Ekk, that's a whole lot of woofs, butt-wiggles, and wags right there!
Pooches at Play
The show is a pawsome feast for dog lovers. It's presented by pack leaders (aka the hosts) Gyton Grantley and Lara Shannon. Gyton and Lara are, of course, ably assisted by their talented canine offsiders George and Darcy (meet adorably goofy Lab-cross, George in his very own Dog Tale).
Completing the two-legged hosting team is expert vet Dr Melissa Meehan.
So is it worth planning your dog walks to make sure you're free to watch? Definitely! Your dog will thank you for it because they are features on dog behaviour and training, photographing your dog (that would be the one with yours truly!), products your pooch needs to know about, and generally everything you need to know for a happy, healthy, hound.
Behind the Scenes with 'Pooches at Play'
Most of my role was behind the scenes – taking photographs of the two and four-legged stars. But there was a session with me in front of the TV cameras (and out of my comfort zone…but well, gotta do these things when the opportunity presents!)
The first time I met with Lara and Gyton it was to photograph them for the show promo and it mostly focussed on Gyton and George. In a 'Am I really here?' moment, it was off to a busy, inner city park to photograph these two hanging out and playing ball together.
It turns out dogs are dogs, regardless of whether they have a well known dad or not. George was utterly delightful, with laser focus when it came to playing ball. And I have to say, Gyton matched his dog's example and was as lovely as I'd imagined he'd be. Not only that but he was totally up for messing around and mirroring George with the ball. Pawsome!
Everything went well, except… of course dogs will be dogs. During our time together Gyton left some bags safely to one side. But a random dog from the park ran over and cocked his leg…using Gyton's bags for target practice. Oh dear! Just as well Gyton is an understanding pet parent and laughed the whole thing off.
The 'Pooches at Play' Pack
Another 'Pooches at Play ' adventure involved the whole crew; dogs, stars, and crew. Not only was I photographing the dogs live during filming…but I was being filmed for a tv segment whilst doing it. The latter was for a short part in the opening episode where Gyton chats to me about how to take epic photos of your own dog.
Check out the end result:
I hope you enjoyed the segment! And be sure to leave a comment at the end, and let me know what other top tips you'd love to know about capturing your best buddy's best side!
It's amazing how self-conscious I became, knowing someone's watching…and recording me. Photographing dogs means spending a lot of time scrunched up on the ground, getting slobbered on, and all too often with my bottom in the air – which I'm sure you'll agree isn't the most flattering angle ever…. especially on national TV 🙂
Fun as it was to chat to Gyton, it was with a huge sense of relief that I stepped back behind my own camera where I'm more at home. This time I photographed all the stars of the show: Gyton, Lara, and Dr Melissa, with of course their fur friends. These dogs were a delightful assortment from Lara's Darcy (and some dogs she was sitting for), Gyton's George, and Dr Melissa's double-trouble rescues Mia and Monty.
All the dogs had different pawsonalities. This made it extra amusing to capture their attention for the camera. I kinda needed to sprout another hand to hold the camera, as I balanced George's ball, squeaked a cuddly toy, and blew on a kazoo. But it worked, with all four dogs gazing at the camera at the same time. Wags for that.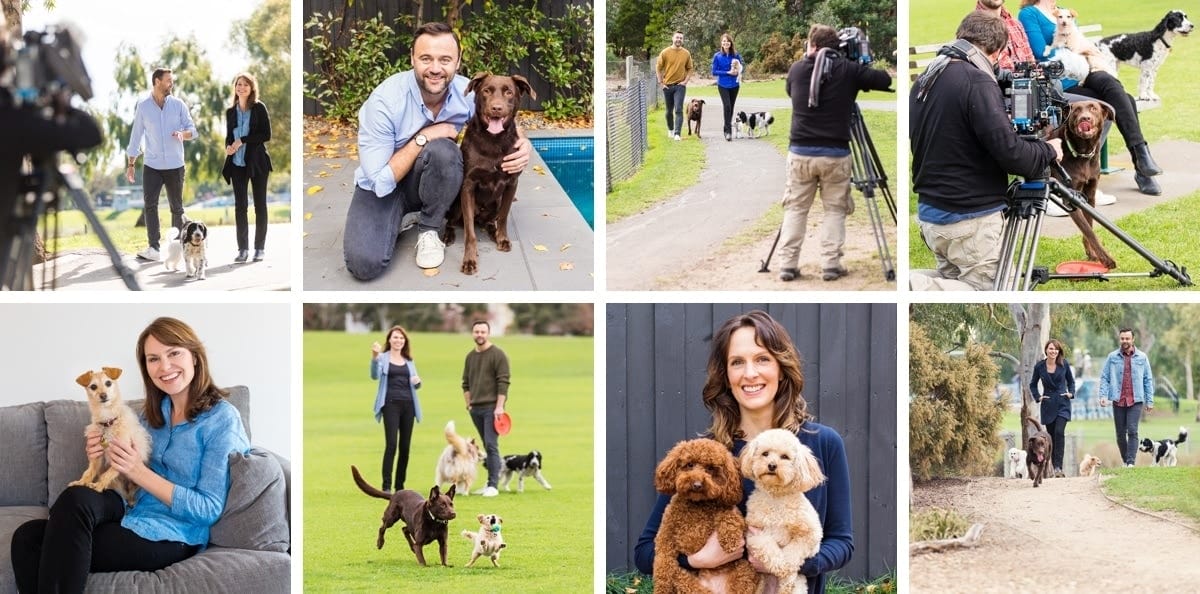 My 'Pooches at Play' Experience
Working with other professionals is a delight, but I was also conscious that unlike a session under my direction, many things were out of my hands. They'd be no option to redo, what with timelines and budgets to think about. So, after a furbulous day, it was something of a relief to get home and check the photographs and discover they were all I'd planned, hoped and more!
What would I do differently if I could run the day again? Have a chat to 'wardrobe' first (which for the show was actually just me, but how show-bizzy does that sound!). When I turned up in a jacket against the early morning chill, I didn't realize that continuity required I wear it the whole day….despite things warming up. Hey ho!
Anyhow, the whole experience was so much pawsome, which tends to happen when you're working with dogs. And as for that old saying about "Never work with children or animals." Phooie. George nailed his scene chasing a ball in far fewer takes than it took us mere humans to get our bits right!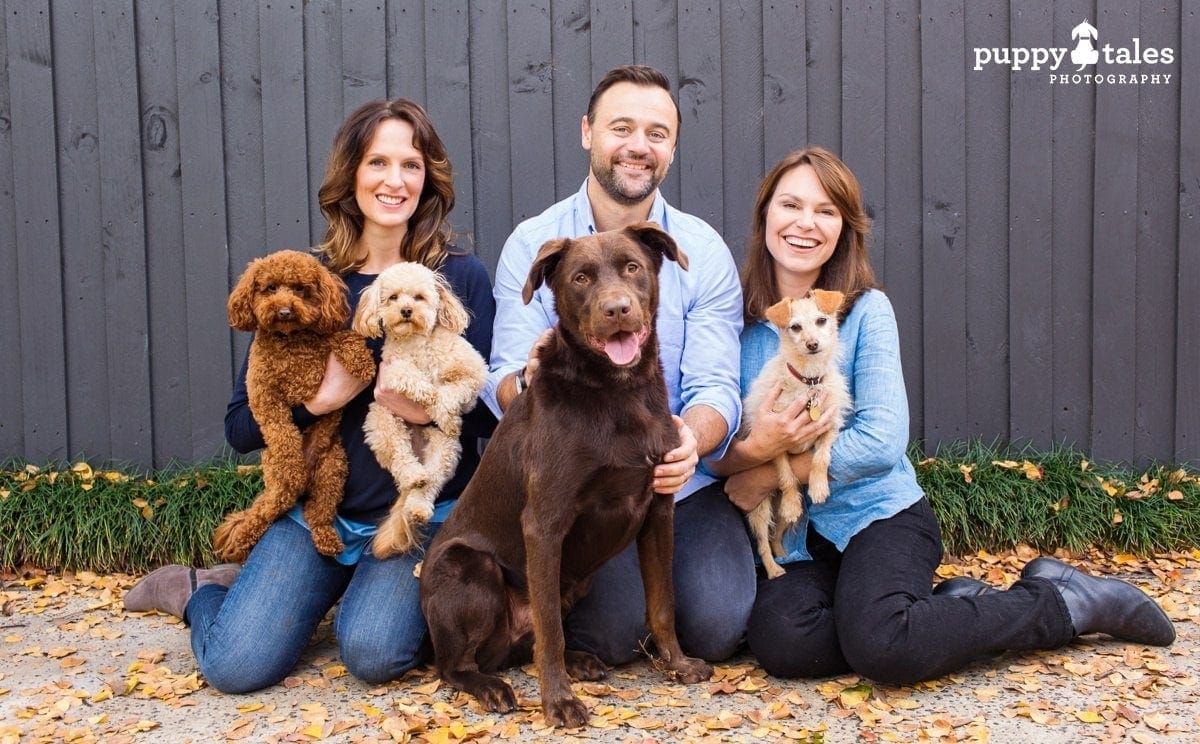 Pooches at Play airs on Saturdays from 2.30pm on TEN and Sundays from 4:00pm on ONE from 15th July until 9th September.