Puppy Tales Photography Giveaway
Happy Birthday to Me! The Gifts are for You!
It was my birthday this week. And as you might expect amid the celebrations there's a little reflection that comes with a birthday.
This year, it was an incredible birthday in what's been an incredible year (so far). Not because of turning a special age, or because of big gifts or parties. But because of where I found myself and what I've been doing. This year, as we're on our Dog Tales of Australia roadtrip & adventure, my birthday has found me truly loving every moment of my life, and feeling blessed that we are doing this.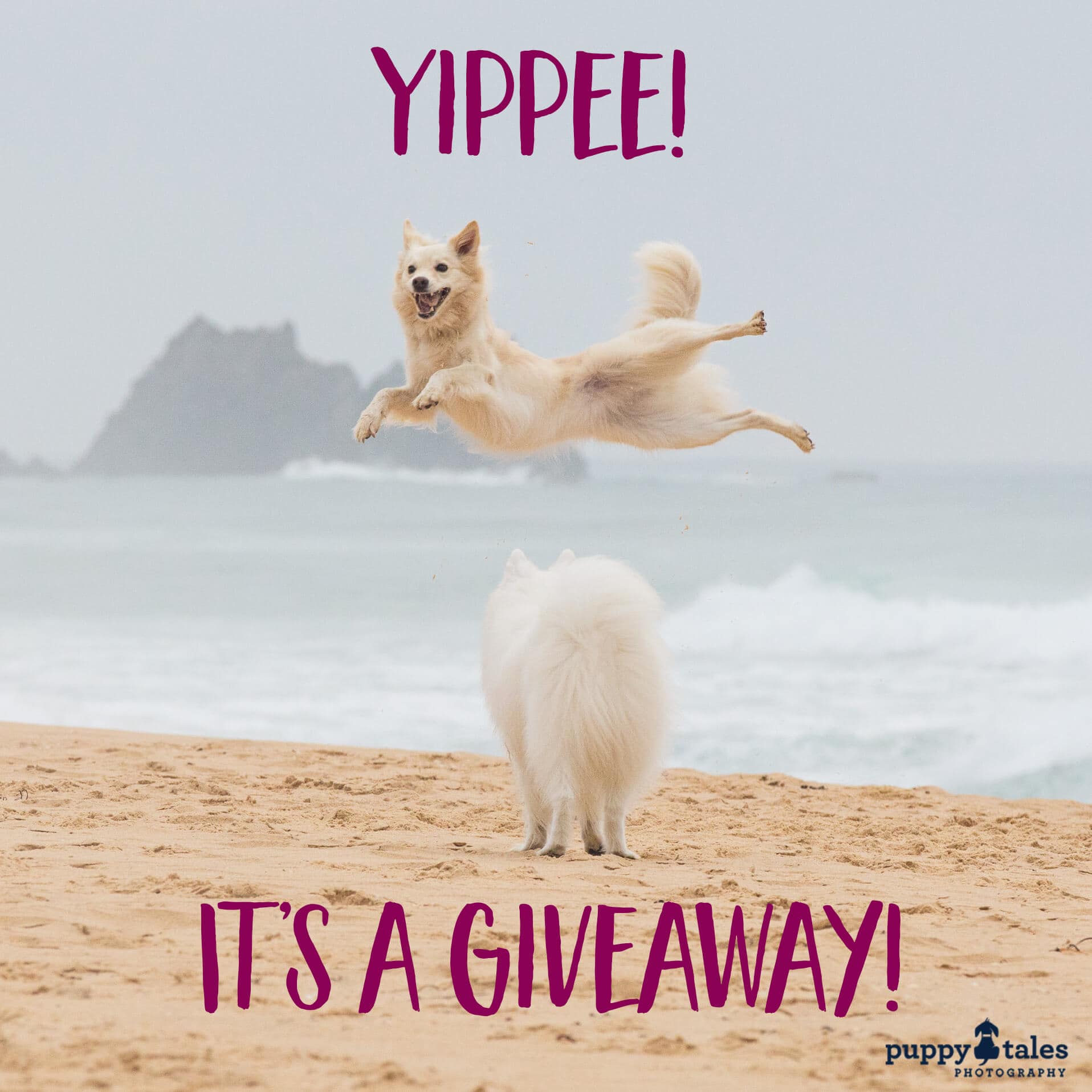 I'm so grateful that I get to do something I love every day – whether that be traveling, photography or both – and all of it with dogs! I'm so grateful to spend this time with Sam, Keiko & Summer exploring all that is dog friendly in our amazing country. I'm so grateful to be meeting other incredible dog lovers and photographing their gorgeous dogs in new, unique and beautiful spots around the country.
This year, for my birthday, I have that feeling that everything is just pawsome! And that led me to thinking how I might be able to share the love and good fortune…. so I've decided to have a giveaway with a twist! I'm going to give away three photography sessions – a Snow Dogs Session in Dinner Plain, a Dog Tales of Australia Pawtrait Session & a Studio Session.
And for everyone that enters, there will be a surprise gift!
The Prizes
Snow Dog Photography Session
A snow photography session for your dog/s (and their people if you'd like) at Dinner Plain between Friday 20th July – Sunday 5th August 2018. Includes the photography session, permits for your dogs & $300 in wallart or prints.
A Dog Tales of Australia Pawtrait Session – A photography for your dog/s (and their people if you'd like) at one of our up coming destinations. Includes the photography session (I'll make the donation to our fundraising with these on you're behalf) and a copy of the Dog Tales of Australia Coffee Table Book (when released) and $200 in wallart or prints.
A Studio Session. A photography session in our Botanic Ridge Studio for your dog/s. Includes the photography session and $400 in wallart or prints.
And for everyone that enters – there's a surprise! It might also be photographic, or it might be from one of the dog business we love! But as it's a surprise, we can't tell you more than that 😉
Entries Closed – Winners will be announced shortly
Terms & Conditions
This giveaway is hosted by Puppy Tales. By entering your details in the contest, you will be added to the Puppy Tales Pack and receive our Newsletter. You can unsubscribe from this at any time.
The giveaway is open to Australia residents aged 18 years or older. Only one enter per person (multiple entries via the online form will not be accepted).
Winners for each prize will be selected based on responses to the questions asked. All entries will receive a surprise gift, which will be allocated randomly.
The competition will close on on Sunday 27th May at 9:00pm Australian EDT and the winners drawn at this time. Winners will be advised via the email addresses provided. Winners will need to provide shipping address so that their prizes may be shipped to them. Puppy Tales will take no responsibility if the prize winner's contact details are incorrect/incomplete and the winner cannot be contacted.
Prizes not claimed within 48 hours will be redrawn.