** Bidding to be the Calendar Models HERE **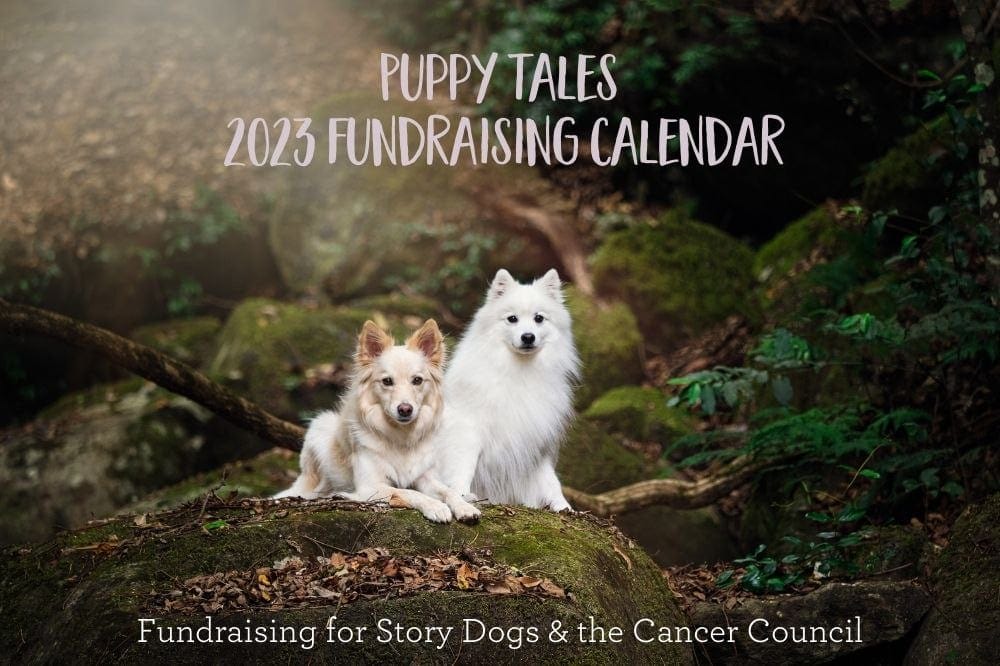 If your dog has the "Wag-Factor", then why not share it with the world by winning their spot as a Puppy Tales Pin-up?!?
I'm excited to announce our fundraising auction for the 2023 Puppy Tales Calendar. In the first year we ran this we raised over $5,000! The second year, last year, didn't quite go according to plan. Lockdowns and travel restictions meant that we didn't do all the photography we needed 🥺 so weren't able to produce the calendar. That means the 2023 calendar is going to be a combination of the photography we did last year and the photography we'll do this year.
The 2023 Puppy Tales Calendar will feature stunning dog photography in beautiful seasonal and dog-friendly locations in Victoria, New South Wales, ACT, Brisbane and Adelaide. I'm also open to including an alternate location to those indicated. If you have somewhere in mind please contact me ([email protected] or via social media DM) to discuss prior to placing a bid. That way we can let you know if it's feasible and which month to bid on for that location.
The calendar months we're auctioning and the locations we'll photograph for these are:
Front Cover – Melbourne, Canberra, Brisbane or Adelaide
February – Photographed on the Beach or Coast in Melbourne, Brisbane or the Sunshine Coast
March – Photographed in a Colourful Autumn Destination in Adelaide, the New England Highway or VIC
June – Photographed in a Stunning Wintery Destination in VIC or ACT
July – Photographed in Snow Dogs at Dinner Plain
September – Photographed During Spring in The Dandenongs, VIC
November – Photographed in Gippsland or Bellarine Beach or Coast, VIC
Back Cover – Photographed in Melbourne, Canberra, Brisbane or Adelaide
We'll be photographing canine characters as varied as the beautiful seasons we have here in Australia. Little or large, young or old, it doesn't matter because I'll bring out the "Wag-factor" that brightens your day and that of everyone who purchases their own copy of the Calendar.
All photography to take place by August 2022. Please refer to travel dates we have already scheduled for an indication of when sessions for this fundraising project will be conducted. If the location you're interested in isn't scheduled or you'd like a date outside those scheduled please get in contact to discuss prior to placing your bid.
Funds from this project will be donated to Story Dogs (so Puppy Tales can continue its sponsorship of Story Dog and Australian Dog of the Year Harry) and the March Charge for The Cancer Council. We know there are many places and ways that the fundraising generated could be used so it's not an easy decision deciding where to donate. We've decided on these two organisations to support companion animals and cancer research (in honour of my dad) this year.
All donations raised via the auction will be donated to the recipient organisations. Subsequent donations will be made following calendar preorders, sales and/or any further sponsorships.
Have a Dog/Pet Related Business and want to be involved? There's still some great opportunities for others to support this project. Please get in touch with me and I'll let you know what I have planned, how you may be able to be involved and happily answer any questions you may have. This is going to be a great fit if you have a store, products, dog-friendly accommodation or establishment but if I'm definitely open to exploring possibilities for how those with a service may be able to be involved.
If you have any further questions please don't hesitate to get in touch to discuss further with me.
Fundraising Auction Terms:
All dogs/pets and people in your immediate family are welcome to be part of the photography experience.
Payment to be made within 3 days of auction close. Failure to make payment will mean your spot is offered to the next highest bidder.
As the funds will be donated in full, auction payment is non-refundable. In the event you are unable to undertake the session you've won, the spot is transferrable or I'll arrange a dog model in that location to be photographed for that month.
Included is a photography session for your dog/s in the indicated location (or alternative subject to photographer's availability and agreement), design consultation and preview session, a small canvas, the 2023 Calendar (the Calendar your dog will star in) and shipping of these items. Minimum value per month is $900.
All costs incurred to travel to a location for the photography session and any additional accommodation costs are the responsibility of the auction winner.
Auction prizes cannot be combined with an existing photography session/order and can't be combined with any other offer or promotion by Puppy Tales.
Kerry is 'Top Dog' here at Puppy Tales. With her own adored dogs, she completely gets that your four legged furry buddy is absolutely part of the family. That they sleep on the bed, that you want to take them everywhere, that you plan holidays so they're included & that their presence makes your life incredible.