Puppy Tales 2021 Fundraising Calendar
** Bidding to be the Calendar Models (& other pawsome extras) HERE **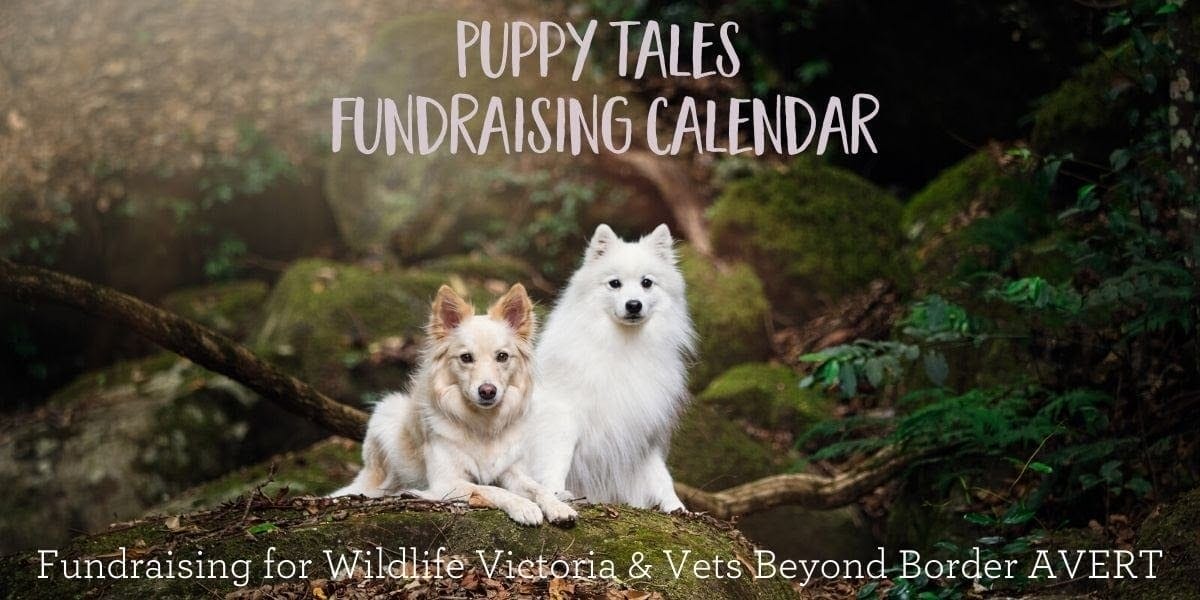 If your dog has the "Wag-Factor", then why not share it with the world by winning their spot as a Puppy Tales Pin-up?!?
Puppy Tales is excited to announce our very first fundraising calendar. We'll be photographing canine characters as varied as the beautiful seasons we have here in Australia: little or large, young or old, it doesn't matter because I'll bring out the "Wag-factor" that brightens your day and that of everyone who purchases their own copy of the Calendar.
The 2021 Puppy Tales Calendar will feature stunning photography in beautiful seasonal locations. The majority of areas selected for this calendar have experienced significant impacts as a result of bushfires – either in the 19/20 bushfires or previous bushfire emergencies. We are open to including an alternate location to those indicated. If you have somewhere in mind please contact us to discuss prior to placing a bid. That way we can let you know if it's feasible and which month to bid on for that location.
We won't be looking to highlight the devastation that the bushfires have caused, but rather showcase the beauty that remains in these areas (& more broadly Australia) to encourage people (especially fellow dog lovers) to seek these areas as travel destinations sooner.
All photography to take place by November 2020. Please refer to travel dates we have already scheduled for an indication of when sessions for this fundraising project will be conducted. If the location you're interested in isn't scheduled or you'd like a date outside those scheduled please get in contact to discuss prior to placing your bid.
Funds from this project will be donated to Wildlife Victoria and Vets Beyond Borders Australian Veterinary Emergency Response Team (specifically to the bushfire response). We know there are many places and ways that the fundraising generated could be used so it's not an easy decision deciding where to donate. We've decided on these two organisations to see funds going to areas that haven't seen as much support in other fundraising efforts and also to provide assistance to wildlife across NSW, VIC and SA.
Donations to Wildlife Victoria will be distributed to wildlife shelters and carers to help rebuild enclosures and equipment that they have lost in the fires so that they can continue their lifesaving work, and support those that are struggling to cope with the enormous number of animals that will need care in the coming months.
Vets Beyond Borders AVERT program is providing essential support to the veterinary and animal welfare aspects of the bushfire crisis in NSW, VIC and South Australia (Kangaroo Island), connecting veterinary volunteers with government authorities, rescue groups and fellow practitioners in need of assistance.
Donations raised via the Auction will be donated as soon as all funds are received. Subsequent donations will be made following calendar preorders, sales and any further sponsorships.
Have a Dog/Pet Related Business and want to be involved? There's still some great opportunities for others to support this project. Please get in touch with me and I'll let you know what I have planned, how you may be able to be involved and happily answer any questions you may have. This is going to be a great fit if you have a store, products, dog-friendly accommodation or establishment but if I'm definitely open to exploring possibilities for how those with a service may be able to be involved.
If you have any further questions please don't hesitate to get in touch to discuss further with me.
Fundraising Auction Terms:
Payment to be made within 3 days of auction close. Failure to make payment will mean your spot is offered to the next highest bidder.
As the funds will be donated in full, auction payment is non-refundable. In the event you are unable to undertake the session you've won, the spot is transferrable or I'll arrange a dog model in that location to be photographed for that month.
Included is a photography session for your dog/s in the indicated location (or alternative subject to photographer's availability and agreement), design consultation and preview session (if required), a small canvas, 2 copies of the fundraising calendar and shipping of these items. Minimum value per month is $850. Individual months may have different inclusions such as dog-friendly accommodation and/or gift vouchers as detailed in the auction.
Accommodation (where offered as part of auction prize) is subject to availability and can be taken at a time separate to the photography session. All costs incurred to travel to a location for the photography session and any additional accommodation costs are the responsibility of the auction winner.
Auction prizes cannot be combined with an existing photography session/order and can't be combined with any other offer or promotion by Puppy Tales or the businesses who've donated. The items donated by businesses other than Puppy Tales are all subject to availability and may have additional separate terms or conditions to those listed here. If you have any questions or concerns I encourage you to contact them or myself directly to seek clarification. Puppy Tales has offered these items in good faith however can't be held responsible for products or services provided by other businesses.
THANK YOU to the wonderful and generous people and businesses that are supporting us in this calendar project. Must Love Dogs B&B, Leddicott Cottage, Adobe Abodes, Brown's Cottage, Wiggley Bottom Farm, Pooches and Pinot, Miss Drews Bakery and Hillbilly Cider. Some of these businesses have been directly impacted by fires in their areas. Others have felt the impacts of cancellations due to fire risk, smoke conditions and other results of the bushfires in Australia. Please support these businesses when you can to help them following what should have been a busy summer vacation period.