We travel to create unique experiences and memories, so the best photos you can take are those that evoke that special experience. When travelling with your dog, their perspective, exploits and reactions are a priceless way of capturing great travel moments, so that you can relive them and the whole trip with pleasure in years to come.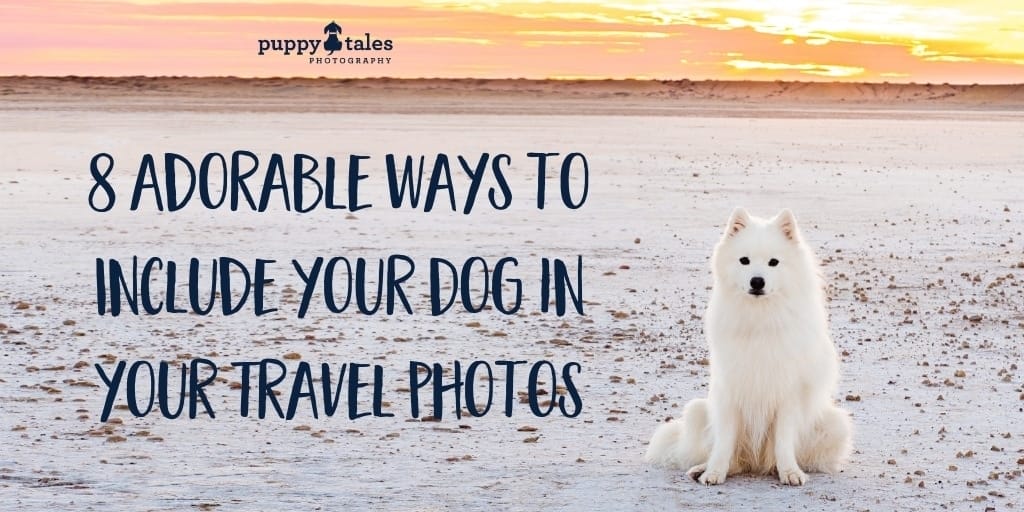 Take a tip from a photographer – be prepawed for anything from super-exciting to quiet situations to produce a unique, fun or memorable photo. With this in mind, here are some ideas for where and how you can include your dogs in your photos when travelling together.
1. Packing with Pooches
I'm not a big fan of packing. All that decision making about what may or may not be essential on a trip… and trying to squeeze it in, amongst a bunch of other to-do's before heading off!
Like it or loathe it, packing for a holiday represents a golden oppawtunity for catching a moment unique to you and your dogs.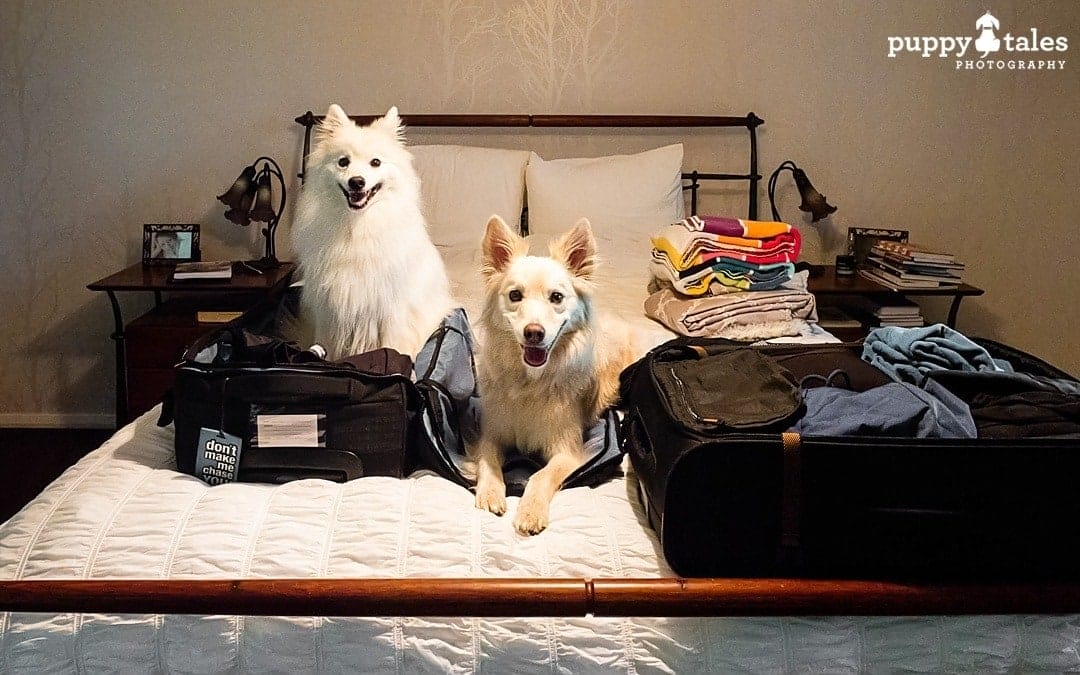 For example, in our house Keiko and Summer won't leave our side once the suitcases appear. It's the ultimate "Don't forget us!" photo of jumping in or on our cases or the items we have set out to pack. Nothing like the little addition of some white fluff to clean clothes!
What do your dogs do when they hear the hatch opening for you to get down the cases? How much extra do you have to pack for your furry companions? Be sure to capture those pre-trip prepawrations as the first step on your journey together.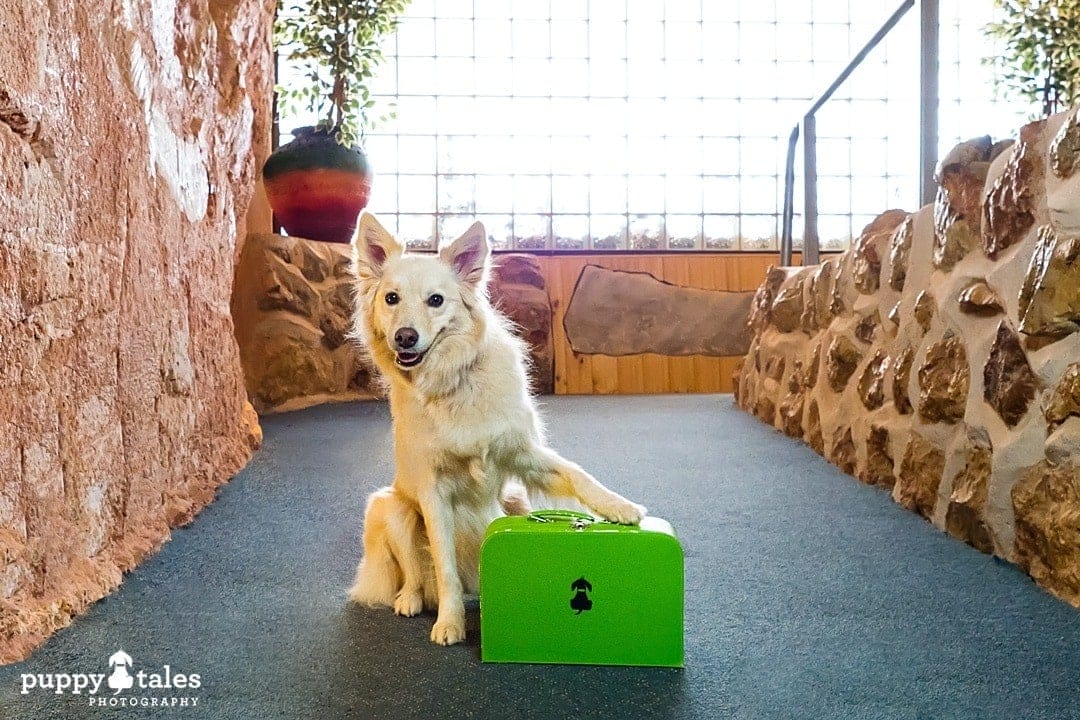 Our dogs also have their own individual travel cases… Cute or what!
2. Travel-dogue
How does your dog like to travel: Curled up fast asleep on the backseat or nose pressed to the window scenting the changing air? Where do you stop enroute? What's their reaction when you stop for a break?
Remember the journey is in itself an experience for the dog, and recording their experiences and reactions is often overlooked. Be sure to include the day trips, adventures and walkies you have on holiday. And also don't forget the little places that you stop for a meal, a leg stretch or a quick visit.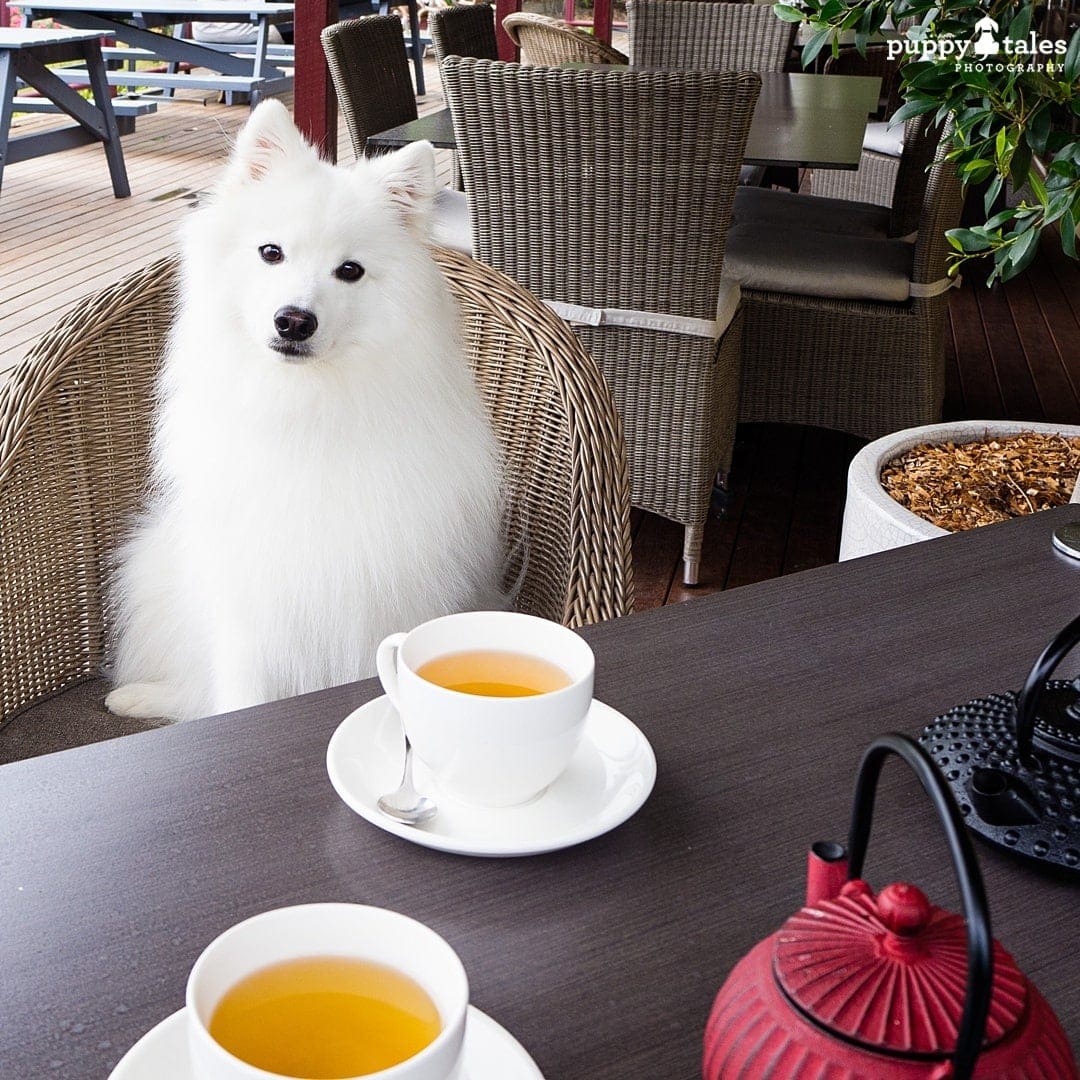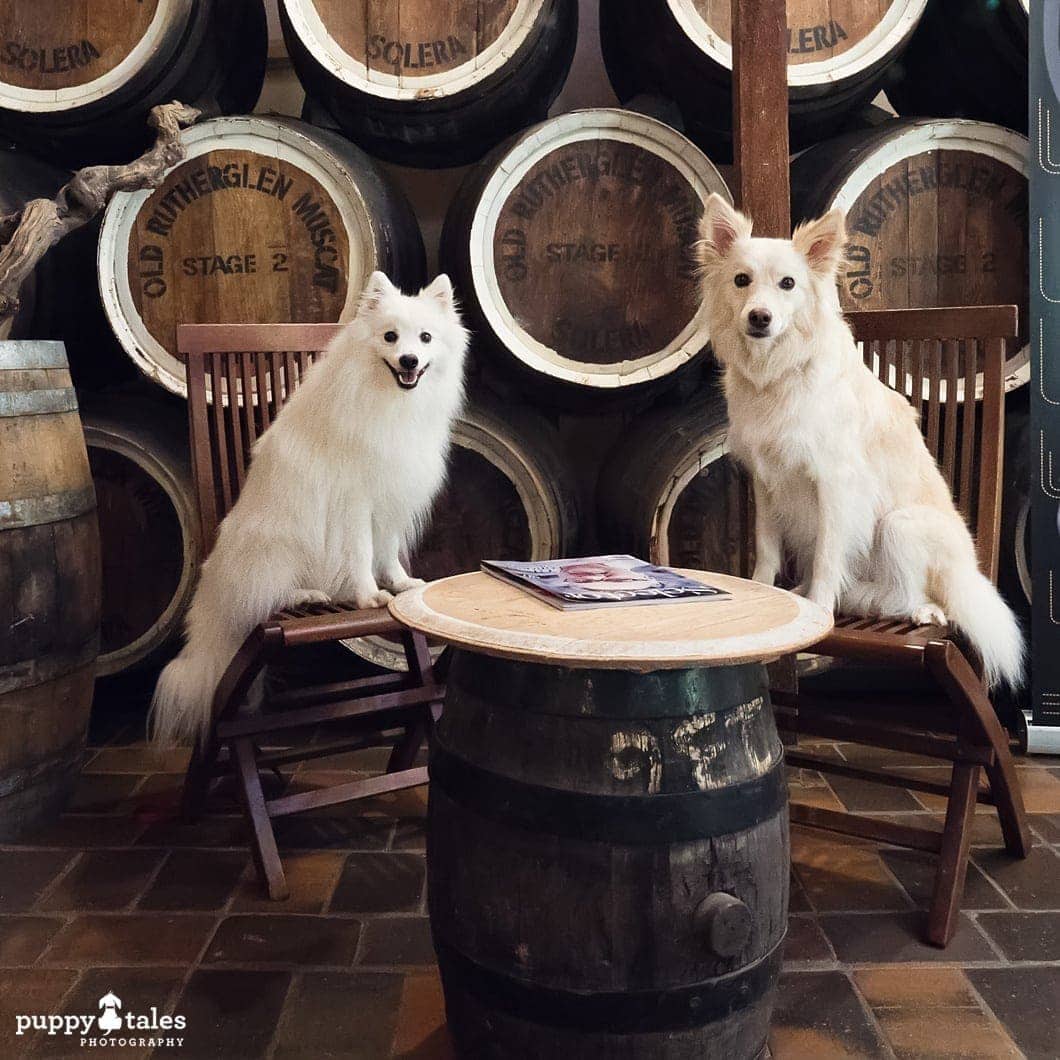 3. Woof-tastic or Snuggle-icious?
What about when you've arrived at your destination?
Are you heading somewhere super luxurious or camping close to nature?
From the exuberant excitement of seeing snow for the first time to curling up in front of a real fire, there are a myriad of different doggie moods right there at your accommodation. Capture their reaction when you arrive, whether it's doggie yoga stretches as they wake up from the car ride or dancing around with excitement to be let loose and explore…because each place is different and unique, especially to your dog. Take photos of them in the spot that they make theirs in the accommodation. And if there happens to be a nice garden or surrounds then be sure to use that in some photos as well.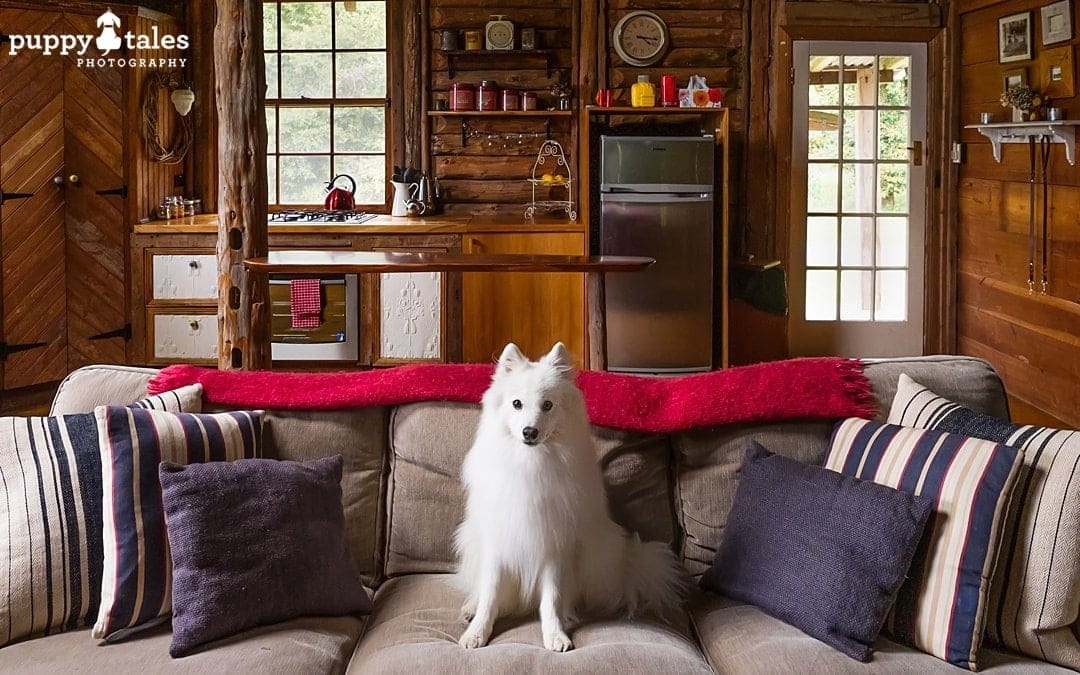 4. Iconic Location + Waggy Dog = Super Special Picture
Some places are instantly recognizable such as Sydney Harbour Bridge or the Big Banana. Indeed, in 'Why You and Your Dog Need to Star in your Travel Photos' we covered how a canine companion can lift a well-known scene out of the ordinary cut-and-paste category and into something unique to you.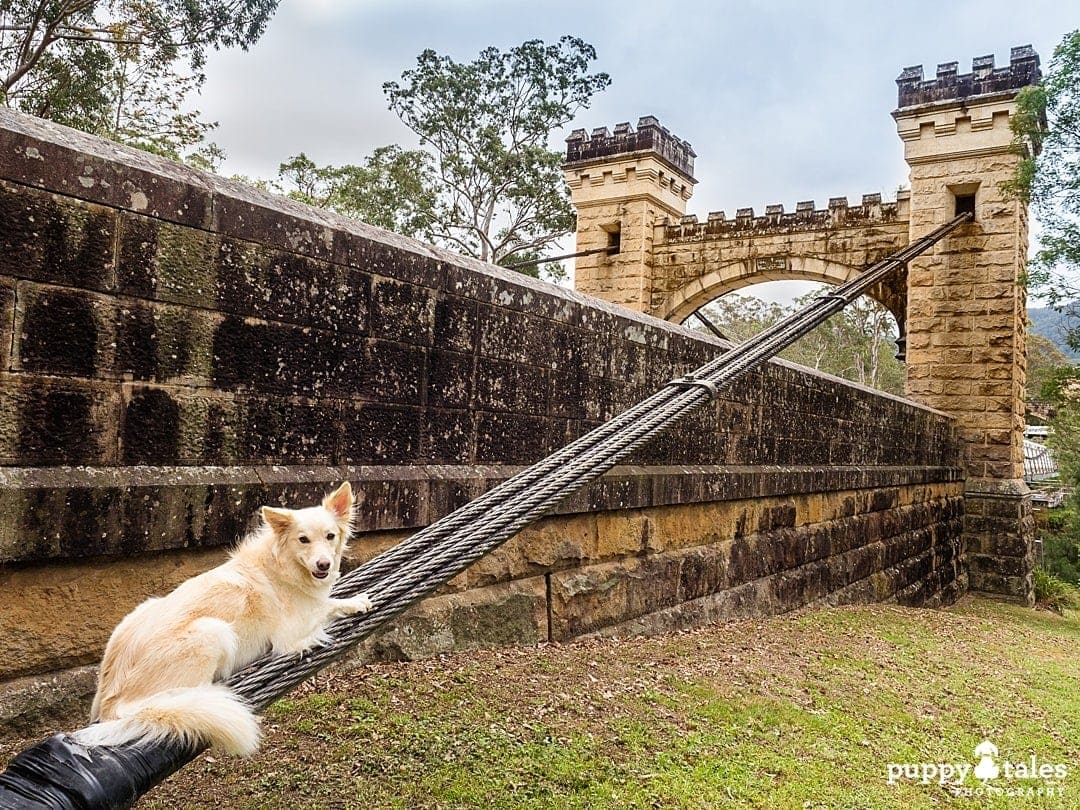 Plus, it's a whole load of fun to pose your pooch besides something iconic.
Also don't forget to take a doggie photo of the road sign at your destination (or if you're really lucky, a sign that incorporates your dog's name). This is a great way to let friends and family know where you are and recording where you went for the album.
If you need further inspiration, then don't overlook spots of special significance to animals, such as the Dog on the Tuckerbox at Gundagai, or the Red Dog statue in the Pilbara (which are on our to-see list for our Dog Tales of Australia roadtrip)
5. Say "Woof!"
Travelling with dogs is all about sharing the experience so don't forget to step out from behind the camera and be included with your dog in the photos you're taking. The simplest way is to ask a fellow traveller if they'd mind taking the picture.
In a remote area, if you want to include the whole family and there are no passer's by then you might:
use your camera's timer function
invest in an inexpensive remote,
use a portable tripod or gorillapod, or
improvise with a bench, windowsill, or wall (just be careful about foot traffic or cars).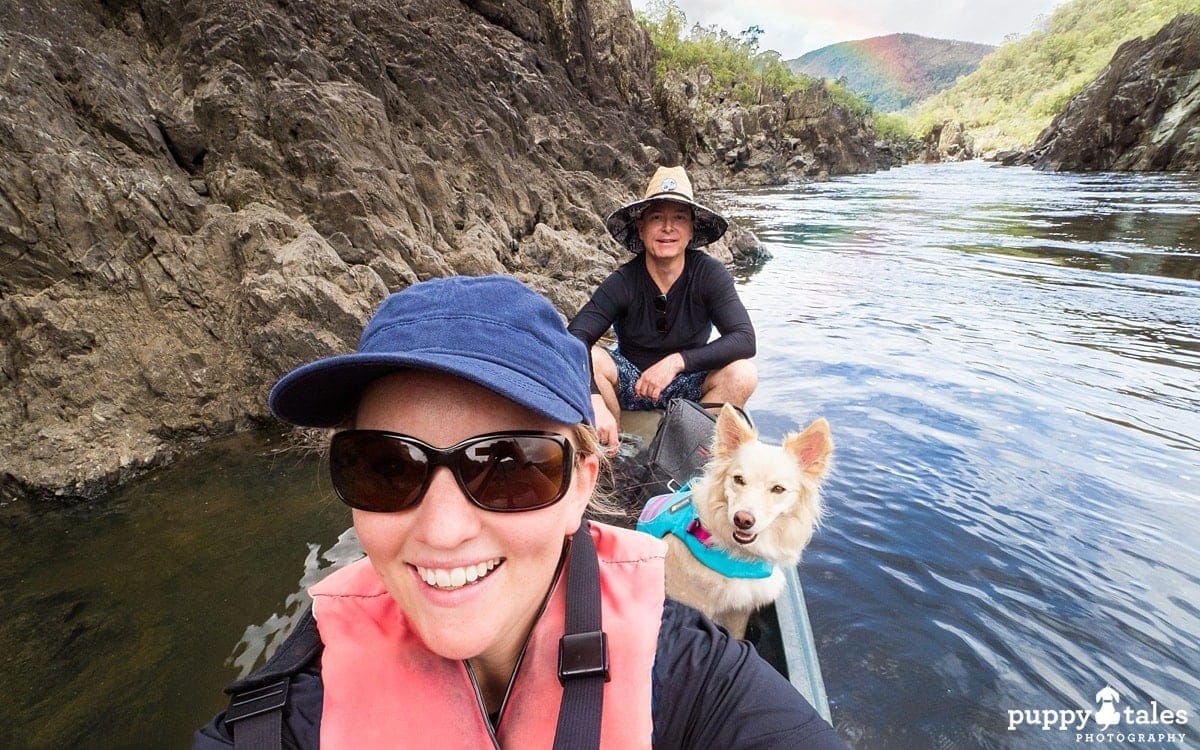 Of course there's always the selfie to fall back on! Just be mindful of where your positioning relative to the sun so that you don't end up in shadow or washed out by the sun. And if this all sounds a bit too predictable, then get creative. Take a shot on ground level with your dog's paws and your feet with a meaningful object in the distance, or shoot your reflections or shadows.
6. Pooch Playtime
Getting out and about and having fun. That's what travel is about! Explore the local trails and go hiking with your dog. What we love is learning about the history of a place, and walking around the grounds of a historic site or landmark. Be especially on alert for dog-friendly destinations such as outdoor museum that welcome dogs. We were fortunate to find Pioneer Park in Kangaroo Valley on a recent trip.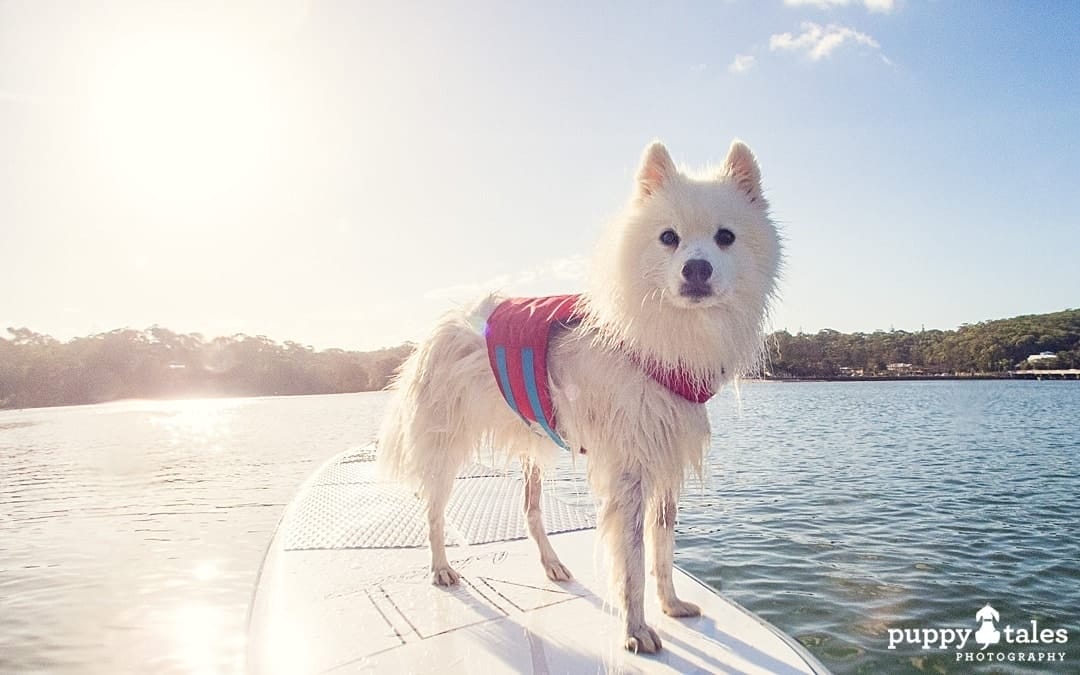 Then of course there's the downtime: Running on the back hill, chasing snowballs, enjoying a puppuccino, or playing in the local dog park. Indeed, we'll take a detailed look at taking action shots of your dog in our dog action photos article.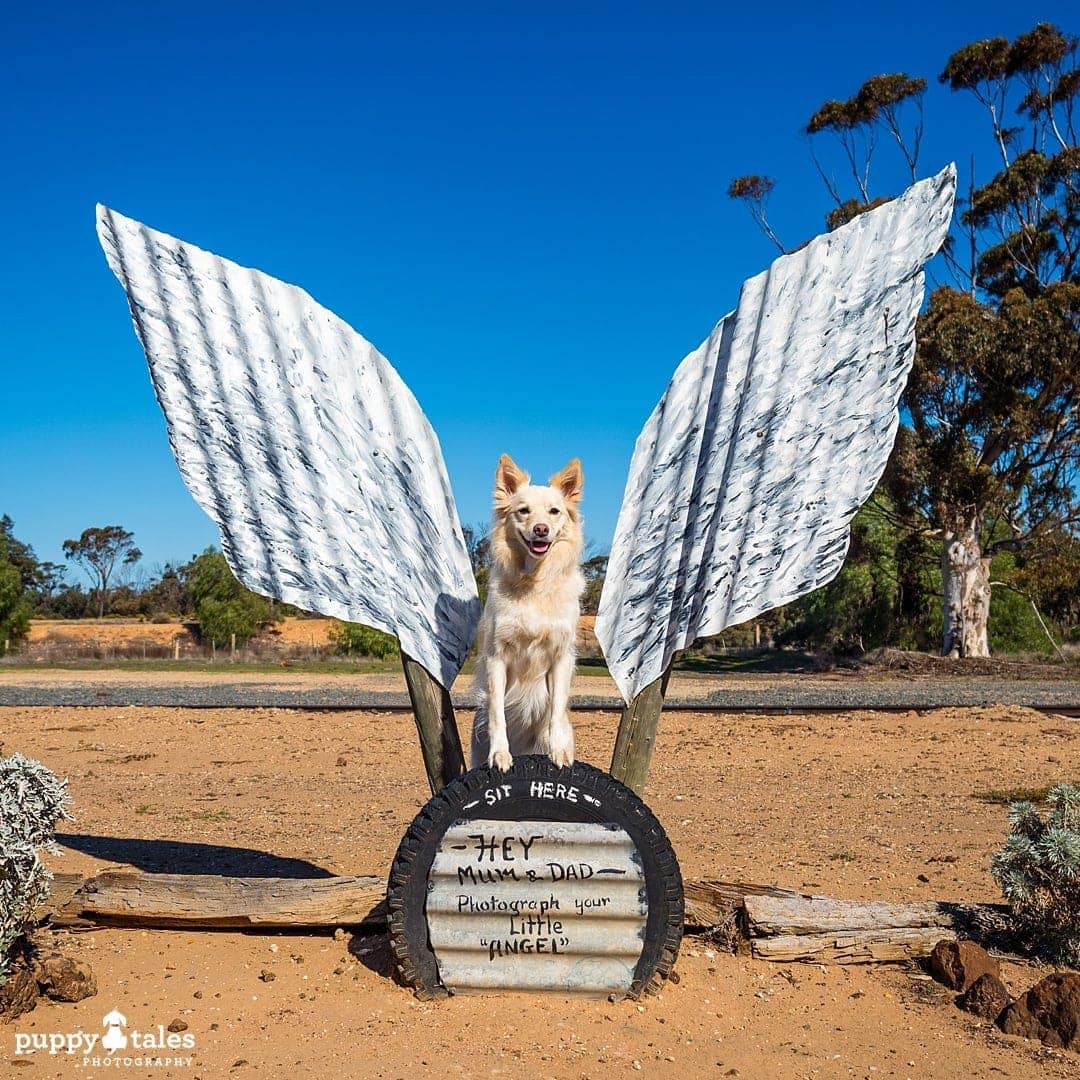 7. Furry Firsts
From travelling with your pup for the first time to visiting attractions on holiday, the 'firsts' are events we like to photograph precisely because they can't be repeated.
When travelling, you'll likely to encounter a lot of firsts from crossing a border for the first time, to riding on a steam train or paddle boat, flying or staying in an uber fancy dog-friendly hotel like Larmont in Sydney. Be sure to record these moments as special events that will remind you of the trip and of your dog.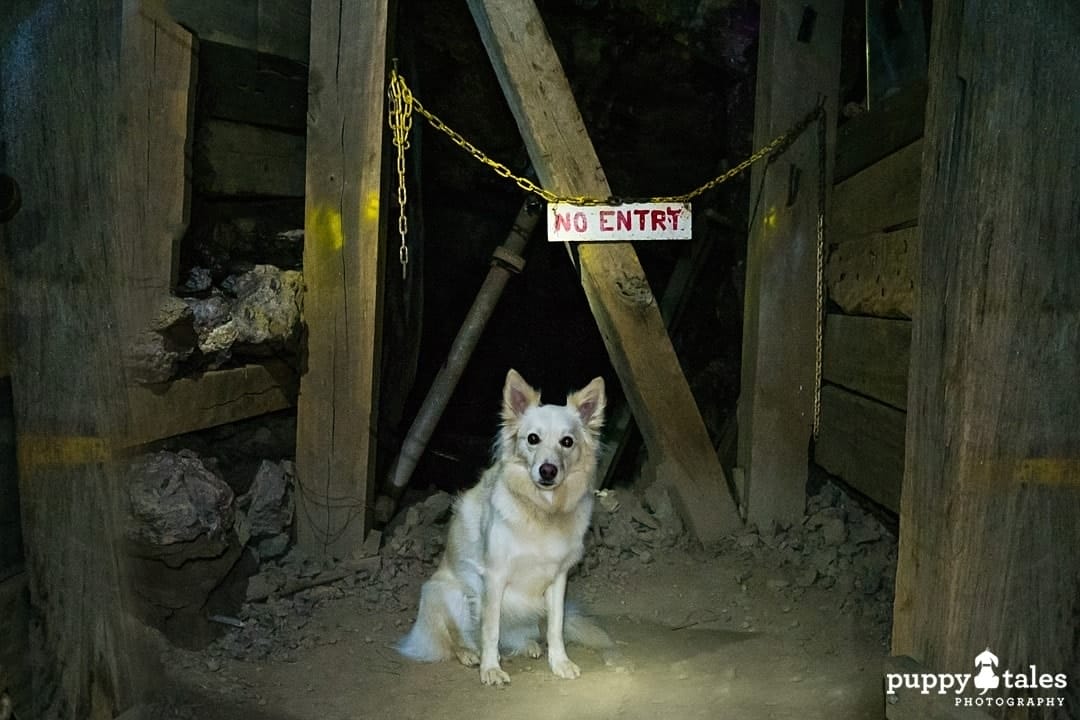 8. Tail-Wagging Landscapes and Vistas
No matter where you are, some things just make for a beautiful photograph. Sunrise and sunset can literally illuminate a landscape in a fleetingly stunning way.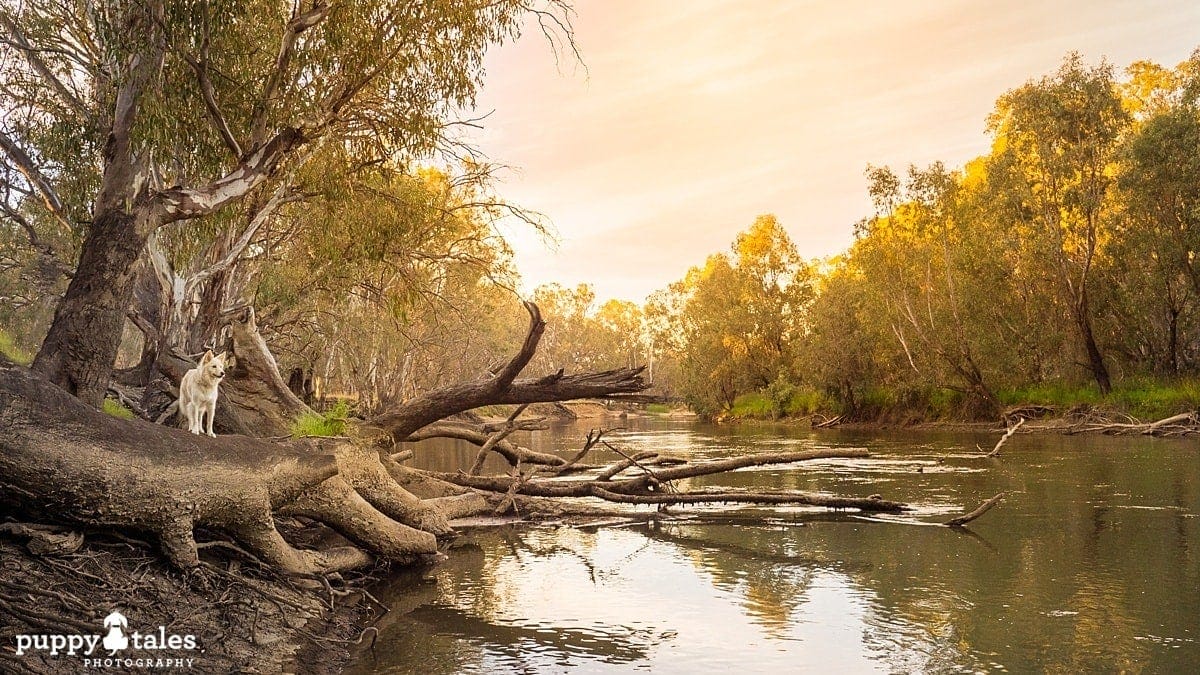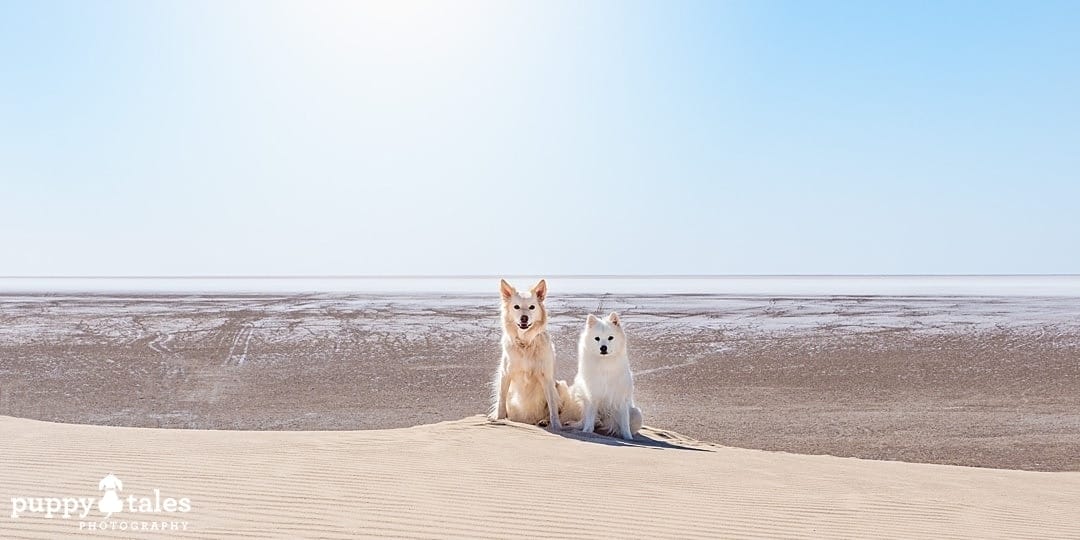 Take advantage of the amazing locations that you head when travelling to show of both the dog and destination to best advantage.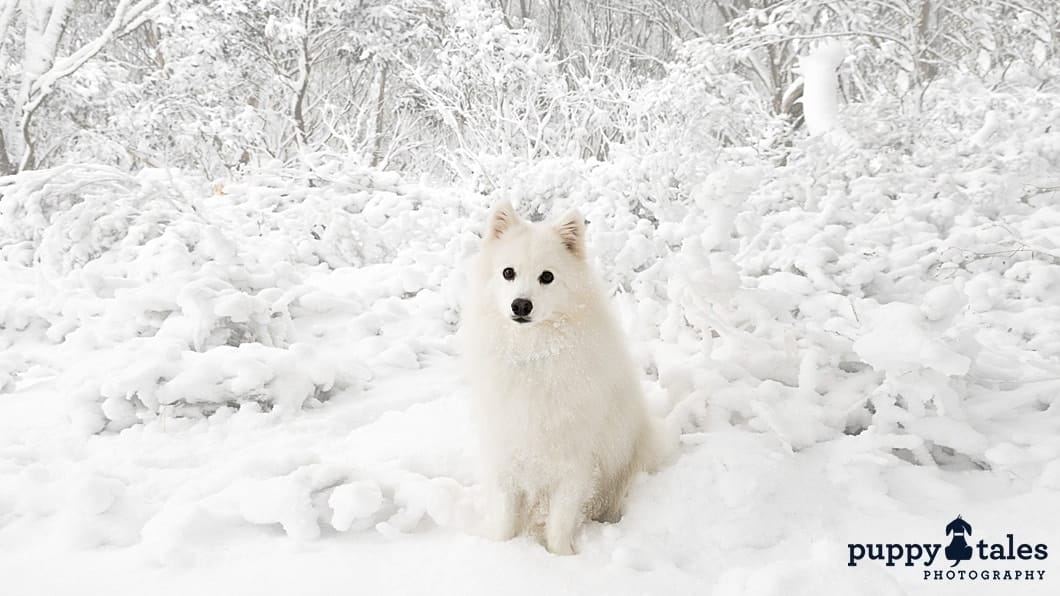 Want to see more on photography when travelling with dogs? Check out Why You and Your Dog Need to Star in your Travel Photos.
If you'd like to see more of the photos captured while we're on the road be sure to check out our Dog-Friendly Destination Guides for Phillip Island, Rutherglen, Kangaroo Valley, Grafton and Potts Point.