Want to know what's so magical about being at the snow with your best furiend?
As the saying goes, a picture tells a thousand words, so I've put together just some of our favourite photos to show you why we keep going back, year after year.
One of the great things about Dinner Plain is how much it changes every year. The amount of snowfall varies, where the snow falls is different, and where and how it settles changes. Trees grow, new ones emerge, and old trees fall down giving us new logs to jump over or pose on. The snowy landscape changes every year, revealing beautiful surprises each time.
Every day, even, is different. Some days there's snow falling, other days the skies are blue . Some days have more clouds, fog or other atmospheric conditions, and every day the colours of sunrise and sunset change. But what is constant is the absolute joy experienced by the dogs we head out with each day. It is a privilege for us to see and be with them at this time, and even more so to capture their rapture!
So, here's a snippet of what we are lucky enough to experience every year. Will you join us in 2021?
1. A Pawfect Morning with Old English Sheepdog Dougie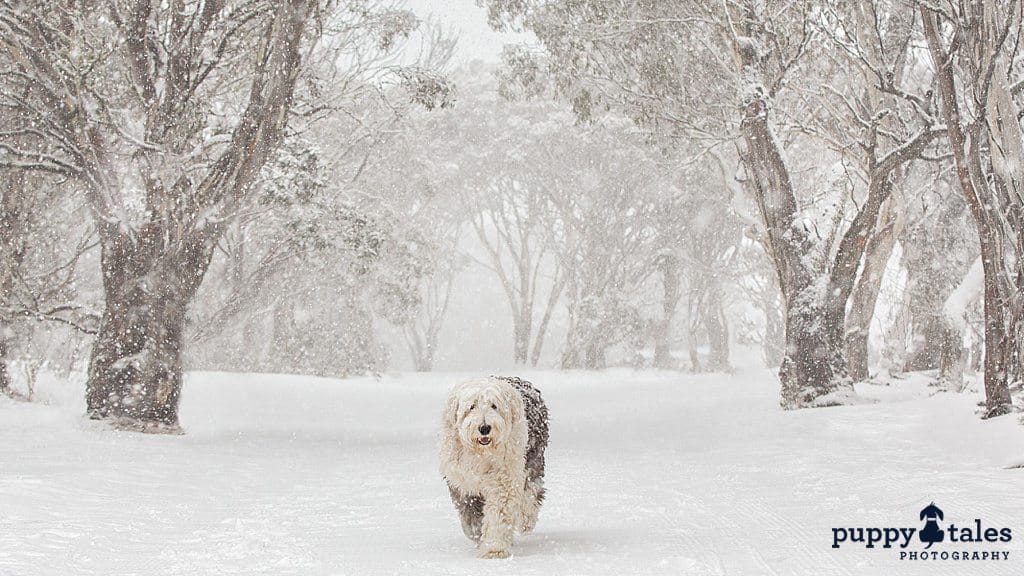 Don't get me wrong, they are all pawfect mornings, but this is one of my all-time favourites because it all just came together so pawfectly. We were on our way back to the village after a beautiful morning with Dougie and his fursister Mabel. As we rounded the corner this scene emerged, with the beautiful snow gums and path in between disappearing into fog and cloud. Dougie got another chance to take centre stage and as the snow continued to fall this was the moment we captured.
Dougie has won quite a few awards too – including a Gold Distinction in the Australian Print Awards and being entered in the Photo World Cup!
2. A Light Frosting with Siberian Husky Puppy Chilli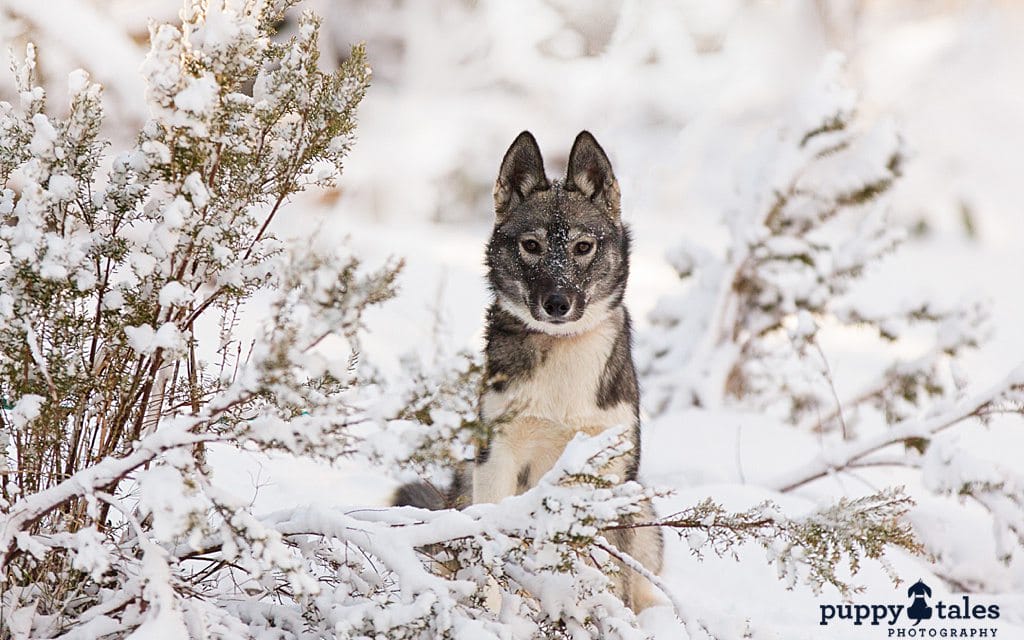 This was six month old Chilli's first snow visit and she was so excited! She couldn't stop playing and enjoying the snow. Every bush was another spotto sniff as there was a light frosting from the snowfall overnight. On her dark agouti coat, the light dusting was just the perfect touch.
3. Just a Walk in the Snow with Irish Setter Marley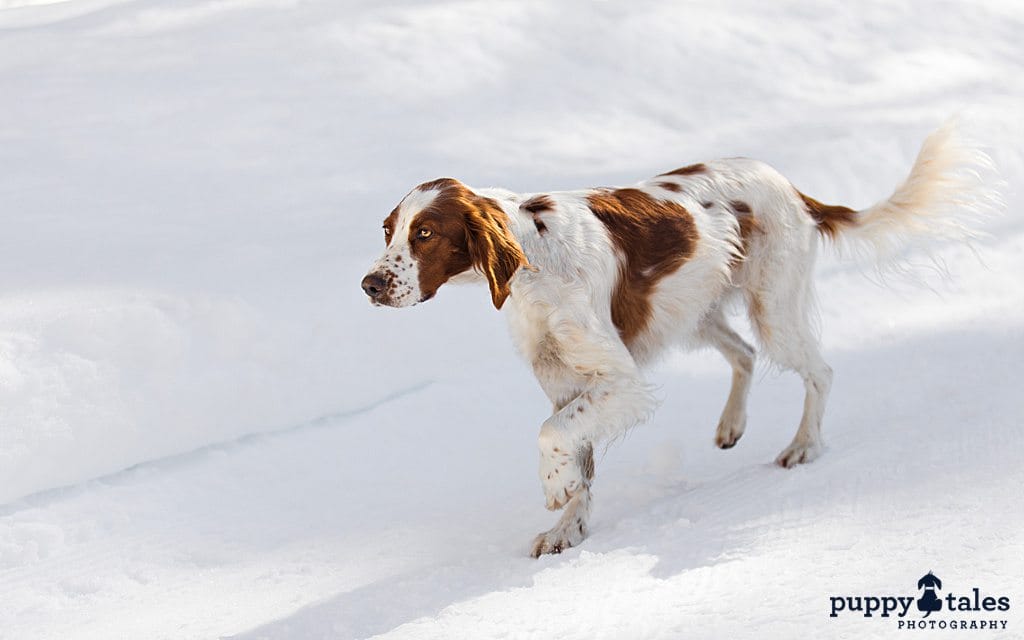 Sometimes it's the pure simplicity of the snow that I love and that's certainly what I adore about this photo of Marley. The strikingly simple background makes her beauty pop, and highlights the simple delight of a snowy walk. That, and that Marley has the cutest freckles known to dogs!
4. Snow Gums with Aussie Shepherd Barkley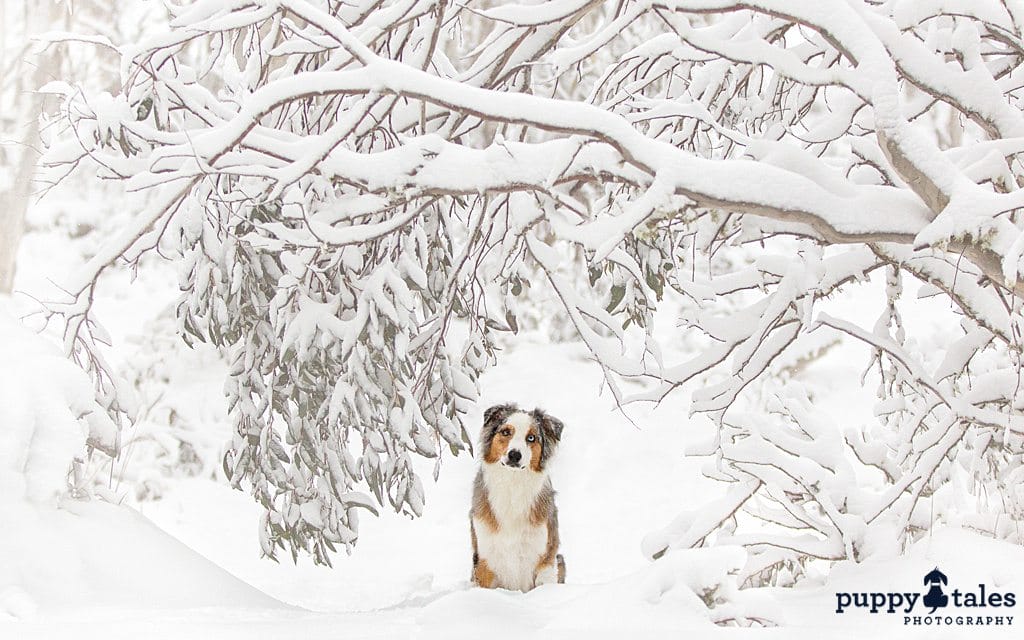 Snow gums are incredibly beautiful and special trees. The way they hold the snow and the way they bend under its weight makes each of them an incredible piece of art in themselves. When the snow gums are covered with fresh snow I spend so much time wandering around looking for spectaculars cenes like this. Add a gorgeous dog, and it's splendid.
5. Snowy Playtime with Belgian Shepherds LouLou & Herky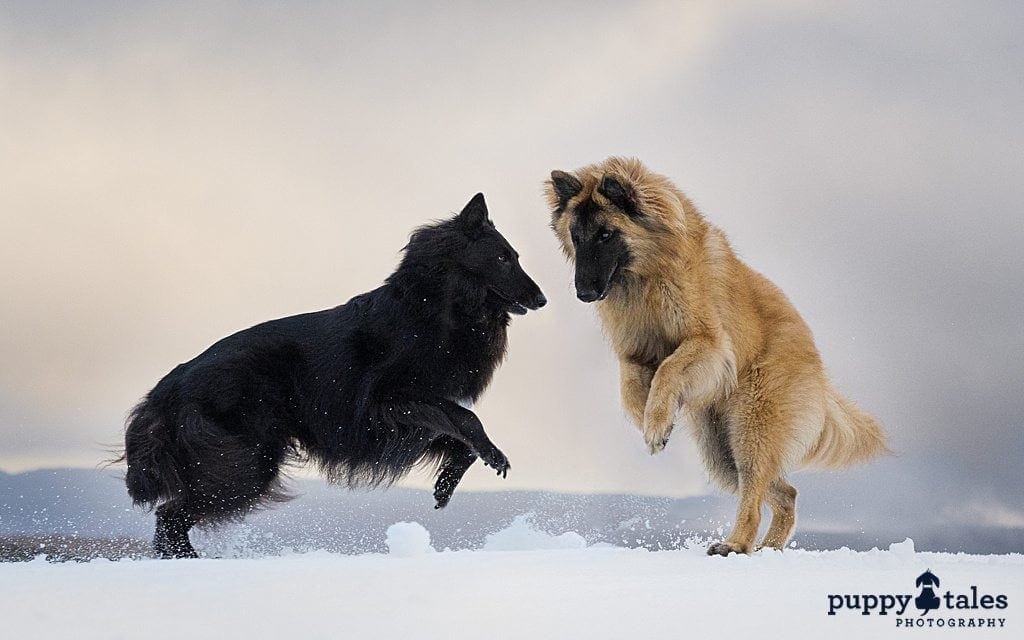 LouLou is a serious soul. She's calm and not one for playing or get excited. Her one year old puppy fur-sibling Herky on the other hand lives to the play. He's curious about everything and can turn nearly anything in fun. He's cautious of playtime around LouLou because she's not interested.
That, however, changed at Dinner Plain. It started with LouLou quietly chasing a snowball, and with her inner play senses evoked, ended with her and Herky having their first full playtime together at the snow. They did zoomies with one another, they chased snowballs together and they chased one another. While I was photographing this I could feel the prickle in the corner of my eye. The family and I were transfixed by just how incredible this moment was.
6. It's all White with Tibetan Spaniel x Oberon
I adore the appeal of a white dog in amidst the snow but it can be a challenge. Cameras aren't used to almost everything in a scene being white! Oberon was such a cutie posing on this log (and, in case you haven't noticed, look how deep the snow is!) and I love the sweet expression on his face.
7. Rainbow Racer with Finnish Lapphund Jag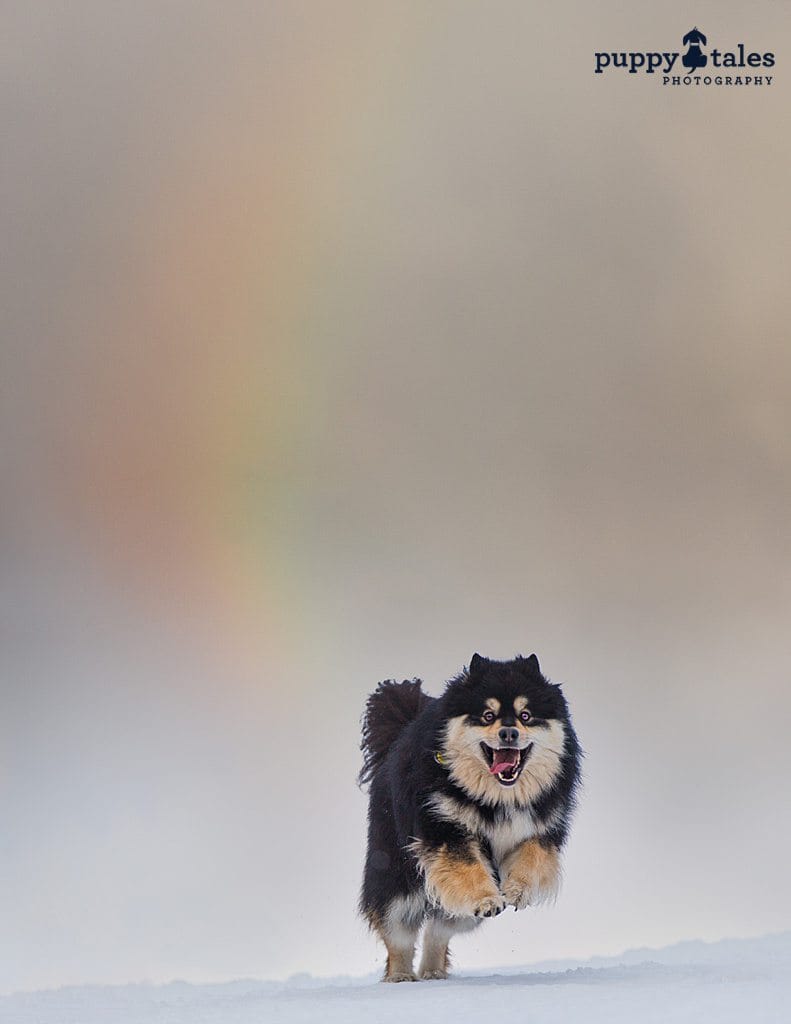 Rainbows are not common at Dinner Plain, nor in the mountains in winter. It's usually either white/grey sky conditions with not enough sun penetrating through, or a blue bird day. Which is what makes this photo pretty special. Jag was only too happy to race about chasing snowballs which gave me the exact moment I needed for this.
8. A White Christmas with Australian Shepherd Breeze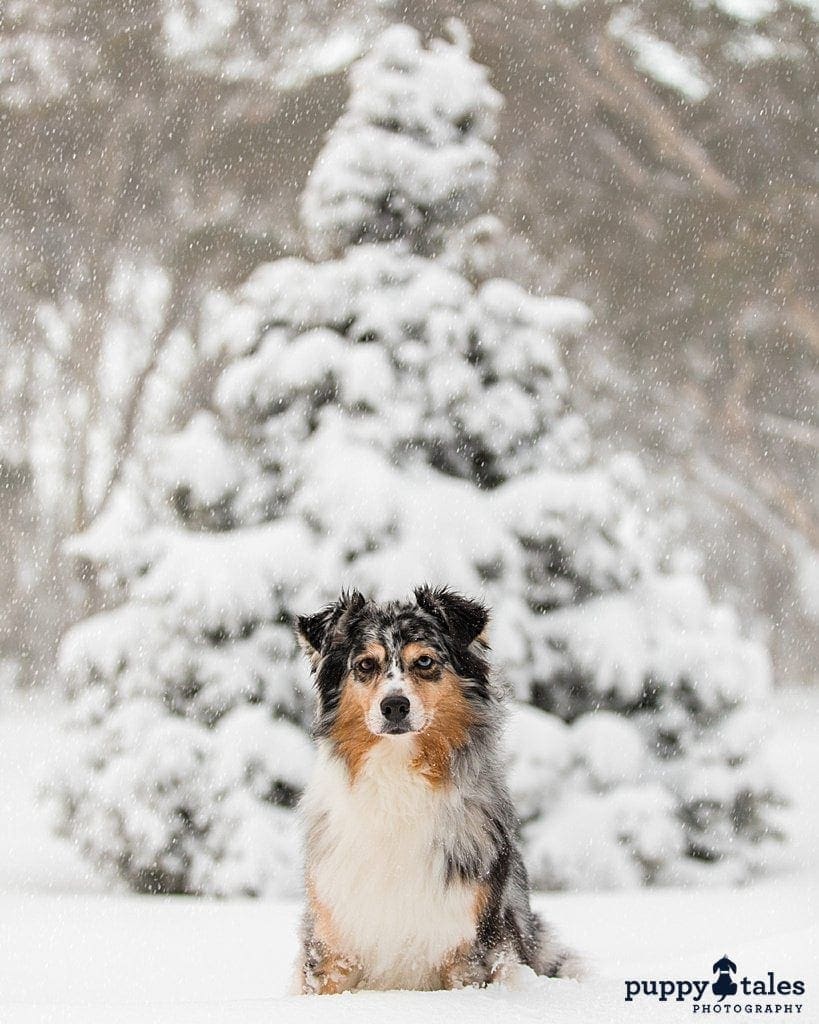 There's a perfect Christmas tree in Dinner Plain if you know where to look! It was only after I'd been going for a couple of years that I noticed it. I love this location and this particular tree after fresh snowfall – it's the pawfect spot for a White Christmas in July photo.
9. Bluebird Day with Kelpie Kate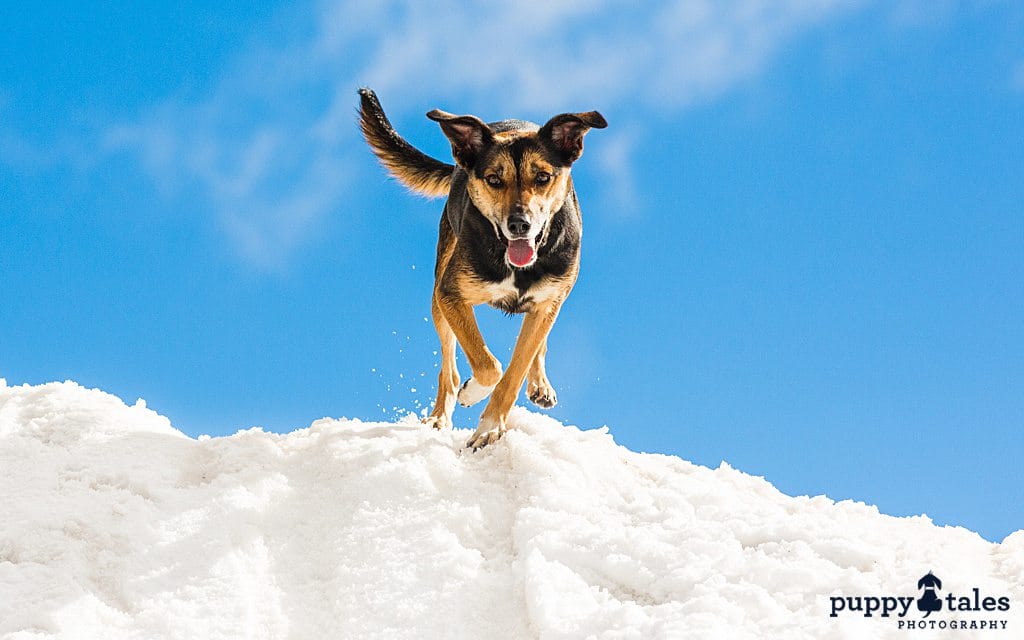 Doesn't this just make you feel happy? Kate had the best fun racing down this snow pile with the blue sky being the ideal contrast to her tan markings. And check out this girl's ears – they are super adorable.
10. A Golden Fog with German Shepherd x Coffee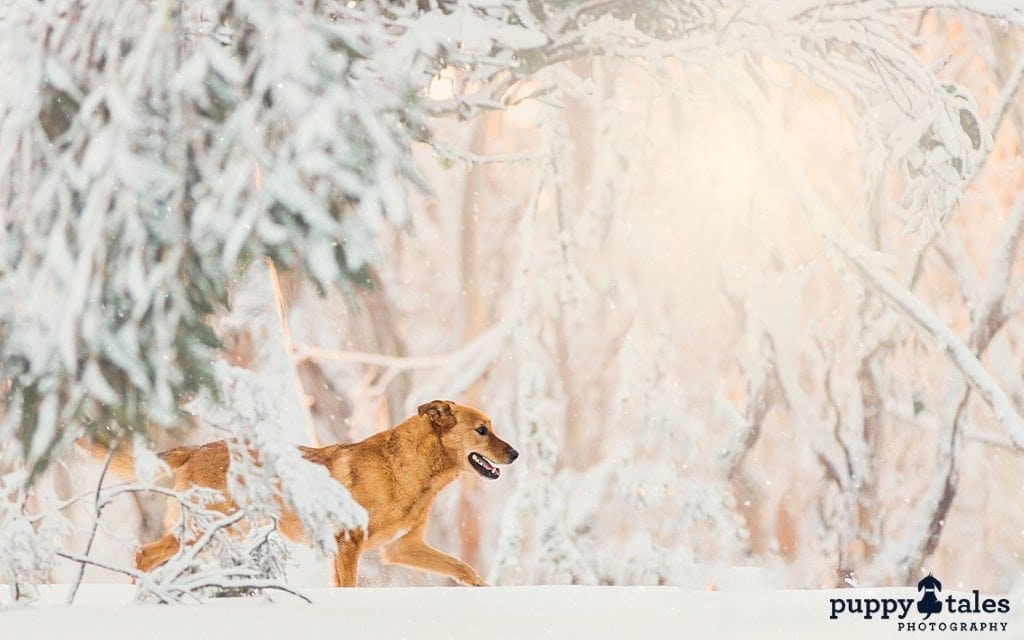 Some mornings you wake to find yourself feeling like you're amongst the clouds. The fog has rolled in, and if you're lucky the fog is light enough to let some of the sun through, giving this absolutely incredible golden haze. Coffee was treated to this sky sensation. I'm not sure whether as a dog she noticed or was too busy enjoying the feeling of snow under feet. We humans certainly did!
11. Peachy Keen Sunrise with Corgi Bacon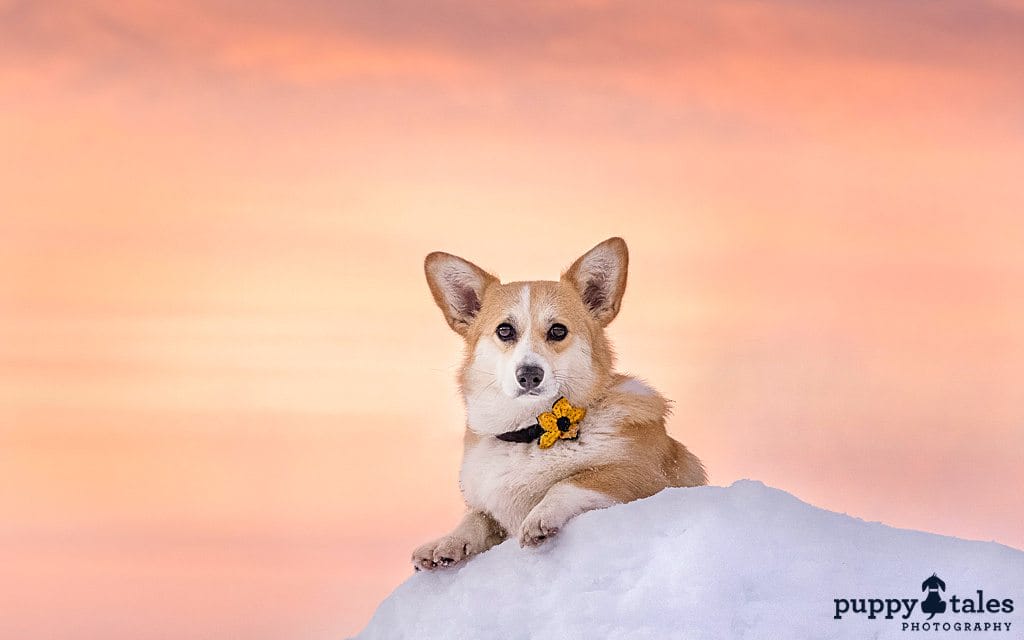 Sunrise on the mountains at Dinner Plain can come in a variety of colours – all the way from white through to blue and grey. I'm always hoping for a beautiful start and we so often get one. Bacon (yep, that's her name – a corgi named Bacon is just about the cutest name ever!) found herself posing under a peach sunrise, which couldn't have been more fitting for her colouring.
12. Snow pond found with Siberian Husky Soren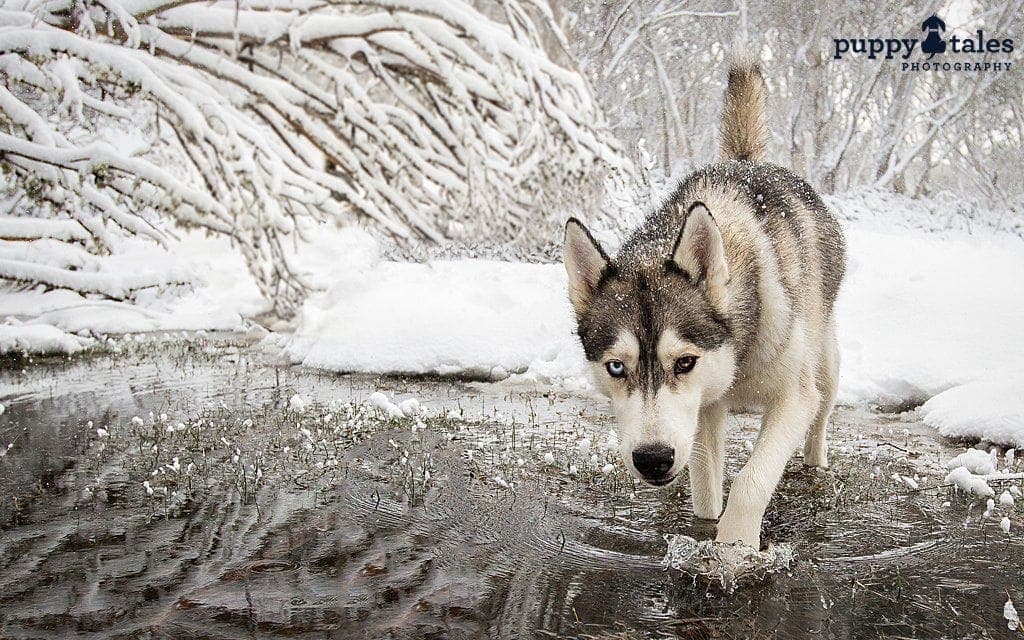 It's not everyday that you can find a shallow pond like this at Dinner Plain. Usually the ground is frozen or the spots where water usually gathers are deep. But this was a temporary water spot created by rain the day before (and before the water fell as snow). And it was the coolest find when we were out with Soren. That he was only too happy to walk through it was a happy bonus.
13. Fetch in the Snow with Maltese Shih Tzu Lucy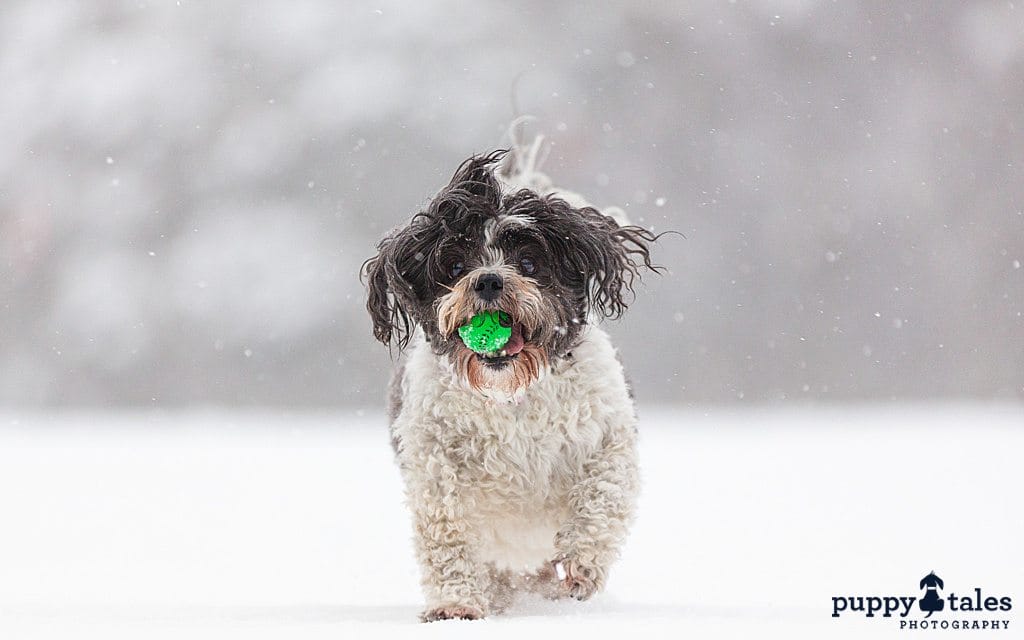 I adored being out in the snow with Miss Lucy. She had so much spirit as she raced about in the snow. She was happiest when it involved chasing her ball. While it's anything but boring, this is a typical scene for Dinner Plain. Snow gently falling, cloud and fog obscuring trees in the distance and a sweet doggo having fun. And us humans enjoying watching her in her element.
14. Peek-a-Boo with bully mix rescue Burby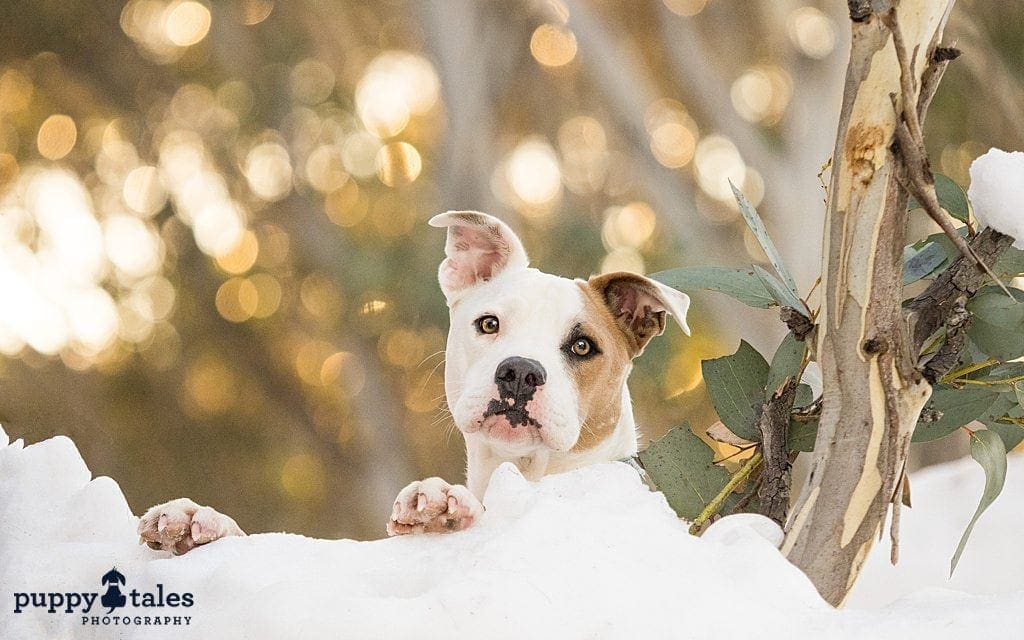 Burby wasn't quite sure where to go or what to do during his first moments at the snow. There was so much to take in, sniff and play with. This is the wall of an ice castle that had been built by some kids. Burby headed one way on his adventures and then we called – he popped up to see what he was missing and I just love he's sweet little paws, nose and ears in this photo!
15. A Golden Morning with Labrador Chad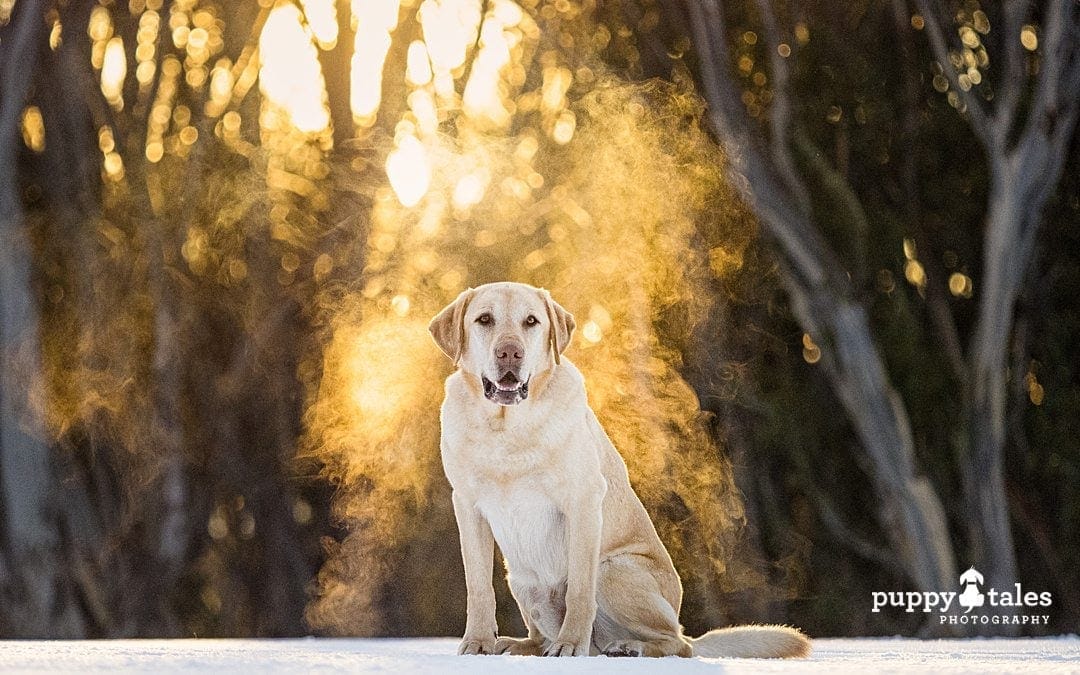 Some dogs create a lot of hot air! Or that certainly seemed to be the case with Chad. Maybe it was just the right combination of temperature and atmosphere with the sun shining through the trees in the background, but whatever it was, the result was amaze-balls! I love the nearly butterfly as his breath fog dissipates around him!
16. A Fog Bow with Japanese Spitz Keiko & Border Collie x Summer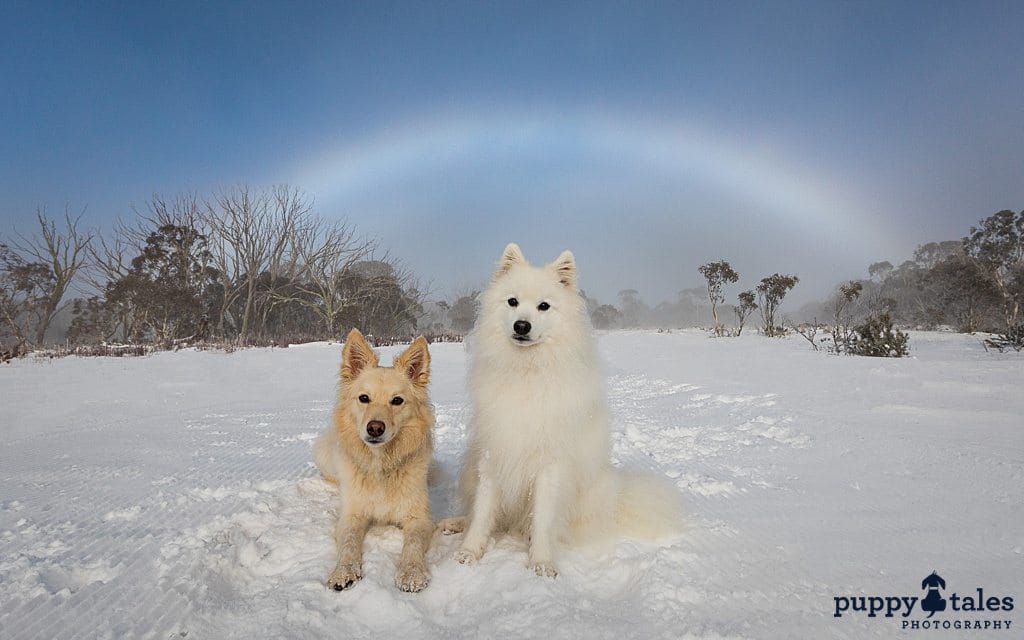 A fogbow is similar to a rainbow in that the sunlight interacts with the water droplets contained in the fog. The difference, however, is that fog particles are much smaller (between 10 and 1000 times smaller) than rain particles so the light plays off them in different ways. The result is a magical white bow. I saw this one while out on a big hike with my own dogs and they were happy to pose beneath it, on the condition that chasing snowballs was next on the agenda!
17. Moody Mountains with Siberian Husky Eevee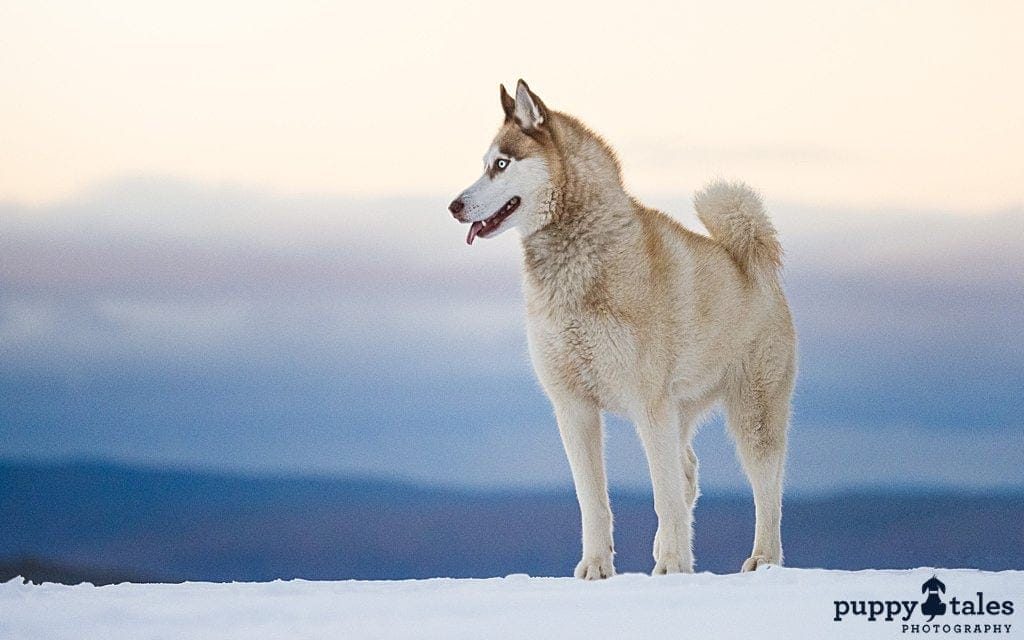 I mentioned earlier the different colours you get on the mountain top and the blues and creams on this day where so perfect for beautiful Eevee. That she stood regal and wolf-ish only added to this moment.
18. Shake it Off with Newfoundland Baloo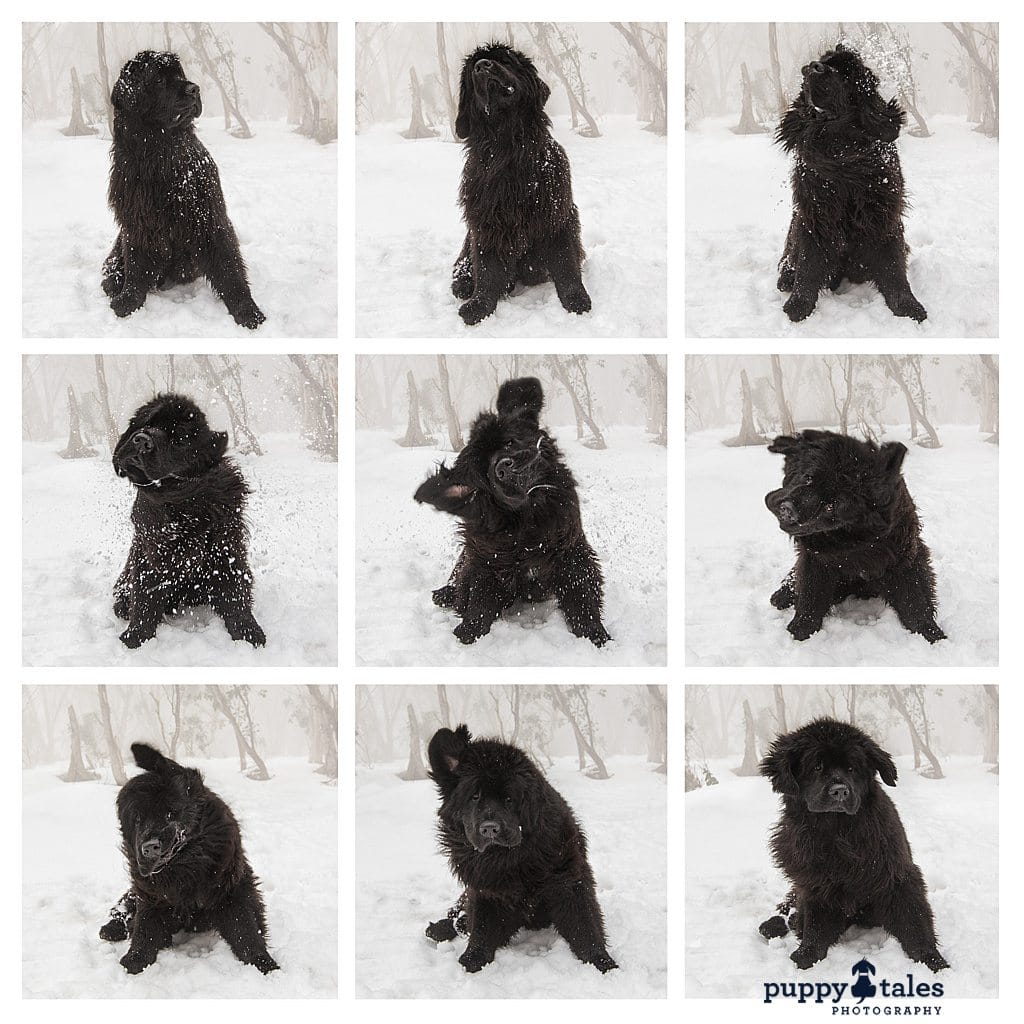 The transformation of Baloo from dog to puppy! At least that is what I see when I look at the different frames before, during and after he shakes the snow off. He looks regal in the first and, by the last, looks like a sweet pup. In between, of course, are some adorable and goofy newfy faces!
19. In Deep Snow with Alfie the Bernese Mountain Dog
Alfie was made for the snow! And it was ever so joyous watching him race through it. His fur flying, the excitement on his face, and the powdery snow being thrown all about. You have to get off the compressed trails to find the powder snow which can be harder work for the humans but the results are so worth!
20. Posing at Sunset with Schnoodle Pippa & Labradoodle Alfie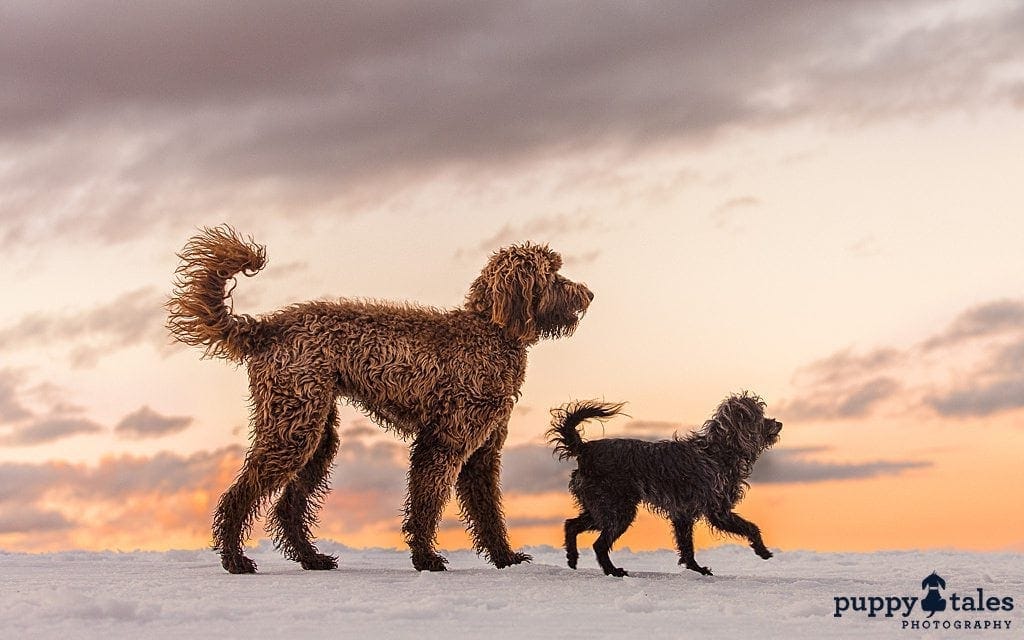 Like sunrises, the colours and clouds change every sunset. I love the sunset in this photo, but even more so, I just love that the dogs are mirroring each other. And the matching shagginess tops it off. They were playing ball with their human and there's just a sweetness to this moment that fills my heart.
21. Find Keiko
People were often remarking that we'd lose Keiko in the snow – him being white! And this inspired the Game of 'Find Keiko', where we hide within a Snowy Scene and anyone that wants to play along can try to find. Sometimes it's easy than others! Can you spot Keiko hidden within this white, wintery snowscape?
22. Goofy Aspen's Snowball Catch Attempt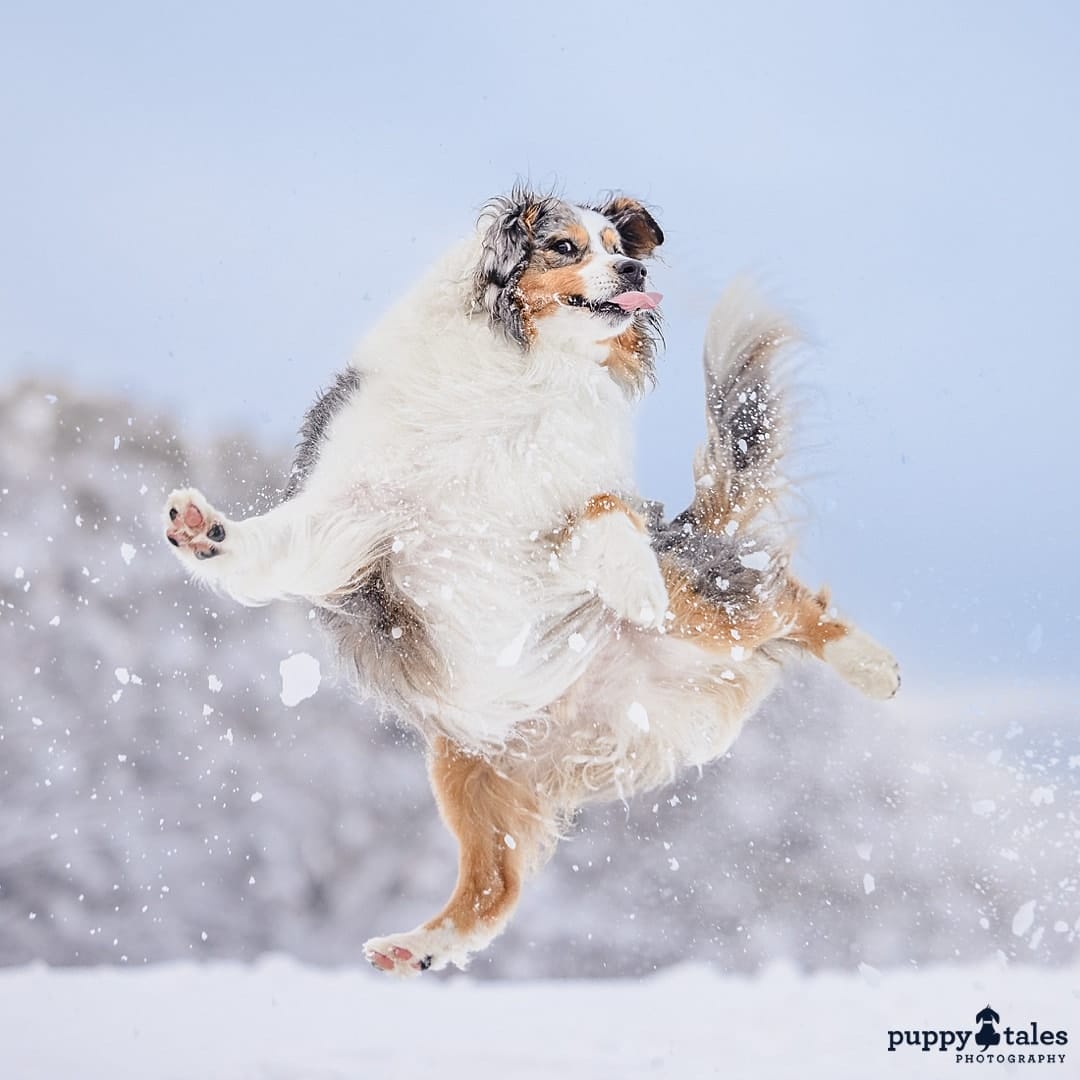 Oh my gosh, there were so many adorable and beautiful photos of Aspen and yet this is the one I choose to feature here! I love the goofy, fun, action moment I've captured here. It shows the complete love and fascination he had for his visit to Dinner Plain.
PS – if you want to see the other beautiful photos, you can see more of Aussie Shepherd Aspens snowy adventures in his Dog Tale here.
23. Our 2022 Christmas Card Photo
We had a couple of mornings at Dinner Plain in 2022 where the conditions were absolutely paw-fect for reflections! And on our last morning, when it was our time to soak in the last of Dinner Plain with our dogs we got this one! I might be completely biased but this has to be one of the most adorable Christmas Cards being mailed in 2022!
Have I inspired you to visit Dinner Plain? Are you imagining your dog in one of these magical scenes? Would you like to join us?

Kerry is 'Top Dog' here at Puppy Tales. With her own adored dogs, she completely gets that your four legged furry buddy is absolutely part of the family. That they sleep on the bed, that you want to take them everywhere, that you plan holidays so they're included & that their presence makes your life incredible.