So….. it appears that the 'Pawtraits' Exhibition appeared in the newspapers. Look there's Crystal and Nancy!! 'Pawtraits' Exhibition in the News | Akemi PhotographyOh and I'm in there with Nola who was exhibiting her beautiful textiles! I did not even realise that this had happened, fortunately the RSPCA media scanner picked up this first one and let me know!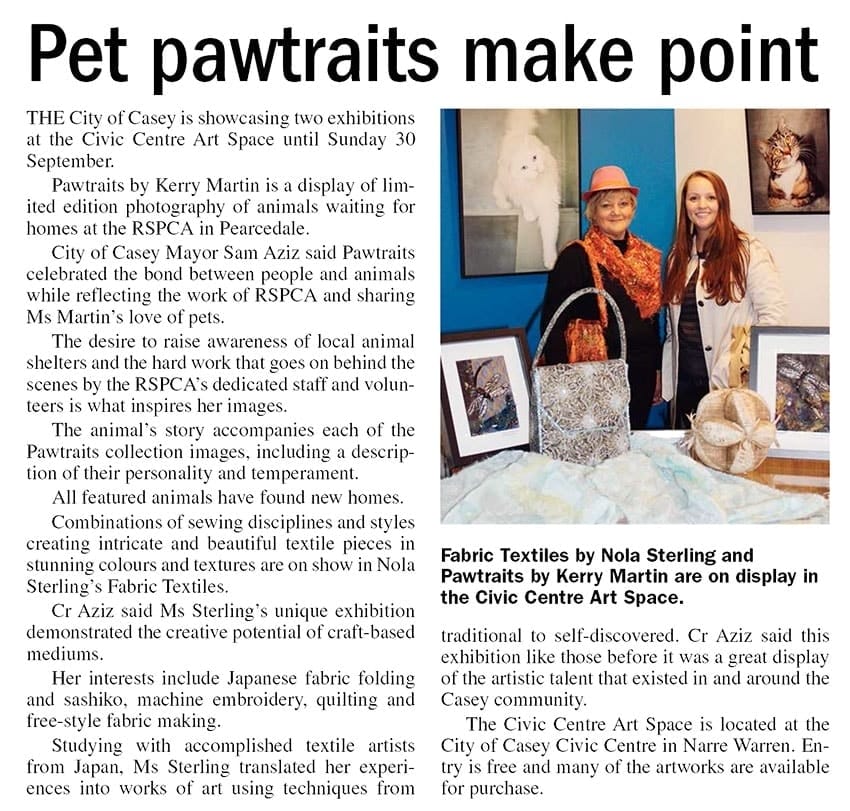 And this one…. in our Botanic Ridge Estate Newsletter. This gets delivered to local schools and the entire suburb of Botanic Ridge. Between you and I, that is just our estate and Settlers Run but it does sound incredible to say the 'entire suburb'! Such community support from them is incredible and I'm very grateful. I was super happy to see Boof, Lilly and Crystal here – what a gorgeous set they make all being white.
Lastly (that I know of) our exhibition was used in conjunction in conjunction with calls for next years artists! If any local artists with some awesome stuff and looking exhibition opportunities, you can find the details here. Good luck for anyone who applies!
So now that this has all ended, I want to say a final thankyou to the RSPCA, those who visited and everyone for kind words of support! A donation will very shortly be made to the RSPCA from profits of print sales – how fabulous to do just a little bit to support the RSPCA and these beautiful animals.
Kerry is 'Top Dog' here at Puppy Tales. With her own adored dogs, she completely gets that your four legged furry buddy is absolutely part of the family. That they sleep on the bed, that you want to take them everywhere, that you plan holidays so they're included & that their presence makes your life incredible.