October 31st, Halloween, All Saints' Eve, All Hallows' Eve: Call it what you will, the evening before November 1st is a spook-tacular time for hauntings and hi-jinx. With the veil at its thinnest that divides the physical world from the spiritual, this is a time when ghosts, ghouls, and witches roam the earth with impunity.
In the safety of your sitting room, turn down the lights, and enjoy our spook-tacular tales of ghost dogs. And if our tales of canine hauntings inspire you, we'll also share how to turn your dog into a ghostly ghoul, with some Halloween costume suggestions.
Paranormal Pups
To get you in the mood, let's take a look at some ghostly dog legends.
Preston the Boxer Dog
This first dates back 50 years and involves a Boxer called Preston. One Halloween, in a Nashville neighbourhood, local children were trick-or-treating. One young boy dropped some sweets as he crossed the road, and bent down to pick them up. A car came speeding towards him, but Preston saved the boy's life by dashing into the road to knock him out of the way.
The high speed impact threw the Boxer high into the air and he came to land in a nearby garden…but his body was never found. Ever since that night trick-or-treaters report sightings of a friendly ghost Boxer who follows, nudging them back onto the safety of the pavement.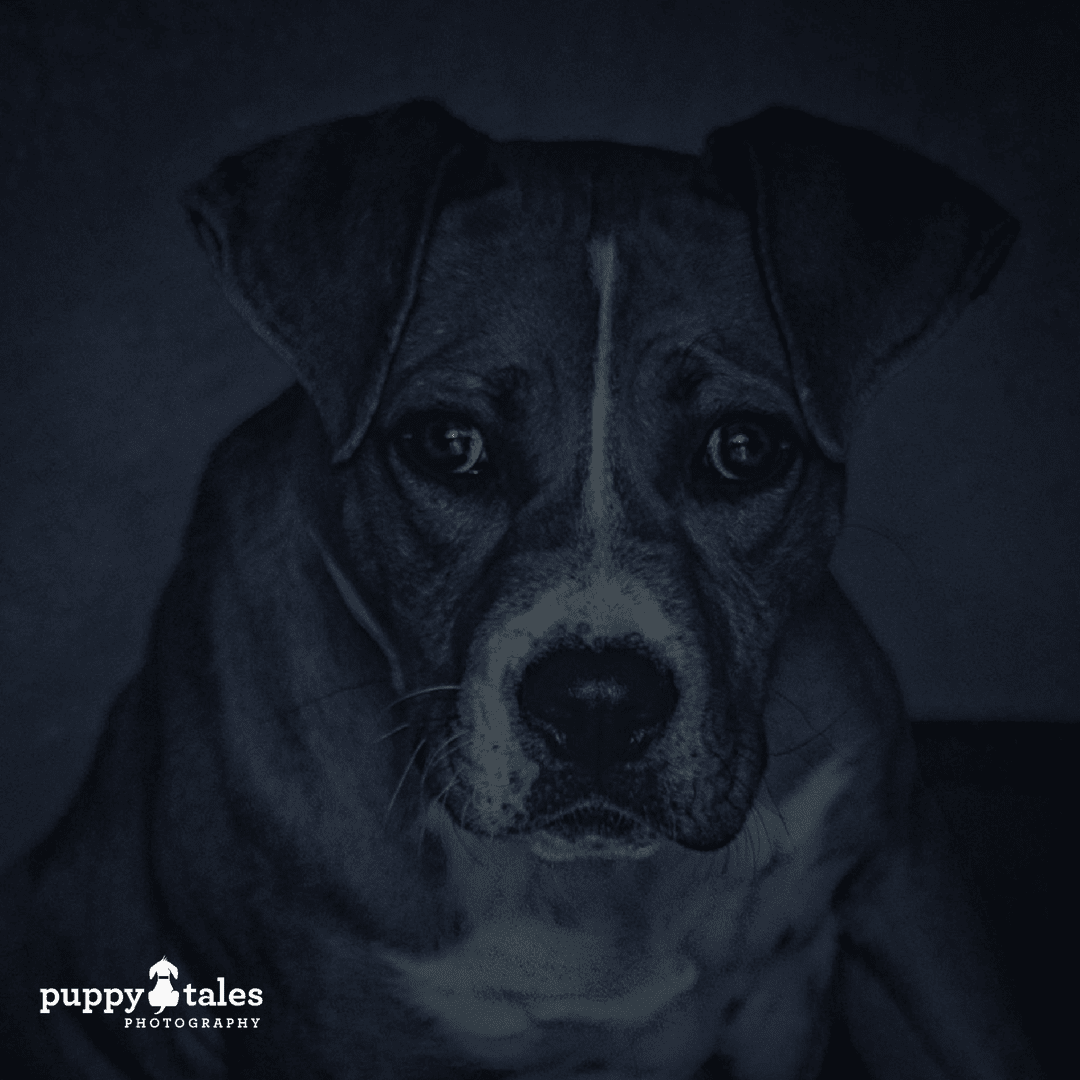 This story has a super-goosebump inducing end. The boy's sister is still alive and every Halloween she leaves a dog biscuit on the porch… by way of thanking Preston for his good deed all those years ago.
The Black Dog Ghost
The Black Dog of the Hanging Hills, Connecticut, is an altogether less welcome visitation. Sightings of this ghostly dog go back well over 100 years. It is said that to see it once is lucky, twice brings misfortune, and a third time is a death omen.
More than six deaths have been blamed on this dog, including that of a geologist Herbert Marshall in 1891. He saw the apparition of a ghostly black dog for the third time, and shortly afterwards slipped on ice and fell to his death.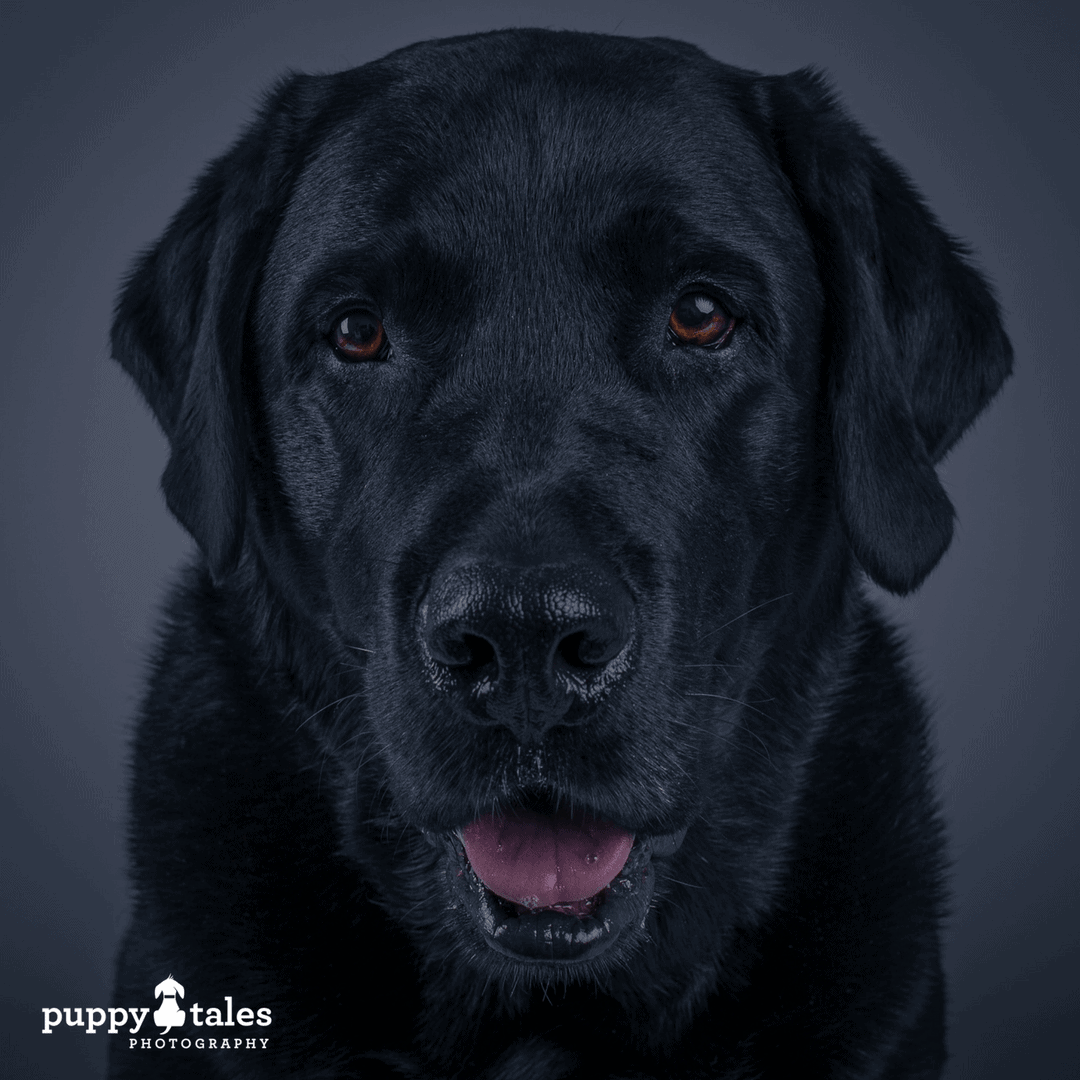 The Ghostly Lady Overtoun
Turning things on their head is the ghost of an 19th century dowager from Dumbartonshire, Scotland. Grief-stricken at the loss of her beloved husband, Lady Overtoun still haunts the manor house they shared as a married couple, and walks wailing along a high bridge on their property.
The couple were reputed to have dabbled in alchemy, and visitors to the manor remark on a chilling change in atmosphere as they cross a bridge into the estate. They go from happy one moment, to experiencing a dark overwhelming depression as they draw close to the manor house.
Also people crossing the bridge describe sensations such as being jabbed in the back with ghostly finger and a compelling urge to jump. The especially spooky part of this tale is that in the intervening years, around 50 – 100 dogs have jumped off this bridge to their deaths. The locals have it that these canine 'suicides' are the result of seeing the ghostly dowager on her lonely walk.
Indeed as recently as 2015, a Springer spaniel, belonging to Alice Trevorrow, jumped off the 50ft bridge…but miraculously survived.
Canine Costume Cuties
Do these ghostly tales send a shiver down your spine? If your dog is getting into the 'spirit' of things and is comfortable with costumes, then why not dress them up as a ghost?
You can make super straight-forward canine ghost costume out of a white sheet. Simply cut a hole cut for the muzzle and eyes. Drape it over the dog for a spooktacular simple costume. (Of course this breaks all the rules about what's comfortable for dog dress ups, so perhaps use this for a Hallowe'en photo shoot at home rather than go out on the street).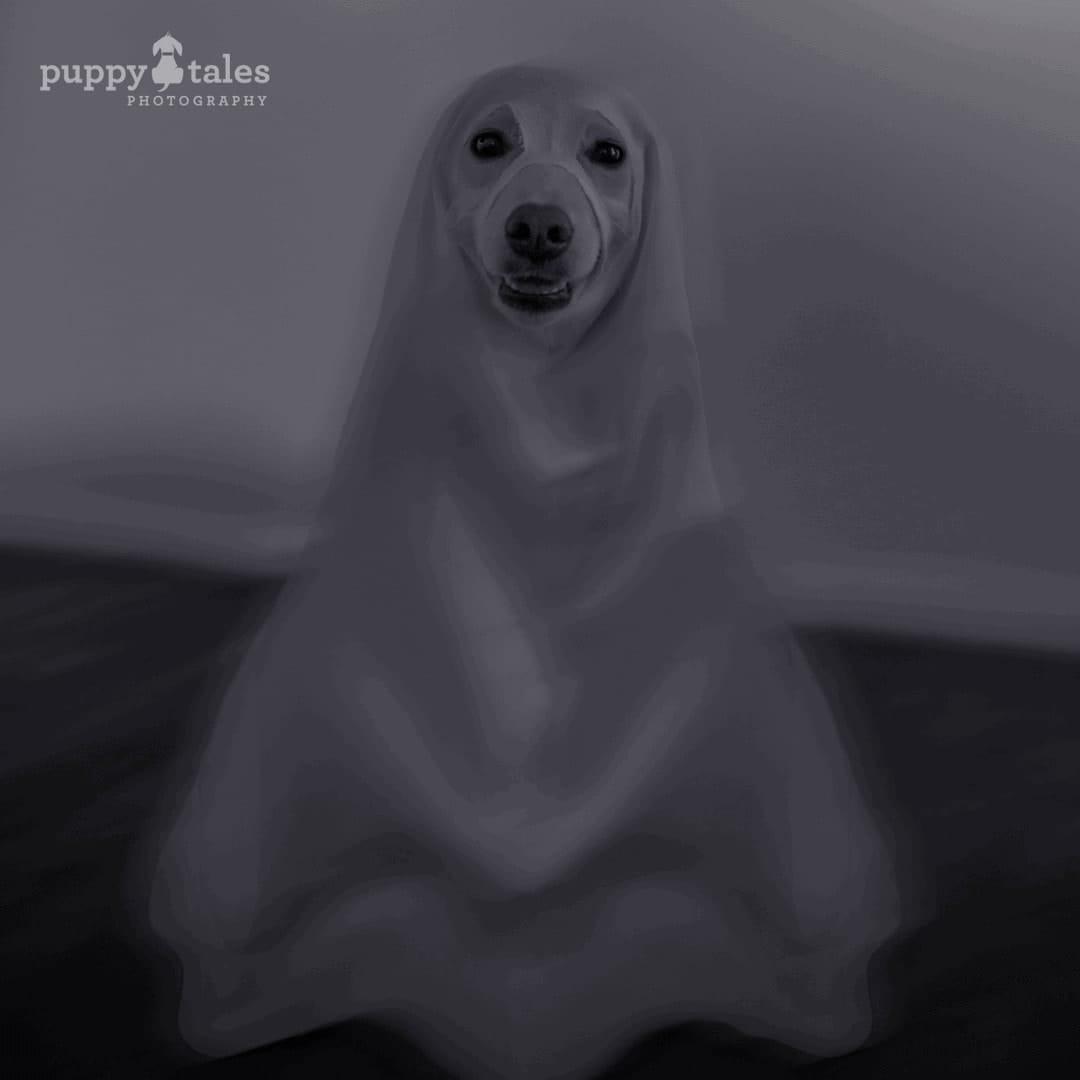 What are the rules with regards to costumes?
Your dog's comfort and welfare is top priority. Don't dress up any dog that is anything less than waggy and willing. The costume should be free from small parts that could be swallowed, and stitched securely so pieces can be swallowed. The fit must allow the dog to move freely, and stand, and sit without impediment. Nor should it cover their eyes, ears, and whiskers as this can cause distress.
Another costume that this time ticks all the boxes, are "Dog riders". These super cute and quirky costumes have a soft toy figure attached to a harness, so they appear to ride the dog like a jockey. Whilst you can purchase dog-rider costumes, they're not hard to make simply by sewing a light-weight toy (dog safe of course) to a soft harness.
For more crazy canine inspiration how about a hand-crocheted unicorn head or turn you dog into a lion. And if you're still scratching your head check out Howl-o-Ween on Pinterest.
Dog-friendly Halloween Treats
If your dog is anxious or fearful, then they'll be happier without the 'trick' and dressing up, and pre-fur to stay at home. But that doesn't mean they have to miss out on the treat. Why not unleash your creative side by baking some Hallowe'en cookies for your canine?
We paw-ticularly liked these recipes from Fun Time Guides, which included something for all palates including vegetarian and sensitive tummies. Or check out Puppy Tales quick and easy Halloween treat recipes for dogs.
Franklin the Ghost Dog
And finally, before you dash off to light that pumpkin lantern, let's finish with the story of Franklin, the Ghost dog with his own Facebook page!
For the past three years the Australian town of Gungahlin has experienced numerous sightings of a large white dog appearing seemingly out of nowhere. So many people glimpsed this large white hound that the apparition was given the title "Ghost dog" and a name, Franklin.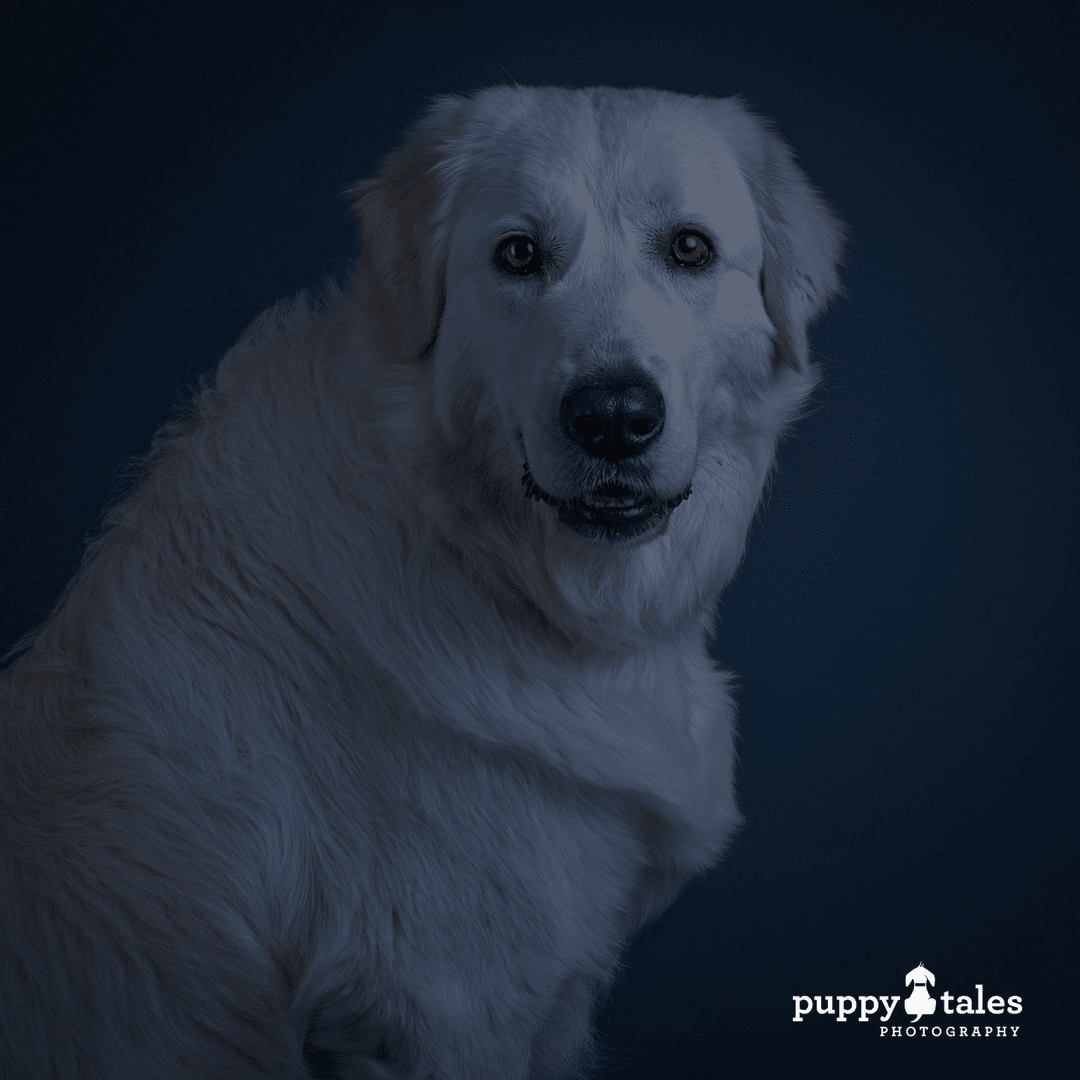 However Franklin is a touch less ghostly than he first appears and is actually a stray Maremma dog with poor road sense. With an ability to appear out of thin air, and worried about his safety on the highway, the locals attempted to catch Franklin – who proved just as slippery and evasive as a real ghost.
So there we have it. A Happy Hallowe'en from Puppy Tales to one and all, two and four-legged, and those who drift on the breeze….
Kerry is 'Top Dog' here at Puppy Tales. With her own adored dogs, she completely gets that your four legged furry buddy is absolutely part of the family. That they sleep on the bed, that you want to take them everywhere, that you plan holidays so they're included & that their presence makes your life incredible.