It's great when I find a business that I like, but it's amazing when I find out that business has a dog as a team member! As I was checking out the colourful pages and website of HOORAY! Magazine I came across the adorable face of their 'Office Dog' Polly. HOORAY! celebrates the art of entertaining and is a bimonthly magazine, website and directory for those who love to host parties, style them and enjoy them. The HOORAY! Team are based in Kingston, Canberra.
The benefits of having dogs in the workplace is a passion of ours here at Puppy Tales, so today we wanted to ask Renee Douros the Owner/Editor/Publisher of HOORAY! a bit about Polly and why she wanted a workspace that would also welcome her.
The interview:
1. Tell us a little about Polly.
Polly is a 10 month old Cavalier King Charles Spaniel. She's been with me since she was 8 weeks old. I always joke that I should have named her 'Pepito' instead as there's nothing feminine or soft about our little Polly. She's clumsy and rough with crazy, wiry hair and a personality to match.
2. How does Polly fit in at HOORAY! Magazine?
Polly comes to work at the HOORAY! studio with me everyday and has done so since the first week I had her. I can't imagine the space without her and I often wonder what we did before our 'little P' came along. She's our daily source of laughter, light and smiles.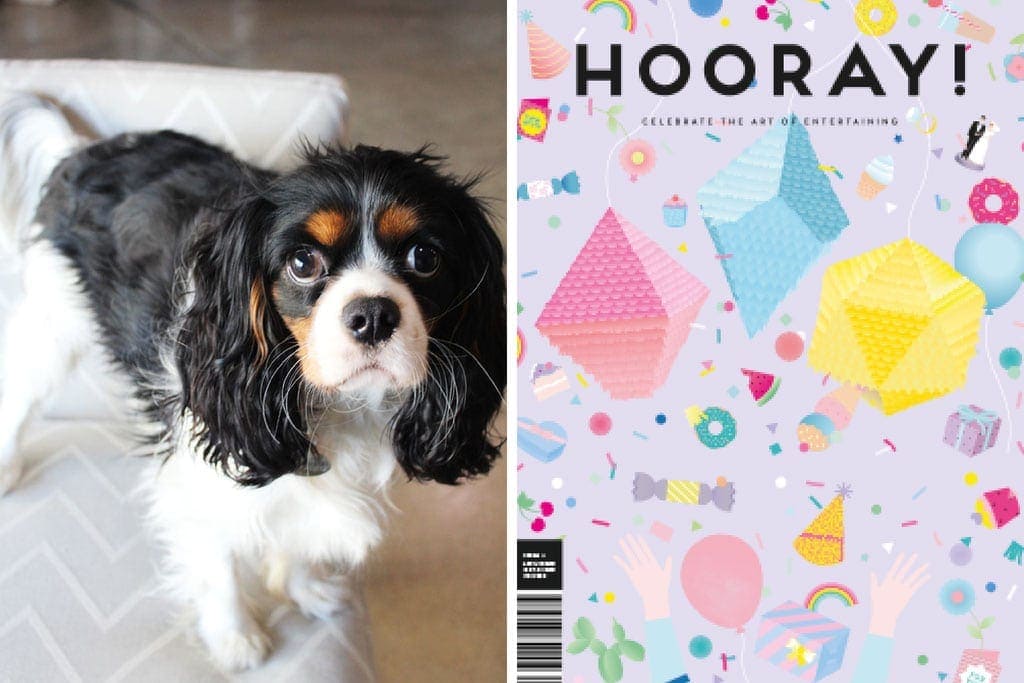 3. Do you have a special setup in the office for Polly to sleep, eat and drink?
Polly basically has free run of the space. She sleeps on her lambskin at my feet while I work, eats her schmackos on our vintage chesterfield lounge, has her own little space where she plays with her toys and a special spot for her dry food and water bowls.
4. What would you say the benefits are for Polly, yourself and your co-workers when she is in the office?
Polly's social skills and obedience have benefited immensely from being in the space. I'm often too lenient on her but the girls refuse to let her get away with everything! She's a social little girl and I attribute that to her being raised around a lot of different people.
For me personally, Polly helps to keep me calm. My job can often by quite stressful and high pressure. When I'm having a rough day, I go to Polly for cuddles (even though she hates it!). I think she has the same positive effect on my colleagues.
Polly makes everyone happy. Including our Australia Post lady who comes in everyday (sans mail sometimes) for a morning cuddle!
5. Have you ever run into any issues with Polly being at the office?
None so far. Polly can do no wrong (in my opinion!).
6. What would be your top three tips for anyone else wanting to bring their dog to work?
Make sure there are plenty of things for your dog to do. I always make sure Polly has her favourite toys at work plus some treats and different places to sleep and explore. You can't have a dog at work that's going to constantly distract you and those who work around you.
Make sure that those you work with like dogs! It's crazy I know, but some people actually don't like dogs.
Set aside time to take them for a walk so they get fresh air. It's good for humans also! (I need to practice what I preach).
Thank you Renee and Polly for being on the blog today and find out more about HOORAY! on their website!