Everyone knows that our dietary requirements change as we age. And while there aren't too many independent studies that suggest the same is true for dogs, we can assume that their nutritional requirements will alter as they get older. But that isn't to say that your Pooch needs "Senior" dog food. Not at all! In fact, contrary to the marketing, there are more important factors than age to consider when choosing the best food for your elderly friend.
You may be wondering when your dog will officially become a senior. Dr Aish Ryan, a Holistic Veterinarian with a passion for older pets says "Keep an eye on what's normal for your pet — normal appetite, thirst, activity and agility levels, toileting and weight. If you know what's normal you'll be able to detect any ageing problems early."
Generally, for small to medium sized hounds, the senior years start at around age 7 or 8. Larger dog breeds tend to have shorter lifespans than smaller dogs, so a 5 year old Great Dane might be considered elderly. The world's oldest dog — a Cattle Dog named Bluey — lived until he was 29 and worked until he was 20!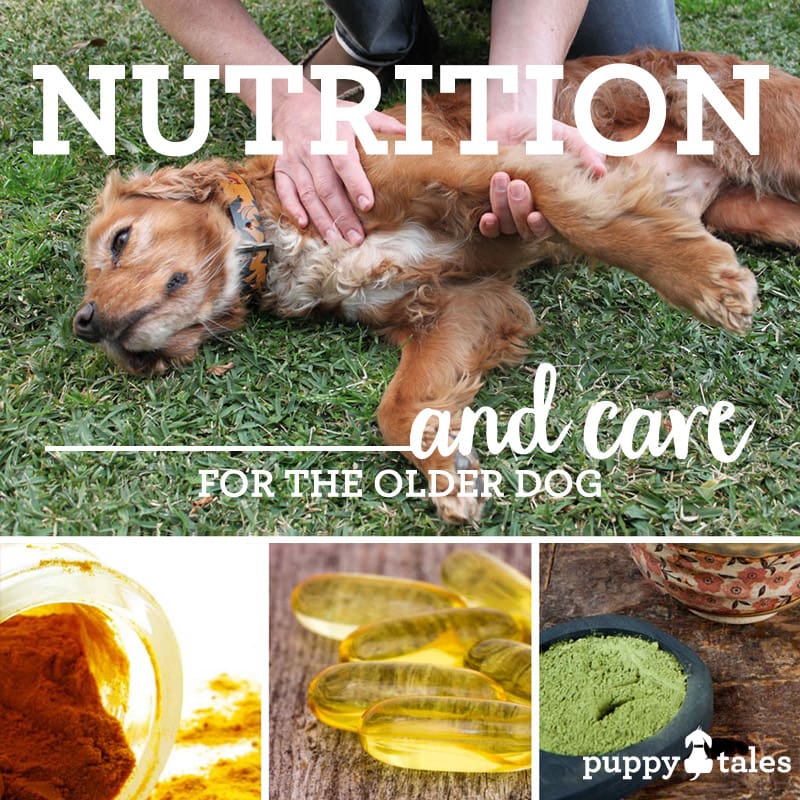 Sometimes older pets suffer from a decrease in activity levels, mobility and appetite, dental disease and tooth loss and a reduction in senses such as smell and taste. That can make them fussier, but because they are carnivores their protein (meat) requirement does not decrease and the quality of that protein becomes more important than ever. The reason we don't recommend commercial "Senior" dry and canned foods to clients is because the low quality proteins contained in most commercial dog foods place unnecessary burden on your dog's organs and can lead to kidney and liver problems.
So here are our Top 5 Tips for feeding your older dog to better health:
1. Keep it Real
You may need to tweak your pet's diet as he gets older. However, it's your dog's body condition and general health that should guide you when making decisions about their diet, rather than his age. What we do know, however, is that dogs need high quality protein as they age, preferably from human grade meats. "As pets age, their digestive systems may not be working as efficiently," Dr Aish suggests, "so their diet needs to be high quality and easily digestible."
The type of protein most dogs thrive on, regardless of age, is whole, unprocessed, and ideally raw. Unprocessed foods are the most easily digested and assimilated by your dog's system. And the best part is that real, unprocessed or minimally processed foods like raw, home-made (check out some recipes) or dehydrated freeze-dried foods are suitable for all stages of life.
If your ageing pooch is fussy and you're tearing your hair out trying to find foods to tempt him, you can try some of these "appeteasers" or consult a Small Animal Nutritionist for advice.
2. Keep things moving – inside and out
Dr Aish says, "All older dogs need exercise. It keeps the muscles supple, gets the blood circulating and helps to detox the system through deep breathing. However, you need to modify the activity level and duration to suit your pet's abilities. If your pet is coming home tired you are going too far. With some dogs, a gentle walk and sniff to the street corner might be sufficient. Swimming can be a great low impact exercise in warmer weather. All pets, especially seniors, will also benefit from massage as a physical therapy to keep the circulation moving, move lymph and reduce discomfort."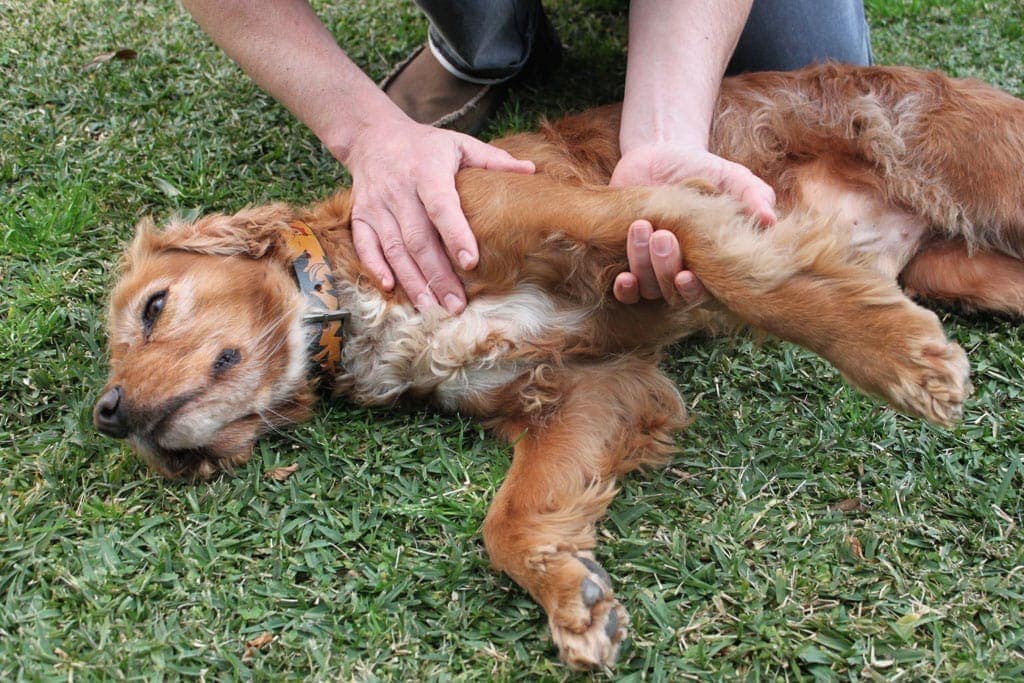 Cress having a massage!
As well as decreased mobility, some elderly pooches may also have problems with constipation. Generally we find that dogs fed a balanced, natural, biologically appropriate diet rarely experience digestive problems, particularly if they are supplemented with digestive enzymes and probiotics, and are exercised regularly. Occasionally, additional fibre is needed and can be added in the form of either psyllium husk powder, Coconut Crunch or increasing the proportion of leafy greens in the meal.
3. Supplement
Whilst most essential nutrients come from the diet, as dogs age they need higher amounts of Omega Oils, and often joint support as well. Unless you're supplementing Omegas daily, your pooch is probably not getting what he needs. Fish Oil, Krill Oil, Chia Seeds or Natural Animal Solutions Omega 3, 6 and 9 are all excellent options.
For joint support and arthritis, Turmeric, Kelp, Alfalfa, Green Lipped Mussel or Shark Cartilage all offer anti-inflammatory benefits. You can learn more about these supplements on the FoodiePooch website.
Additionally, probiotic foods such as kefir, and a digestive aid such as raw Apple Cider Vinegar can also be a cheap and effective way of boosting your Pooch's digestion.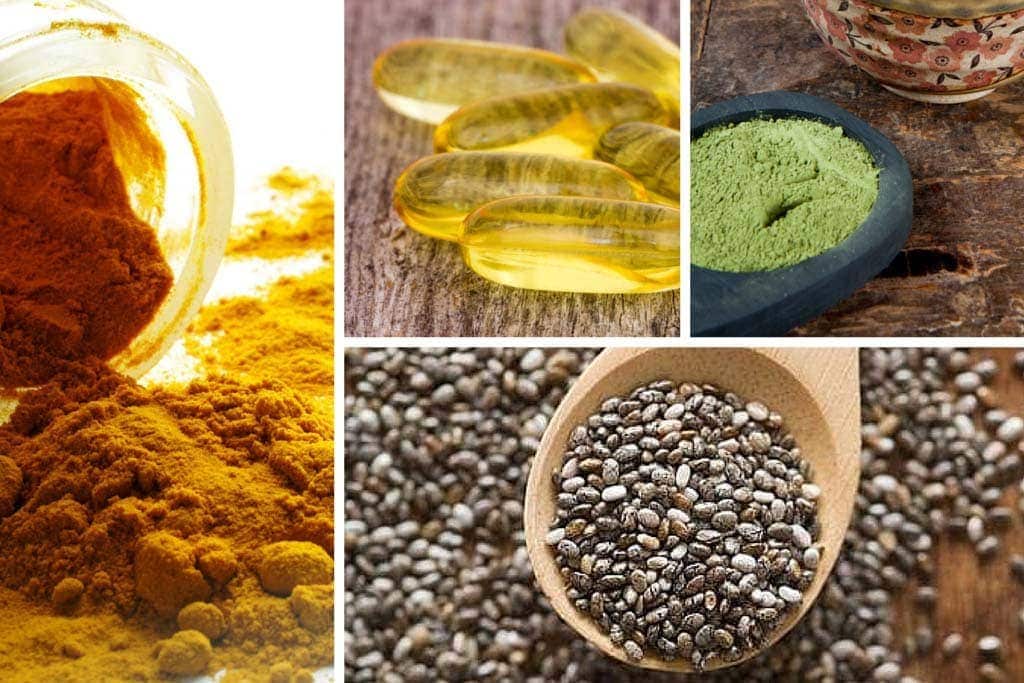 Tumeric, Fish oil, Alfalfa powder and Chia Seeds.
Your holistic vet, Naturopath or Small Animal Nutritionist can also advise on what supplements are right for your pooch based on his health.
4. Mental Stimulation
"Old pets still like to be entertained even if they can't exercise as much. Give them a view of the street. Teach them a new trick. Like older folks doing Sudoku, keeping the brain active will help to keep doggy dementia at bay," recommends Dr Aish. And even if your pet can't chew, they might still enjoy licking peanut butter or honey out of a Kong toy, or an interactive puzzle with hidden healthy treats inside.
5. Make Retirement Comfortable
"Being old doesn't mean you have to feel it in your bones! There are plenty of natural treatments like acupuncture and massage that can help to reduce arthritic aches and pains. Investing in a well cushioned bed that is easy to get in and out of can make life more pleasant too. Older pets are also more sensitive to weather extremes. It might be time to invest in a jacket in winter and ensure there is plenty of shade and water in warmer weather", says Dr Aish. Varying the texture and consistency of meals may also please your pet, and offering things like Bone Broth in winter, or treats frozen in a block of ice in summer will make your pooch feel like a Princess!
By following these 5 simple health and nutrition suggestions, you will make your furfriend's twighlight years happy, healthy and long, and repay them for the many years of devotion and loyalty they have given you!
Guest Contributor to this article: Dr Aish Ryan
BVSc(hons) BAnSc CVA (Cert Vet Acupuncture)
Dr Aish Ryan practises integrated veterinary medicine, combining western medicine with acupuncture, massage and diet and lifestyle changes. She has a special fondness for the older pet and enjoys being able to make their life more comfortable. She graduated from the University of Melbourne in 2003 and worked in small animal clinics in Melbourne and London prior to starting Vets at Home in 2010. Dr Aish is certified in veterinary acupuncture. She also uses massage and Chinese veterinary herbal medicine.
Fuelled by a love for great food and a keen desire to offer pets and their parents the very best choices when it comes to their diet and health, Small Animal Nutritionist Alla is passionate about educating pet owners about natural, species-appropriate feeding.