Nutrition for dogs: The paleo dog food diet
Lately we have started to think a lot about what we want to feed Cress and Eddie going forward from a health and ethical standpoint. Our dogs over the years have had a mix of prescription diet food from the vet, raw meat from the butcher, commercial food from the supermarket, plus some home-cooked meals from a boutique pet food maker. Ideally when I think about what I want to feed them I also try keep in mind how busy our household is (I know this applies to many people) with the two dogs, two cats, one toddler and — in a couple of months — a newborn baby. Some days it is hard to get our own home-cooked meal up on the table, let alone one for the pets. With all this in mind we are looking around at some options to ensure our dog's future health and wellbeing. So we have asked a number of people for their opinions and what they feed their pets.
Many of our friends in the past few years have started living a Paleo lifestyle, which they report has delivered many health benefits. So we were fortunate enough to have our close friend and fellow blogger Irena from Eat Drink Paleo put us in touch with Claire, a Nutritional Medicine Practitioner who runs the blog Indi Nature. Claire has developed a paleo-style diet for her dogs and has generously agreed to answer our questions.
The interview:
Could you briefly outline the Paleo Diet and how you incorporate it into your lifestyle?
It is about looking at evolutionary biology and figuring out what is the most nutrient dense food we can eat to nourish our body, prevent disease and lead a healthy life. This means making choices to not consume highly processed foods, food high in anti-nutrients and — where possible — to buy local, seasonal and sustainable foods.
It is about enjoying real, wholefoods such as grassfed meats, seafood, loads of vegetables, fruits, nut and seeds. The Paleo approach is not about replicating the caveman way of life and is not about only consuming an 'all meat' diet. I usually say to people "unless you are eating more vegetables than a vegetarian, you're not doing it right".

Why did you decide to extend this way of eating to your dogs?
I could see the health benefits of eating this way for my husband and myself and again, I usually tell clients "unless you can understand every word on the back of a packet don't eat it". So why was I comfortable giving my dogs (my fur babies) processed foods? Why was I giving them grains and other foods that I knew were gut irritants? They are a part of our family as well so they should be eating as well as we do!
It also stemmed from talking with the lady in Perth who runs Best Friends Animal Rescue. She is a Vet Nurse and was telling me that so many pets are getting all of the same 'Western lifestyle' diseases we are – arthritis, diabetes, eczema and allergies and how it was all stemming from the over processed rubbish we are feeding our pets and it was like a light bulb moment – of course!! They are meant to be consuming food as close to nature as possible as well! They are not meant to be eating loads of carbohydrates from dry kibble and cereals!
They are also not meant to be eating the unexplainable words you see on the back of the dog food packets. How can this stuff be good for them to eat? It isn't! The poor things are getting all the same health issues we are. They need a clean, preservative and additive free diet.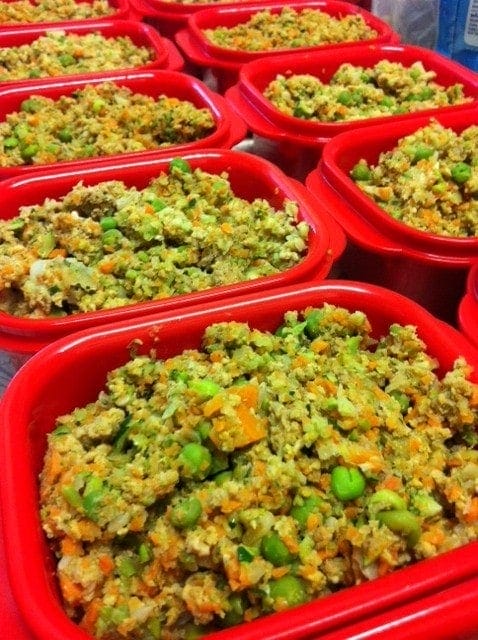 Paleo Dog Meals

What is a typical meal plan for your dogs over a couple of days?
They generally alternate eating some sort of meat (chicken, beef, pork, turkey), cooked with a bunch of vegetables (zucchini, carrots, cauliflower, peas) and raw meat and bones – such as chicken necks. I usually make the cooked meal with bone broth as the liquid – which we also make for ourselves. This is amazingly healing on the gut and is a great source of minerals, and the dogs love it! You can find some great recipes for bone broth online or just making the meal with some water is fine.
I generally buy whatever is in season and I always have some packets of frozen vegetables in the freezer. That way I am never caught out without any food for them. They eat a lot of vegetables! Betty even likes to eat frozen peas as treats.

What advice would you give to someone contemplating starting to feed their dogs a Paleo-like diet?
I would say – just give it a go. Your dogs will love you for it! My girls really, really enjoy eating this way and they are not that keen on eating any store bought dog food now!
Do some preparation work, have some meat and vegetables in the freezer and it is really that simple – you are good to go! Get some good meat from your butcher – free range chicken neck or other bones and buying in bulk is always cheaper.
If you have a fussy eater it is easier to get them to start eating the vegetables if you chop them up fine in something like a food processer and cook them with the meat or mince. It is like hiding vegetables in meals for children who don't like eating vegetables!

Are there any supplements you typically give to your dogs in addition to their meals?
The only other thing I give the girls is a Pet Cod Liver Oil. This is great for reducing inflammation and for overall general health. It is also a great source of Vitamin D and Vitamin A. I use the Nordic Naturals Pet Cod Liver Oil. I work for the company who distributes it here in Australia, but I would use it anyway as it is one of the best. The lady who runs rescue is also now using it for all the rescue dogs as well. Just make sure you give your pets fish oil that is specifically made for animals – as human ones can have different preservatives such as rosemary which are not good for your pets.

Have your dogs shown any health benefits from their change in diet?
Yes! Abi our first girl used to get an itchy neck every spring from allergies and we would always end up at the Vet and she would be placed on corticosteroids to stop her scratching. She also used to have very weepy eyes. She does not have her itches anymore and her eyes have stopped weeping as much.
Our foster dog Betty was another dog who appeared to have been on corticosteroids for a long time and was always itching and biting herself. We have had her for 9 weeks now and since her change of diet with the fish oil there is no need for the steroids and she is no longer biting herself! (she is also now a foster fail!! We have adopted her as a sister for Abi).
Claire, Abi and Betty
Do you think it takes a lot more time or money to feed your dogs Paleo?
I will be honest and say – yes it does. But I think the benefits to your dogs' health and your Vet bills are worth it. I do not think it is that much more in cost – possibly even less. We used to buy Abi quiet expensive dog food from the supermarket and when you make your own, you'll be surprised how cheap it is to make a big batch of meat and vegetables! And the raw meat and bones are cheap as well. One supermarket even has the free-range chicken necks cheaper than their own brand of chicken necks!
It does take a little time to make the meals. I usually prepare a big batch and portion them up at the start of the week and freeze them. I think the time spent on doing this is well worth it. The girls love their meals and you feel good knowing you are feeding them something that is nutritious and has no hidden nasties or preservatives.
More about Claire and her dogs:
Claire's dogs are Abi and Betty. Abi is 5 years old and Claire has had her since she was a puppy. Betty is 3 1/2 and she was her first foster kid, who she has now adopted!!
Claire is a Naturopathic Nutritionist, holding a Bachelor of Health Science (majoring in Nutritional Medicine), who is passionate about paleo nutrition, health and having fun! A self-confessed lover of good food and good coffee, she also loves getting out in nature, barefoot running and heavy lifting. Claire believes in inspiring people through education and innovative ideas to make positive changes in their lives.
We would really like to thank Claire for sharing her knowledge and learnings about her dogs' nutrition here on Puppy Tales today. It has inspired me to learn more about Paleo for myself as well as the dogs! Make sure you go and check out her website, Indi Nature, as she has a wealth of information about the Paleo lifestyle and nutrition in general.
Giveaway:
Claire has kindly arranged eight cod liver oil testers from Research Nutrition. Stockists can be found on the Research Nutrition website, they include veterinary practices and health food shops. The first eight people to
email us will be sent out a free tester for their dog.
We hope to share a few more dog nutrition articles and interviews with you over the coming weeks from a variety of people, so stay tuned!
Please Note: Puppy Tales provides these articles for information purposes, we are not trained veterinarians. Therefore, if you experience any health problems with your pet always seek veterinary advice.