Love Your Pet Day: A Letter to Keiko & Summer
Tomorrow is 'Love Your Pet' Day. It seems the perfect day to pen a letter and to share publicly the promises I've made and which mean my dogs Keiko and Summer have the wonderful lives they deserve. They are both so incredibly important and special in my life – so for me, Love Pet Day this year is about the ongoing commitment I make to them and maybe… hopefully inspiring others to do the same! Through living up to my commitment, I'm loving them both the best way possible ~ by ensuring they have all that they need for a happy and fulfilled life with us. And for my fur-sister Rosie, there's also a special little message!
A Letter to Keiko & Summer
To my adorable Keiko & Summer,
I have to start by letting you know how much joy you both bring to my life. You truly brighten my day, inspire me and make me laugh. Your presence, companionship and funny antics everyday as you go about just being yourselves, gives me more than you could ever realise and than I ever expected as a pet parent.
In return and with it being 'Love Your Pet' Day, I'm making promises to you both. My living up to these promises means that together we will have incredible lives and that you will each have everything for the most blissful of doggy lives.
I promise that you will always have a home with us. You will always have a crazy fun fur filled home. One where you can play, rest comfortably and receive all that you need for your health and wellbeing. One where you can play together and play with us humans. Of course, it goes without saying that you will always have the food you need, fresh clean water, vet care, a secure yard and a clean bed, for those occasion you're not wanting to share ours.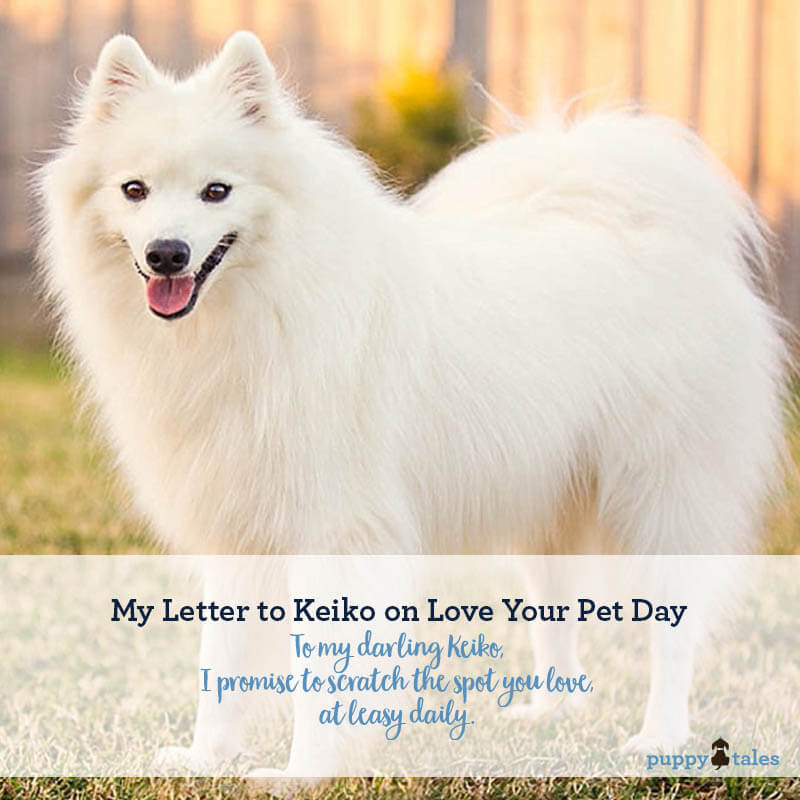 I promise to 'listen' and learn from you as you learn from me. To understand your needs and to understand what you are trying to tell me. You've already taught me show much about dogs and the incredibleness that life with dogs brings, and for that I'm so grateful.
I promise you will always get outdoors time, and only on exceptional circumstances will that not be a walk. Although it might be brief and involve doggy raincoats on the most bitter and wet of Melbourne days, we will make up for those occasions with indoor activities and play. I promise to buy you the toys you need for stimulation and entertainment, but to remember that they are more fun when we're playing with them together.
I promise to always look for the dog-inclusive alternative! I want for you to accompany us and be a part of everything whenever its possible. It's finding the dog friendly beaches, cafes and walking tracks. It's planning activities and events so that you're a part of them. And this, especially, means on holidays. It's staying in the only snowy area in Australia where dogs are permitted! And it's planning our other trips and accommodation so that you are with us. When we're travelling overseas, and you really can't be with us, then know I will find the best alternative (which usually means a trip to the grandparents and running about on their 'farm' with Rosie, which you adore!).
As a photographer, of course, I'll take many thousands photos of you both and all the wonderful things we do together so that I have the memories to treasure forever. I will proudly show off all your gorgeous-ness and the wonderful-ness of the dogs in our lives . I promise, though, to put the camera away and enjoy being part of our time together.I also promise not to share too many embarrasing photos of you… unless of course they will bring joy and happiness to others!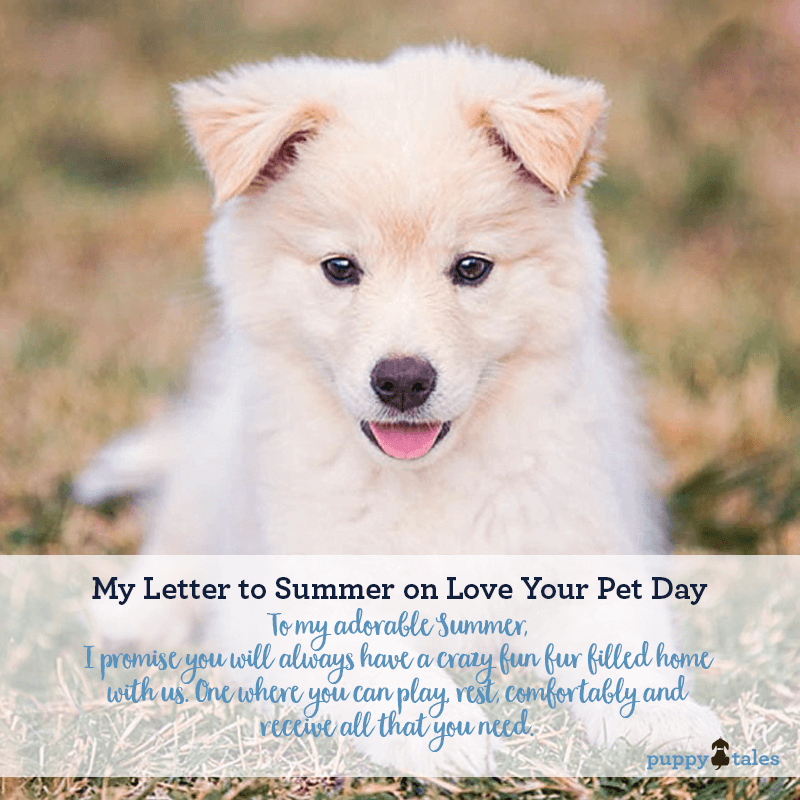 Keiko, I promise to respect your timid nature in new situations and around unknown dogs and people. We will learn from you and others as to what you need and we will work with you so that you are increasingly more comfortable in these situations. We will never push you too far. As I have always done, I will continue to care attentively to you when you get an upset stomach or cysts. I will have you by me all day as you recuperate. I promise to scratch the spot on your rump that you love so much at least daily.
Summer, in addition to all the things I already included, I promise to help you grow into a well mannered dog, You will get the training and exercise that you need as a border collie. As you're a puppy right now, we don't if you will need anything special from us as a grown dog, but know that if you do, you will have it. I promise to discover the spot you most love to be scratched and then to do that daily.
To you both – I promise to love you – now and always.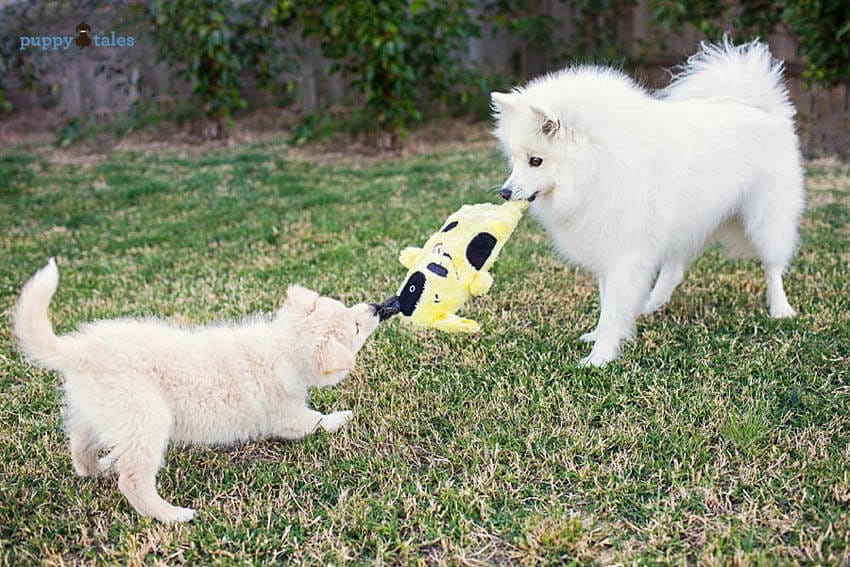 My new favourite photo – the very first time Keiko & Summer played together!
A Letter to Rosie
Of course, I couldn't not include my gorgeous 'fur-sister' Rosie. Although not (technically) one of ours, she is certainly loved like she is!
Dear Rosie,
Your adorable soul, sweetness and goofiness engender the affection of everyone you meet. While you are very much loved and wonderfully cared for by your mum and dad, you are loved and adored by us too! So this 'Love Your Pet' Day you get a promise from me too.
I promise I'll always be there for you. You will always be part of our fur-pack. You are welcome to visit and to have sleepovers at any time. When your parents agree you are, of course, welcome to join us on holidays and outings. You will have Keiko and Summer as your best doggie buddies.
We are your 'godparents' should you ever need us. You will have all the same love, hugs, care and attention as our own dogs whenever you wish for it or should you ever need it.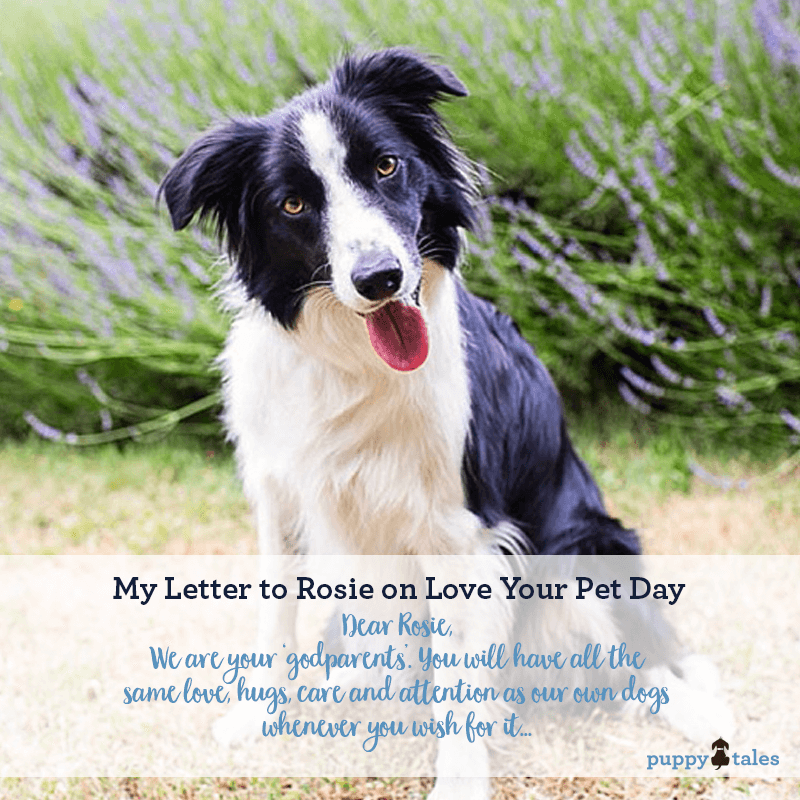 We'd love for you to join us this 'Love Your Pet' day!
Whether you write you own letter, leave us a comment sharing your promise, make a declaration on Facebook or share a 'Dog Loving' Photo on Instagram (definitely not the time for dog shaming!), we'd love for you to join us!
It would be so incredible to see the dog loving community mark 'Love Your Pet' Day this year by thinking of how we can all ensure our dogs have the happiest and most fulfilled of lives.
Let us know of your 'Love Your Pet' day promises. We'd love to share them and to inspire others!
More 'Love Your Pet' Promises
This Love Your Pet Day, we're thrilled to be joined by some incredible friends and dog lovers in making promises to our dogs: