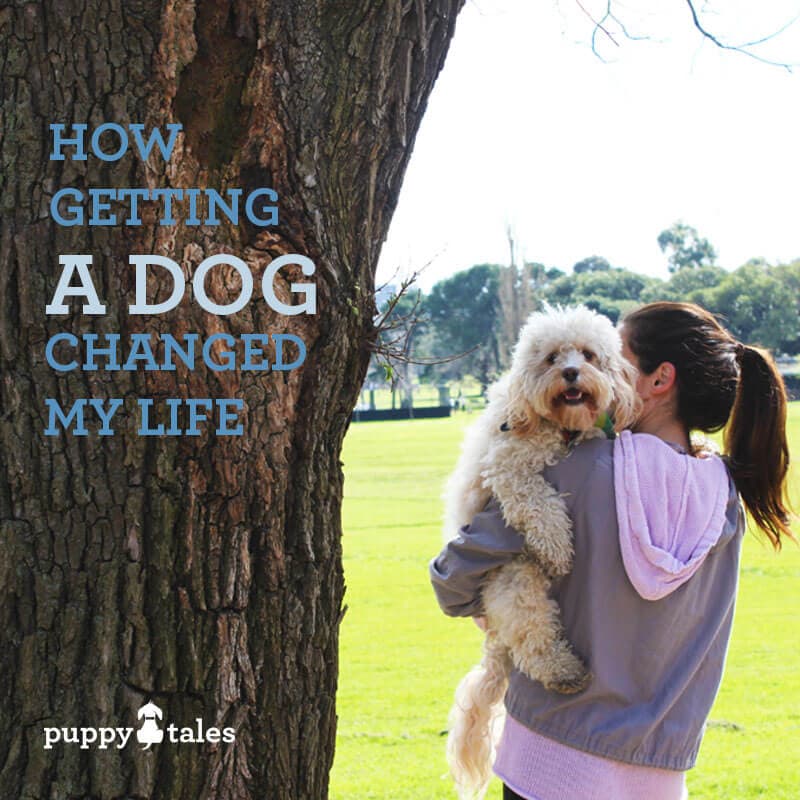 Two years ago my husband Andrew was trying to convince me to get a dog. I said no and kept saying no. The reason being, we lived in an apartment with no backyard, I was enjoying life with no responsibilities and we just didn't have the time for a dog.
Despite my arguments Andrew decided to investigate breeds of dogs that would suit apartment living. He also researched breeds that were intelligent, easy to train and didn't shed hair. Google informed him that a Cavoodle fitted his criteria. We had both never heard of this type of dog before.
Andrew contacted a breeder who had a litter of Cavoodles and asked if there were any females left. The breeder sent back a photo of the only female still available who had the sweetest face. Andrew convinced me to drive down and have a look at her, I agreed but said, "We are only looking!" After a 2 hour drive we were holding the female puppy in our arms. She was adorable but so tiny because she was the runt of the litter. As it so often happens when looking at puppies, you just fall in love with them. I was in love with her and agreed to take her home then and there. Andrew agreed that she was cute but was concerned about her size. Then out of the corner of Andrew's eye, he saw a little cheeky monkey trying to get his siblings to play with him. "What about that one?" Andrew said, "Has that one been sold?"
'That one' ended up being Toby Wigglebottom, who has changed my life in ways I never thought possible. We had to wait two weeks before Toby could come home with us. So, in that time Andrew and I did heavy research into how to train a dog, how a dog thinks and why a dog acts in certain ways. I can say with complete certainty this research has helped us turn Toby into the awesome fur ball he is today. Andrew and I both wanted Toby to be a joy in our lives not a burden, we wanted him to be adaptable to any situation so we could take him everywhere with us. Due to research and a bucket load of training, Toby has integrated into our family beautifully and is a core part of our family, not just a pet.
How has Toby changed my life? If someone once upon a time said to me: "when you get a dog you will feel more connected to your community", "you will get up at 5.30 in the morning to go to the park", "you'll become interested in exercise", "you'll spend your money on Doggy Day Care", "you will saviour memories more intensely, discover new hobbies, and view life in a different way"… *I* would have said, "you've lost your marbles!" But all those things have happened to me in the last two years because of Toby.
I live in the city and luckily have a fantastic off-lead park 5 minutes walk from my apartment, and it is here that I have met people from all walks of life. Once we get to the park, Toby plays with the other dogs and I talk to their owners. You can talk to anyone with a dog because you share one common interest that connects you. After the initial dog chat, that's when you get to really know a person. I have met such interesting people at the park and love catching up with them to see what's new in their life. I have met entrepreneurs, people who have quit high profile jobs to pursue their passions, climate economists, a photographer who has decided that at the age of 60 she wants to move to India to see what life brings, fashion designers, and people who have moved to Australia from war torn countries looking for a better life. Thanks to Toby, I have been able to get to know the people who form my neighbourhood and this has allowed me to feel more connected to my community.
Dogs are huge commitments and you are accountable for their wellbeing. One big commitment I was worried I wouldn't be able to for fill before getting Toby was walking him twice a day. Dogs need to be walked for both physical exercise and mental stimulation resulting in them living a happier and healthier life. Luckily for me, this commitment has proven to be an enjoyable part of my day, which has also equated to exercising. Toby gets a walk and a play in the park for an hour before I go to work and an hour after work. It is during the walk after work where Andrew and I hit the 'gym' with Toby. While Toby runs around the park saying 'hi' to everyone and sniffing every tree, we run laps of the park, use the park benches to do arm and leg exercises, the monkey bars and the play equipment to do pull ups, sometimes we even use Toby as weights. For someone who hates gyms and exercising in general, taking Toby to the park has motivated me to exercise.
The first time I heard about someone taking their dog to Doggy Day Care I laughed out loud and said, "You're joking, right?". Turns out Doggy Day Care is not a joke and now I'm the person people laugh at. I decided to put Toby into day care on a Wednesday to break up the week of him being alone at home. Toby gets many benefits from going to day care. The most important aspect of day care is the socialisation part. Dogs are pack animals, they naturally want to be part of a pack, but it is very rare for that to happen now that dogs are so domesticated. Day care allows Toby to socialise, play, and hunt around with all the other dogs in a way that is much more natural for him. Other benefits of day care include keeping Toby active, giving him a break from routine, learning how to behave in different environments and it also makes me feel less guilty leaving him home alone for 5 days straight while Andrew and I are at work.
Toby being in my life has made me put more effort into savouring memories. When I look through my photos, there is a 5-year gap where I have no photos; it's as if 2006 – 2011 never happened. I hate that. For years my New Year's resolution has always been: take more photos. Besides some dodgy camera phone photos, it never happened. When Toby came along I dusted off my camera and started taking photos of him. These days, when Toby leaves the house with us, so does the camera. I'll bring my camera to brunch, when we go for walks, small outings, and large outings. By doing this, I have been able to capture moments of Andrew enjoying a coffee in the sun, Toby smelling roses, sunbeams hitting the leaves of trees, friends laughing over a glass of wine. Taking snapshots of the simple things that make up most of our lives has resulted in capturing some wonderful candid moments that have become very dear photos to me that will be treasured forever.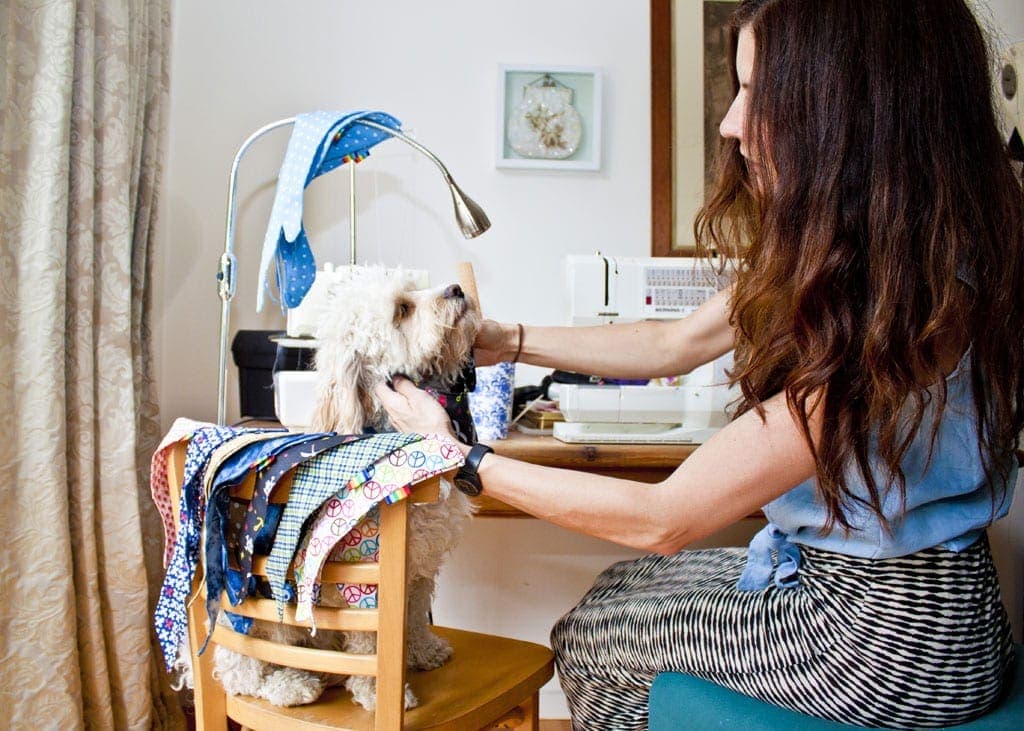 When I was younger my mum used to always say to me, 'You need to find a hobby in life. Without a hobby the routine of life will drag you down'. I never had a hobby, I would try new things but they never transferred into hobbies. My hobby now — making dog Neckerchiefs — happened accidentally.
I came up with the idea to make and sell neckerchiefs at my friend Lucy's house when Toby and I were visiting her over the school holidays. As wonderful as the holidays are they can get a little boring. Lucy and I were brainstorming things I could do to relieve my boredom when the idea of making Neckerchiefs came to mind. From making Neckerchiefs came creating my blog Tobywigglebottom.com and I would definitely say they are my hobbies. I love doing both and find great enjoyment in them, maintaining my online store and blog is not a chore, rather a way for me to unwind and relax from the world.
Dogs are wonderful creatures. If you take the time to make sure you choose a dog that is right for you and your lifestyle (and train them properly), they will change your life for the better. I am a very different person from who I was two years ago. Things started to change when Toby came into my life, and for the better. I am a happier, more confident, more content version of myself because of the friend I constantly have at my feet.