How long is your daily to-do list?
If it's anything like mine then it unrolls like a scroll, bounces off across the floor and out the door. Well, okay, I'm exaggerating a little but you get the picture. And I know I'm not alone with always squeezing 'one more thing' onto the list. But let me share a secret with you: I wouldn't have it any other way.
I love what I do. I'm a self-confessed work enthusiast (that's sounds much better than being a workaholic, doesn't it?!)
As the 'top dog' of a pet photography business and editor of Puppy Tales, I'm incredibly fortunate to do what I do! I get to 'work' with awesome people and their fur-bulous pets. The only downside is that lots of work, even if you love it, isn't always compatible with keeping fit and healthy. And with working from home, constant connectivity, photo editing and the draw of social media, I'm too often in front of a computer screen. This has it's downsides and for me the reduced mobility often mean lower back pain.
Now I'm not one for big sweeping changes or bold declarations about a new radical diet regime. The perfect solutions for me are going to be the ones that work and that last – that is, help me to do my best to keep fit and healthy. I'm not an expert, just a dog lover with a busy life, but I thought I'd share about the lifestyle changes I've introduced this year – as they've benefitted both me and my dogs.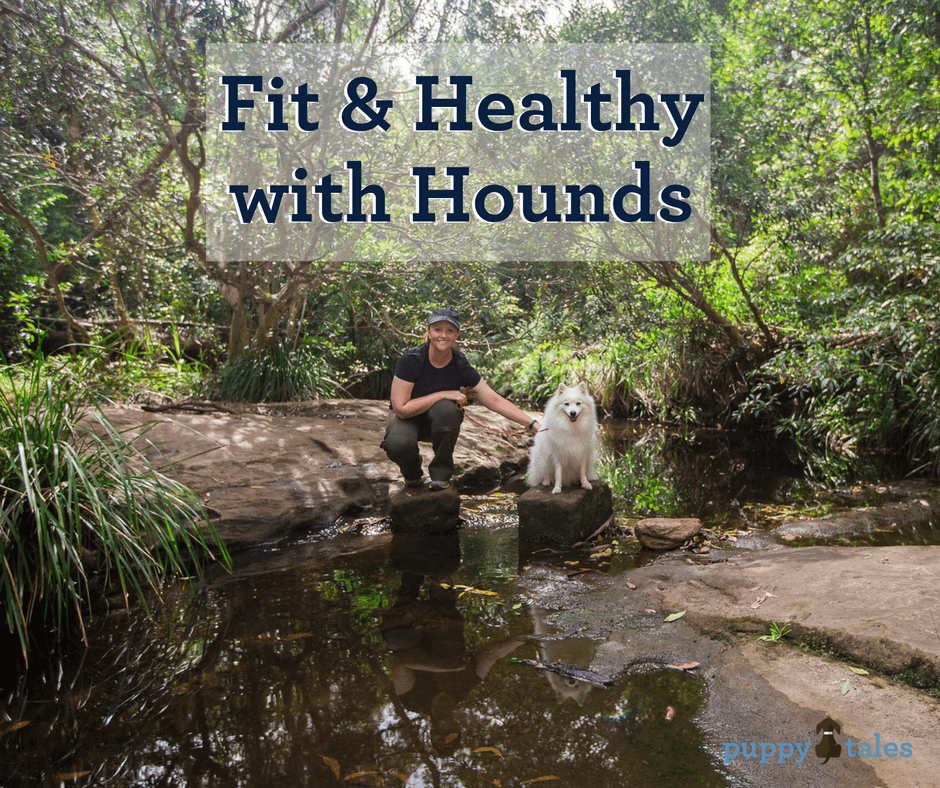 It's April now (already! I said life was hectic!). I've been meaning to share about this topic since the start of the year when I first starting adding these changes to my day or increased the length or frequency that I did them! I'm still sticking with them and I hope that they might offer you ideas if you feel you're in a similar situation to me.
Even More Walking with Dogs
I like to think I'm pretty good about walking my dogs. It's how I like to start the day. For one thing, it eases my conscience that I've met one of my dog's daily needs and I know they behave better during the day when they've had exercise first thing. Plus, I know if I miss that early walk then I find it more difficult to find a slot later in the day. It also means if the weather turns bad later in the day we didn't miss the opportunity to get out together.
What I'm doing differently this year is tracking my steps, the time I'm active and distance I travel. I'm currently using a Fitbit to track. Most would be familiar with tracking devices but in case not, you wear it discreetly on the wrist, just like a watch, and it monitors your activity throughout the day. It's made me realise that one of our walk routes around the estate is not as far as I had previously thought (that, I have on occasion been short changing my dogs in the walk department!). Also by setting and meeting a target, say 10,000 or 15,000 steps a day, I am consistently getting more activity. Reaching my target and being accountable with my family, who also use the devices, is all the impetus I need to walk a bigger block or route. And Keiko and Summer are never going to complain about extra walkies.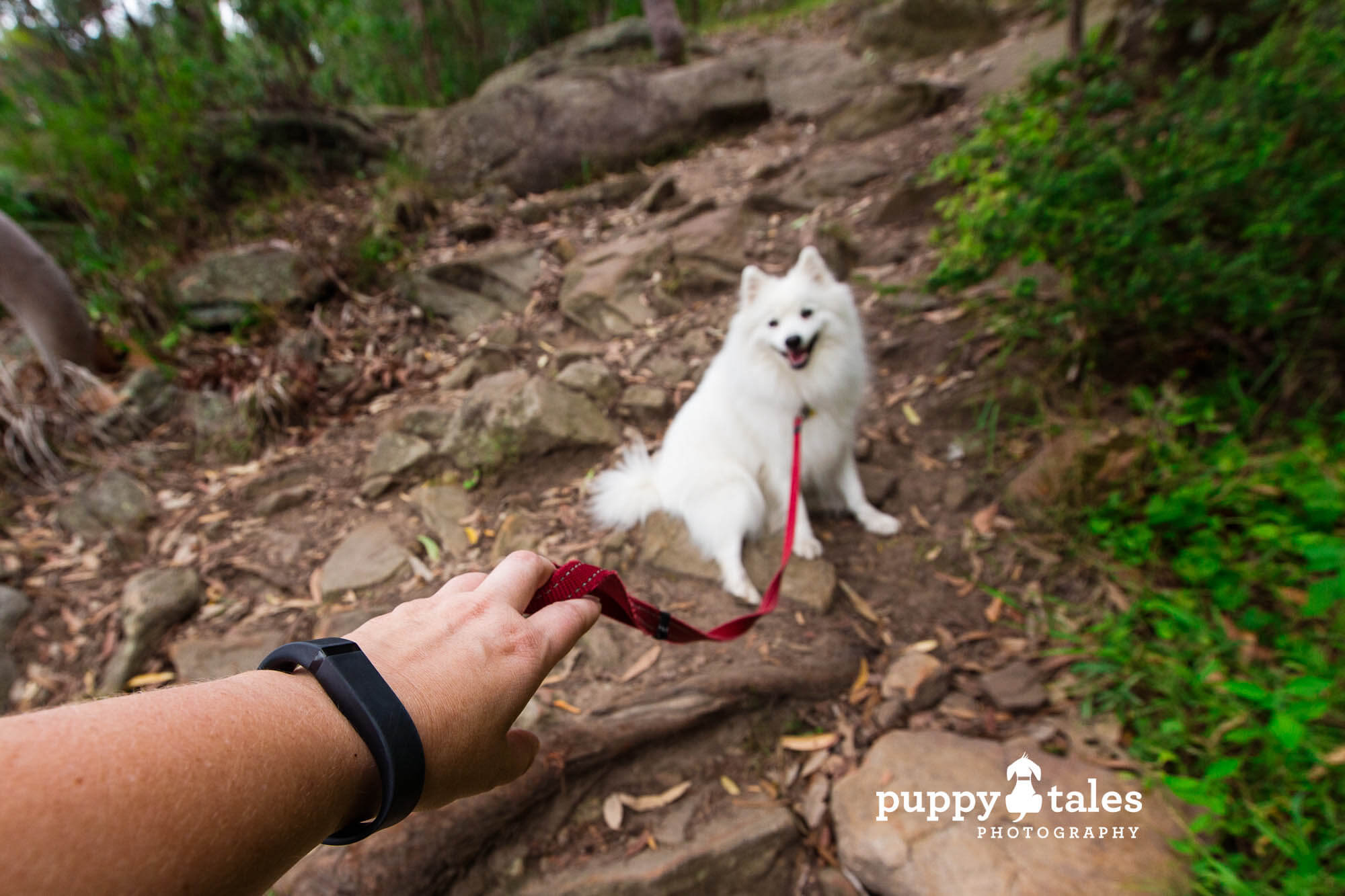 Of course the morning may not be the best time for you. The trick I've found is to work with suits you but make it a habit or routine. This removes there being a choice or decision to make, which means that walk is more likely to happen than otherwise.
A Standing Desk
I've read somewhere that "sitting is the new smoking". What is meant by this is that inactivity is potentially as bad for our health as cigarettes. For some people this might be because of poor circulation or weight gain, but for me one of the most noticeable affects is that my lower back that suffers when I sit too long at a desk.
To reduce the amount of time I spend sitting, I started using a standing desk. And yep, a standing desk is just that: a raised workstation which you stand at. I have the the large 48″ Varidesk which accommodates my dual screen computer set while being easy enough to move up to a standing position and down to a seated work position. The advantages of standing to work are improved posture (much more upright) and it encourages move moving around while working.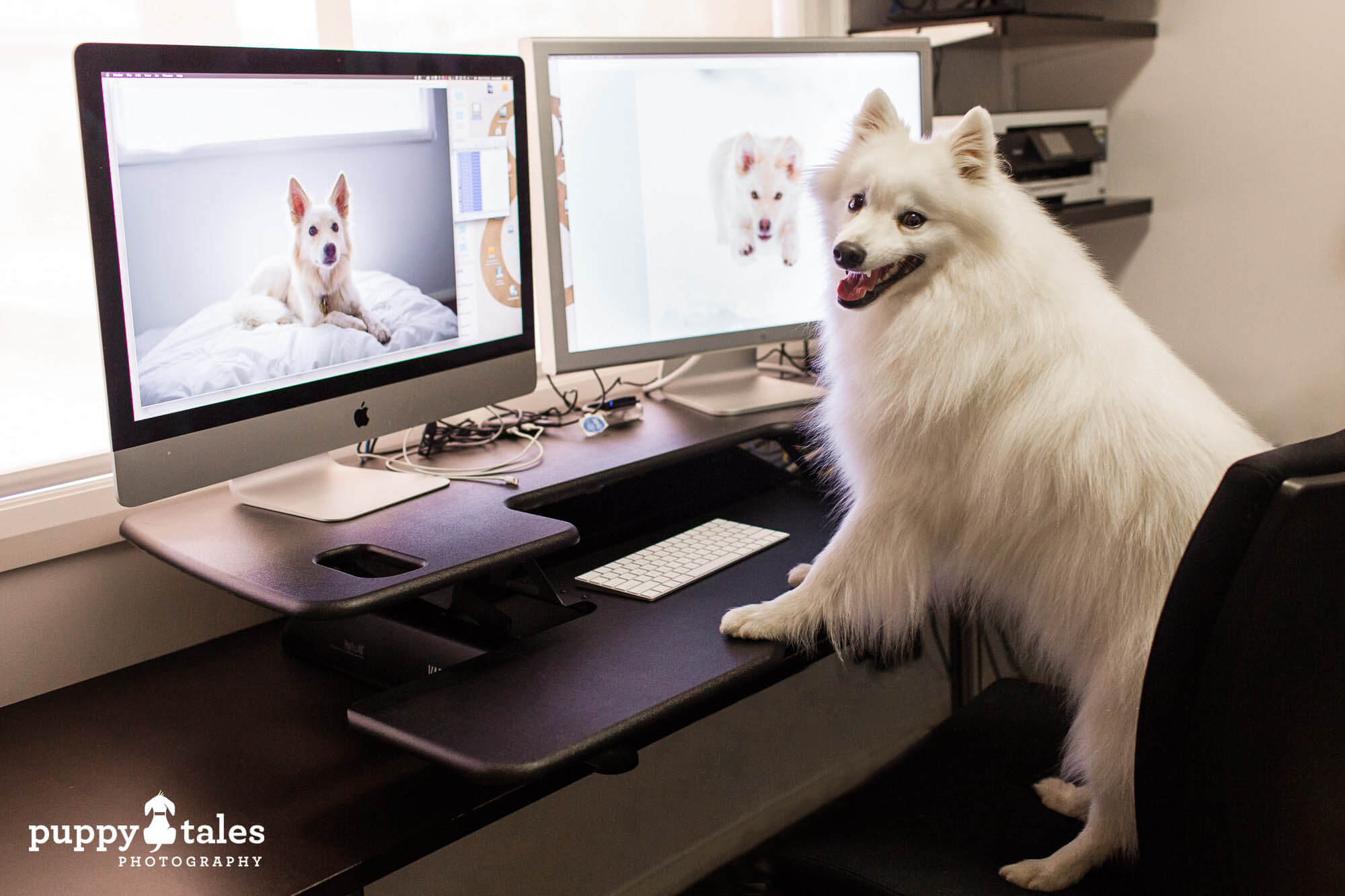 Has it helped me? Indeed it has. Not only has it reduced by back pain, but I've also unexpectedly discovered it makes me more productive and focused. Getting more done in a shorter amount of time, means the more time I have to spend with my dogs. Great news.
Training Breaks
I'm also becoming more intentional with how I plan my time each day to ensure that dogs have all that they require ~ instead of trying to snatch time during the day for some training, I'm deliberately taking a break in order to train. I've found 10 – 15 minutes, once or twice a day works well for Keiko, Summer, and I. I identify a time in my calendar as part of planning what the day ahead will entail and set an alarm on my phone to give me a little reminder. Summer, especially as a one year old, has benefitted from this training time each day.
It's just the right amount of time to have fun with obedience and trick training for the dogs (but without over taxing them) and it's a change of pace for me which helps with concentration when I go back to work. As well as keeping me moving, I get the feel-good factor of a rush of endorphins when the dogs learn something new and I realise just how amazing they are.
Online Shopping
This is all about being clever with time; we only have a finite amount so make every second count. Of course this idea is nothing new, and ordering our shopping online is hardly groundbreaking today. But have you considering the time and effort it takes to plan a healthy menu for the week?
Summer thinks any delivery that arrives is for her, even when it's not!
So you've probably guessed by now that I'd rather be walking the dogs than in the kitchen, which is where Hellofresh comes in. I subscribe to their weekly meal box which provides me all the ingredients for a variety of meals. As a non-foodie it takes the hassle out of menu planning as it tells me what to cook; many of the meals are new to me and I'm constantly surprised by how good they are. All of which means, you guessed it, more time for things I find way more enjoyable than menu planning and grocery shopping.
'Huggle' Breaks
Huggle = hug x cuddle!
Speaking of 'doing what I enjoy', standing while I respond to emails or not, it's important to stay connected with the important things in life. For me, this is about having the time to just connect with Keiko and Summer, so that amidst a sea of emails I don't lose sight of the here and now. This is great for the dogs, great for my mood, and it keeps me sane.
Dog Hikes
Taking proper care of your dog's needs means getting out and being active. Apart from all those feel-good hormones released when you see your pet, exercise with your dog is a great way to benefit your blood pressure and stay fit.
Sunday is my must-take day off (it must be spent away from the computer). I often use the day to head out on an adventure with the dogs – visit somewhere new or go on a hike. I love exploring new places and we all benefit from the experience. It's often a chance to catch up with dog-loving friends and family who join us. It's often the highlight of the week and a whole load more healthy than coffee and cake.
Several times a year we also join like-minded dog people on group hikes when we can – they are a lovely way to meet and make new friends.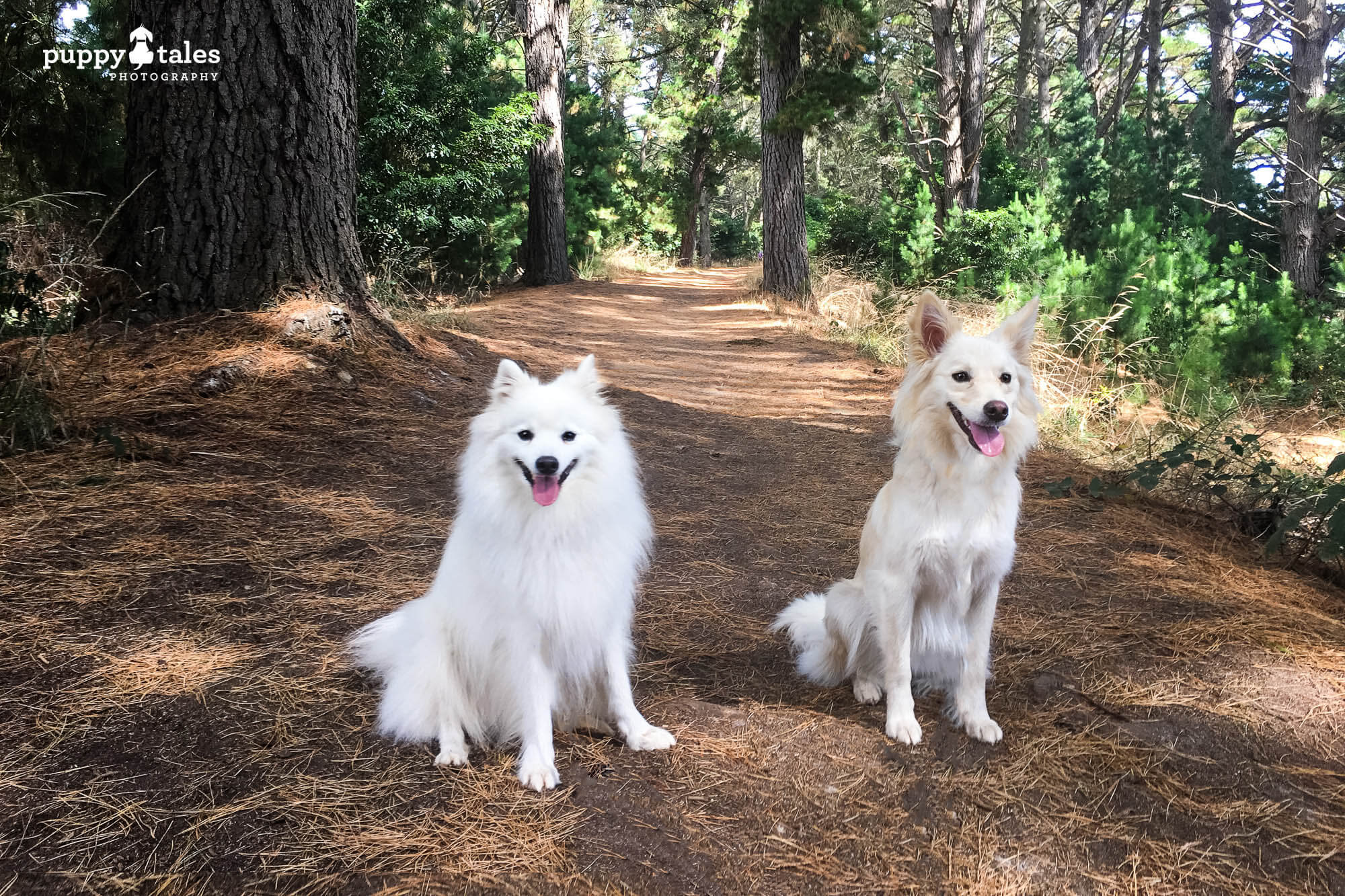 Doggy Business
One of the perks of my job is that it's dog-centered, as are many of the businesses I work with. This means similarly minded four-legger business owners are often happy for any excuse to grab a leash and hold a meeting whilst walking. The dogs get out & about, and the business is more relaxed. For those time when I need to take notes, I use apps like the voice recorder on my phone to record the important details. Although sometimes it's not practical to do business this way it has great paw-tential when the opportunity arises.
I'm a bit obsessed by my dogs, and any fit n' healthy regime I sign up to needs to involve them.
What about you? Have you any sneaky-tips for combining keeping healthy with hounds, or staying fit with Fido? I'd love it if you left a comment and share your ideas with us!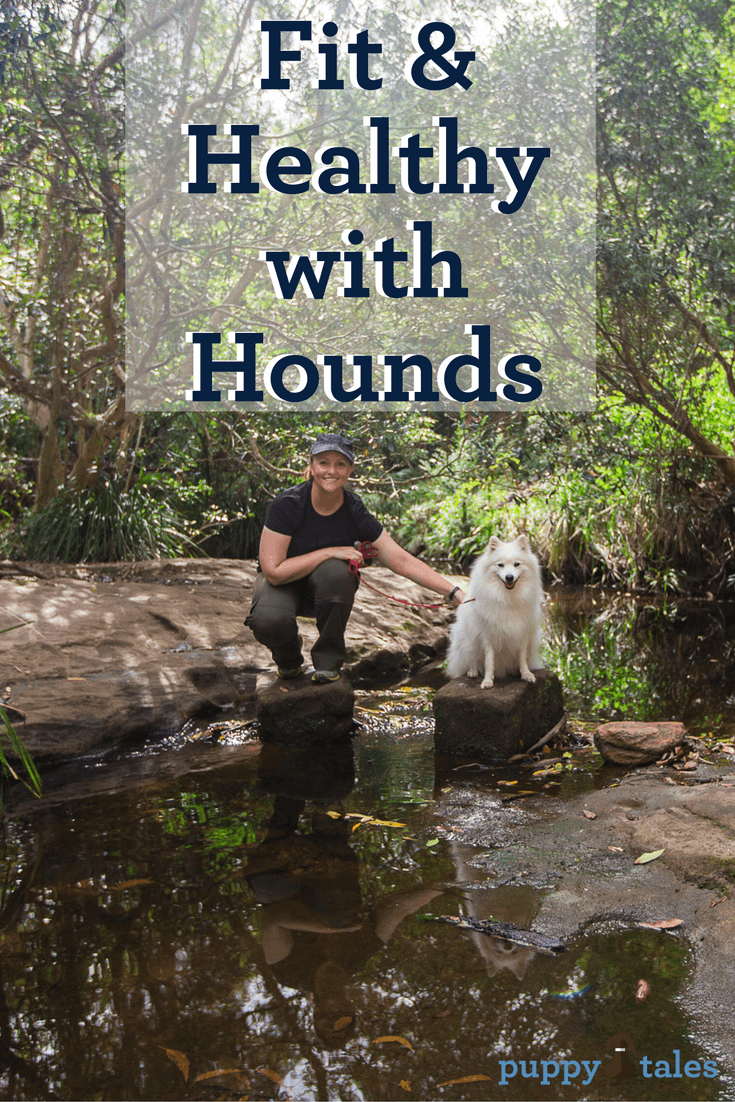 <——— Pin for Later