First Aid for Dogs – General tips
If you are a dog owner, this is an important article.
It gives you an idea of how to perform basic first aid, what to do/not to do in an emergency situation and a few useful things you can have in your first aid kit that may be beneficial in an emergency.
Because accidents can happy at any time it's important to have an understanding of what to at the time – familiarising yourself with basic first aid for dogs will help prevent any further injury to the dog, avert an even more serious injury or illness and may just save their life.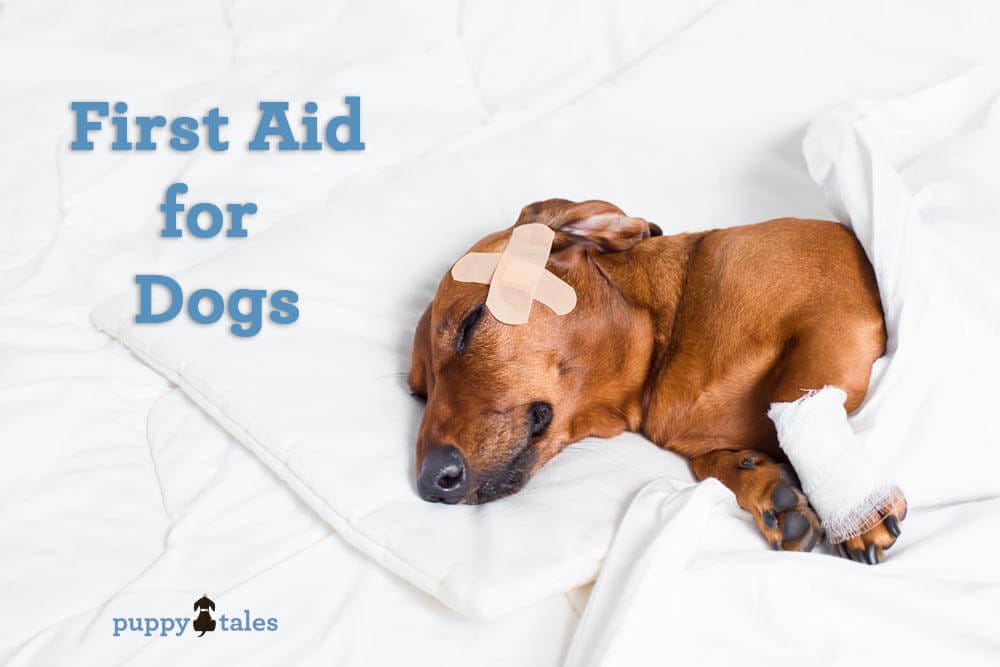 Tips to remember in any Dog First Aid or Emergency Situation
Before going into details of how to handle specific First Aid for Dogs situations, here are a few tips to remember in every situation:
Always stay calm, as your dog may pick up on your anxiety only making things worse.
Remember that seconds or even minutes make very little difference to the outcome for your dog. Therefore, firstly ensure that children, other pets and people surrounding any accident are safe.
Never give human medications to dogs!
Call the vet when you are on your way as often they can get a few things ready for your arrival.
Beware that a dog that is in pain or seizing can behave irrationally. Take care to ensure your own safety!
A Dog First Aid Kit
A few useful things to have on hand in your car and in a pet first aid kit:
A blanket – this is useful in many situation, for example as a stretcher or for warmth.
Some non-adherent dressings, for example melolin. These are great to apply to wounds to keep them covered on the way to the vet, or to apply as a first layer when a wound is bleeding.
Silver nitrate sticks are useful for bleeding nails, including if you accidentally cut a nail too short.
Gloves, to apply medications or treat an infected wound.
Scissors.
Sterile gauze swabs – to apply to bleeding wounds.
Saline – to flush wounds or treat minor wounds.
Dog-Proofing Tips for Your Home
As you know – prevention is better than anything. Here is a useful list to help you keep your dog safe:
Ensure any toxic substances are in a locked cabinet, especially things that are designed to be palatable such as slug bait and rat bait.
Ensure human food items are in a place your dog can't get into – for example, place chocolate well out of reach.
Never give your dog a human medication without checking with your vet as many are toxic to dogs.
Never apply a cat treatments to a dog, unless the product specifically states that it is safe to do so in the instructions.
Be careful that breakables are also out of your dogs reach, so they don't knock off a glass then jump around in the carnage
Ensure your dog can't get into your garbage. This is a common presentation to the vet! If dogs ingest too much of a fatty food or something indigestible it can lead to gastrointestinal upset, pancreatitis or foreign body intestinal obstruction
Ensure that the only thing your dog chews on, is a dog toy or treat. Anything else should be considered a hazard unless you are certain it can do no harm, for example plants that have not been identified, rubbish, indigestible items, string. This is especially true of puppies who tend to chew everything in sight! The best way around this is to provide many safe items to chew and reward them for doing so.
Read the label for any insecticides or product you are going to apply in your dogs yard or give to your dog.
First Aid for your Dog
Knowing how to undertake a basic examination of your dog at home is particularly useful. If you know what is normal for your dog, then it can be much easier in an emergency, or any situation, to know if they are unwell. Learn more:
The type of emergency situation you may encounter with your dog or find another dog in varies. Below are links to specific guidance for the different emergency situations:
First Aid and emergency care for your dog should never be used as a substitute for veterinary care.