Ever wondered why a "bucket list" is so-called?
The answer arises from the expression: "To kick the bucket" ~ meaning to die.
In other words, a "bucket list" is things to do before you die. (The origin behind the expression "To kick the bucket" is a whole separate blog post!)
Our Keiko has had a bucket list that he's been working his way through for a couple of years.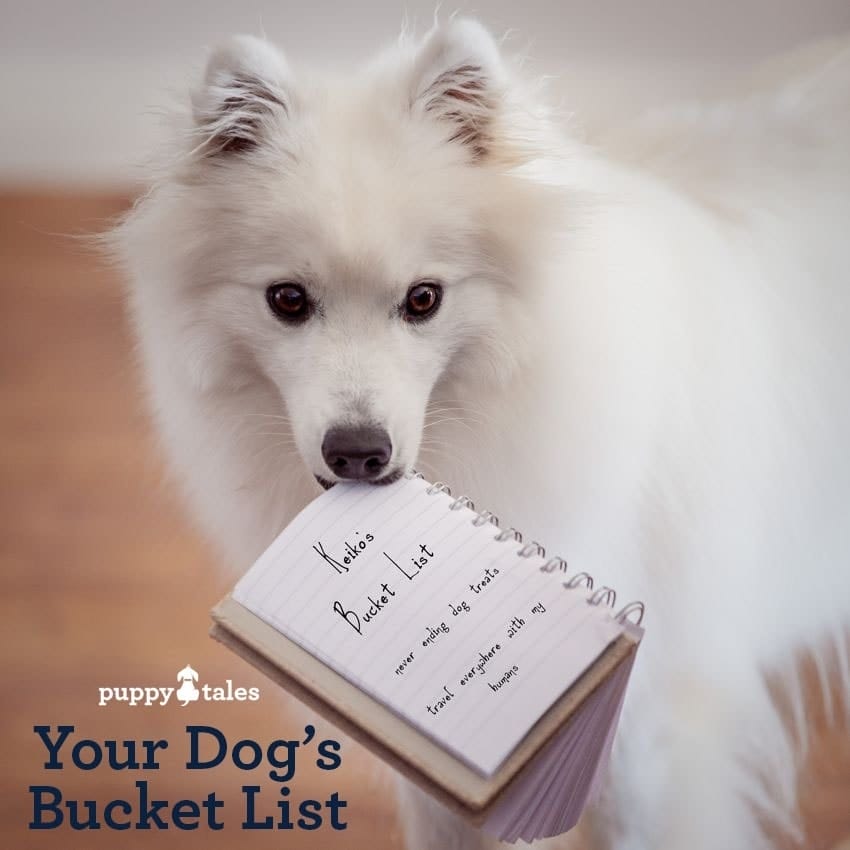 When we were last away, though, it dawned on me that we had yet to prepare a dog's bucket list for our newest furchild Summer.
As I set about doing this I thought that I could share our thoughts and ideas….. and also the beautiful template I created – which you can totally personalise for your own dog's bucket list!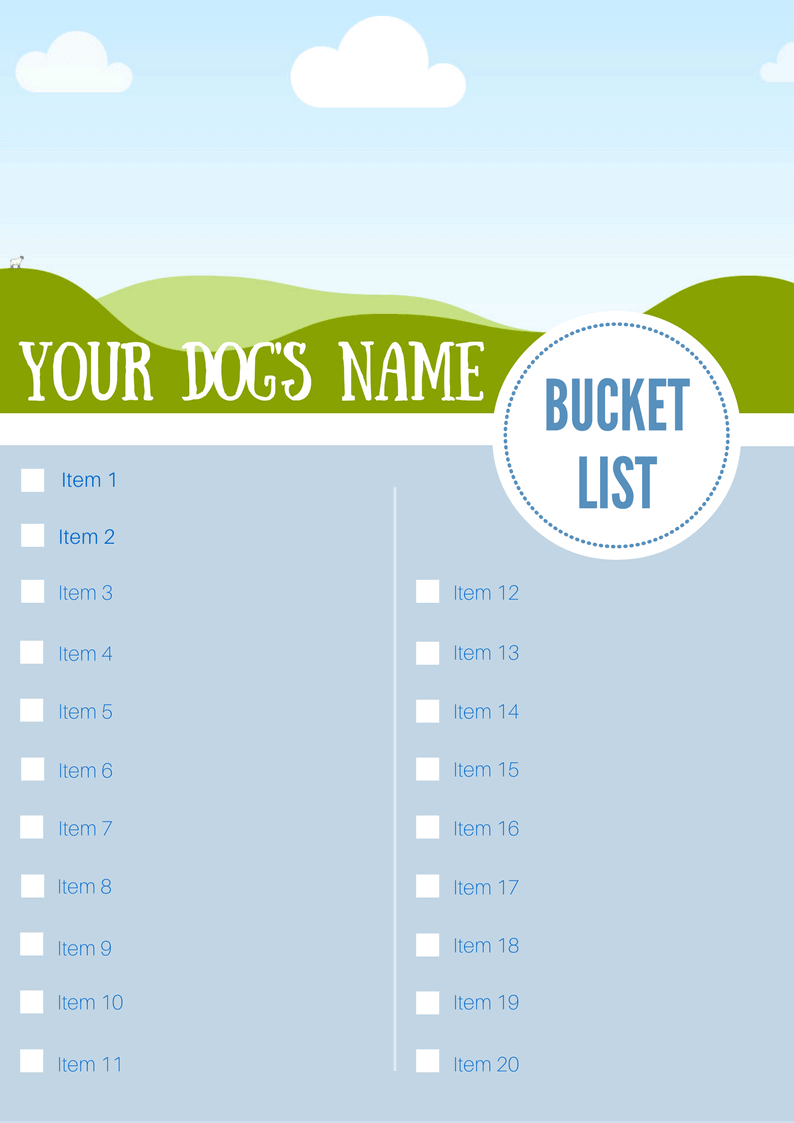 Why have a Bucket List for your dog?
Ever noticed how quickly time passes? One day you pup could cuddle on a cushion, now he spreads over the whole sofa.
A bucket list focusses the mind and helps you make the most of those precious, but all too fleeting, years that you have together: Think of it as a checklist for sharing experiences and having fun with your furry shadow, so that you both live life to the full.
Of course, make sure the emphasis is on doing things you dog enjoys. Whilst skydiving and white water rafting may be high on your bucket list, they're more likely to make your four-legged friend turn grey rather than give them sweet dreams.
A Sense of Satisfaction
Creating a bucket list for your dog is a great way to stretch your imagination and make sure your dog doesn't miss out on the rich variety of possibilities that life has to offer.
A bucket list is a challenge and a way of avoiding getting stuck in a rut, taking that same familiar walk morning and evening, day in and day out. It means you are never short of ideas for what to do next, plus there's a sense of satisfaction for having seen or achieved the next item on your dog's list.
As the old saying goes, "It's not about the destination, it's about the journey". This is also true with your dog's bucket list. By going new places and having an adventure you learn more about your dog and grow closer, plus you both get to meet interesting people and dogs you wouldn't otherwise meet.
Having a bucket list is also about having fun, with a furry "F", and not wasting a moment on regret for things not done. Live life so that you can look back and say your dog led a truly fulfilled and active life.
Doggy Do's are for All Ages
But if a bucket list strikes you as a ticking clock, something for an old dog marching down towards the end of life, remember this is something for all ages. Don't wait until time is limited to fur-fill those long held ambitions, start when your dog is a youngster for a truly adventurous journey together.
Think "Dog"
OK, so you're raring to go and about to grab your wetsuit to take your dog surfing.
STOP.
Ask yourself if you pooch is really going to enjoy catching a wave or is it going to scare him witless? It's important that all the activities are truly dog centric and not an extension of your own wish list. (And it's absolutely fine to have your own bucket list.)
Sit down and think "Dog".
So you've just thought of the most epic idea, now there are the practicalities to consider. For instance, you don't want your hi-jinks landing either of you in danger, so before putting your dog on a skateboard and strapping a leaf-blower to his back, make sure you have the following taped:
Does it put my dog in danger?
Does it put other people or dogs in danger?
Does it contravene local law?
Does it comply with responsible pet parenting?
Would my dog enjoy it?
Most importantly, if the activity isn't going to cause your dog's tail to wag with delight, then ditch the idea.
Also, book a visit to your veterinarian for a full overhaul of your dog's health before you start. If you have any particularly outlandish plans, such as feeding him hamburgers for a week, have a chat to your veterinarian to see if it's advisable (which the hamburger diet definitely isn't) and that your dog's health won't suffer as a result.
In other words, match the bucket list activities to your dog's age, fitness levels, and personality. Remember, a short meaningful list is much better than a long, poorly thought out one.
OK, so enough health and safety, let's seek some inspiration.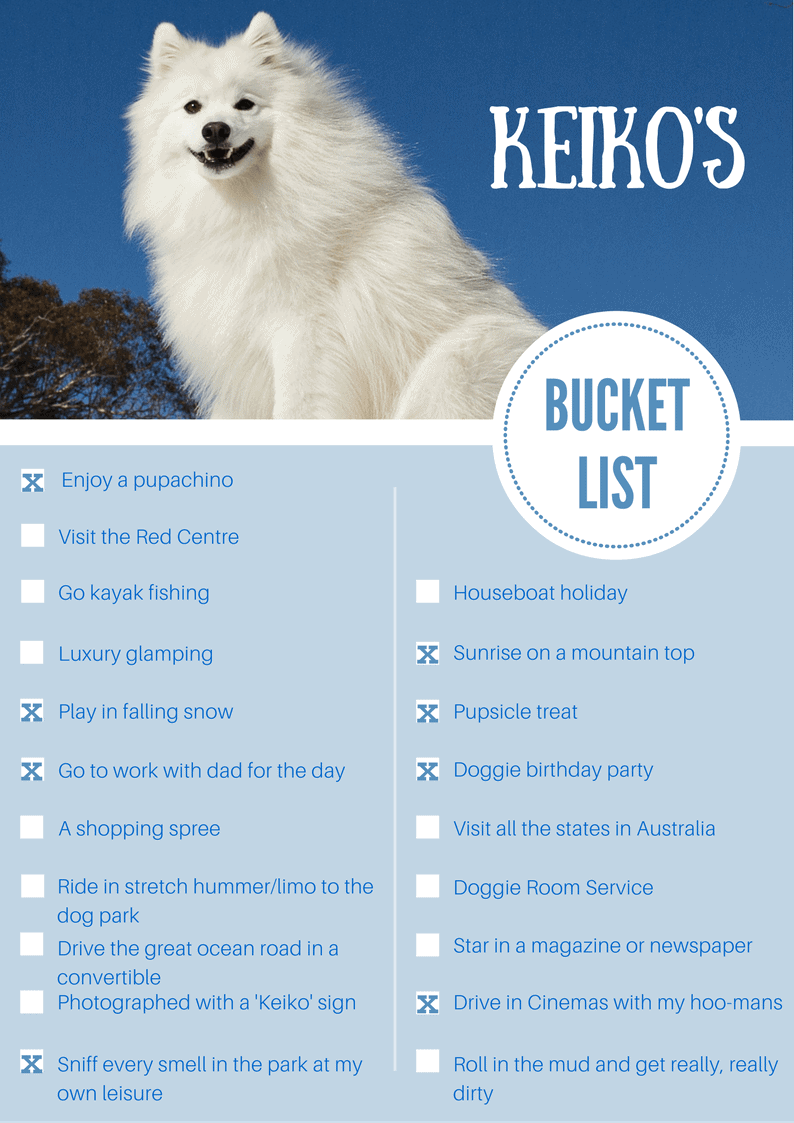 Bucket List Top Tips
Consider what makes your dog tick and use that as a starting point. Here are just a few ideas to get your creative juices flowing. You know your dog best, so sit down and brainstorm what he loves most, be that sniffing, eating, playing fetch, or meeting people.
For example, if your dog is highly food motivated you might have "gourmet" or "eating" bucket list items.
Eating
Alphabet Eating: Eat food beginning with every letter of the alphabet
Angus steak
Buffalo
Cheese straws
Duck meat
Eggplant
Try food originated from 7 different countries (or in 7 different countries depending on where you live!)
Sample Sushi
Try Icecream in 10 different flavours
Have breakfast in bed…with the hoomans!
Become a pet treat taster
Other themes or ideas to consider include:
Travel
Visit every park in the district
A snow dog experience
Go sailing together
Go on a dog inclusive holiday
Take part in a dog treasure hunt
Go camping together
Be photographed in front of 10 famous landmarks
Visit all the states in your country
Go swimming in the ocean (with the dolphins?)
Experience 5 different types of transport
Visit 10 towns beginning with the same letter as their name
Ride in a police car or a fire engine
Stay in a luxe hotel, inclusive of doggie room service
Take a boat ride
Be a Doggy Star
Star in a calendar
Appear in a published book
Be featured in the newspaper
Become a mascot
Star in a tv commercial
Appear as an extra on TV
Meet 5 dog-loving celebrities
Social Challenges
To track down and meet up with all your dog's littermates
Go with you to work with your hoomans.
Learn 10 paw-some tricks
Wear fancy dress
Go on a blind date with a dog of the same breed
Watch movies starring dogs
Teach your dog a job to do (perhaps fetching the TV remote).
Celebrate his birthday in a different way every year
Date night at the Drive In
Doggy Playdate in your favourite park
Experiences
Have a pawicure
Try trampolining
Try a class (agility, flyball)
Roll in the mud and get really, really dirty
Visit a luxury dog spa (maybe after the mud!)
Attend a religious dog blessing service
Go with dad to a "Yappy Hour" in the pub
Take part in a parade
Build a sand sculpture (or dig on the beach)
Attend a sporting event
Try dog inclusive fitness or dog yoga
Master dog wake boarding
Go on a picnic (with roast chicken for dinner)
Race through sprinklers or play in a water fountain
Achievement
Undertake a sponsored dog walk and raise money for the local shelter
Share their love by becoming a therapy dog
Learn to dance
Win a dog ribbon or prize
Paw-some Memories
A photography session starring your best buddy
Make a paw print stepping stone
Commission a work of art
Plant your a tree in your dog's honour
Social Media Challenge
Post photos of your dog posing with dogs from 20 different breeds
Get 50,000 likes for a YouTube video of your dog
Get your dog's Instagram or Twitter account followed by 5,000 people
Post photos taken of your dog in 30 different locations
Receive mail addressed to the dog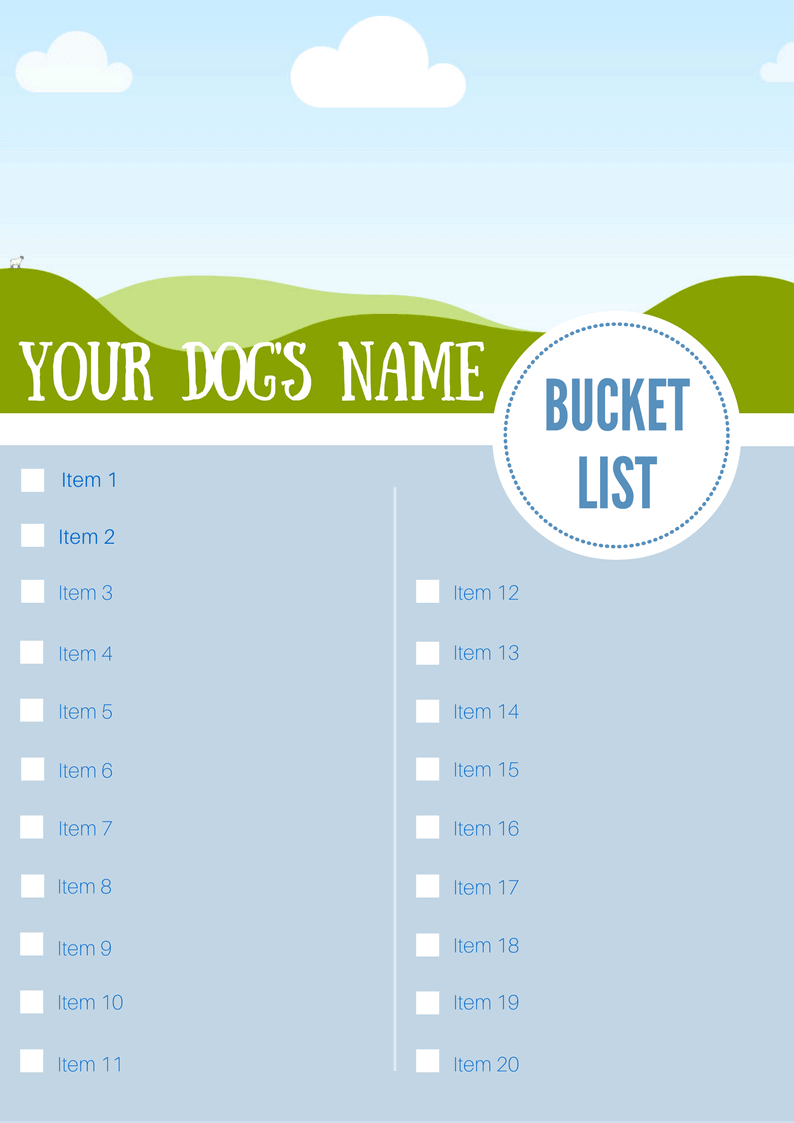 I'm sure you get the idea and have some great items to add to a bucket list for your own dog.
If you're itching (like a dog with fleas!), to get going with a bucket list, I've created a fabulous template in Canva to help you. You can personalise the template with your own dog's name, photo and bucket list items.
When you've done so feel free to pop back over and share in the comments what you create for your dog with us – we'd love to check them out!

Kerry is 'Top Dog' here at Puppy Tales. With her own adored dogs, she completely gets that your four legged furry buddy is absolutely part of the family. That they sleep on the bed, that you want to take them everywhere, that you plan holidays so they're included & that their presence makes your life incredible.