While Phillip Island is well known for the Grand Prix circuit and the Penguin Parade that happens every night at Summerland Beach, when the Little penguins all come ashore in groups, it can also be a very dog friendly destination. There is so much to do on this little island just 2 hours drive from Melbourne. Of course the big draw is the beaches with their beautiful low tides and spectacular sunsets, but there are also some great walks and even a hike with some of the best views of Bass Strait to be seen. We have lived just over an hour away and have not taken our dogs here until now, and now we plan to be back whenever we can!
About Phillip Island
Phillip Island is an island located 140 kms south-east of Melbourne. Named after Arthur Phillip, the first Governor of New South Wales, it forms a natural breakwater for the shallow waters of Westernport Bay. The earliest inhabitants of Phillip Island were the Yalloc Bulluk clan of the Bunurong people, indigenous Australians of the Kulin nation. With their coastal territory and sheltered bays, the Yalloc Bulluk would have been the first Victorian Aboriginals to have contact with European mariners.
Following reports of seals in the area by George Bass and Matthew Flinders after their 1798 exploration the island being frequented by sealers from Van Diemen's Land. In 1841, brothers John David and William McHaffie, were granted Phillip Island for a squatting run. Together with later settlers, they introduced animals such as pheasants, deer and wallabies to Phillip Island.
The permanent residence population of Phillip Island is around 9500, but during the summer period this swells to over 40000. While only 26kms long and 9kms wide, it feels bigger than it is. This is due to 60% of the island being farmland used for grazing sheep and cattle as well as a large area being dedicated to National Parks or the Phillip Island Nature Park. To drive onto the island, there is a 640m bridge from San Remo on the mainland to Newhaven. Other notable settlements on the island include the main town of Cowes, and smaller villages such as Rhyll, Ventnor and Surf Beach.

Accommodation
Phillip Island is a holiday destination which means there are many types available including dog friendly options. We have stayed at Verandah Retreat in Cowes, just 300m from the beach and a 10 minute walk into the main street of Cowes. You can check out our Dog Friendly Accommodation guide here.
If you find that Verandah Retreat is booked out when you and your dog would like to visit Phillip Island, then you can try Mackaloucoo Retreats. A large house set on large lot, you will feel like you are in your own private resort with your own lagoon, a hot tub, large all weather entertaining deck with open fireplace, a games room and gym.
Just 300m from Cowes main beach, awaits the stylish retreat of Holmwood Guesthouse, set amongst a cottage garden. Holmwood gives guests the choice of accommodation with a bed and breakfast cottage, 2 self contained spa retreats and a loft apartment on offer.
Travelling with your tent or caravan, then give Cowes Caravan Park a try! They have caravan and camping sites located right on the beach with camp kitchen throughout the park and plenty of amenities to cater for the large numbers in the summer period. If you are bringing a boat, then the boat ramp is only 200m from the park.
Things to Do
Beaches
There is plenty of beach areas to walk your dog with two designated off leash areas, one on Phillip Island and the other in San Remo. All other areas either have restricted timings with dogs having to be on leash or dogs are prohibited due to the area being in a protected area. The map below shows the timings and restricted areas, plus it has other information concerning the beaches of Phillip Island. The beaches that are dog friendly are absolutely fantastic for getting out for a paddle with your dog. They are all on the northern or eastern side of the island and as such, are protected from the conditions and swell that comes up from the south.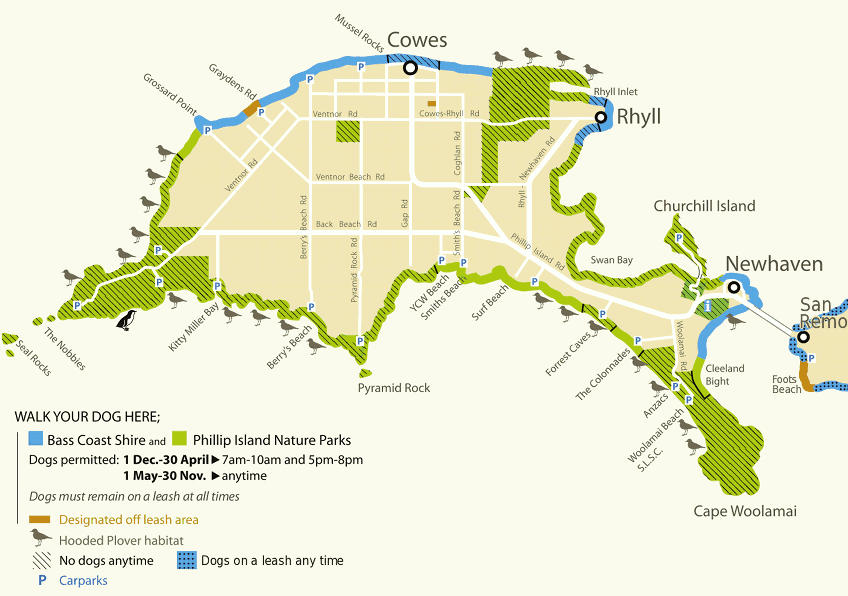 This makes them perfect for getting out on a Stand Up Paddle Board, going for a kayak, or just swimming in the shallows. You can hire a number of watercraft from Island Aqua Rentals including Stand Up Paddle Boards, Kayaks and Aqua Bikes. They set up at Erehwon Point (nowhere backwards) and are ideal for catering to a family's needs due to their large selection of water craft.
With the geographic location of the island and its beaches, it is in the unique position to be to offer both sunrise and sunset views from the same beach. Sometimes it is just what the body needs, to be able to stop and watch nature's beauty just happen.
With Phillip Island providing great access to both Westernport and Bass Strait, it makes for a fantastic fishing spot if you are inclined to wetting a line or have access to a boat, with a number of boat ramps across the island.
Walks
You can pick up brochures from the Tourist Information Centre on Phillip Island Road just 1 km from the bridge, for a number of walks which can be completed with your dog. Of note, there is a historical walk of Cowes and Newhaven. Highlights from the Cowes walk include:
St Phillips Anglican Church built in 1870 on Thompson Avenue
Lover's Walk along Cowes beach
The Esplanade along the beach to Erehwon Point
Hikes
George Bass Coastal Walk is located on the mainland just past San Remo, but well worth the drive across the bridge to take in the spectacular views from the clifftops over Bass Strait. It is a 7km trek one way along a narrow strip of public land consisting of slashed grassland and can be slippery at times, so sturdy footwear is highly recommended. You will be accompanied through this hike by farmland on one side and the Bass Coast on the other. Ensure you leave yourself about 4 hours to complete the round trip between San Remo and Kilcunda. Unfortunately, the beaches along the walk are unsuitable for swimming due to strong currents and undertows, but you still have access to Half Moon Bay and Sandy Waterhole at low tide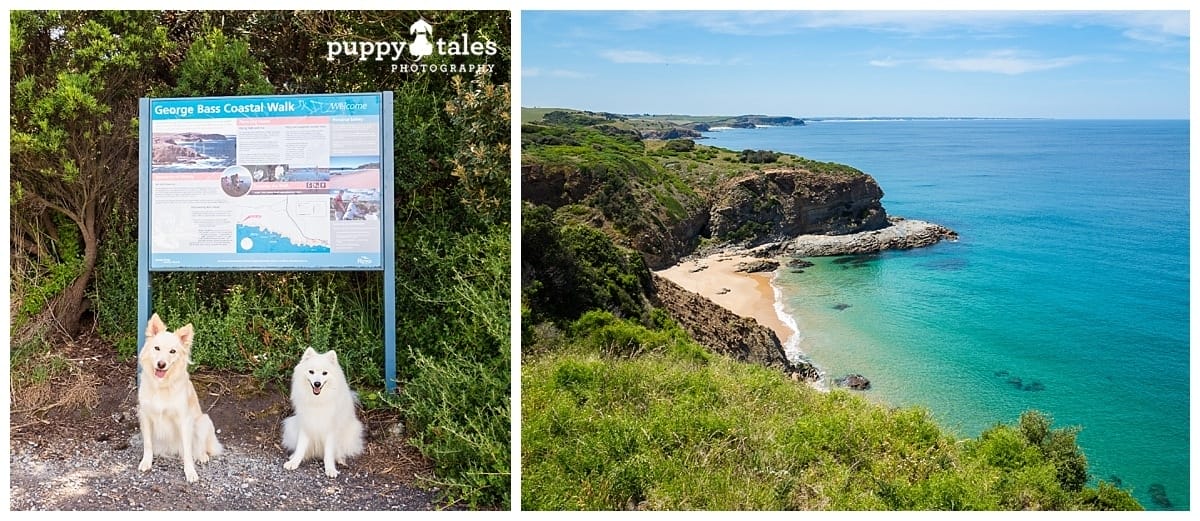 Markets
There are a number of open air markets held on Phillip Island. Check out the complete calendar of markets on Phillip Island and the Bass Coast so you can plan your shopping adventures. On the island these include:
Churchill Island Farmer's Market
Cowes Island Craft Market
Cowes Market on Chapel
Cowes Night Market
Rhyll Twilight Market
Dining With Your Dogs
With Cowes being the beachside village that it is, there are plenty of cafes with outdoor seating, allowing you to enjoy a meal, coffee/tea and cake, or a milkshake made with local milk while your dogs sit beside you. We found that was also the theme throughout the other villages on Phillip Island. Check out our list below of those that we have been to and need to return to.
Family owned and operated restaurant, operating since 1972 in the centre of Cowes providing fresh, good quality Italian food. Homemade pasta and wood fired pizza plus all the seafood options you would expect in a seaside town. Beautiful ocean views with dog friendly seating available on the balcony.
This place looked amazing with a great menu, but was unfortunately closed when we were there. We will visit it next time…with all day waffles how could we not! Offering a breakfast and lunch menu with dining experiences for dinner when advertised. There is outdoor seating available for you and your dog to sit to enjoy the range of authentic Danish food on offer.
Cafe style dining located on The Esplanade serving up breakfast and lunch as well as stocking a foodstore of local produce. It's where great food and drink meet beautiful coastal views.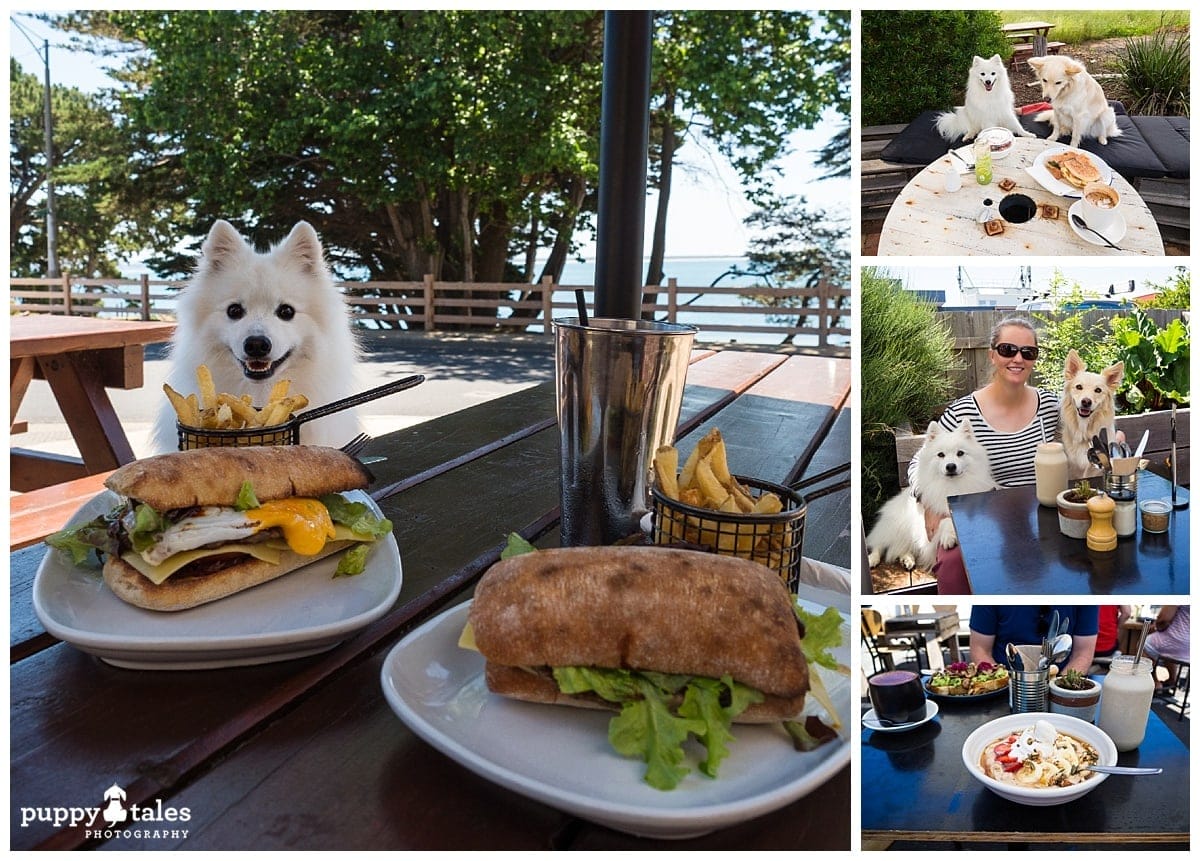 Organic plant-based whole foods offering breakfast, lunch and snacks as well as smoothies, coffee and tea. Their range of sweets look delightful and will leave you questioning if they are all healthy. Great dog friendly bench seating outside so your dog can sit next to your if you like, under sun shade umbrellas.
Serving up a range or Gelati and coffee for the last 20 years. Just perfect for a warm day or to round out a night. Large variety of flavours to choose from, which will leave you wanting seconds with gluten and dairy free gelati available.
A small dog friendly area is available if you can lift your dog over the barriers, which are about chest high. Once your dog is in the area, the staff are friendly towards them and offer water bowls for your dog.
Small cafe style eatery providing locally sourced meal options. Dogs are welcome with a nice area to sit in which is covered by a big tree. Well known for their sourdough, but grab it early as they sell out each day. There is also Phillip Island Meats located onsite to purchase dinner to take with you.
From flathead and flake to scallops and squid. They provide fresh seafood from local waters around Phillip Island, Lakes Entrance and down to Tasmania. You can grab some of the day's catch, and cook it up at home. If you want, they can also cook your Crays to order and shuck your oysters!
Fresh fish and chips, seafood platters and other dishes from the sea can be enjoyed while watching the many fishing boats come and go. You can also pick up packs of fresh shark's cartilage for $5 for a 500g container or 3 for $12 to give to your dog.
Fish and Chips
As you would expect in a place that is so close to the ocean, there are a number of places to get take away fish and chips and a wonderful grassed area at the beach at Cowes to enjoy it.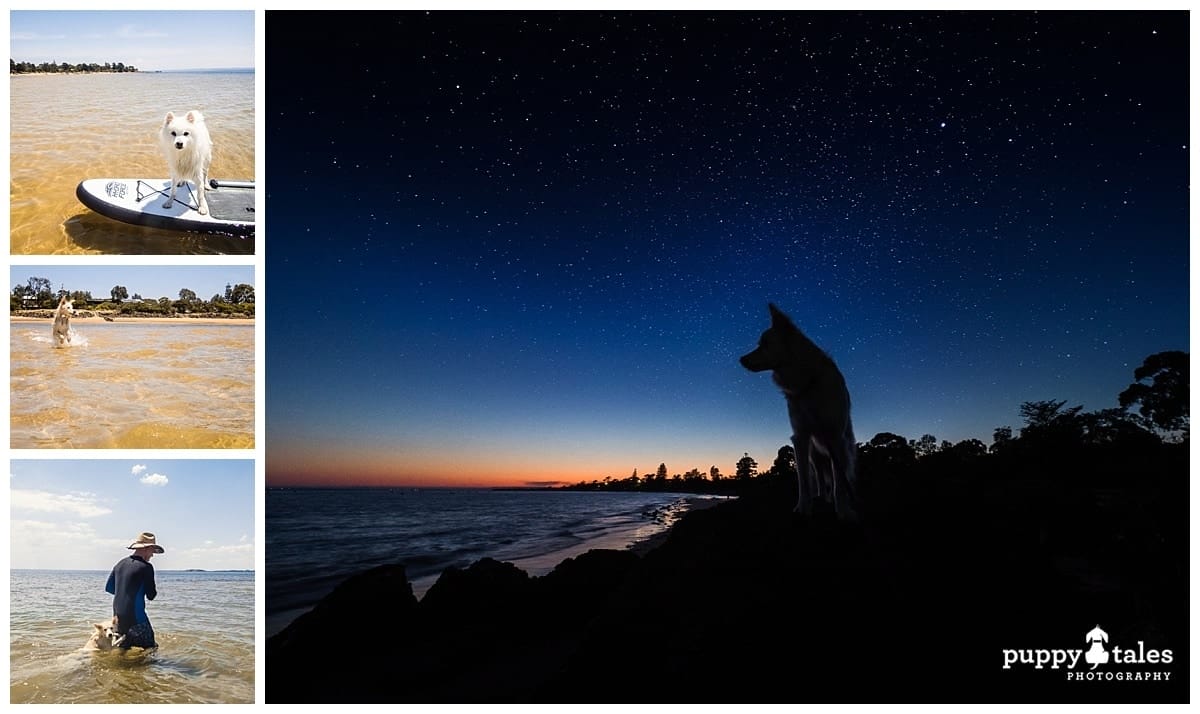 Further Information
There are 2 vets on Phillip Island should your dog need some medical assistance. There is Cowes Veterinary Clinic and Phillip Island Veterinary Clinic located in Newhaven.
Phillip Island is home to a variety of wildlife which require protection. Due to this, a large portion of the island is protected including many reserves and beaches which prohibit dogs. Remember to check the local signs as you go and for planning and the information on the beaches of Phillip Island.
You can also find further information at the Phillip Island Tourism website.
We visited Phillip Island in December 2017. Information and services available may have changed since them. Please call ahead and confirm availability, dog friendly-ness and other information prior to visiting yourself just to ensure that you too have a wonderful trip!