Perched on a headland on the south coast of New South Wales is the dog friendly fishing and surf village of Bermagui. As well as the surf beaches and inlet, there are also some fantastic tidal lakes that have calm waters and provide a sheltered area from the coastal winds for you and your dog to cool off or to slowly cruise the waters. There are also some great coastal walks if you want to stretch out your legs a little too.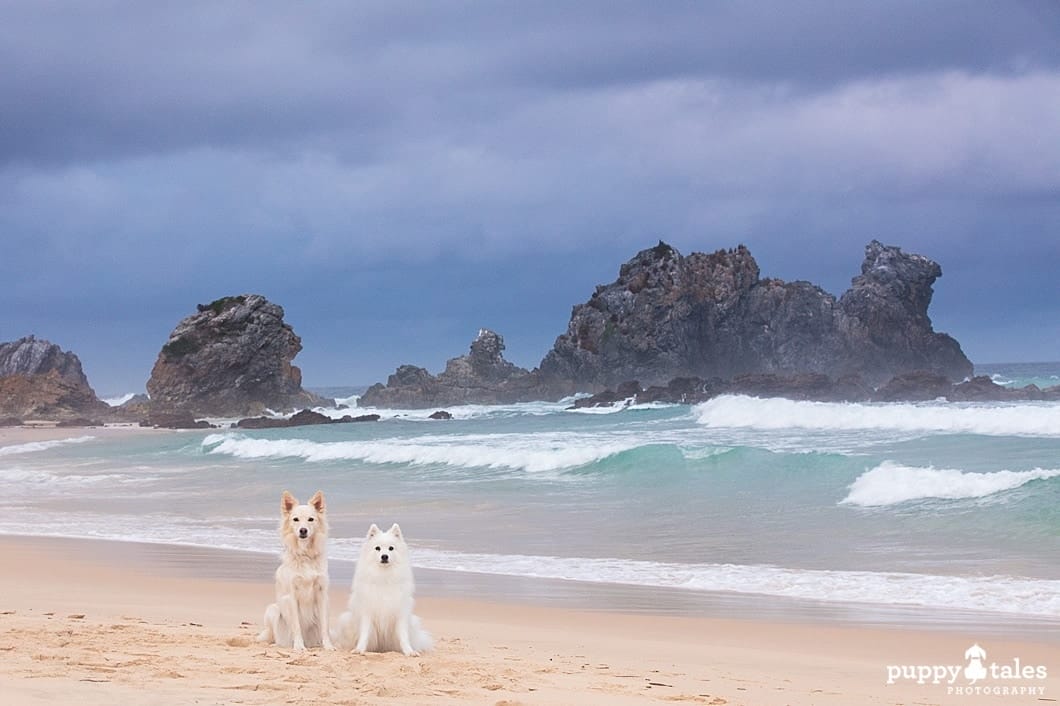 About Bermagui
Located 390km south of Sydney along the Princes Highway, Bermagui makes for a wonderful Dog Friendly Destination for a coastal holiday. The origins of the name are not completely known, but it is likely to be a corruption of a word 'permageua' which was used by the local Dyirringany Aborigines. The exact meaning of the word is not known although some sources claim it possibly means "resembling a canoe with paddles".
The port of Bermagui was established in the 1830 to service the farms of the region. The town was planned in 1867 and the community grew in the 1870s when a wharf was built here for coastal trade. Gold was found in the river in 1880, and within 3 weeks more than 2000 miners had descended on the fields. 4 years later, the gold rush was over. In the 1940's Bermagui became well known as a popular game fishing destination, which the town continues to thrive on today. This isdue to the Continental Shelf only being 12 miles from the port which is the closest it is to mainland Australia.

Accommodation
While in the Bermagui area, we stayed at the Big4 Wallaga Lakes situated on the shores of Wallaga Lake. It is 5 kms out of the town of Bermagui and is pet friendly outside of school holidays and long weekends. It is across the road from access to Camel Rock Surf Beach which is an off lead dog beach as well. Currently going through some refurbishments to repair roadways and upgrade facilities, it offers some waterfront positions at an extra cost as well as powered and unpowered sites. All sites are pretty close to the water and some of the waterfront sites are obstructed by trees.
On another trip to this area we have stayed at Tilba Waterfront Cottages. Set on 'Killarney' a 200 acre farm, you can fall asleep to the distant sound of waves and wake up to native birds welcoming the morning. The fully self-contained cottages on the shores of Wallaga Lake all have 2 bedrooms and sleep up to 6 with the futon sofa in the lounge room.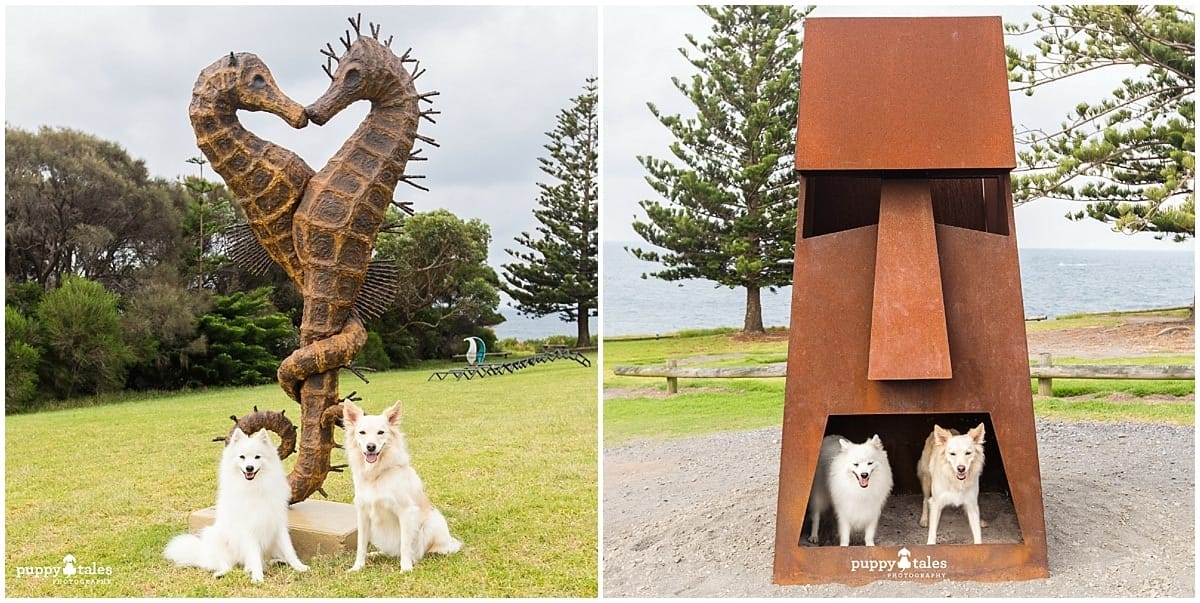 If you would like to stay further in town, then there is the Reflections Caravan Park that is on the headland of Bermagui. This caravan park also allows dogs outside of school holidays and public holidays.
Various other accommodation stays can be found through both Airbnb and Stayz. Whichever accommodation your choose to stay in remember to check what the rules are regarding your dog staying with you. Some places have strict rules on sizes and number of dogs as well as where they can go on the property.
Things To Do
Walks
Bermagui Coastal Walk – This iconic will take you past the spectacular seascapes and beautiful beaches and waterways that Bermagui has on offer throughout its 10 km one way journey. The trail is paved, gravel, sand and bush tracks throughout it's length and has many spots where we can start from along the route, so you can break it up over a couple of days if you wish. Several areas along the walk are prohibited for dogs and restricted during certain times of the year – take note of signs posted.
Beauty Point Loop – The Beauty Point Loop starts 7 km north of Bermagui and is a 2.5 km loop of easy grade. Look for a bus stop decorated with Aboriginal images on the corner of Wallaga Lake Road and Beauty Point Road. Taking you through an open grass reserve before following the shoreline, you will have magnificent views of the lake and the surrounding mountains. The lake is tidal, so there may be parts of the trail that you need to venture a little higher up the shoreline. Passing the lakeside frontage of the caravan park, the trail heads up the hill to the Montreal Goldfield tour site and then along the road back to the starting point.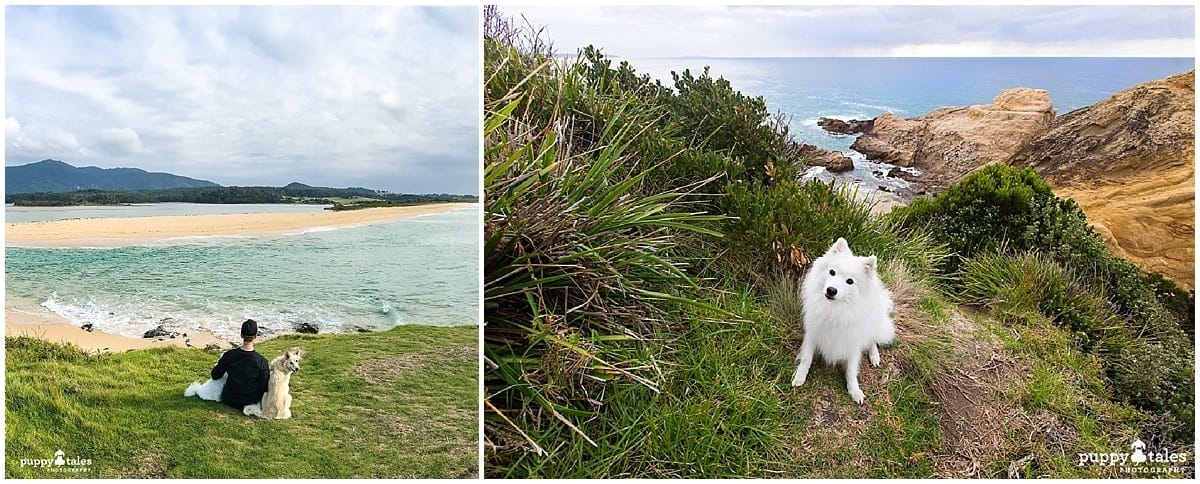 Bermagui State Forest – Travel 1.5 km along the Cobargo-Bermagui Rd and you will find an access road which leads to the Bermagui State Forest and Picnic Area. There are signed walking trails of easy to moderate grade through the forest and along the edge of Black Lagoon. Featured in the State Forest are a number of native trees as well as other native plants growing in the gullies and swamps making it one of the most scenically attractive forests in eastern Australia. You will also come across some of the myriad of native animals and birdlife that are supported in this environment.
Water Sports
In and around Bermagui, you will find a number of places where you can boat, kayak, paddleboard, and swim about with your dog. There are the calm waters of the inlet as well as Wallaga Lake and Cuttagee Lakes that are very inviting to explore. Just check the areas that you are entering as some are protected zones and do not allow dogs. Wallaga Lake is tidal so you just need to be careful around the entrance of the lake.
Markets
There are a number of weekly and monthly markets in and around Bermagui. You can check out the calendar of markets online for further information
Beaches
There are a number of different styles of beaches in and around Bermagui that cater to all types of dogs and beahces. There is the relatively calm waters of Horeshoe Bay which is protected from the sea swell by the headland. This bay has dog restrictions in place at times, so just check the signs in the area. For a leash free option at all times of the year, you can choose between Beares Beach and Haywards Beach near Camel Rock which are open to the ocean and have surf swell. Of note, if an area is patrolled then dogs are to stay at least 100m from the patrolled zone.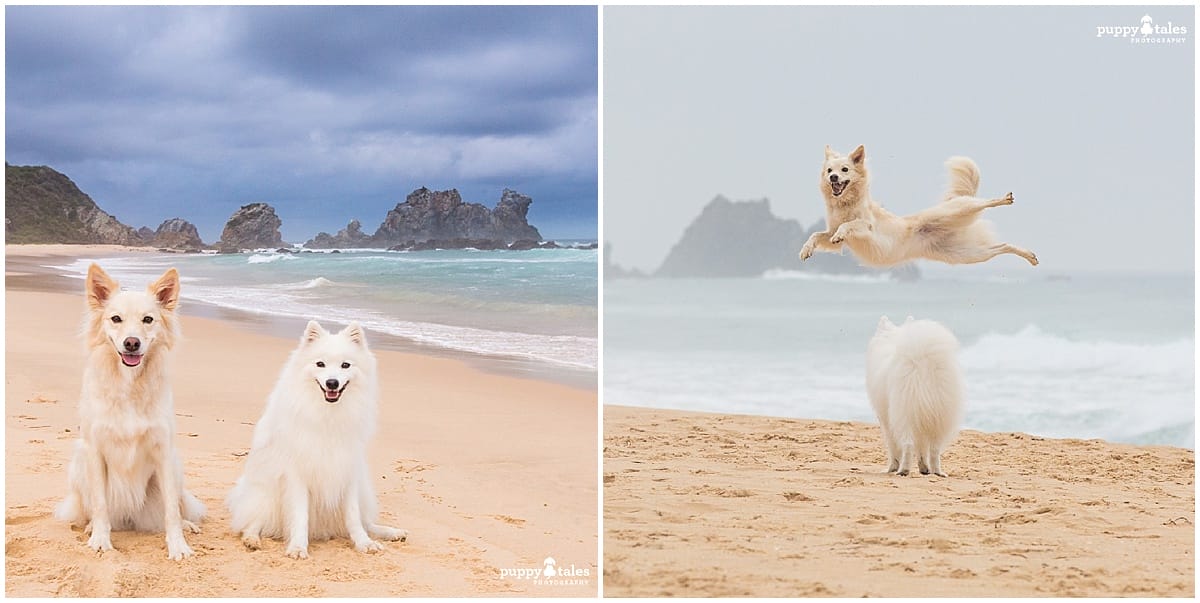 Dining With Your Dogs
This sleepy sea side town has some great cafes and eateries that reflect the overall feel of the town. With the south coast of New South Wales having such great weather, most places have outdoor seating and don't you mind having your well behaved dog at your feet while you eat. When we visited Bermagui, these are the places that we dropped in on and would recommend them to anyone passing through. You can check out more details about them on our Dog Friendly Cafes & Restaurants of Bermagui post.
Camel Rock Brewery Cafe
Located at the Big4 Wallaga Lakes, Camel Rock Brewery Cafe have a great menu with options to taste from their microbrewery onsite as well as other beers and cocktails. With the atmosphere that has been created there, you don't feel like you in a caravan park. They have Happy Hour from 4pm-6pm each weeknight, so it is a great way to start the evening.
Bermi's Beachside Cafe
Bermi's Beachside Cafe has a fantastic vista of the ocean looking down towards Camel Rock, you can definitely feel the beachy vibe happening. The menu has a beachside pub feel with serving sizes that will match your hunger!
Gulaga Organics
Situated on the main road of Bermagui is Gulaga Organics, providing sidewalk seating and tables that match up with their menu; earthy and made with heart. You can choose from a range of organic sweets with a selection of smoothies and hot drinks to wash them down, or grab some organic groceries to make your own masterpiece at home.
Cream Patisserie
Located on a quieter road just off of the main street and offers some bakery style lunch options as well as the sweets and pastries you would expect from a patisserie. While it is pavement seating, there is a barrier to separate the eating area from the road and the traffic.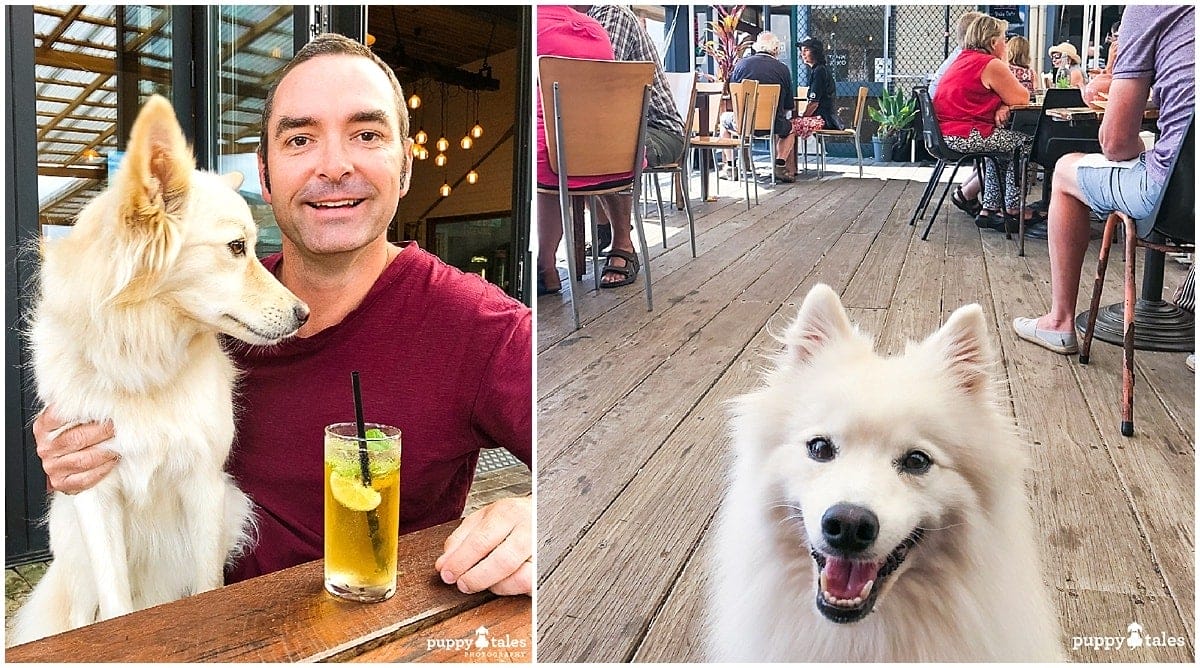 Events and Festivals
There is an amazing calendar of festivals and events held in Bermagui – of note there is ReBoot in Bermagui, the Four Winds Festival, Bermagui Seaside Fair and Sculpture Bermagui. Check out the up-to-date calendar of Whats On in Bermagui for further information.
Further Information
There is so much to see and do around the wonderful town of Bermagui and along the Sapphire Coast, and the regular population surges happen throughout the holiday periods. The Tourist Information Centre has great knowledge on what to do with your dog and you can also look up the Visit Bermagui site as well.
Should your dog need any medical assistance during your stay, there is only one vet located in Bermagui. You will find the Bermagui Vet Clinic located at 1 Wapengo St. There are also a number located in the surrounding towns as well.
Sam is the 'other' human half of Puppy Tales HQ….and Keiko & Summer's other parent. Sam combines his love for his family, animals, travel and the outdoors to get the most out of life. The snowfields, surf beaches and everything in between is on the agenda for Sam and his best mates. He knows that by giving your dog a great life, it comes to your own life with interest.