Do you often find yourself doing things, even if you don't want to, because of your dog? Welcome to the wonderful world of living with dogs! For me, it can be anything from exercising in the cold and rain, to chatting with people I normally would pass by unnoticed in the park. My dog Kate makes me do some things I might not always feel like at the time, but she undoubtedly makes me live a happier life. So here are a few things my dog makes me do and how different my life is because of her. I wonder how many you find yourself doing too!?
My dog makes me…
1. Do more exercise (even when I don't want to!)
Have you ever come home after a long day at work when it's cold and raining outside and all you want to do is flop down on the couch and snuggle in for the night? In winter this is a daily occurrence for me. Then, just as I'm settling in, my view will be filled by two brown eyes surrounded by a hopeful look on Kate's face. No matter how tired I may be — or unwilling to go out into the cold — that look on Kate's face is what makes me get up and grab the leash.
Dogs need exercise, it's a fact. Especially if they've been cooped up all day in the same space while you have been out. Even if I don't want to, I always try and make the effort to take her out for a walk, because when I adopted her that is what I was agreeing to. Providing the best possible home for a dog includes daily walks — even when I don't want to!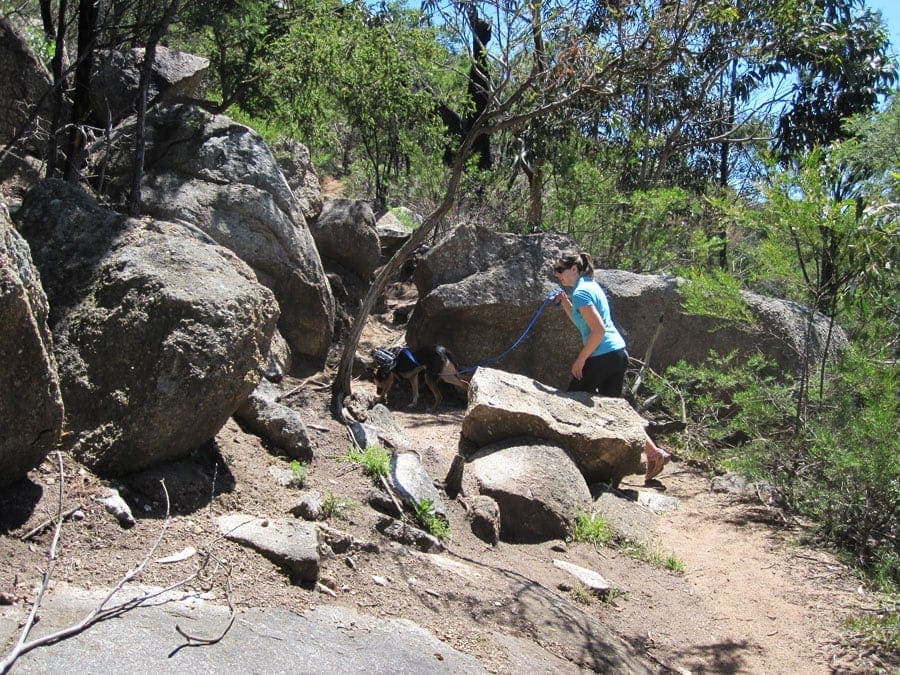 2. Explore new places, through some off leash nose sniffing time!
One of Kate's favourite parts of every walk is her off leash time. It's the time she really gets to stretch her legs and run! It's also prime nose sniffing time. A magic thing happens when you let a dog explore without calling it back to you. You find new places and see things you might have missed if you stuck to the pavement. Through Kate's off leash sniff time I've found some great little trails through some bushland near our house that I would never have found if we had stuck to the main path.
When you allow a dog to behave like themselves, life slows down. You take the time to look at the small things, breathe in the surrounds and simply enjoy the walk for what it is.
3. Get creative in where to go
Since I got Kate, I've wanted to include her as much in our lives as possible. When we made the decision to adopt a dog we agreed she wouldn't just be a 'backyard dog' but be a part of our family and come on as many trips as possible with us. This requires getting creative and proactive in finding dog friendly places we can go.
Through pet friendly accommodation books, websites and word of mouth we have been lucky enough to find some fantastic places that welcome dogs — which we would never have known existed before — thanks to Kate! Finding those places can require some research and patience, but it's worth it in the end to go away and have adventures together.
4. Connect with more dog people
Since Kate came into our lives I've met a wonderful variety of different doggie people. From the folks at Farmdogz Rescue who we adopted Kate from (and also foster for), to an array of fantastic pet bloggers, to celebrities such as Farmer Dave!
It is also as simple as meeting new people from your own community while out at the dog park, watching your dogs play together. Some of the best conversations I've had have been with people I had only met just minutes before, as a result of our dogs doing the meet, sniff, tail wag and play chase!
Owning a dog opens so many social doors to your local and widespread dog community. Who else can you talk to about how cute your dog is without some eye rolling in return?
5. Become a better person
I've grown up with dogs my entire life, and I feel this has made me a more caring, compassionate and empathetic person. As a kid my dog was my best friend, someone I could tell all my secrets to and someone who would be there for me no matter what. As I grew older I came to realise that I held responsibility in making sure my dog was always being cared for and loved. From a young age I learned to be gentle around animals and learn to recognise signals from dogs that may indicate they were scared or nervous to be around me. I could then alter my behaviour to accommodate this and in doing so learned to be empathetic and put another's needs before mine.
When owning a dog, their whole world revolves around you. You hold such responsibility in your hands to ensure they live a happy and healthy life. I can't help but feel this has made me a better person as I have to think about another's needs as well as my own in life. Owning a dog requires patience, kindness and of course love — how can that not bring out the best in someone?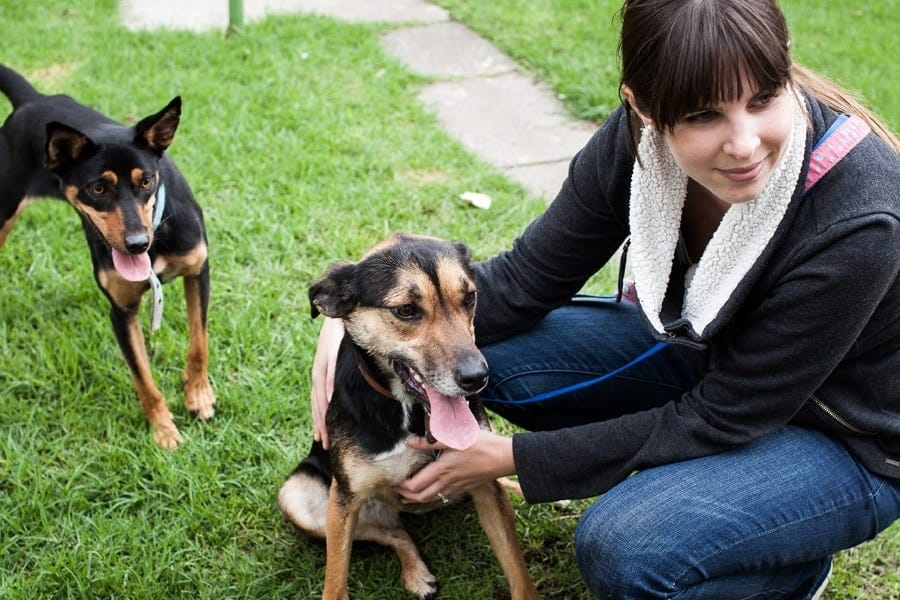 6. Happy
And finally, my dog makes me incredibly happy. The best part of my day is coming home and getting greeted with the excited tail wags and licks that come my way from Kate. Life is just better with Kate as a part of our lives, and I'm sure you feel the same about your dog!
So take the time now, go give your dog a pat and take them out for a walk, hopefully it's not raining where you are!