With summer well and truly upon us here in the Southern Hemisphere, it's not only two-legged kids that enjoy icy treats. There are lots of fun ways to keep your pooch cool including swims and water play, but have you ever considered that the foods they eat can also play an important role in keeping your pet hydrated and happy during the warmer months?
Cold Comfort Foods
Those that follow the philosophies of Traditional Chinese Medicine know that there are certain foods that can warm us up, or cool us down. That's because every food has properties and actions in terms of how they affect the balance of the body. In the same way that we humans don't eat a lamb casserole in summer or a big juicy piece of watermelon in the winter, you should adjust your pooch's diet according to the season.
Avoid feeding your dog hot foods (like lamb, kangaroo or venison) in summer. Instead try to incorporate cooling foods to reduce the negative effects of heat on their bodies. Proteins like duck, rabbit, or fish are considered cooling. If a dog is on a raw or natural food diet, you can focus on incorporating cooling fruits and vegetables like apples, bananas, oranges, pears, mango, cucumber and celery. Adding Kelp or Seaweed as a supplement can also cool down your hot dog.
Neutral proteins like beef or salmon are also great in summer. Examples of other neutral foods you can include in the bowl are tuna, cottage cheese, eggs, carrots, or green beans.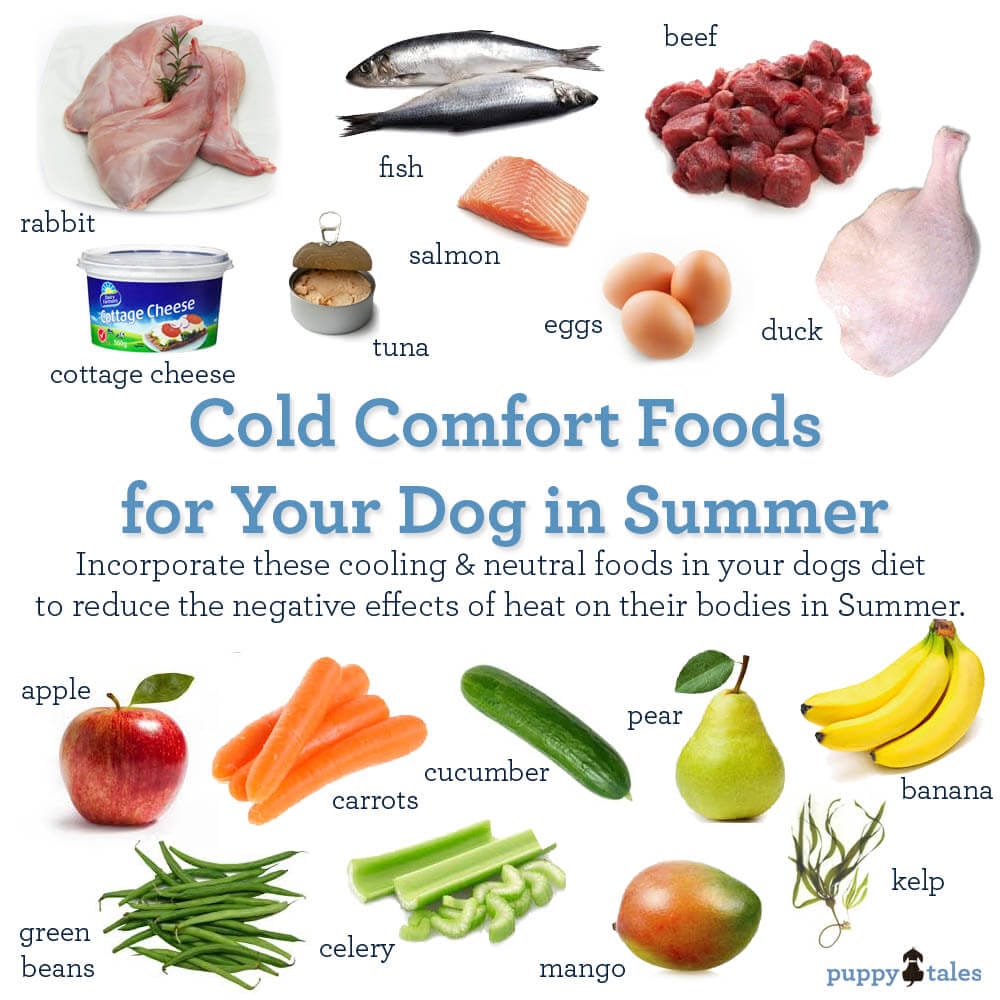 Chilly Kongs or Tennis Balls
The ultimate in summer enrichment. Give your pooch a full body, brain and teeth workout and a cooling treat all rolled into one. Use a Kong or cut a slit in a tennis ball and fill with your pooch's favourite mince meat, some veggies such as carrots and beans, and you can also add in some delicious and beneficial coconut oil and Coconut Crunch for a gorgeous summer flavour. Freeze overnight then watch them work to lick and bite the food out of the toy!
"Brrrrrrrr"oth
Frozen bone broth is the perfect cooling treat for your pup. It can be used as a tasty base for any of yummy cooling recipes below or a frozen treat on its own. Make your broth by following this recipe: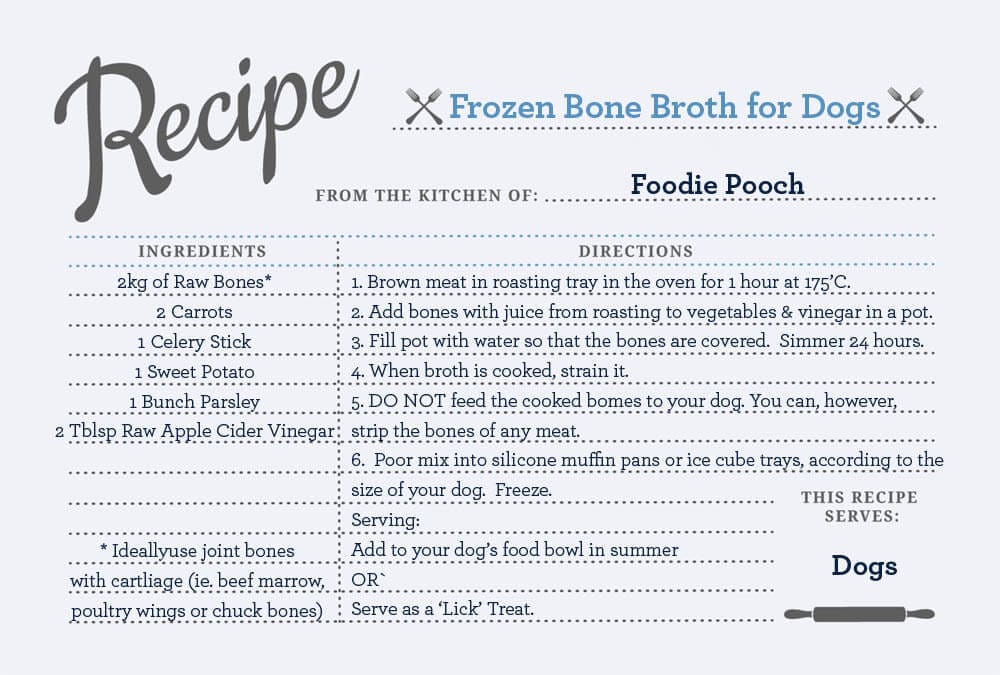 Not only will it keep your pooch cool and occupied, but it packs an awesome nutritional punch too!
Download a printable version of the Recipe.
Blocks of Fun
Fill a large plastic container with water or broth, or a mixture of both, and drop your Pooch's favourite toys, dehydrated treats and chews into the water and freeze. Pop the iceblock out of the container, set it on the grass or in a bowl in a shady spot and watch your pooch's delight as their goodies are released as the ice melts!
Frozen Fun
How about a completely edible pupsicle? It's easy!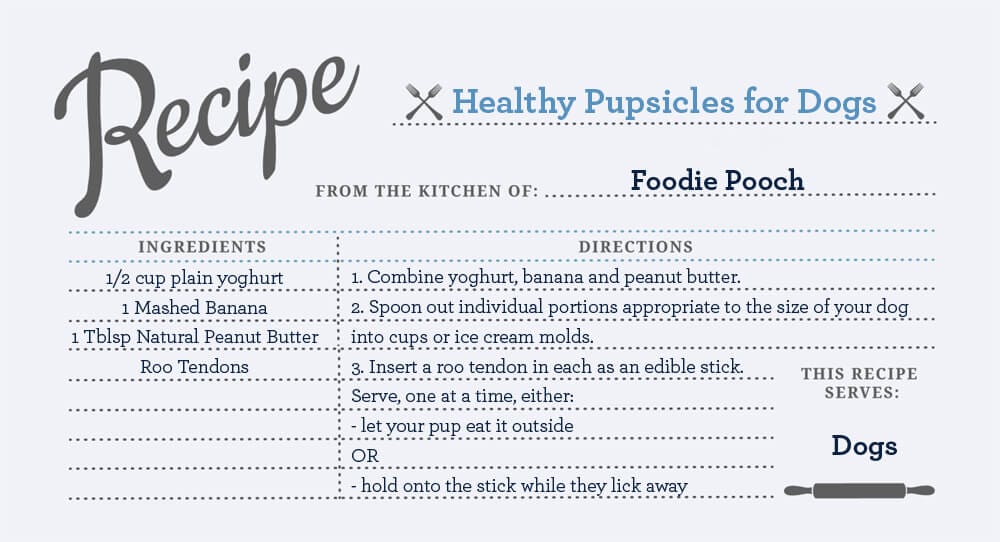 Mix 'em, freeze 'em and share 'em with your best buddy. They are going to love these!
Download a printable version of the Recipe.
Frozen Watermelon Chunks
This one couldn't be easier! Cut up some large pieces of watermelon, freeze and serve to your pooch on a hot day. Didn't know your dog loved watermelon, did you?
Of course it goes without saying that your dog needs access to fresh water at all times and plenty of shade. And never, ever leave your dog unattended in a car! Woof!
Do you have a summertime favourite for your dog?
We'd love for you to share in the comments.
Fuelled by a love for great food and a keen desire to offer pets and their parents the very best choices when it comes to their diet and health, Small Animal Nutritionist Alla is passionate about educating pet owners about natural, species-appropriate feeding.