It's almost the time of year again for some yuletide yelping and holiday howling! And yep, that means it's also time for a cracking good canine Christmas Gift Guide!!
Christmas has always been one of my favourite holidays. Setting up the tree, eating the little chocolates in my advent calendar, and of course some special time with family and friends.
After a really trying year with lockdowns and restrictions, we all deserve some howls of holiday happiness. So, we've teamed up with some paw-some Aussie businesses to bring you the ultimate Christmas gift guide for your favourite doggos (and perhaps something for their people too!)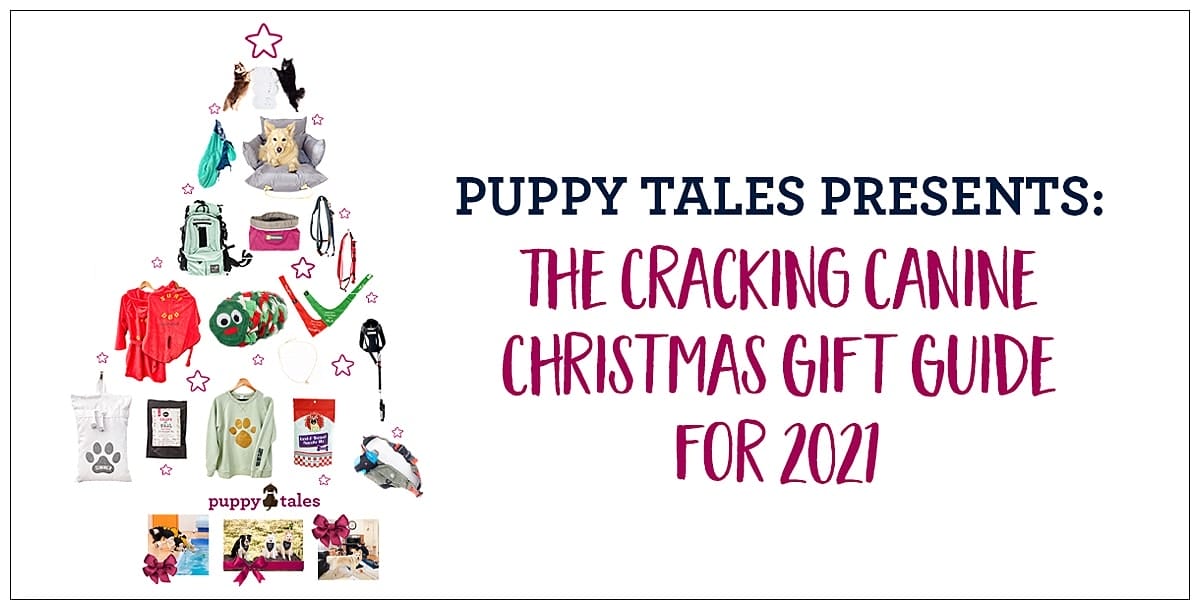 We've specially chosen the items in our guide for a number of reasons:
We've tried them — and we love them!
They're produced by proudly Australian businesses.
We want to help support local businesses who've had a ruff year!
So grab your favourite toy, a lump of coal or two, and let's dig into our new favourite Puppy Tales holiday tradition — Our Waggingly Wonderful Christmas Wish List! That is the Cracking Canine Christmas Gift Guide!
P.S. Read all the way to the end — Santa might be coming early this year!
For Woofs with Wanderlust
The first section of our Christmas Gift guide has some of my favourites! Ideal prezzies for the pooches that love travel and adventures, these gifts are going to be some of our most-used things in 2022!
After a fun day of exploring the great outdoors (to help get rid of that extra helping of trifle), this wearable microfibre dog-drying towel is just what your four-legged adventurer will need. This clever towel-jacket is a multi-pawpose must-have.
It's going to be something that is always in the boot for us. It's ideal for protecting the car and caravan from wet, muddy doggos — especially in the caravan when we've got wet weather and there's not much space! Check these out here.
Keiko is the king of the awkward car-trip kip. I can't tell you how many times we've turned around to see him using the water bowl as a pillow, or with his head awkwardly perched on the door handle. Needless to say, we were thrilled when we found this as a more comfortable option for him.
And he loves it!
The arms serve as a built-in pillow for him, whether we're in the car or the caravan. I think his favourite feature is that it gives him his own space — especially when his fur-sister tries to subtly spawl across the whole backseat (hello, Miss Summer)! Grab one for your pup here.

PS Summer is not one to miss out on something…. especially that's as comfy as a bed and that Keiko wants! She insisted on resting up in the bed while I was doing the product photos 😅 And to be honest she was too cute for me to move her out!
We've been using this one for years — and it's still the first thing we grab when going on a hike with our pups.
It fits into a pocket or backpack without any hassle and is just pawfect for a quick drink. It can also be conveniently used for a meal on the go if you find yourself still on the road come dinner time. You'll never carry a clunky plastic water bowl again! Grab one or two here.
I sometimes wish Santa would bring me a bag of puppies for Christmas. So far, I haven't had any luck.
In the meantime, I decided to get a backpack for the pups – in case of emergency and as Keiko gets older. We got it on our latest Snow Dogs retreat (delivered to us in the snow!) Keiko often gets snowballs and sometimes they make him a bit tired on big snow walks. With this handy doggie-carrying backpack, he could have a break from snow-covered legs & paws, and we could have a rest from de-balling his icy fur. He sat comfortably in the sack and was quite chuffed with the extra height and accompanying views! Grab one here.
Part bungee-cord, part dog-leash, these marvels stop sudden jolts on a hands-free walkies!
They're great for long walks, and they help prevent me from accidentally dropping the lead when Summer gets the sudden urge to dart off and make a new furiend! They keep doggo close at hand without the danger of a sudden strangling jolt when they need to be restrained. And the lighter model for Keiko is more appropriate for his size as we cruise around. The standard always felt a little to much for him.
Also, Summer loves the fancy denim finish. It must be in her genes (groan).
Grab one here (for bigger dogs) or here (for littler floofs).

Fully customisable bathrobes for dogs — but better!
We've had these for years and they are permanently on the road with us. Keiko and Summer love nestling up to dry in these super-soft coats after every beach or pool session…. and often simply after bath time while they wait for their blow out! Call it puppy-love, but I adore the style and spectrum of colours available.
And the best part is that there's a matching human one for me when I get wet taking photos (of my dogs or on a photo session!). Instead of wet clothes, I get to be cuddled in a super-soft, matching his / hers beach-robe for the ride home. (Ok so maybe they're more of a matching doggo / hooman combo than his / hers combo!)
Grab one for doggo here and one for yourself here.
Happy Hound-And-Hooman Experiences
As fun as a backyard staycation has been (🙄), sometimes our furry companions need to see the world — with us at their side. Here's our selection of the best hound-and-hooman experiences.
Earlier this year, Sam and I spent a few cosy nights away with Keiko and Summer at Spring Creek Cottage — and we loved every minute! Tasty doggo-treats and some really helpful pet-friendly info guides welcomed us and the pups to our weekend away.
We thoroughly enjoyed sitting in front of the fire with a glass of wine after a day of walking the stunning trails. The accommodation was neat and clean with charming decor. We're still not sure who enjoyed it more — us or the dogs! See exactly what we got up to and plan your next tail-wagging weekend getaway right here.

Back in 2020, we were lucky enough to travel to Healesville and do one of the Stay and Play packages with Wiggley Bottom Farm and Pooches & Pinot wine tours. And it was absolutely grape (Sorry. I'll try to stop…. but probably won't!)
We stayed at Wiggley Bottom Farm, on 15-acres, where our pooches were welcomed with open arms. Our winery tour which was just for us, included spectacular Yarra Valley dog-friendly wineries like Helen's Hill, Four Pillars Gin, Payten & Jones, and Squitchy Lane. We even had time for a stroll around Maroondah Dam and a quick lunch at My Little Kitchen, or MLK as the locals call it, (one of Healesville's best pup-friendly cafes). Honestly, it doesn't get much better for a day out than wine with wags and woofs. Book your tour or purchase a gift card for someone you love for Christmas here.
The perfect gift for the doggos that love to swim — and their pawrents (there's none of that pesky beach sand to tramp into the car seat here).
Swimming is an amazing form of activity for four-leggers. It's a great way for them to get exercise without putting any extra strain on their limbs and joints. Plus, the Aquapaws heated pool is indoors (pawfect for any time of year), and it's treated with Magnesium (which is really good for skin and coat – no more post-swim dry skin scratch-fest!).
Take the plunge right here.
This one is especially close to my heart! I suppose I might be slightly biased, but I still think that dogs + snow = unbridled joy!
On our Snow Dogs retreats, you have the chance to make amazing memories with your pups. I've never met a dog who doesn't LOVE snow. And for us (their humans), there's nothing quite like the thrill of watching your fur baby racing through the vast landscape with puffs of white powder being kicked up by playful paws!
All the while, I'll be there with my camera to make sure these special memories will last forever. Some of my all-time favourite experiences have been with Sam and the dogs in the snow. The dogs at the snow are actually the pictures that hang in our bedroom – where we see first and last thing in a day! Join us — you'll love the special memories of this time together. Book your Snow Dogs experience here.
This is one of the best ideas I've seen for adventurous doggos and their people. Stand up Paddleboarding is heaps of fun — but now it's even better!
Admittedly, we haven't had the chance to do this yet (grrrrr lockdown), but it's gonna be one of the first adventures we go on with Keiko and Summer this season. I can't wait to get out on the pristine waters with my fur babies! It's gonna give a whole new meaning to "doggie paddle!"
Book your pup's SUP here
Naughty or Nice — Gifts for Good Bois (and Girls!)
We all know about Santa Clause and his Naughty or Nice list, but not everyone knows about his pooch — Santa Claws. If your furiend has made it onto his good list this year, they deserve one of these amazing treats!
It's a snuffle mat with a pawsome difference — it's about two tons more fun!
Snuffle mats are often used for those doggos who scarf their food too quickly. By putting treats and kibble into the folds of the mat, it makes eating a slower, more enjoyable experience — while stopping overeating. It's interactive and gives them enrichment instead of merely eating a meal.
We just love Pawz and More's take on a tried-and-true classic. It's fun, and it'll worm its way into your heart! Grab yours here before it grows wings.

For the doggo who's got the right outfit for every occasion, IdPet's pawsonalised neckerchiefs make a great addition to their wardrobe.
They have lots of brilliant original designs. And if none of them are just what you're looking for, you can always design your own with them! Keiko feels super dapper in his, and Summer knows she looks oh-so-lovely! Not sure though that's she's all that keen on being labelled naughty!
Grab pup's new garb here.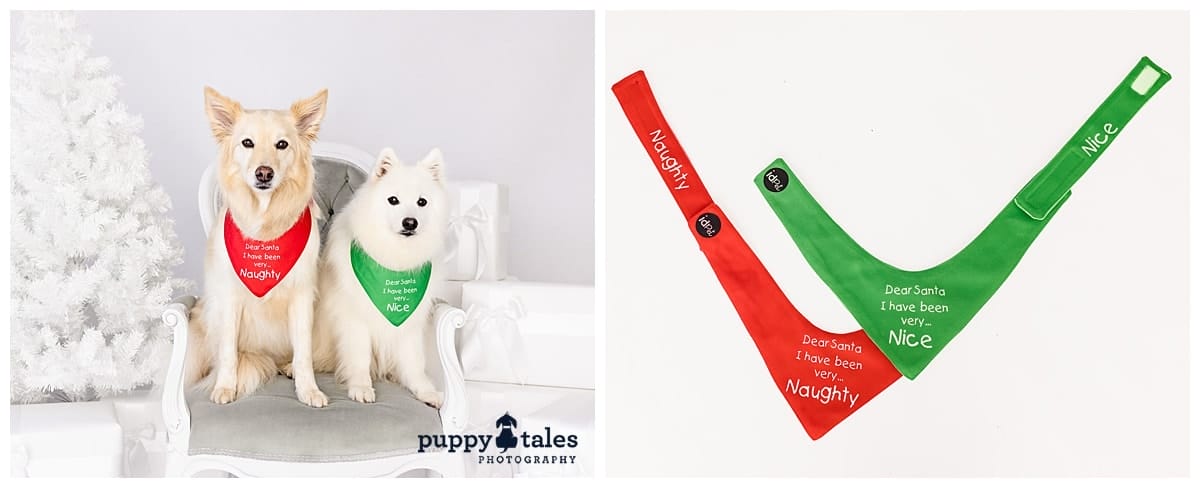 PS – love the White Christmas setting? This is the theme for our Christmas Minis! And if you'd love to have pawsome chrissy photos of your pups book your spot here.
Every good doggo deserves a puppuccino — and there are none better than the ones at Miss Drew's Cafe (they call 'em Pugichinos there).
If I'm entirely honest with you, it's never just a Pugichino — the rest of their menu is to die for! But still, the Pugichino is always a fun inclusion! Now, we can even take some home for later. Their Pugichino sachets make for a delicious treat at home.
Grab some Pugichinos here – they're good for any breed says Keiko!

It's Beginning to Smell A Lot Like Christmas
To really get into the spirit of the season, we always love getting some Christmas-themed items for pooches! And somehow, they always know that there's something special in the air. Grab a few of these to have an awesome canine Christmas!
We've tried doing stocking for our pooches in the past, but none are as elegant as those from this years IdPet range.
Seriously though, we've had Doggo Santa Sacks from IdPet for a few Christmases before, but this year's new pawprint design is my favourite! The personalised names and optional glitter poms add some extra special Christmas cheer!
Summer is just hoping that it's completely full come Christmas morning…
Grab one here.
Traditionally, lumps of coal are only supposed to go to those who find themselves on the Naughty List, but these are so good that they even work well for our Nice List doggos too! And they just make me smile!
Whether your doggo has been as sweet as an angel, or they've been digging up the flower beds and chewing on the sofa, these lumps of coal are absolutely pawfect! They're especially good for keeping chompers clean and breath fresh.
Handmade by Miss Drew's, this is one of my all-time favourite collaborations between two great Australian businesses. Grab yours here. While you're there, why not try their reindeer chips too.

Pressies for Pawrents
After all the hard work of cleaning up after pup's torn wrapping paper on their gifts and wrestling our favourite slippers from some over-enthusiastic chompers, us pawrents also deserve some Christmas treats! Here are our favs.
I'm a self-proclaimed crazy dog lover — and I love letting people know! And I have a feeling that as you're reading this, you're exactly the same! What better way to do it than with a super-soft and comfy jumper?!
The beautiful sage colour suits most skin tones, and the touch of glitter adds a lovely touch of sparkle. It's also made from ridiculously comfy 100% pure cotton, so it's perfect to throw on when it's chilly out, or for an evening of chillaxing while watching tv with your best bud.
Grab yours here.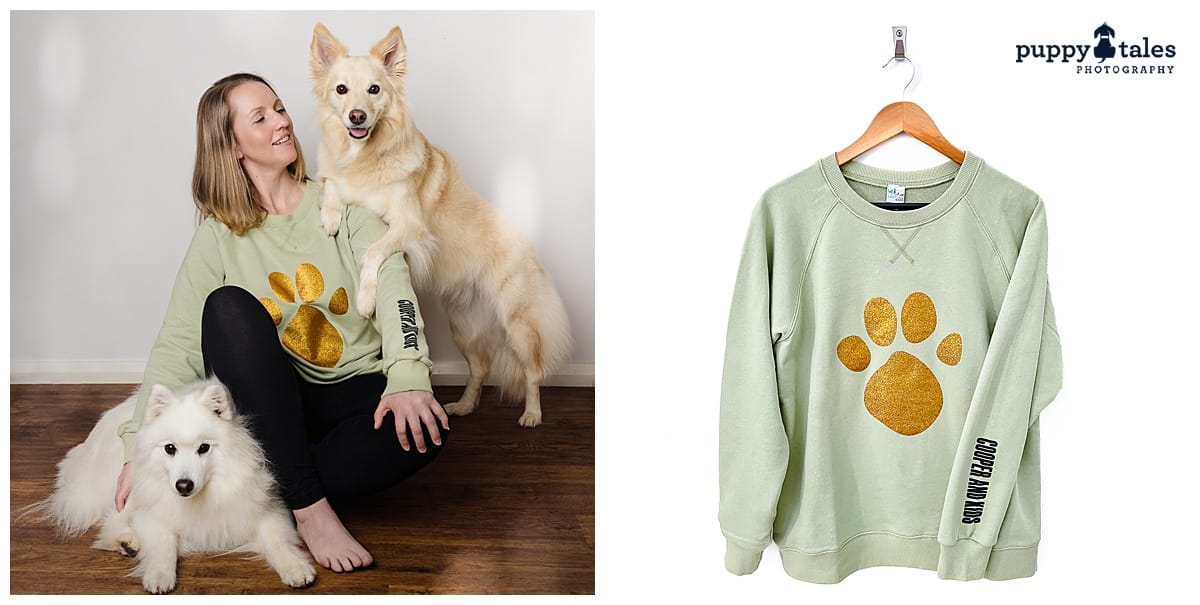 Ever since lockdown 1.0, I've been getting back into jogging with Summer. We had a waist walker for this but it was never quite the right fit for the items I have in jogging attire (less pockets than walking trackies!).
So when I had the chance to try out this running belt from Kurgo, I was super excited. And it's been amazing! Its minimalist design has room for just what you need and nothing else — which is exactly what I've been looking for. It fits me perfectly, and it means I don't have to carry anything in my hands when I'm jogging. It even comes with a nifty water bottle. Grab your new dog-jog companion here.
It was a toss-up whether to put this in the travel dogs section (because that's when it would be highly beneficial) or here. In the end, I decided on here — because it's just what us pawrents need to give us peace of mind.
We love doing EVERYTHING with our fur-babies, and we love seeing other pawrents doing the same. Sometimes, though, it would be nice to know our pups are safe in the rare occasions we need to leave them unattended for a little while. For example, in places like the Kings Canyon carpark, where you can leave dogs there while you're exploring but would want to know that they are safe and secure to do so. Also, if you're a single traveller you may often be without someone to stay with doggo (like when grocery shopping or while working). In these situations, our doggo's safety is paramount — and this is just the tool for the dog- er… job.
And for a doggo that may have been known to chew through their leash to check out what their humans were up (ahem, Summer looking at you!), that's not going to be possible with these leashes!
Grab yourself a collar (coming soon), harness or leash individually or the set here.
This one is absolutely pawfect for kiddos! I mean, does it get any cuter than a super adorable paw print necklace?
(Pssst, Don't tell my lovely niece what she's getting for Christmas!)
For me, the added bonus is that it comes in my favourite metallic colour — rose gold. There aren't many jewellery items that come in rose gold, so that's a huge plus for me! It makes this necklace for dog-lovers pawfect for this dog-lover in pawticular!
Grab one for your favourite little dog-loving hooman here.
For me, Christmas is all about memories — reminiscing and making special new ones (this part is my favourite — especially with my camera!)
And just because you're here, I've decided to give you a PAWSOME special offer on a gift card for a Puppy Tales Photography Sessions. It's usually worth $450, but in the spirit of Christmas (and because you're a fellow dog-lover), you can have it for $89. Not bad for some priceless memories (and some beautiful bespoke artwork!). It's amazing for the dog-lover in your life…. or as the gift to get yourself!
Grab this limited deal before it disappears like the treat I accidentally left within Keiko's reach last night 🙈
Now It's Your Turn — Christmas Gift Guide Giveaway
The best part about Christmas is sharing some holiday cheer!
So, because it's Christmas (and because the people behind these products are tail-waggingly furburlous), each week between now and Christmas one lucky person is going to have the chance to win something pawsome from our Christmas gift guide for dogs!
Who knows… It just might be you! Drop your details and answer the question below for your chance to win a gift that'll make your dog smile from whisker to whisker!
Our Weekly Gift guide Giveaway has now finished.
And from all of us at Puppy Tales, we hope you have a Furry Christmas and a Yappy New Year!
Kerry is 'Top Dog' here at Puppy Tales. With her own adored dogs, she completely gets that your four legged furry buddy is absolutely part of the family. That they sleep on the bed, that you want to take them everywhere, that you plan holidays so they're included & that their presence makes your life incredible.